It's the best time of the year!! All things pumpkin spice adorn the shelves at Trader Joe's, and you know I don't have any self-control when it comes to pumpkin flavored goodies. This is the fifth year that I've done Trader Joe's food reviews on my blog and it is seriously one of my favorite posts all year long. This year, I tried to test out new fall items that I had never tried before and they didn't disappoint! I found so many new favorites, I just hope they're still in stock when I go back to pick up more!
If you're interested, you can find my previous Trader Joe's Reviews here (last year's), here, here and here. Trader Joe's still has a lot of the items in my previous posts, so they're worth the read!
Now let's get started!
Hits
Pumpkin Spice Batons
This was my favorite Trader Joe's item that I tried this year!! I'm a little picky about my pumpkin spice, it has to taste *just* right and not have any artificial flavoring to it. The Pumpkin Spice Batons really hit the mark for me – they are delicious and sort of melt in your mouth! They have a crisp wafer shell on the outside and a creamy pumpkin spice filling on the inside. And they taste INCREDIBLE when dipped into a steaming hot cup of coffee!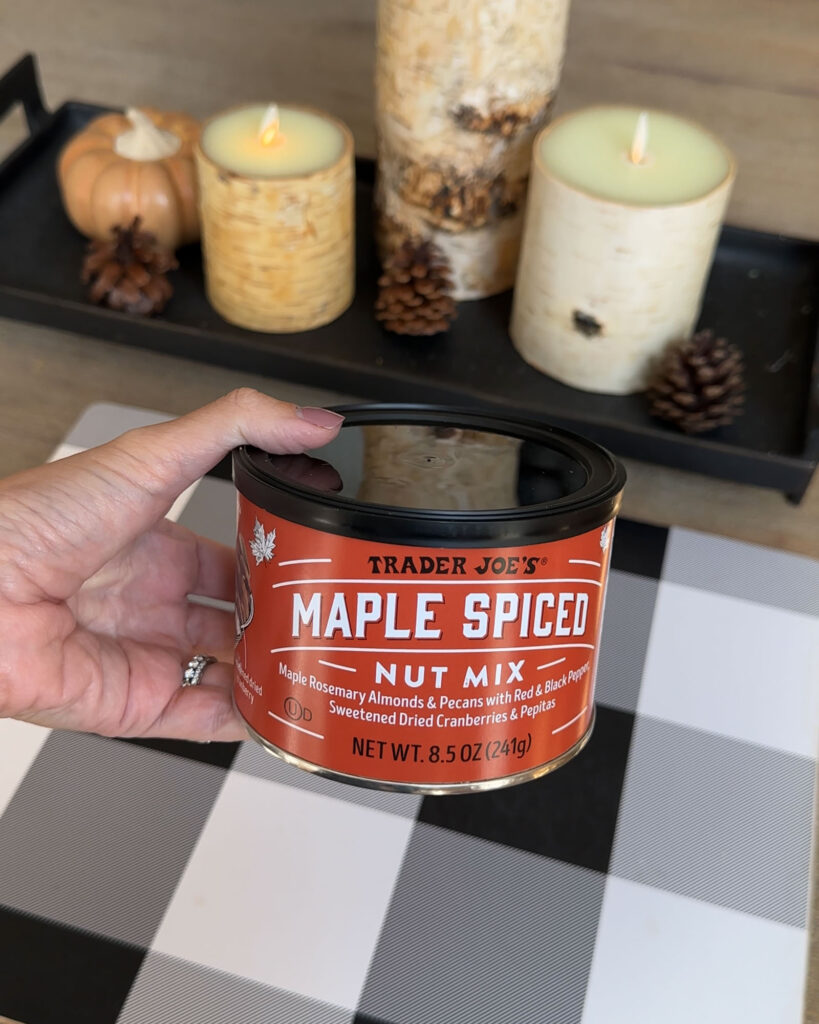 Maple Spiced Nut Mix
This nut mix tastes like fall! It's sweet, full of spice and a little warming too because of the red and black pepper! It's the perfect ratio of pecans, almonds and pumpkin seeds. Plus the cranberries add a nice sweetness and chewy texture. I will warn you – some bites were a little spicier than I normally like, but overall I really enjoyed this mix. I also think it would be a great addition to a fall charcuterie board!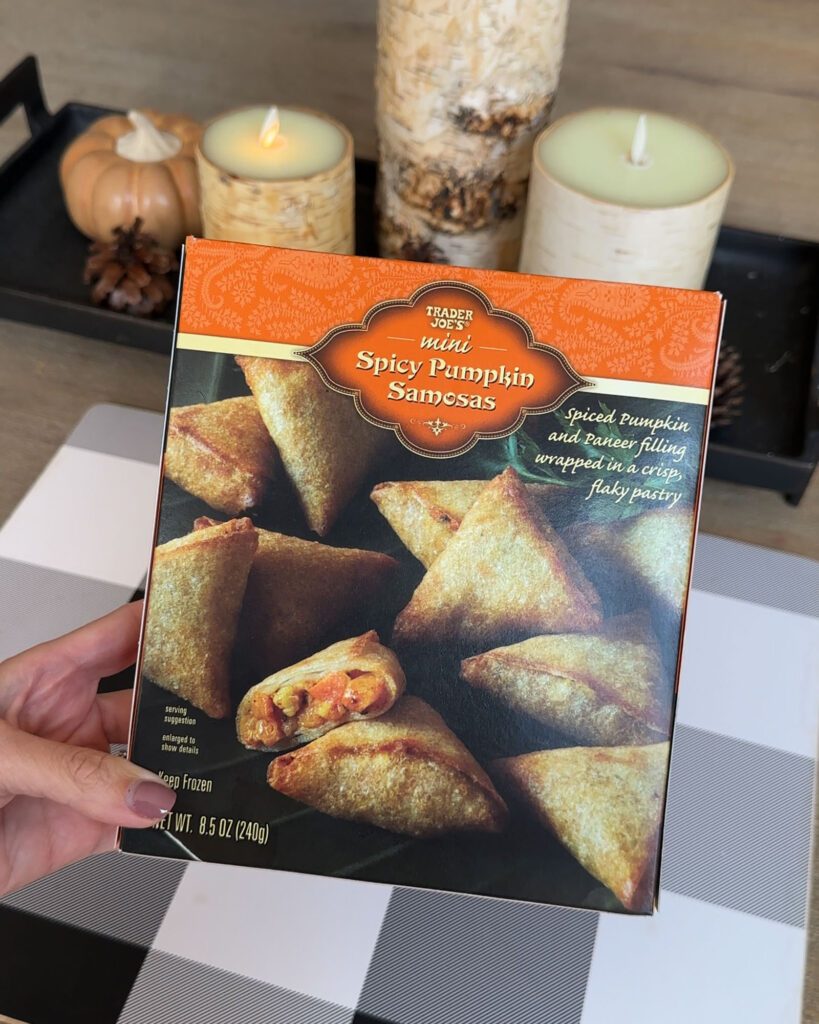 Spicy Pumpkin Samosas
These Spicy Pumpkin Samosas were a new-to-me item this year and we loved this savory item – Chris and I gobbled up the entire box in one sitting! We heated them in the oven and they developed a beautiful golden crispy crust. They're filled with paneer, Indian cheese, little cubes of pumpkin and spices – although the combination sounds a little weird, it WORKS. They taste restaurant-quality, aren't too pumpkin-y, and have just the right amount of spice.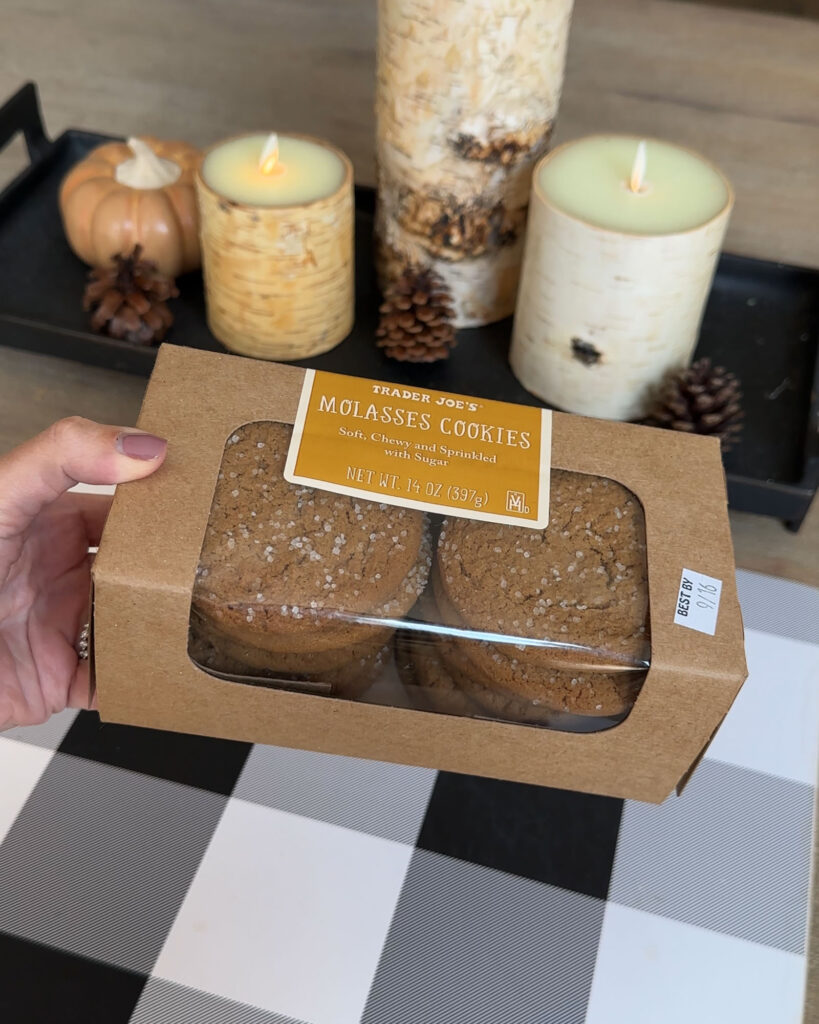 Molasses Cookies
I'm including these because Chris really liked them. He ate the entire box. (I was not a big fan!) He says they taste almost like a gingersnap cookie that is soft and chewy and just sweet enough. They do have a faint molasses flavor underneath brown-sugar, and there's a nice blend of spices like cinnamon, ginger and cloves. I must not be a molasses fan because I just didn't find them to be very tasty!
Honey Roasted Pumpkin Ravioli
This year I tried both the Pumpkin Ravioli and the Pumpkin Gnocchi. I really liked both of them, but the Pumpkin Ravioli was AMAZING. The ravioli is filled with a creamy mix of pumpkin and ricotta cheese… it is quite dense and the texture almost felt meaty to me. The pumpkin is sweetened with honey and brown sugar, and all of the flavors meld together into the perfect fall dish. I topped these with a little butter – that's it – for the perfect filling dinner one night when Chris was at a board meeting, and I actually ate the entire package by myself!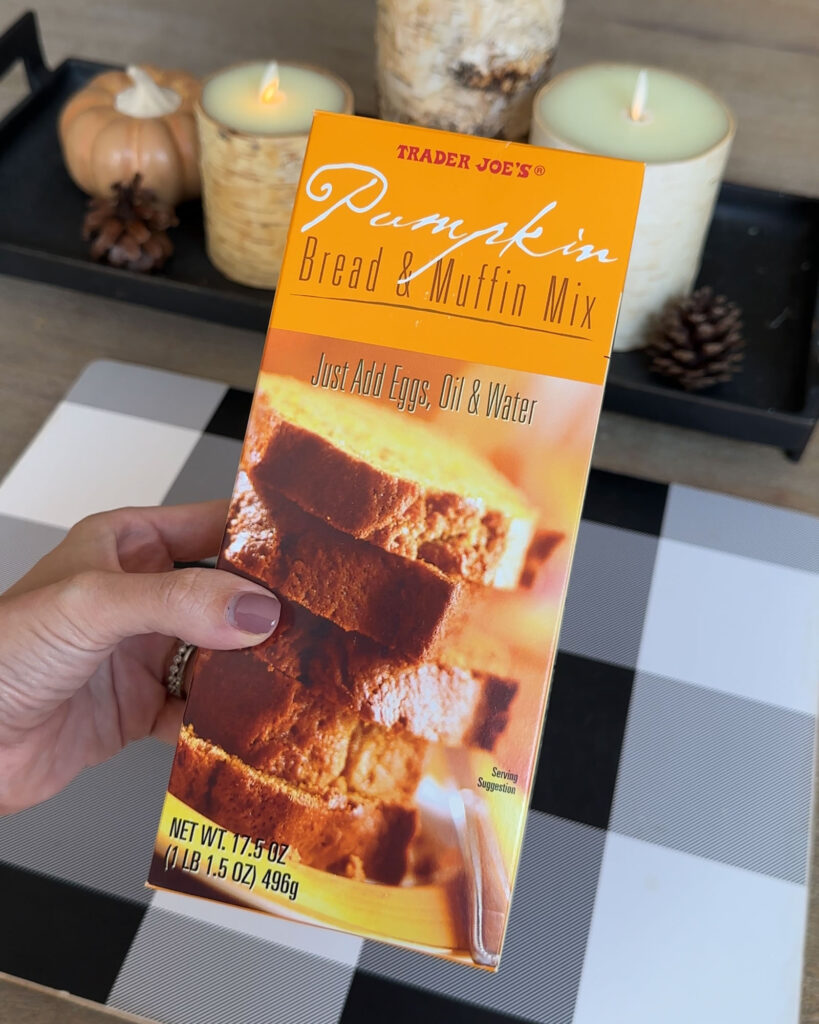 Pumpkin Bread and Muffin Mix
Everyone in my life raves about this pumpkin bread mix – our nanny Alyssa says she keeps five boxes stocked in her pantry at all times – haha! So I tried it this year and it really is good. It's incredibly easy to make but has a very homemade taste to it, as if it took you a few hours to make it from scratch and spooned in real pumpkin yourself. It is not too dry and not too moist and makes a wonderful breakfast if you're on the go. Everyone in my family liked this pumpkin bread, but my daughter Kennedy liked it the most! She helped me make it and ate at least two slices a day until it was completely gone.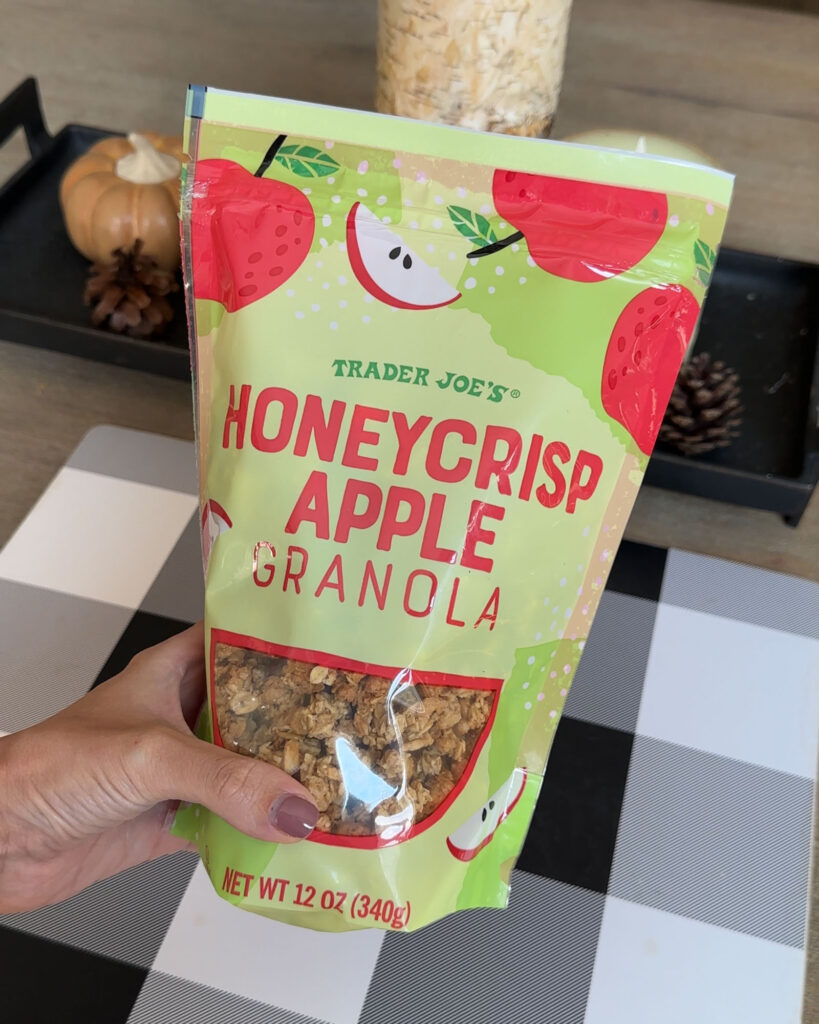 Honeycrisp Apple Granola
This stuff is SO GOOD and dangerously addictive – I literally could not stop eating it! It's like that homemade apple crisp dessert your grandma used to make, but in granola form! The sugar and spice ratio is perfect and I love how it has dried apple pieces in it along with the rolled oat clusters. You can eat it in milk like a cereal, or on top of yogurt or just by itself!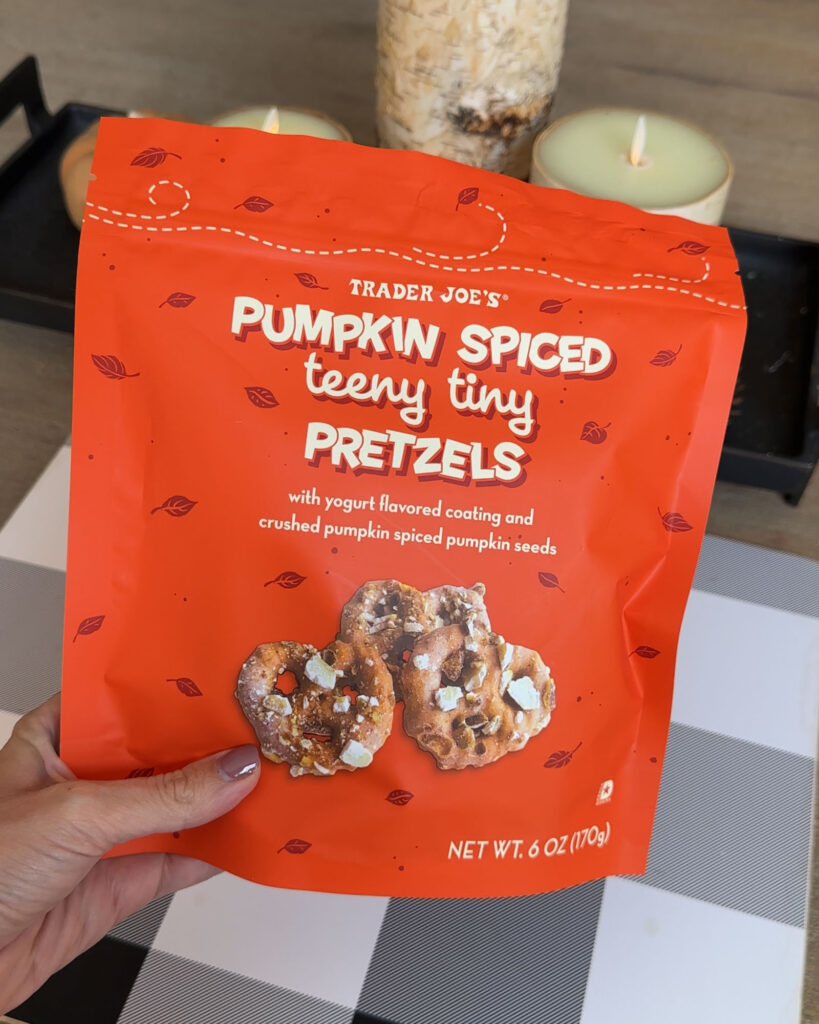 Pumpkin Spice Teeny Tiny Pretzels
Not only are these pretzels super cute, they are also super yummy! They have that perfect sweet and salty taste with just the right amount of pumpkin spice flavor, too! I love how they sprinkled the pretzels with pumpkin spiced pumpkin seeds – it really added to the flavor and crunchiness. This was one of my favorite snacks I tried this year!
Misses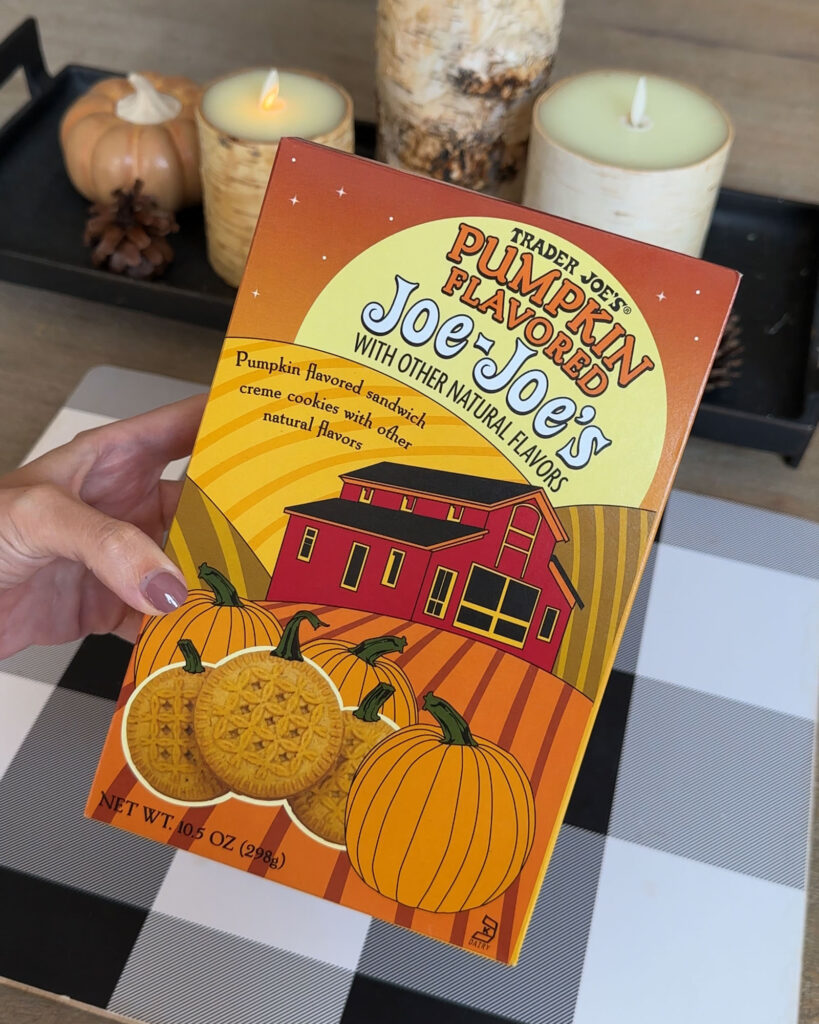 Pumpkin Joe Joe's Cookies
Okay this may be an unpopular opinion but… I didn't like these cookies. They tasted like eating a pumpkin candle! LOL! They just had a very artificial taste to me. I much prefer the Halloween Joe Joe's Cookies instead.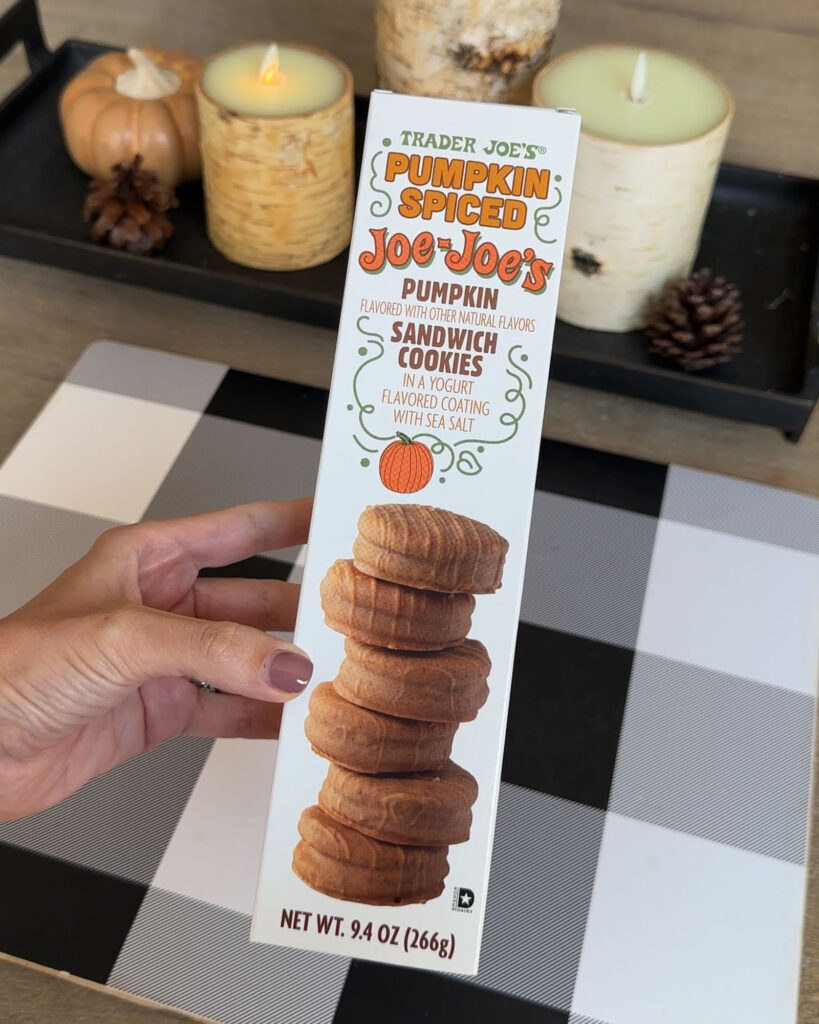 Pumpkin Spiced Joe Joe's Sandwich Cookies
Similar to the regular Pumpkin Joe Joe's, I wasn't crazy about these Pumpkin Spiced Joe-Joe's either. However, I do think they are a tad better than the regular Pumpkin Joe Joe's. These are covered in pumpkin spiced yogurt-flavored coating and topped off with sea salt. They are almost too sweet and rich, but they don't taste as artificial as the regular ones.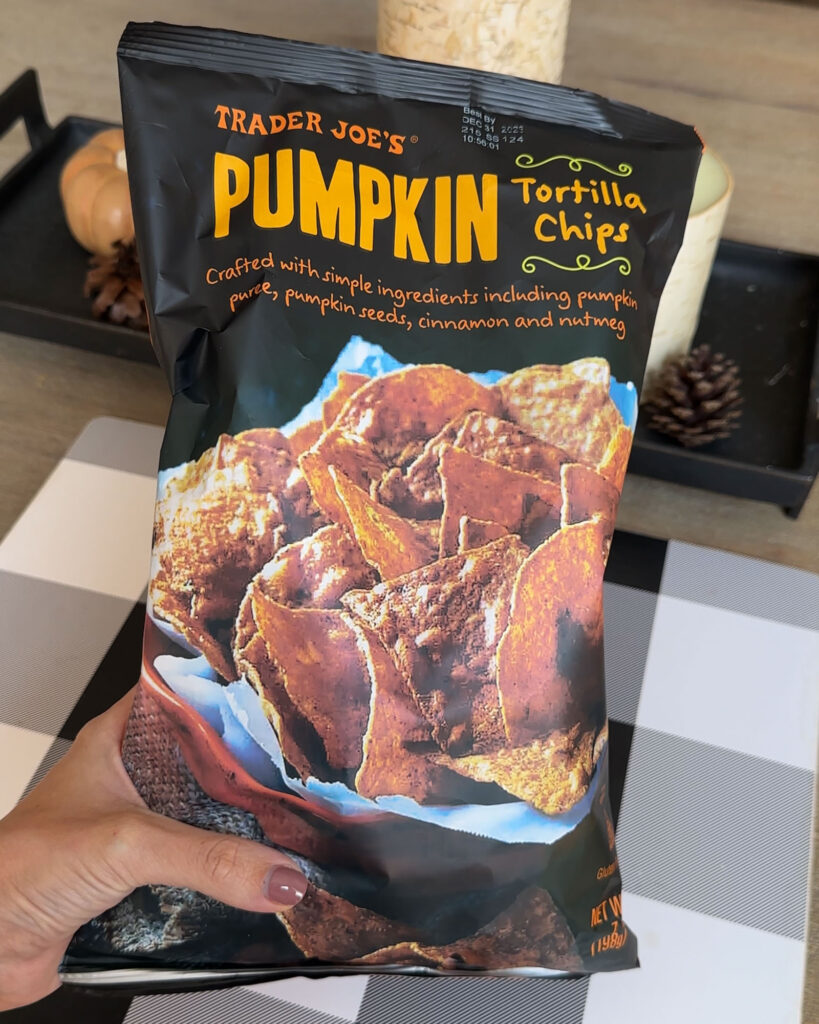 Pumpkin Tortilla Chips
I had high hopes for these pumpkin tortilla chips, but in my opinion they fell flat. I guess I was expecting them to be sweet, but they aren't sweet at all. They taste like a slightly overcooked regular tortilla chip with a tiny hint of cinnamon and nutmeg at the end. And I'm not sure how to eat them… with salsa or a sweet yogurt based dip? How are y'all eating them? However, the ingredients are super simple and they are gluten free so they are relatively healthy for a chip.
If you have a favorite fall item at Trader Joe's, I'd love to hear about it!