The past couple of years it has become a tradition of mine to review fall foods at Trader Joe's (and I have to be honest, it's one of my favorite posts because of all the "research" I get to do 😉 ). Trader Joe's is my go-to year round for fresh vegetables or when I need a quick, ready-made dinner… but in the fall, it turns into an even more magical place. Pumpkin products adorn the shelves, the scent of autumn hangs in the air, and it takes all the willpower I have not to load my cart with every single last item. I didn't buy every fall item they had, but I did get a lot! And surprisingly, there were a lot of items that I hadn't taste-tested before.
Here are some of the new items I tried (with a few old favorites, too):
Hits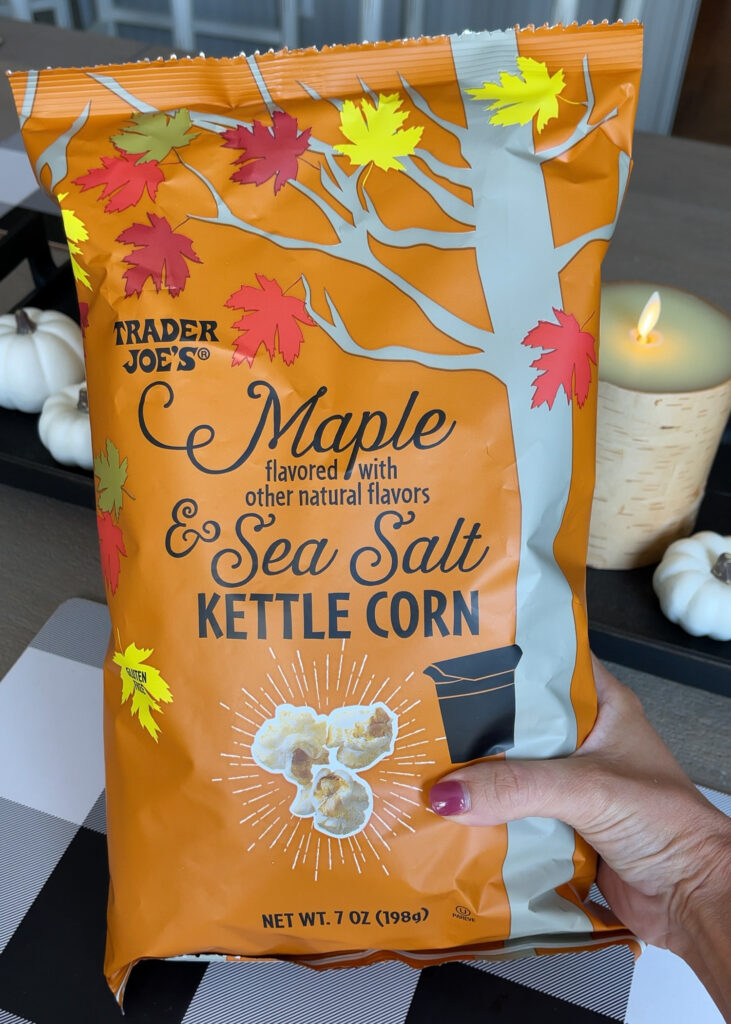 I love all of Trader Joe's fall items, but this has to be my FAVORITE product that I bought this year! This is the best kettle corn I've ever eaten. Not going to lie, I ate the whole bag while watching Bachelor in Paradise one night hehe! It's the perfect mix of sweet and salty (but not too sweet), and the maple flavor isn't too overwhelming. If I had to describe it in one word: addicting. I'm about to go buy another bag before it's gone for the season!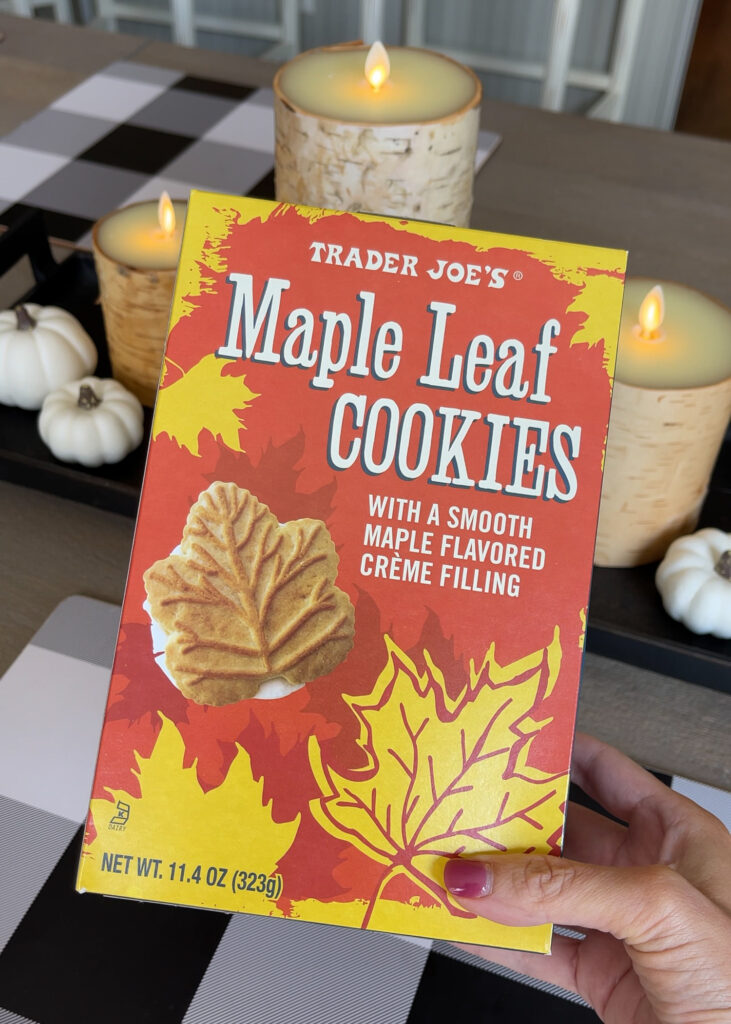 These maple leaf cookies are mine and my husband's FAVVVVORITE! I am not typically a huge fan of maple-flavored items, but I love these cookies. One cookie is comprised of two thick, maple-leaf shaped shortbread cookies with a maple cream filling. It's like taking a bite out of a waffle with real maple syrup, but better: the maple cream filling is rich and sweet and dripping with maple goodness. Although it's a cookie, it tastes mighty good with coffee in the morning for breakfast. 🙂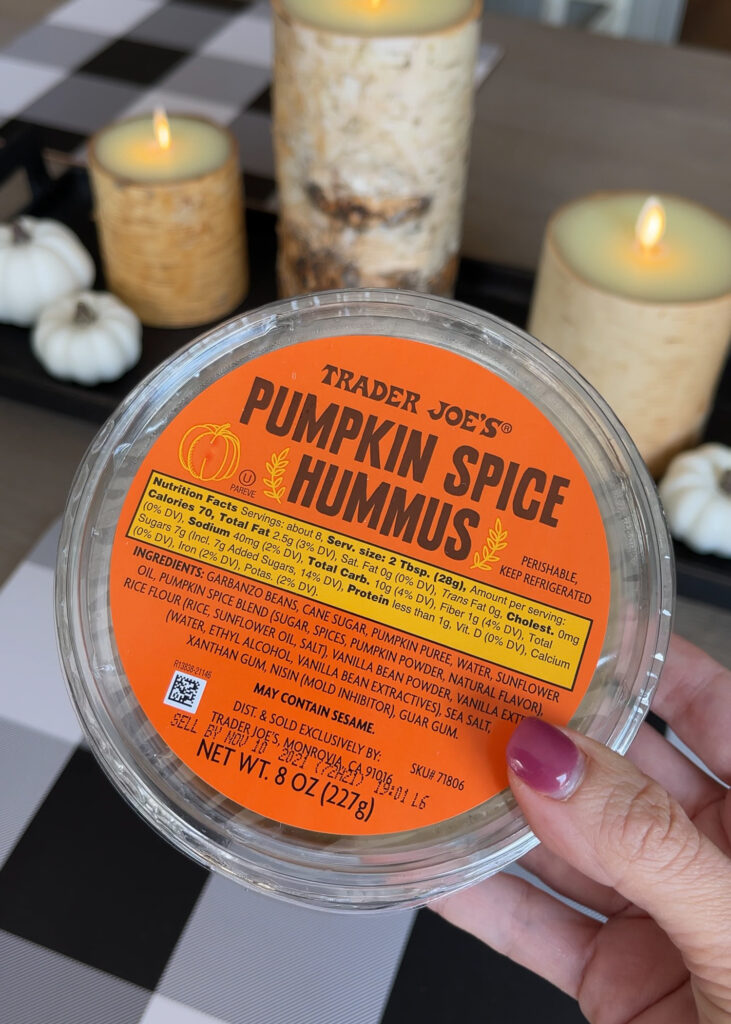 Pumpkin Hummus
Not everyone is a fan of TJ's pumpkin hummus, but I LOVE it! I would definitely consider it to be a dessert hummus, since it's on the sweeter side. Although it does have a base of chickpeas, you can't really taste them at all – it has a really nice, natural pumpkin flavor. This hummus pairs well with pretzels (if you like the sweet and salty combo), as well as apple slices.
These are like an elevated Eggo Waffle, and I mean that in the best way because they're super easy to make and tasty, too! The pumpkin flavor isn't overwhelming at all, but it's present enough to make it taste like fall. If you don't have time to make fluffy homemade waffles, these are definitely the way to go! I can see kids really liking them too and they're easy enough to make before school!
The perfect pair to these waffles is Trader Joe's Organic Vermont Bourbon Barrel Aged Maple Syrup. The syrup is actually aged in recycled bourbon barrels and it creates a really rich syrup. It still tastes like the maple syrup we all know and love but it has a more intense flavor. It's a nice change up for me, plus the bottle is so cute!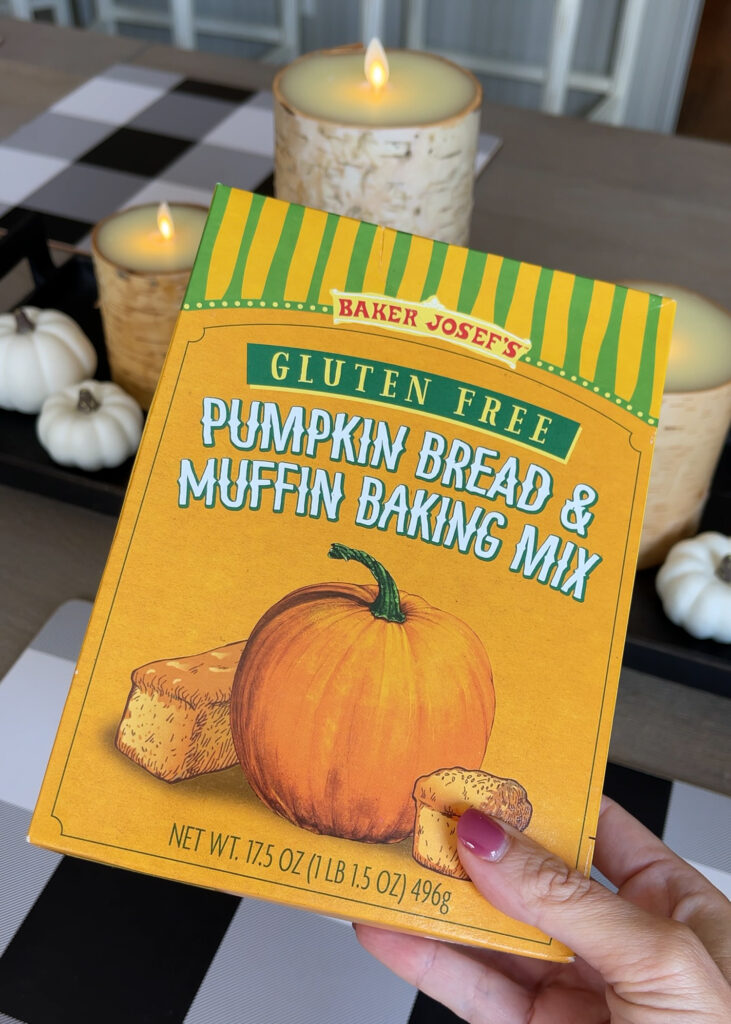 This pumpkin bread is a favorite of ours from the last couple of years! I always make sure to stock up on it when I see it on TJ's shelves. The bread is easy to make and tastes great by itself, but I like adding mix-ins or toppings to make it taste even more homemade. It tastes great with chocolate chips added, but I loveee to make a brown sugar oatmeal topping! Here's the exact recipe I use: combine 1/4 cup old-fashioned rolled oats, 1 Tbsp brown sugar, 1 Tbsp melted butter, 1/4 tsp cinnamon and 1/8 tsp pumpkin pie spice in a small bowl. Sprinkle it on top of your unbaked bread or muffins and bake like usual.
Misses
Only two misses this year! And to be honest, you should still give these a try. Chris actually liked both of these even though I didn't!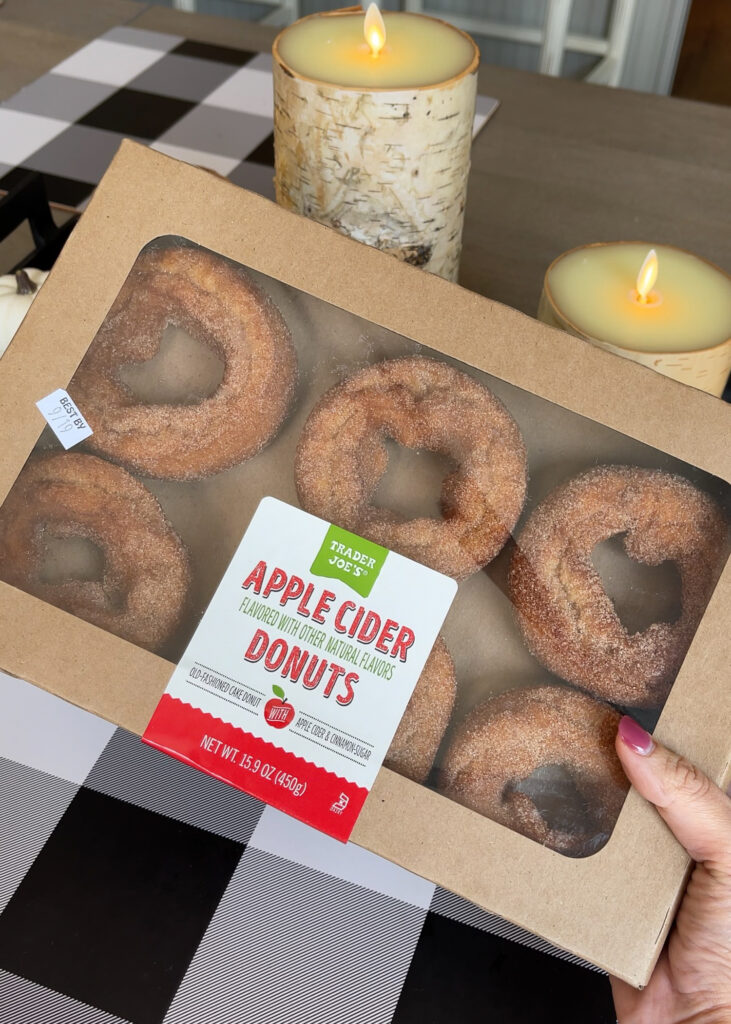 Apple Cider Donuts
Sooo to be fair, Chris did really like these. But I wasn't a fan! When I eat an apple cider donut I expect it to be light and fluffy, with a sweet, apple cinnamon sugar coating. Trader Joe's apple cider donuts are a bit too cake-y for my taste. They're very thick and doughy, too heavy for my liking. The apple flavoring is not very strong, either.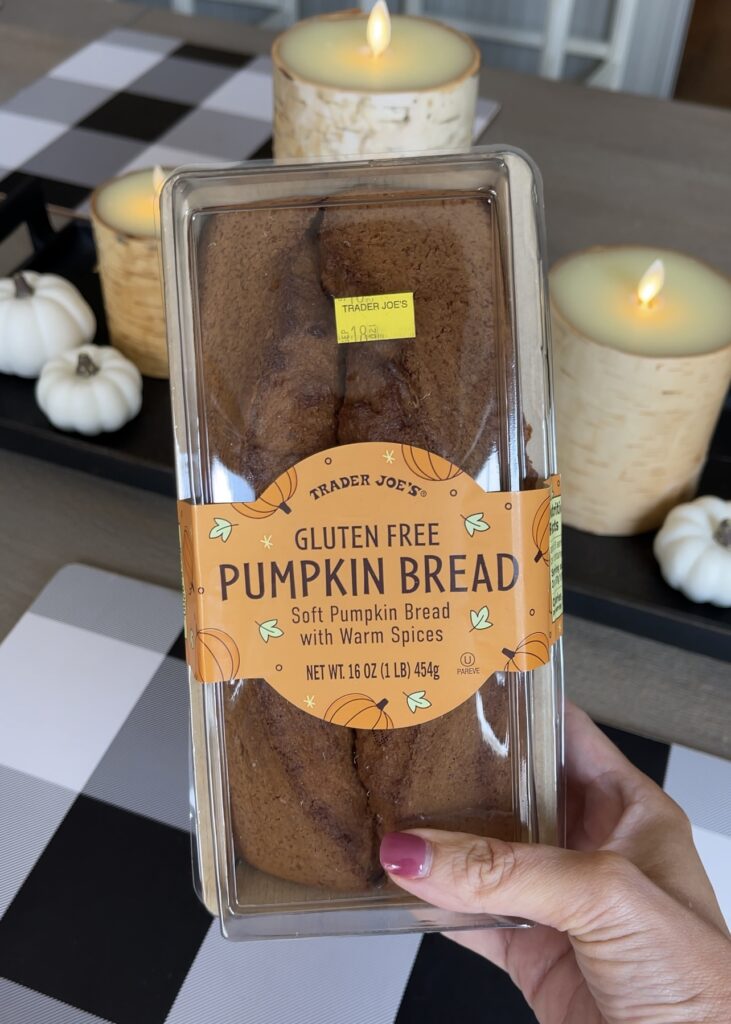 Pre-Made Pumpkin Bread
I was really hoping this pre-made pumpkin bread would be delicious… then I wouldn't have to spend an hour making my own version in my kitchen, haha! Unfortunately I had to throw it out after only eating one slice. I found it to be inedible! It was quite chewy and dry by itself. I did try heating it up in the microwave for 15 seconds and that did improve the taste (although not enough to keep eating it). It was really missing the moisture that most pumpkin bread has when it's made with real pumpkin! I think I'll still to TJ's pumpkin bread mix instead.
If you have a favorite Trader Joe's fall item that we all need to try, let me know in the comments!