Good morning! Today's post is pretty different but I've been trying to give you guys more of the content that you actually want to read 🙂 Back in the beginning days of blogging, there used to be a thing called "What I Ate Wednesday" where food and fitness bloggers would write a diary-style post going through their day and everything they ate. I don't know why, but I always found those posts SO interesting and enjoyable to read, and on top of it I walked away with so many different meal ideas! So, I picked a random day last week, kept track of everything I had to eat that day and brought my camera along for the ride 🙂
Let's get started!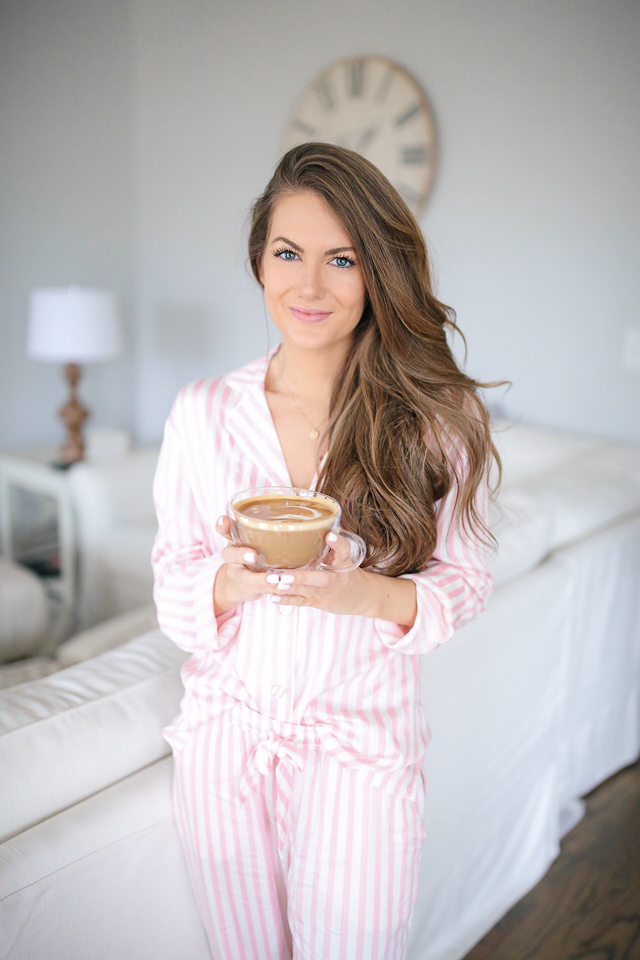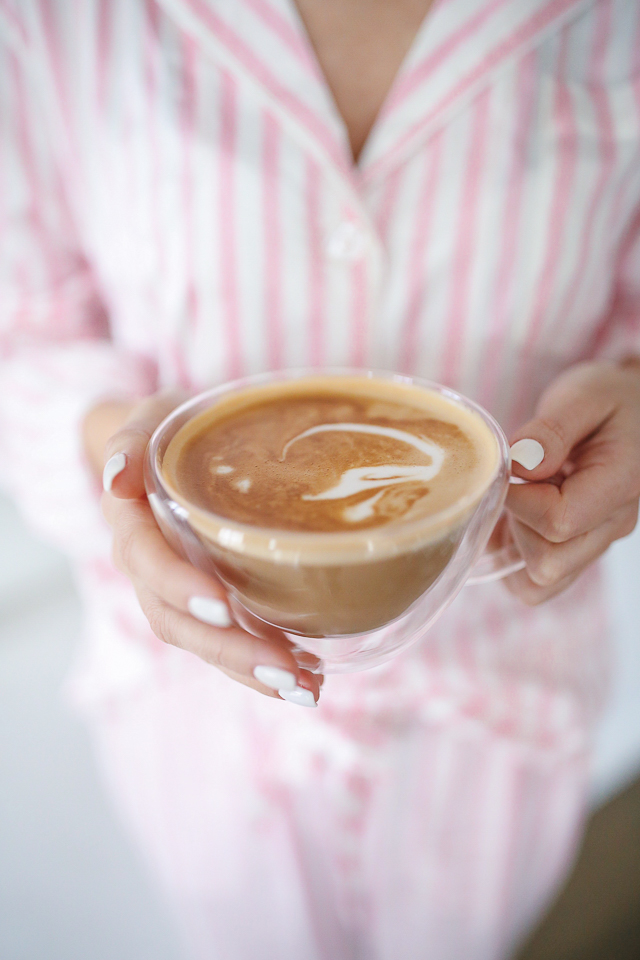 7am:
 I'm feeling particularly tired this morning and the very first thought in my head when I wake up is, "I need caffeine!" I walk into the kitchen and turn on my espresso maker, and while it's waiting to heat up I take Winnie outside. When I come back inside, it's ready to go, so I grind the coffee beans, extract the espresso and froth some unsweetened, vanilla almond milk to make an almond milk latte.  I also add in a pump of
organic vanilla syrup
to make it a little sweeter! I have a few important emails that need answering, so I sit down at my kitchen counter with my computer and sip my latte. I also grab a pack of
Trader Joe's raw, whole almonds
from my pantry to snack on. I have a hard workout planned this morning and I don't want to eat anything too heavy beforehand.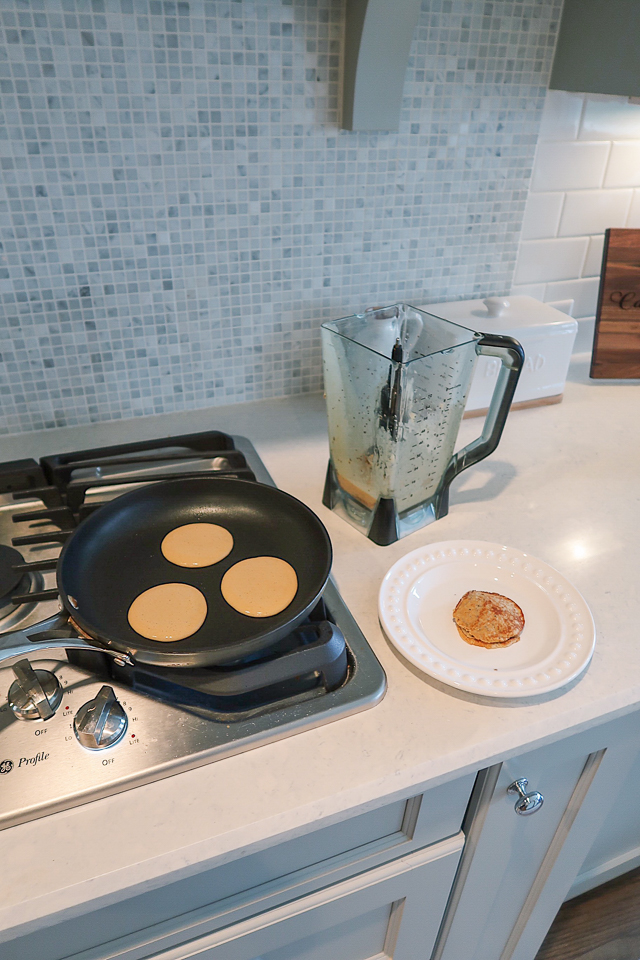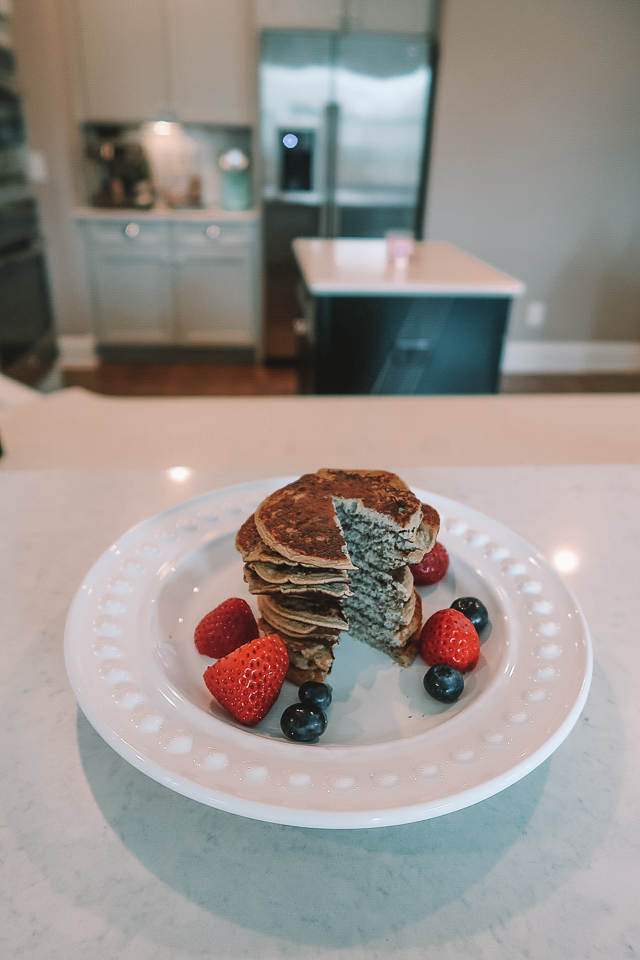 8:30am:
I've just finished my workout (sometimes I go to the gym, but today I'm short on time so I worked out in our upstairs family room), and it's time to eat a real breakfast! It's going to be a long day and I want something hearty and filled with protein since I just worked out, so I decide to make my go-to pancakes (you've probably seen them on Instastories or in my old 
blog posts
!). I've started adding a little bit of my protein powder to the batter on days that I work out and I'm actually amazed how good they taste – JUST like chocolate pancakes – but with so much protein! Here's the updated recipe:
4-Ingredient Protein Pancakes
Ingredients:
– 1 banana
– 2 eggs
– 1 scoop of chia seeds
– 1/2 scoop of protein powder (I use
this one
)
Instructions: 
1. Blend the banana, eggs, chia seeds and protein powder in a blender until well mixed.
2. Heat a large nonstick skillet over medium-low heat. Working in batches, drop small portions of batter onto the skillet and cook until golden brown, 1-2 minutes per side.
3. Stack all of the pancakes on a plate and add berries. You can also add a little bit of maple syrup but they're so good that you don't really need any!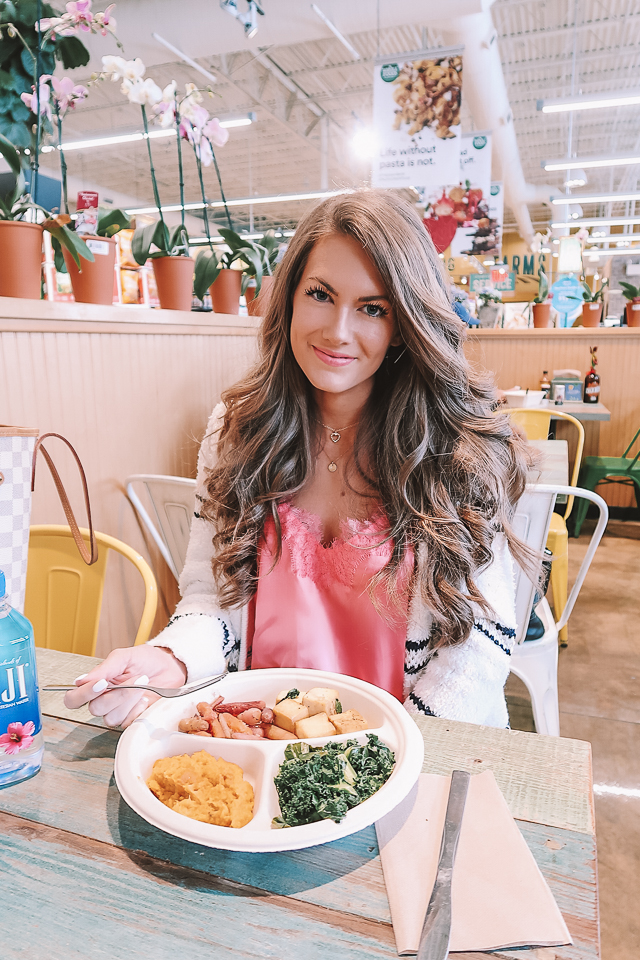 12:30pm: My mom is in town and we've been taking blog photos all morning, and one of our shooting locations happens to be right beside Whole Foods, so we stop in to get lunch from their hot bar! On this particular day I fill my plate with kale, mashed sweet potatoes, roasted carrots and tofu (I don't really like tofu but they were out of grilled chicken, what I usually get!). For lunch, I always try to eat a lean protein and a few servings of vegetables.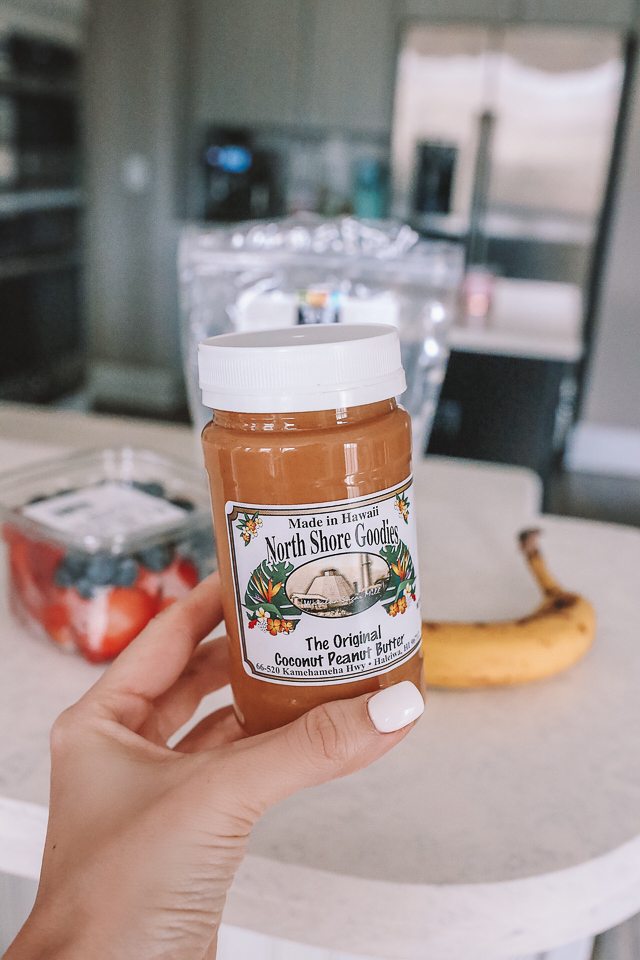 4pm
: My mom just left to drive back to Charlotte, so I make myself a green tea (with caffeine) to help me power through the rest of the afternoon. We took a bunch of blog and Instagram photos so I plan to spend the rest of the day editing them! While I'm working, I reach for a spoonful of
this North Shore Goodies peanut butter
and a handful of strawberries and blueberries. I have to rave about this peanut butter for a minute – ALWAYS look at the ingredient list on your peanut butter because many brands contain artificial flavors, sweeteners and chemical preservatives. This North Shore peanut butter only has two ingredients (peanuts and coconut) and is the BEST tasting peanut butter I've ever had in my life!!! (I also like eating it with an apple or on top of oatmeal.) I order it online in big batches!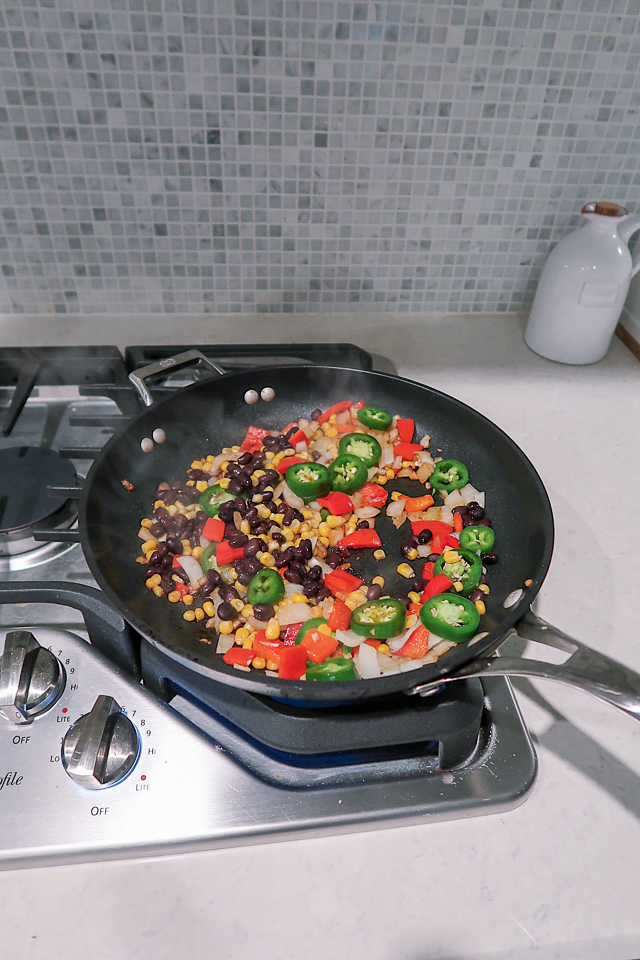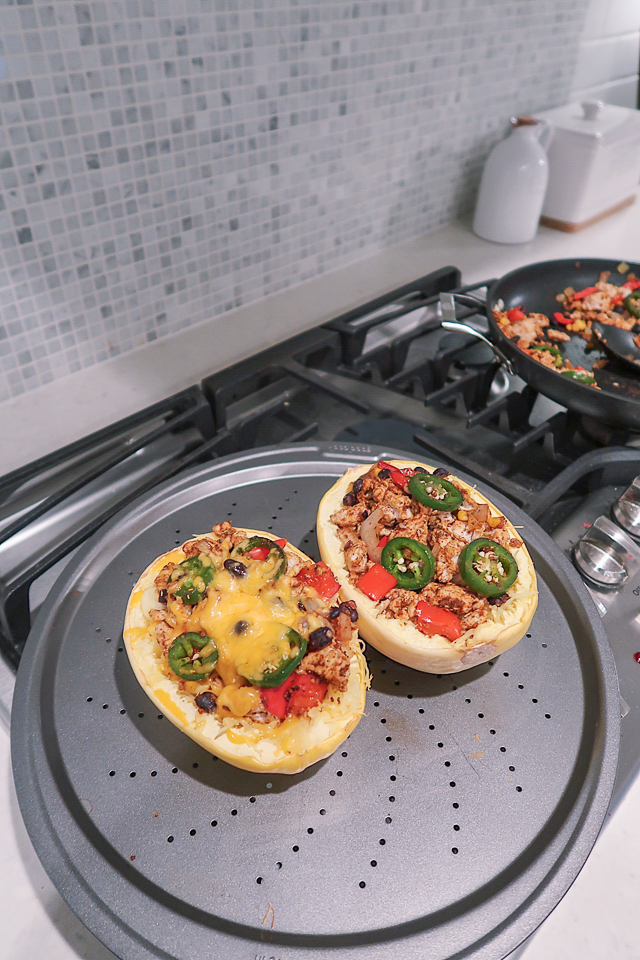 7pm: Dinnertime! I'm trying out a new recipe tonight and I think Chris is going to like it – Mexican-style spaghetti squash boats. I like to get creative with our dinners and make them both healthy and "man-approved" so that Chris is happy too, haha! I start making dinner around 7 p.m., but I didn't realize that the squash needs to cook in the oven for 50 minutes – yikes. I'm starving so I snack on some slices of bell pepper while I cook. Finally dinner is ready around 8 p.m. and we dig in. Chris and I both LOVEEEEEE this dinner and we agree to add it in to our weekly rotation! There are a lot of leftovers so I put them in a tupperware – they'll be great on top of a salad for tomorrow's lunch. For dessert, I have a bowl of Halo Top ice cream in the birthday cake flavor.
Mexican-Style Spaghetti Squash Boats
adapted from
this recipe
Ingredients:
– 1 medium spaghetti squash
– 1 TBSP olive oil
– 1 white onion, chopped
– 2 garlic cloves, minced
– 1 red pepper, chopped
– 2 jalapeno peppers, chopped (if you don't like spicy foods, you can either remove the seeds or remove this ingredient altogether!)
– 1 can corn, drained and rinsed
– 1 can black beans, drained and rinsed
– 1 pound lean ground turkey
– 1 packet of taco seasoning
– 1 TBSP chili powder
– shredded cheese, cilantro, salsa and Greek yogurt (for toppings – all optional!)
Instructions: 
1. Pre-heat the oven to 350 degrees.
2. Place the spaghetti squash in the oven on a baking sheet (cut side up) and cook for 45 to 50 minutes.
3. While the spaghetti squash is cooking, heat the olive oil in a medium pan over medium heat. Throw in the onion and garlic, cooking until slightly browned.
4. Add in the red pepper and jalapeño pepper, cooking for another 3 to 5 minutes. Store in the corn and beans.
5. In a separate pan, add the ground turkey, taco seasoning and chili powder. Cook until the meat is browned and no longer pink, then add to the cooked vegetable and pepper mix.
6. Remove the spaghetti squash from the oven, cut in half and use a spoon to scoop out the seeds. Loosen up the rest of the 'spaghetti' with a fork.
7. Scoop the veggie/turkey mixture into each squash boat and top with cheese (optional). Place in the oven on low broil for 3-4 minutes until slightly browned.
8. Top with cilantro, Greek yogurt, salsa or your favorite toppings!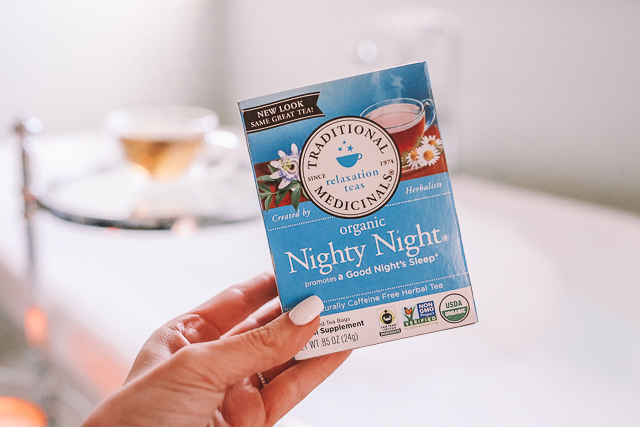 9pm
: I just finished my blog post for the following day, so it's time to relax and get ready for bed. I love drinking tea at night to help me wind down… I have a couple of different flavors that I rotate between every night, but lately I've really been loving
this organic Nighty Night tea
by Traditional Medicinals. I also run a bath with epsom salts (my muscles are already sore from my workout this morning!) and drink my tea in the bathtub to help relax before bed.
If you have any questions (or if you want to see more of these posts) let me know in the comments!
xoxox
SHOP THE POST:

JavaScript is currently disabled in this browser. Reactivate it to view this content.