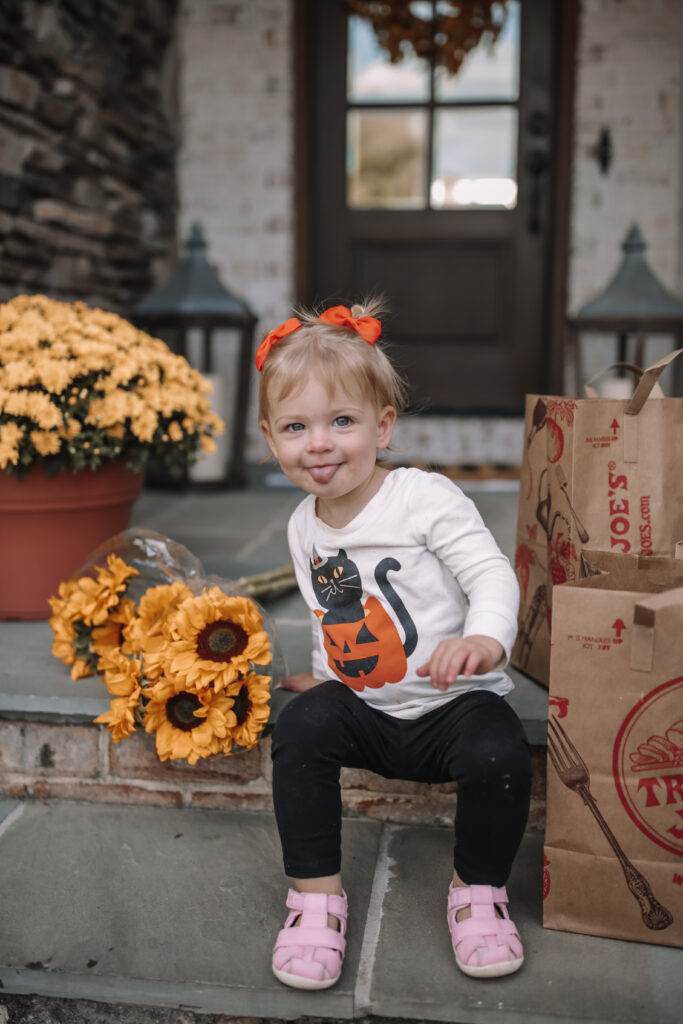 Someone recently asked me if I had any traditions in the fall and I thought to myself, "errr, does shopping at Trader Joe's count?" But seriously, every time the first of September rolls around, I start drooling over their fall foods. I see visions of Maple Cookies and can practically taste the Pumpkin Ravioli in my mouth! This is the fourth year now that I've done Trader Joe's reviews on my blog and it's one of my favorite posts all year long (probably because of all the "research" I get to do, haha). This year, I tried to test out new fall items, or at least, items that I personally had not tried before! Surprisingly, there were TONS of "hits" and only one "miss." So if you haven't already, pencil in a date with Joe because you'll want to head to your local store ASAP to pick up some of these goodies!!!!
If you're interested, you can find my previous Trader Joe's Reviews here (last year's), here and here.
Now let's get started!
Hits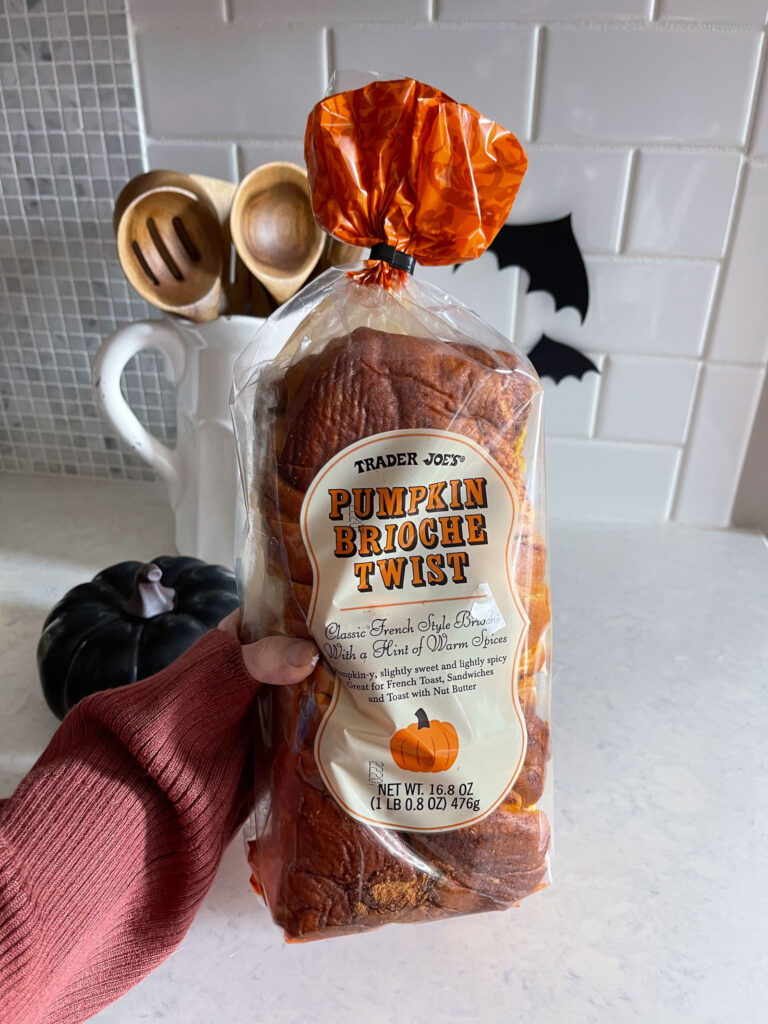 Pumpkin Brioche Twist Bread
I don't typically buy bread from the grocery store (I don't know, our household just doesn't really eat it haha) but I have heard good things about this Pumpkin Brioche Twist so I wanted to try it! And okay WOW!!! It is amazing. The first day I tried it, I just toasted it in the toaster and spread some butter on top – it was soft but toasty and had a warm, slight pumpkin flavor to it. I really liked it. The next day, I decided to make French toast with it and OH MY GOSH. It was probably the best French toast I've ever had – even better than any I've had at any restaurant! Here's there recipe I used: in a shallow dish, mix together one egg, 1/4 cup whole milk, 1/4 cup pumpkin puree, and a dash of cinnamon, nutmeg and cloves. Dip a bread slice in the mixture, making sure it's completely covered but not soggy. In a frying pan with some butter, fry each side of the bread for around 3 minutes or until golden. Serve with some real maple syrup and enjoy!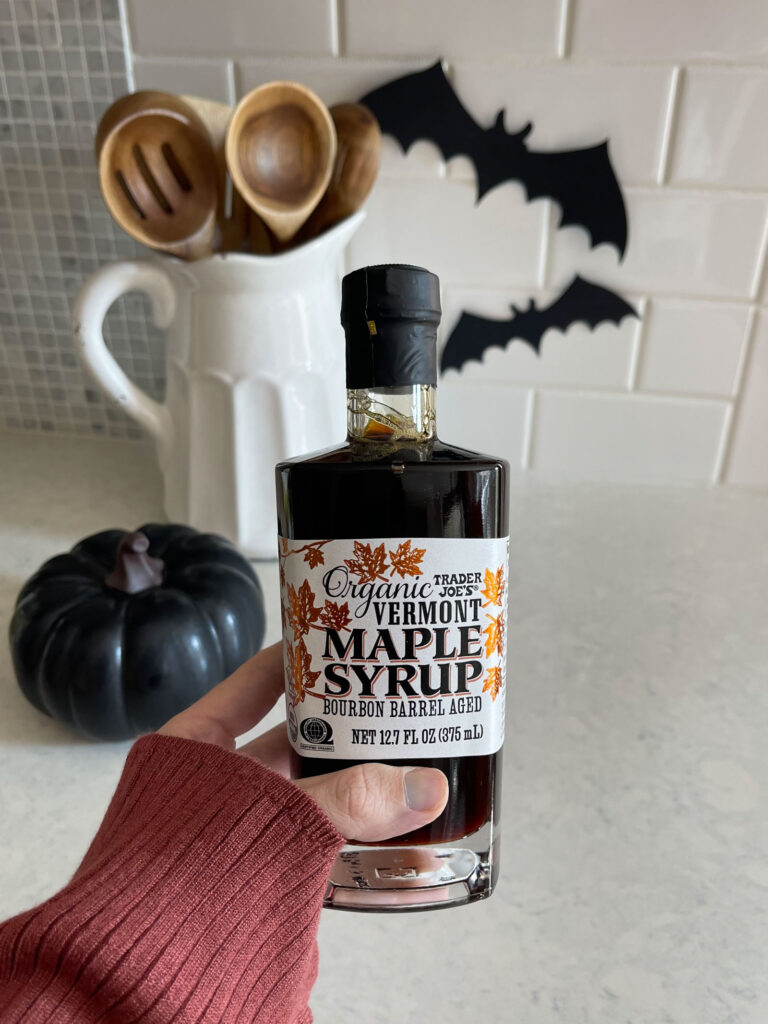 Organic Vermont Maple Syrup
I served this maple syrup alongside my Pumpkin French Toast (see recipe above) and it was divine! This syrup is very thick and flavorful and has a complex dark maple flavor with a hint of bourbon flavor. I like that it's not too sweet! You don't need very much since it is flavorful.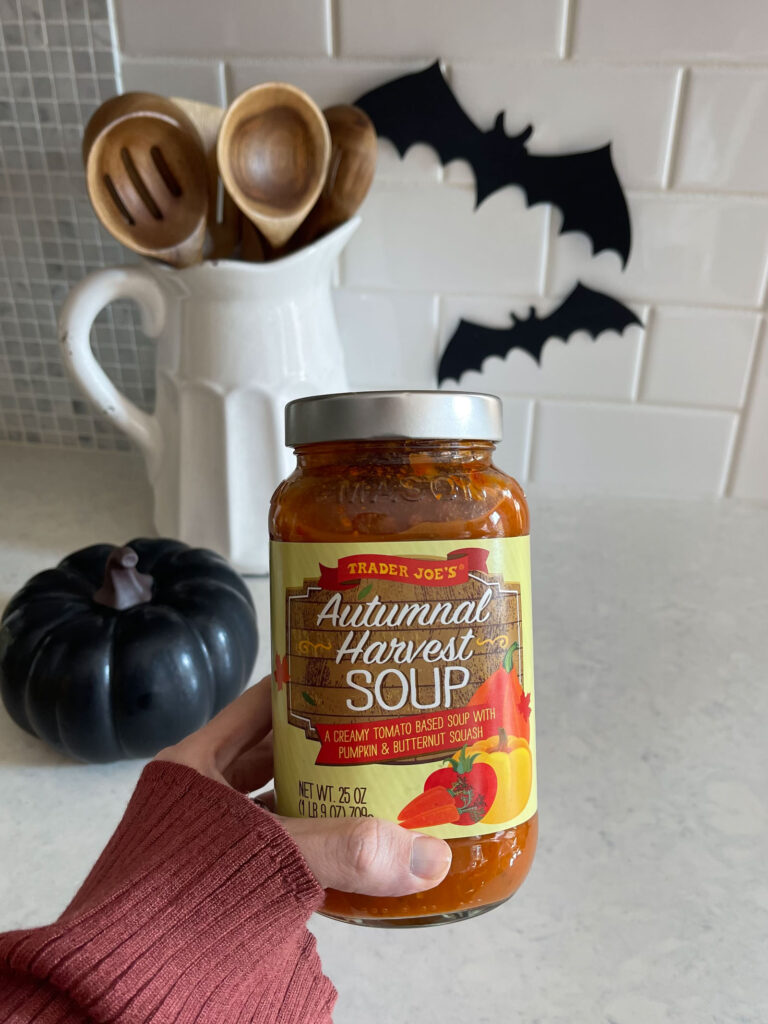 Autumnal Harvest Soup
This soup is incredible – I want to give the chef a kiss! (Whoever the chef is… maybe Trader Joe himself?) This Autumnal Harvest Soup is named appropriately, as it contains a medley of some of my favorite chunky harvest product, including butternut squash, pumpkin and slow-simmered California tomatoes. It has some autumnal herbs, like rosemary and sage, and is finished with a heavy cream that really thickens the soup and makes it feel very hearty. I love that there's ZERO effort involved to make this soup – simply heat it up over the stovetop or even in the microwave. The only thing that could make it better is to serve it alongside a crispy, melty grilled cheese sandwich.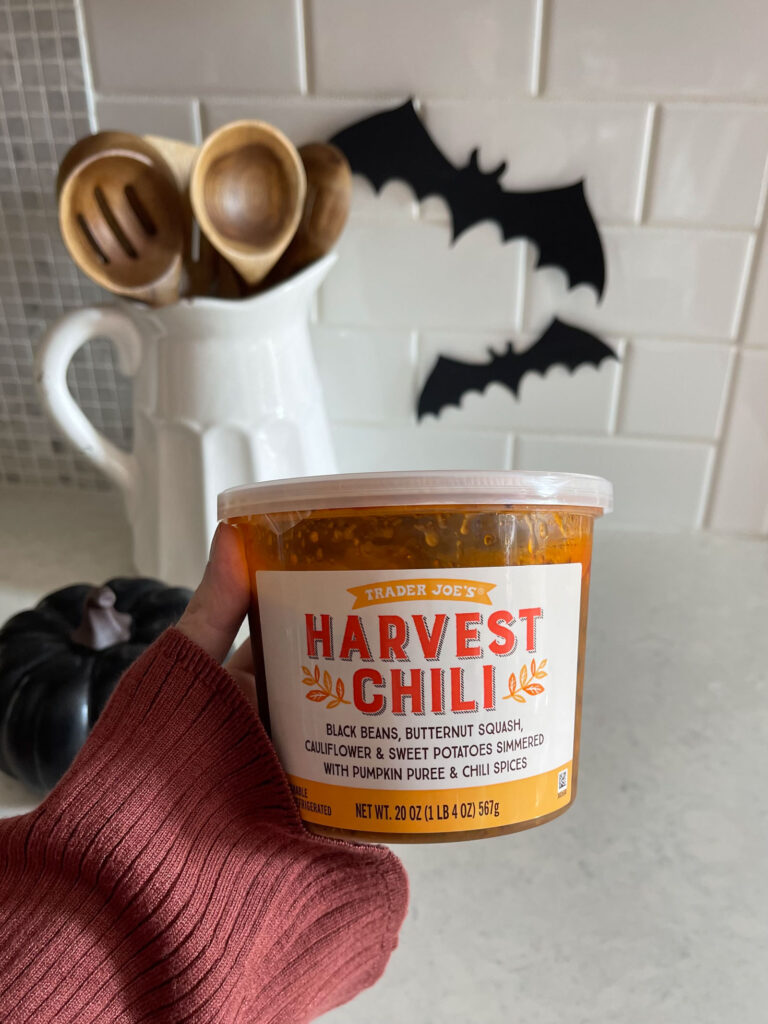 Harvest Chili
I was able to make two meals out of one package of this Trader Joe's Harvest Chili and it made for a delicious and filling lunch both days! Although this is called a chili, it doesn't have a traditional chili taste. There are tons of veggies in it and it tastes "healthier" than your traditional chili. It's made with great ingredients like black beans, butternut squash, cauliflower and sweet potato, all simmered in pumpkin puree and spices. When I made it for the first time, I was also surprised to see that it contained red quinoa! It's not spicy at all and you can really taste the sweet potato and butternut squash – which makes it feel like a very autumnal meal. It would be best to eat this on a chilly day, maybe even when there's a drizzle of rain outside, paired with some warm cornbread. Mmmmm. I am adding this chili to the list of my favorite fall foods at Trader Joe's – I will definitely be back to pick up some more!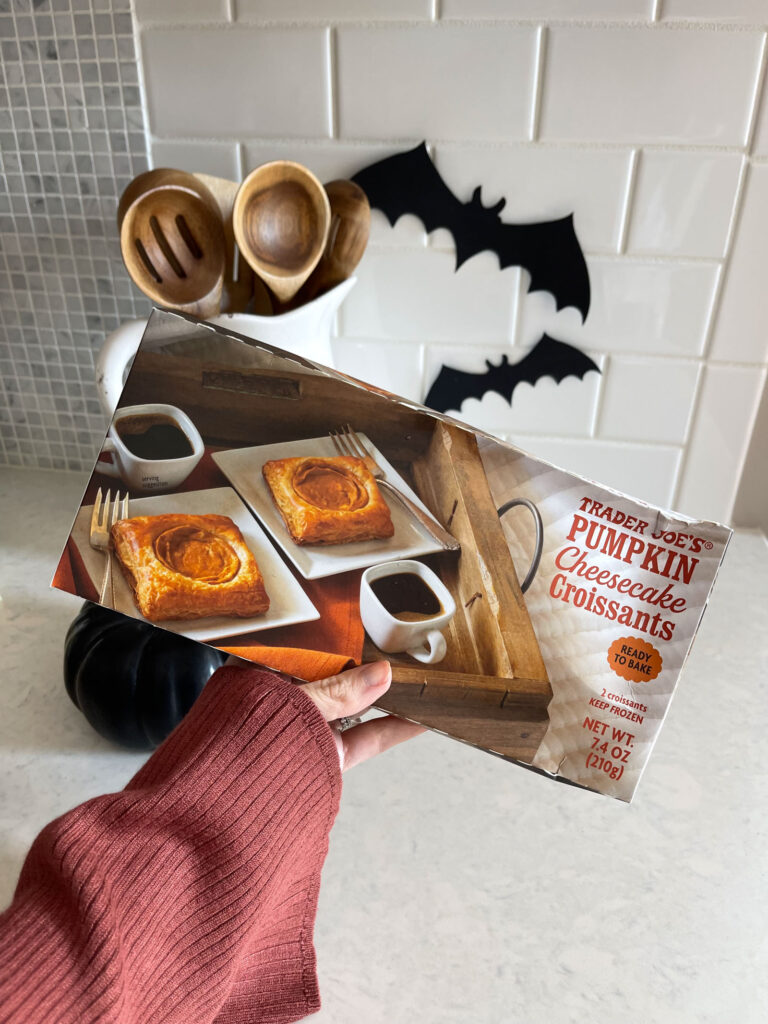 Pumpkin Cheesecake Croissants
Trader Joe's absolutely nailed these Pumpkin Cheesecake Croissants. They are out-of-this-WORLD good. I made them for breakfast one morning and, as I enjoyed one with my coffee, I instantly felt as if I had transported to a bakery somewhere in France, watching the rain come down on an autumnal day. The croissant part is thick, crispy and buttery – absolutely delicious. And then you get to the filling. There's a generous portion of pumpkin cheesecake filling that tastes like, you guessed it, Heaven. The filling is not quite as sweet as you'd expect from, say, a pumpkin pie, but it's close, and it has a nice, creamy consistency with a hint of cheesecake flavor. I cleaned every crumb off my plate! Now I am only praying that Trader Joe's has more in stock when I get a chance to go back!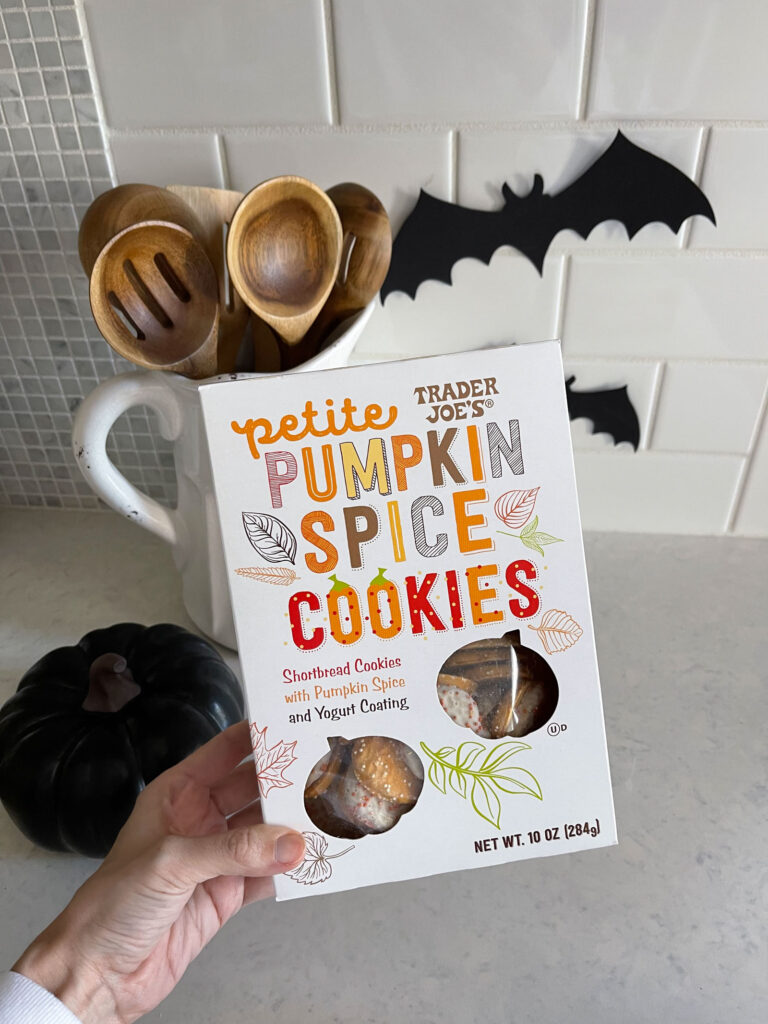 Petite Pumpkin Spice Cookies
These Petite Pumpkin Spice Cookies pleasantly surprised me this year! They are SO GOOD and almost addicting to eat (like potato chips, haha). They taste like those pink and white iced animal cookies from your childhood, except these are the updated "autumn" version! Instead of animals, these are shaped like little pumpkins, coated in white and orange yogurt and have the slightest taste of pumpkin spice. They are the perfect little sweet treat and I also think they would look so cute on a Halloween snack board!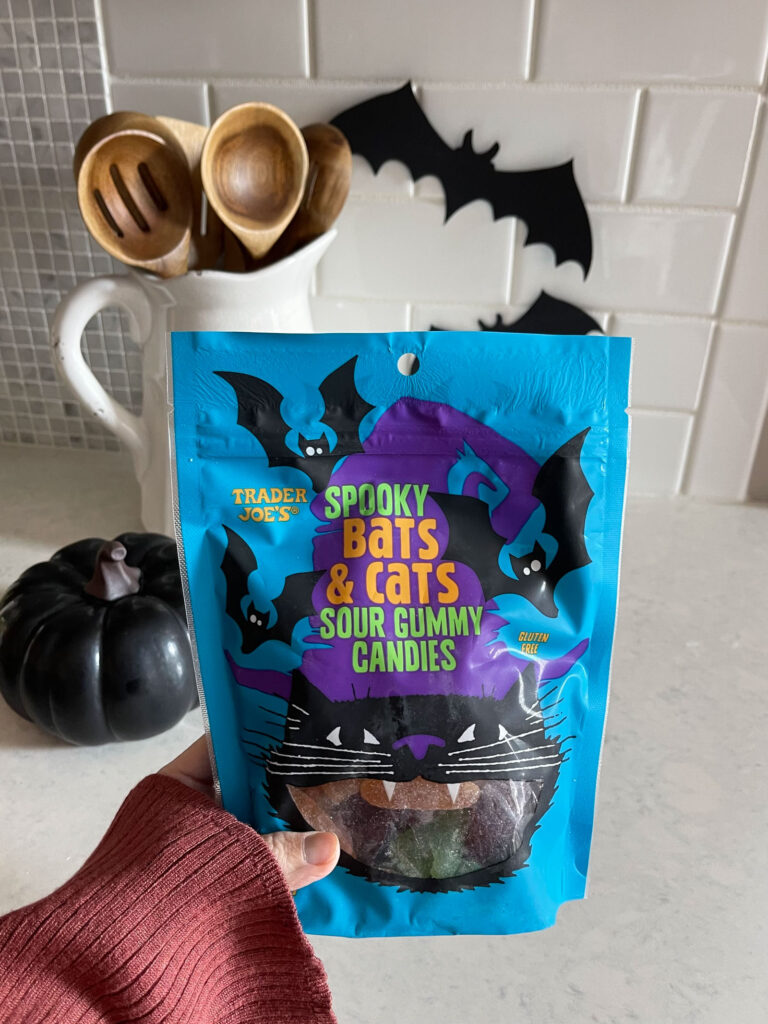 Spooky Bats & Cats Sour Gummies
If you like sour candy, these Spooky Bats & Cats Sour Gummies are a necessity! These fun little gummies are shaped like cats and bats and while they're made with natural flavors and plant-sourced colors, be warned that these are not "healthy" lol. One serving (five pieces) contains a whopping 20 grams of sugar. However, I do really love them – they have a delicious chewy, yet soft, texture and are both sour and sweet at the same time. There are three flavors in a bag: cherry, green apple, and orange. I particularly love the green apple flavor – it is BOLD and really packs a punch – but all three are delicious. They would be perfect for a Halloween movie night this October!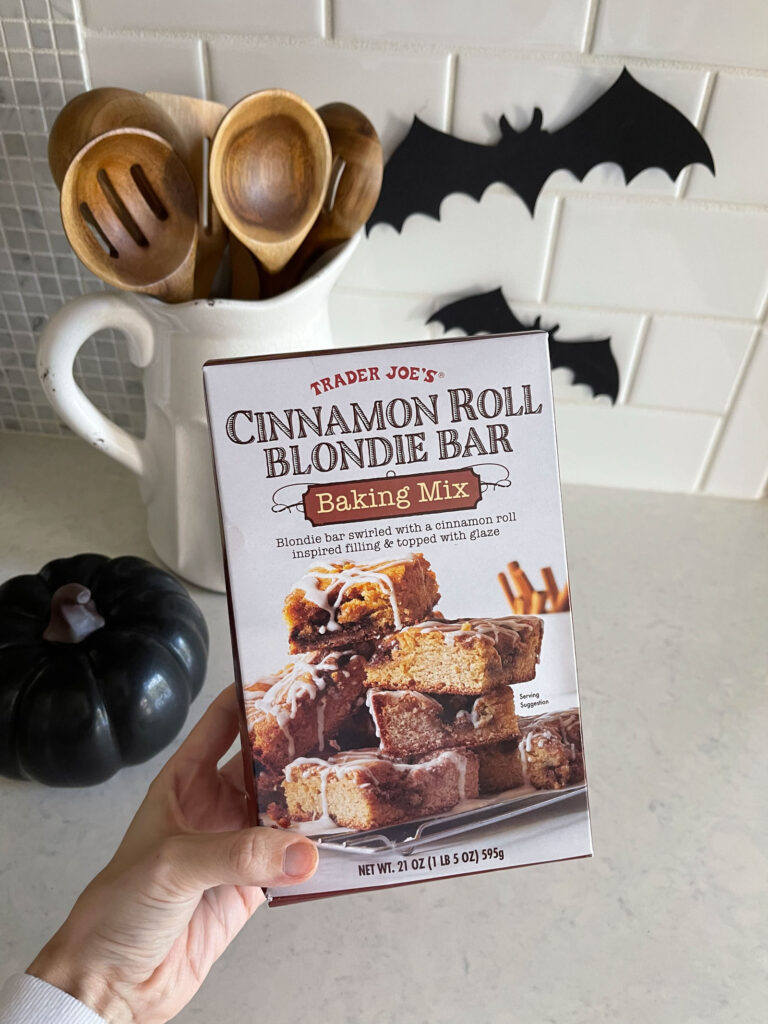 Cinnamon Roll Blondie Bars
I made these last weekend when my family came to town and they were a huge hit with everybody! My family particularly enjoyed them with their cup of coffee in the morning – it was a perfect pairing. They're a little difficult to describe, but they taste just like the cinnamon rolls from the refrigerated cans, except they have the texture of a blondie! My only complaint about these would be that they are a bit more time-consuming to make than what you would normally expect from a box mix. However, they're a lot easier to make than homemade cinnamon rolls! So, I just suggest making them the night before if you plan on having company.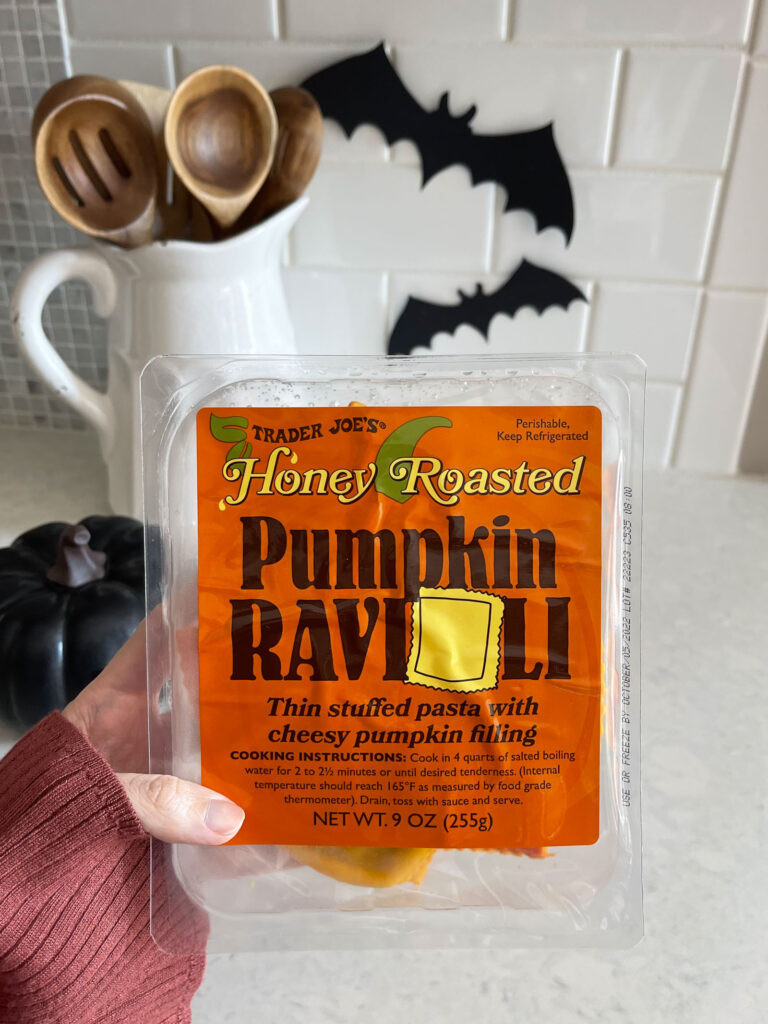 Pumpkin Ravioli
I tried this Pumpkin Ravioli a few years ago and was excited to purchase it again this year. I've had other ravioli from Trader Joe's that I wasn't crazy for, but this one is consistently so good! These raviolis are filled with a creamy mix of pumpkin and ricotta cheese… it is quite dense and the texture almost feels meaty to me. The pumpkin is sweetened with honey and brown sugar, and all of the flavors meld together into a perfect fall dish. We top these off with a little marinara sauce for a satisfying, delicious lunch. Even my husband, who is not a pumpkin fan, likes these as well!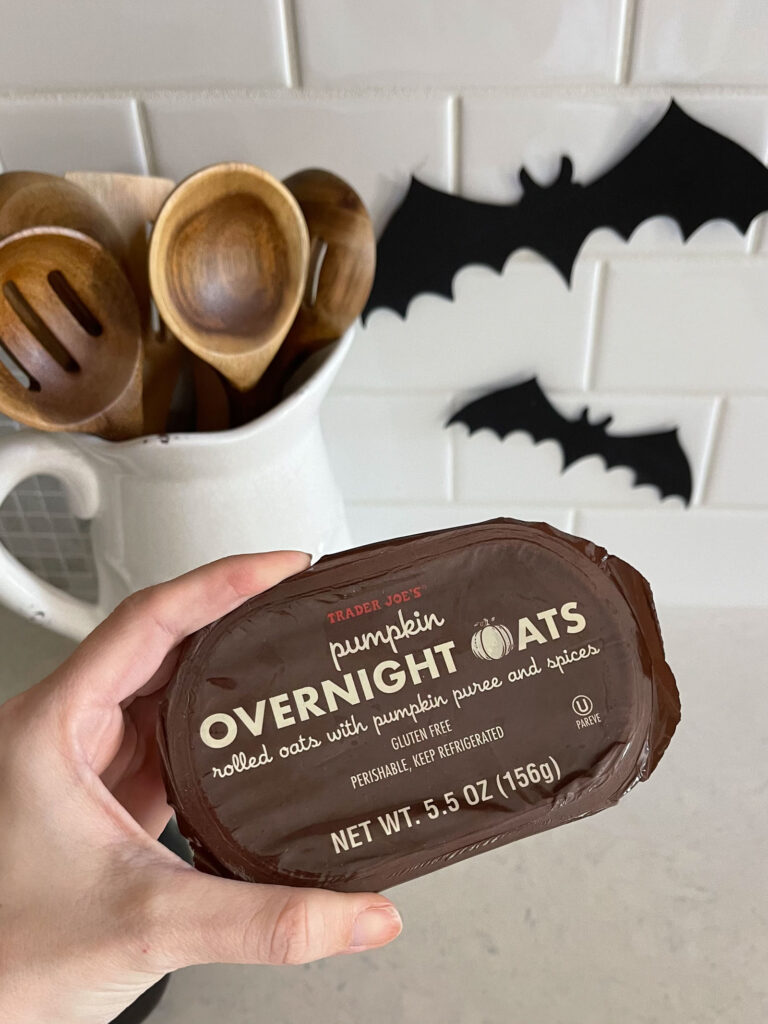 Pumpkin Overnight Oats
I have to admit, I was a little nervous to try these because they don't look very appetizing. However, I was pleasantly surprised by the taste of these Pumpkin Overnight Oats! They taste like a pumpkin pie filling that's not too sweet and has just the right amount of spice. I had to stir them before I started eating, but the consistency was a lot like pudding with little oats mixed in. I was even more impressed by the clean ingredients of these overnight oats! The simple ingredient list includes pumpkin purée, date paste, rolled oats, almond butter, cinnamon, sea salt and nutmeg – THAT'S IT!! With no added sugar in sight, these Pumpkin Overnight Oats are one of the healthiest (and tastiest) seasonal Trader Joe's finds!
Misses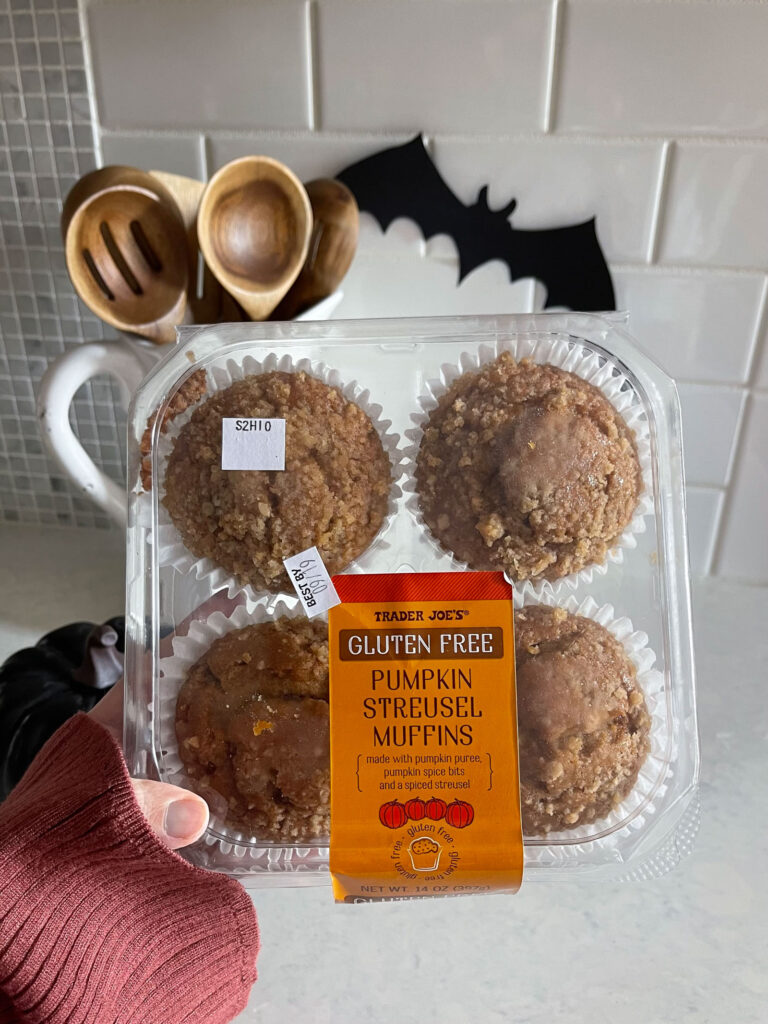 Pumpkin Streusel Muffins
These muffins were just okay for me and I wouldn't buy them again, which is why I'm adding them to the "miss" list. The top of the muffin was really moist and pumpkin-y (almost like pumpkin pie), while I found the inside and bottoms of these muffins to be a little dry. I didn't really like the two different textures together in one muffin. The flavor was okay, but, all in all, they were nothing to write home about!
Have you been to Trader Joe's this fall? If so, I'd love to hear what you purchased!