It's October, quite possibly the BEST month of the year!! I am so excited to do all the fun fall activities with Kennedy this year! (I am so obsessed with October that I even made a fall bucket list for us to complete one fun fall activity every single day of the month, you can find it here.) I do want to take a moment and look back on the "best sellers" from September because you guys bought some great items for fall, baby and travel! Also, I'm SO happy because a lot of pieces from my Liverpool collection made the list!! Thank you so much for supporting me and for all your sweet messages about this collection!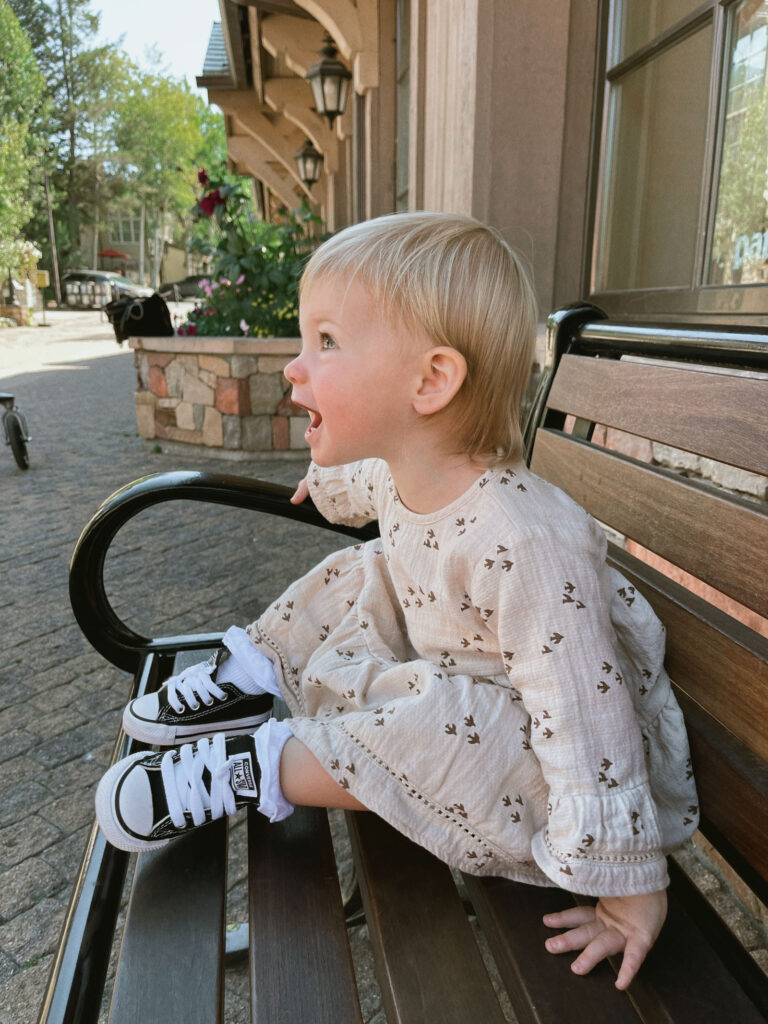 These may be the cutest little things I have ever seen!! I mean it doesn't get much better than baby feet in a tiny pair of Converses! I originally bought myself a pair of Chuck Taylor sneakers because I had been seeing them a lot and I thought they would be really comfortable and cute to wear while pregnant. Then I saw that they made a matching baby pair and I immediately added them to the cart. I wear mine with leggings, skirts and dresses (they would look really good with jeans too, but my bump is too big for jeans right now LOL). I love to put Kenny in a dress and ruffle socks with her Converses. I just love the girly meets "cool girl" look! Nordstrom is almost sold out, but they are fully stocked on the Converse website.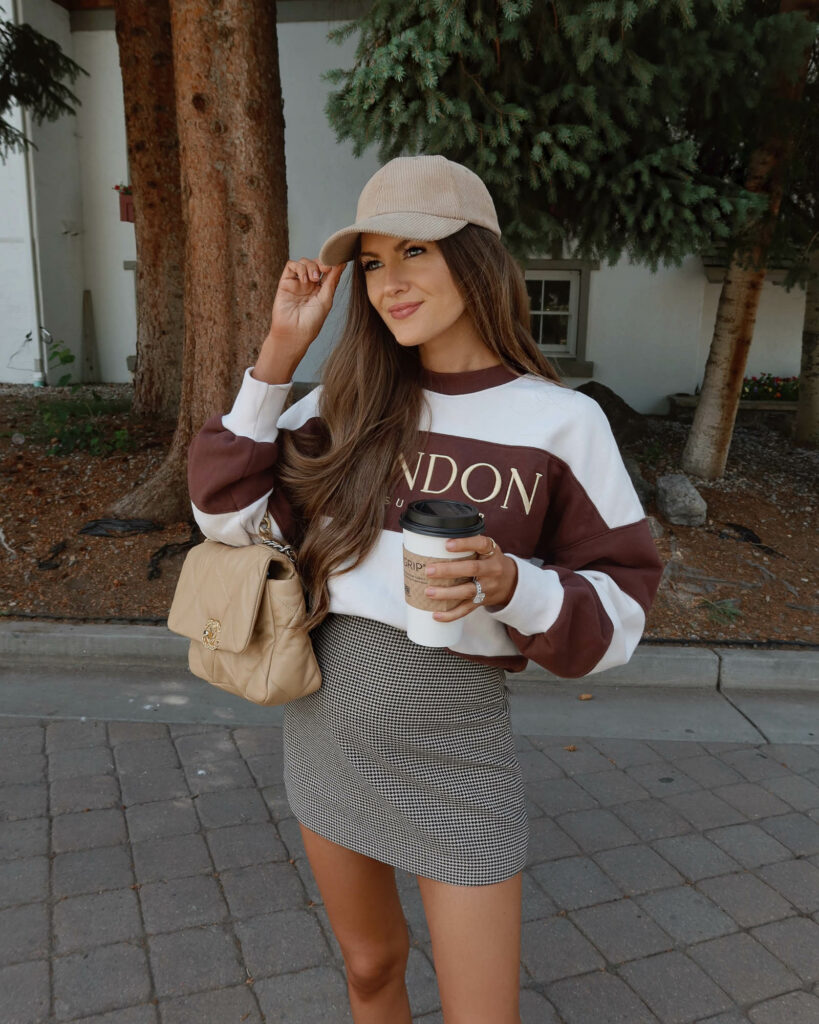 This is probably my favorite sweatshirt that I've purchased so far this fall! It's just so dang cute! The brown and cream stripes give this crewneck all the autumnal vibes and the gold embroidered graphic is really high quality. Plus it's super cozy and comfortable! I think it look so cute paired with a little plaid skirt, like I styled it here, but it would also looks great with a pair of jeans or even leggings for a more casual look. There are few versions of this crew and I love them all. I may have to grab this navy striped one too!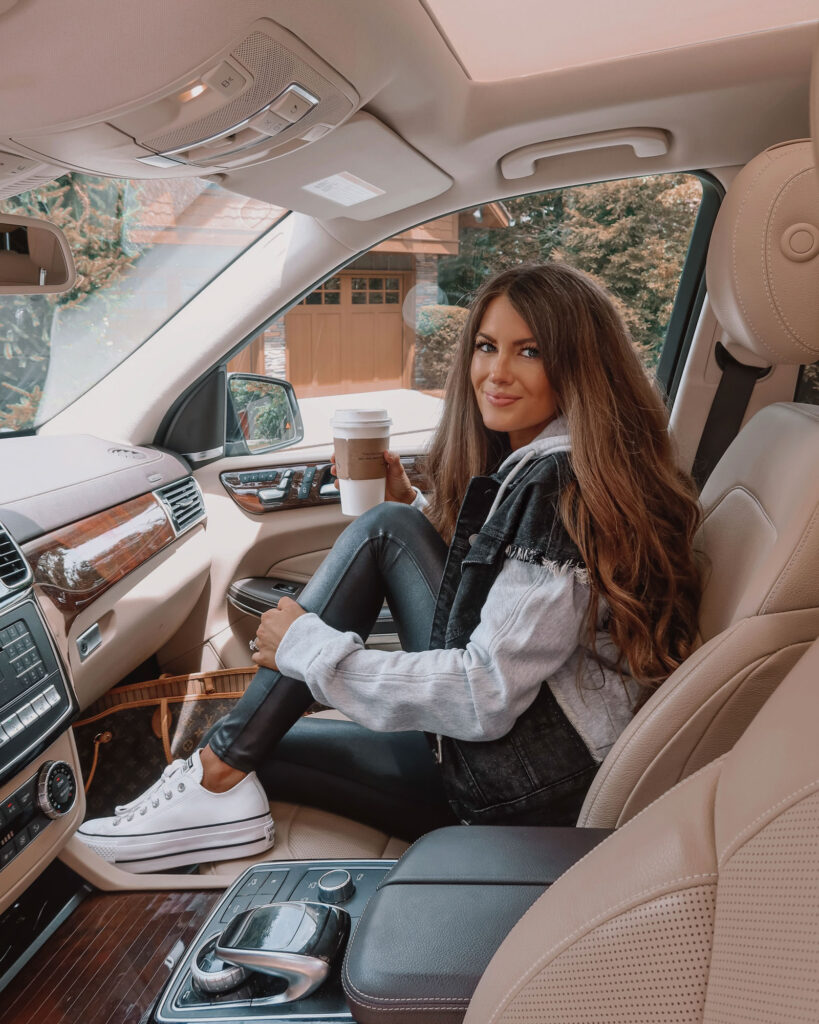 I definitely feel like a cool mom when I wear this trucker jacket lol! It's probably the most "edgy" piece from my collection with Liverpool, but I am seriously in love with it! It's part denim jacket part sweatshirt and it's so cute and trendy. I love wearing it with leggings, a t-shirt and a cute pair of sneakers! It's such an easy piece to throw on before heading out the door to run errands and still look on trend and stay cozy and comfortable all day!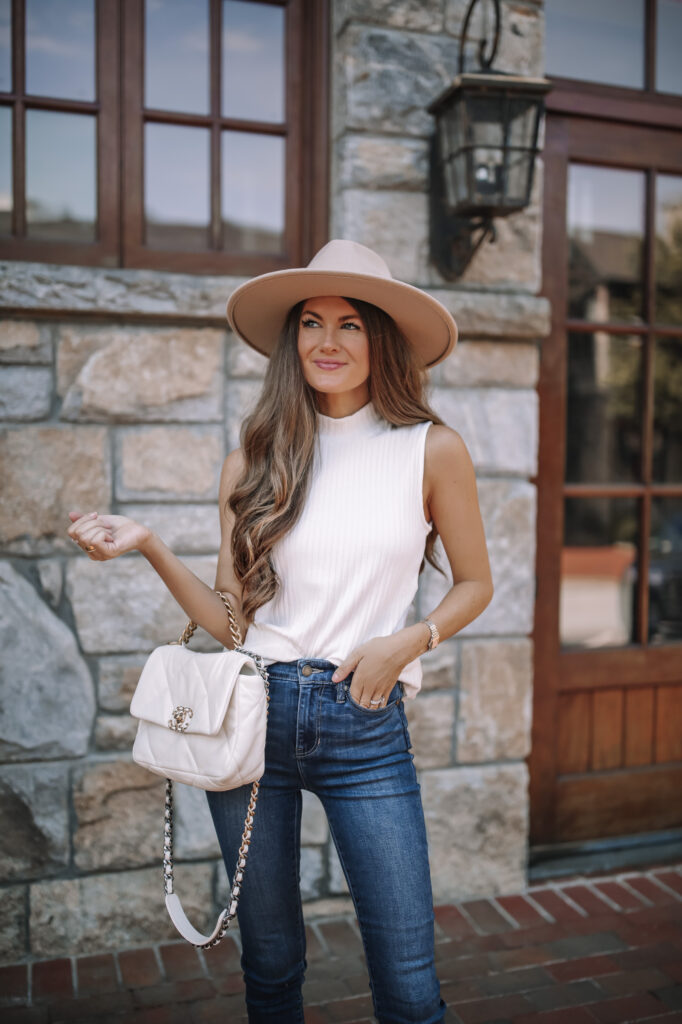 Fall and winter style is all about the layers and this mock neck sleeveless top from my Liverpool collection is PERFECT for layering! It looks great under coats, cardigans, blazers and denim jackets, and it honestly looks so cute all by itself tucked into a pair of pants too! The ribbed fabric allows you to add little bit of texture to any outfit and the material is thick enough so it's not see though but not so thick that it's hot and bulky under your layering pieces. It's available in five pretty colors on the Liverpool website!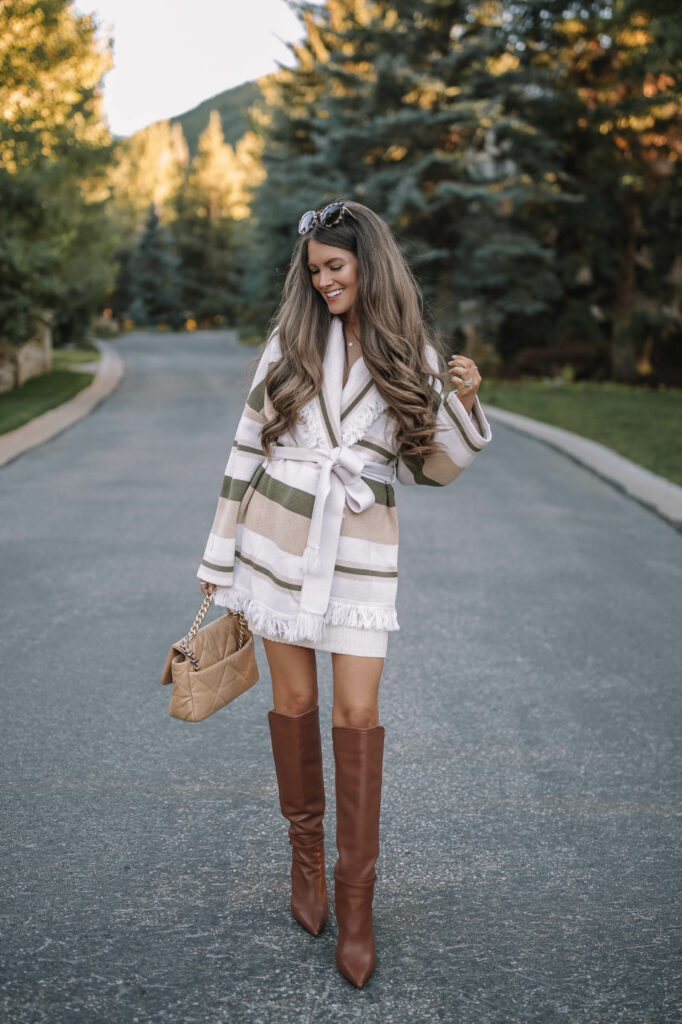 I could not be more in love with these Reiss Knee High boots! I wear them all the time! Reiss is a really NICE brand – you can tell they're designer quality because I didn't have to "break them in," they are comfortable right from the get-go. And I've got some good news for y'all… these are 60% off right now! This is the lowest price I have seen all year! Plus Nordstrom still has a lot of sizes available. So, if you have been contemplating on pulling the trigger on these beautiful boots, now is the time to get them!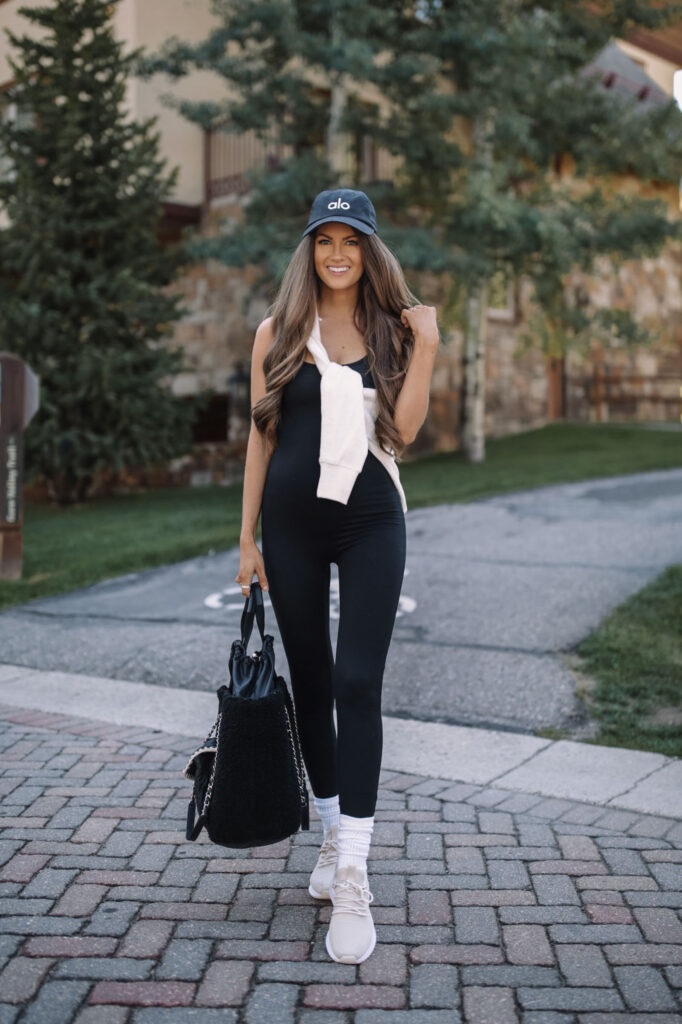 I mean it when I say that this Bumpsuit is a pregnancy MUST-HAVE! The main reason why I love the Bumpsuit is because of how comfortable it is. I get REALLY tired of leggings cutting into my bump, whether that's on top or beneath (because you only have a few options when you're pregnant, either roll leggings down to wear underneath your bump or stretch it over top). The Bumpsuit doesn't put any pressure on your stomach AT ALL, and I can't tell you how nice that is! It's made of a super soft brushed jersey material, is very high-quality, and holds up well in the washing machine.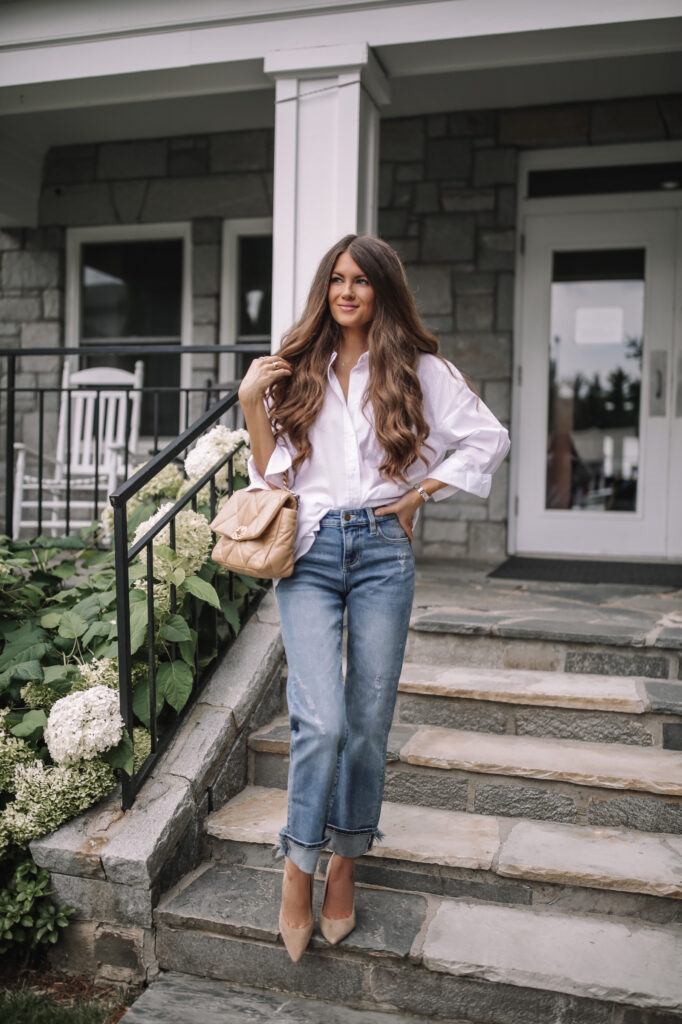 Some jeans instantly make any outfit look a whole lot cooler as soon as you put them on – well these girlfriend jeans from my collection with Liverpool is one of those pairs! They have that perfect "cool girl" relaxed fit that isn't too loose or too tight. The detailing is just distressed enough for a tasteful vintage look. Plus, the cuffed hem allows you to show off your shoes, whether that be a girly pair of heels, a cozy pair of booties or even a cool pair of sneakers – these jeans look great with all your favorite footwear. They're also super comfortable!
This is THE staple item you need for your wardrobe! You can wear this oversized class button-up shirt (also above) all year long and in so many versatile ways! Wear it under sweaters, vests, cardigans and blazers in the colder months and tied-up over dresses or tucked into cute miniskirts or shorts in the warmer months. It also looks amazing when it's just simply paired with a good pair of jeans or trousers. The quality of this shirt is impeccable, which is important because this is such a timeless piece that you'll be reaching for time and time again!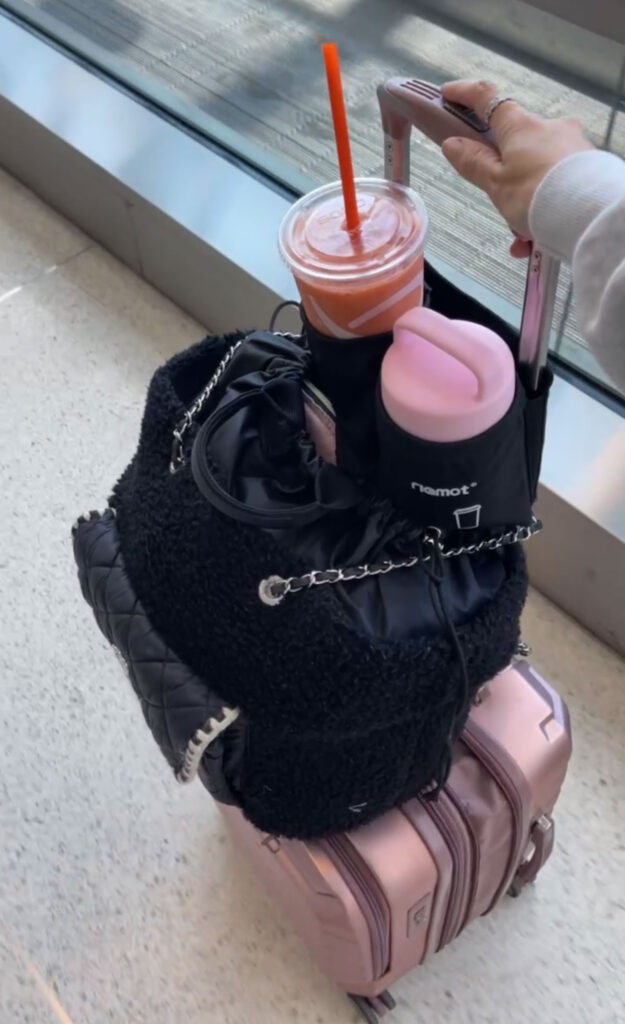 We've all been there… making our way through the crowded airport trying to hold on to our coffee, water, passport, boarding pass, phone, and maybe even a baby, too! It can be difficult trying to keep up with everything and it usually leads to a spill. This Amazon find is the answer to all of our problems! It's a luggage cup holder and all you have to do is velcro it to the handle of your carry-on, and voilà! Your hands are free! It has two cup holders in the front and a smaller pocket in the back that's perfect for easy access to your phone and passport. I've used it on our all recent trips and I couldn't recommend it more. And yes, it DOES actually work (I was skeptical when I saw it online, too).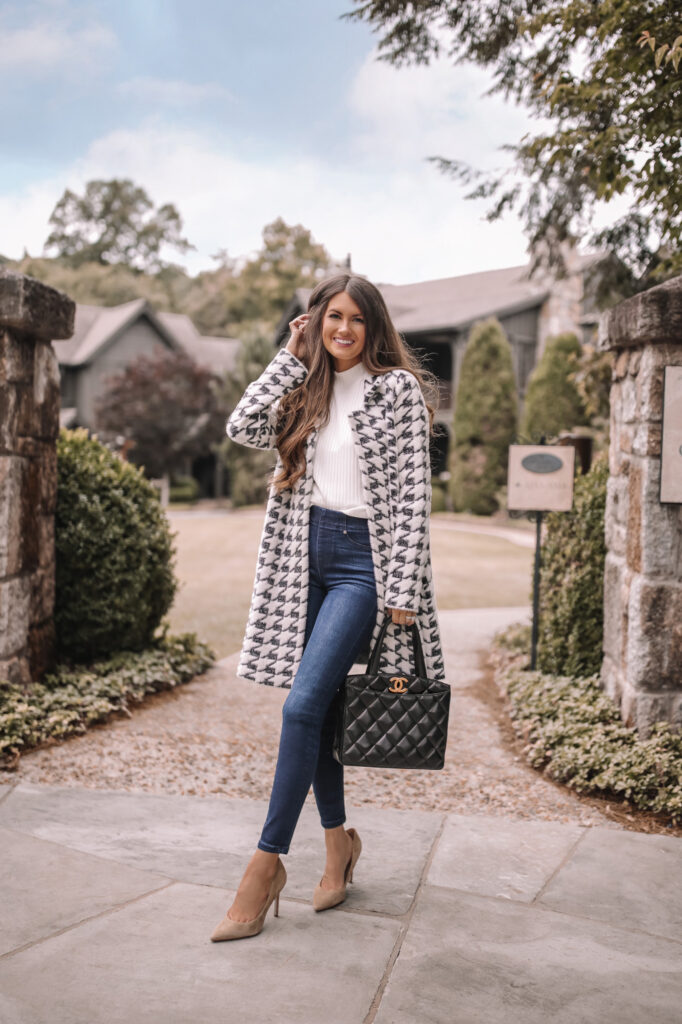 Drumroll please… the number one seller for the month of September is… this houndstooth jacket from my collection with Liverpool!! I'm so grateful that this was the best seller, but I can't say that I'm surprised because every time I posted about it on Instagram you guys flooded my DM's with sweet comments! I'm obsessed with it!!! The houndstooth pattern is so classic and gorgeous. It's technically a "coatigan" so it's lightweight and great for layering but it's still really warm so you can you can wear it all fall and winter too. I like to pair it with leggings and jeans for a put-together casual look and I also wear it with skirts, dresses and boots when I want a more dressed-up look. It's really so versatile and you can't go wrong with any way you style it! It already sold out on Nordstrom's website but they JUST restocked it (so it's fully stocked now) and Liverpool's website.
I'd love to know if you had a favorite this month! xoxo