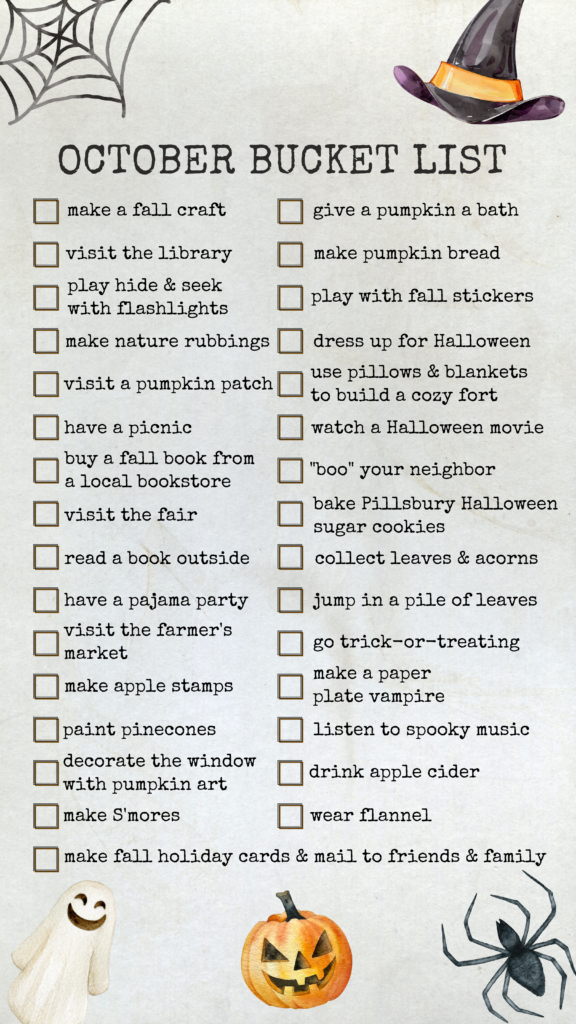 Kennedy and I are doing something fun for the month of October… we're doing one fall activity every single day! I wanted to share this list with you guys in case anyone wanted to do it with us. (Unfortunately, these are all geared towards toddlers so some of them might be a little weird if you don't have kids yet, hahah!) Some of them do require some preparation, too – I went ahead and ordered all of the ingredients we would need for baking and craft activities! Details below!
October Bucket List Ideas
Make a fall craft (here are some ideas: leaf people, acorn necklace, scarecrow spoon, autumn leaf suncatcher, pinecone hedgehogs, paper plate scarecrow)
Visit the library
Play hide and seek with flashlights
Make nature rubbings
Visit a pumpkin patch
Have a picnic
Buy a fall book from a local bookstore
Visit the fair
Read a book outside
Have a pajama party
Visit the Farmer's Market
Make apple stamps
Paint pinecones
Decorate the window with pumpkin art
Make S'mores
Make fall holiday cards and mail to friends and family
Give a pumpkin a bath (you can paint it first!)
Make pumpkin bread (I'm going to make this one)
Play with fall stickers
Dress up for Halloween
Use pillows and blankets to build a cozy reading fort
Watch a Halloween movie (some toddler-appropriate ones are Mickey's Treat, Curious George Halloween Boo Fest, Pooh's Heffalump Halloween Party)
"Boo" your neighbor (leave a little treat for them on their doorstep!)
Bake Pillsbury Halloween sugar cookies
Collect leaves and acorns
Jump in a pile of leaves
Go trick-or-treating
Make a paper plate vampire
Listen to spooky music
Drink apple cider
Wear flannel
Let me know if you have a toddler and have any other great ideas!
xoxo