It is blowing my mind a little how fast this year is flying by… and this pregnancy! I can't believe I'm already 30 weeks along – it is really dawning on me that there are only ten weeks to prepare for this baby!!! I still have so many things to do, from packing a hospital bag to getting her nursery ready.
I thought for today's post I could round up all of the items that helped me through my second trimester. While this pregnancy certainly got off to a rough start, I really found my groove in the second trimester. I got nearly all of my energy back, ditched the nausea and found some supplements that really work for me. This trimester has not been all smooth sailing, though – for starters, I feel HUGE! My bump is definitely a lot bigger than it was with Kennedy and I have gained more weight overall, too. It has been difficult for me mentally to adjust to my changing body. Where I felt confident and glowing with my first pregnancy, I feel big and kinda "blah" with this pregnancy – if that makes sense! I wish I had the time to work out more and make healthier meals, but it feels pretty impossible while taking care of a toddler. I'm sure other mamas might know what I'm talking about! I just keep reminding myself that pregnancy is only a phase. I truly can't WAIT for baby girl number two to get here!
Anyway, let's move on to my second trimester essentials, shall we?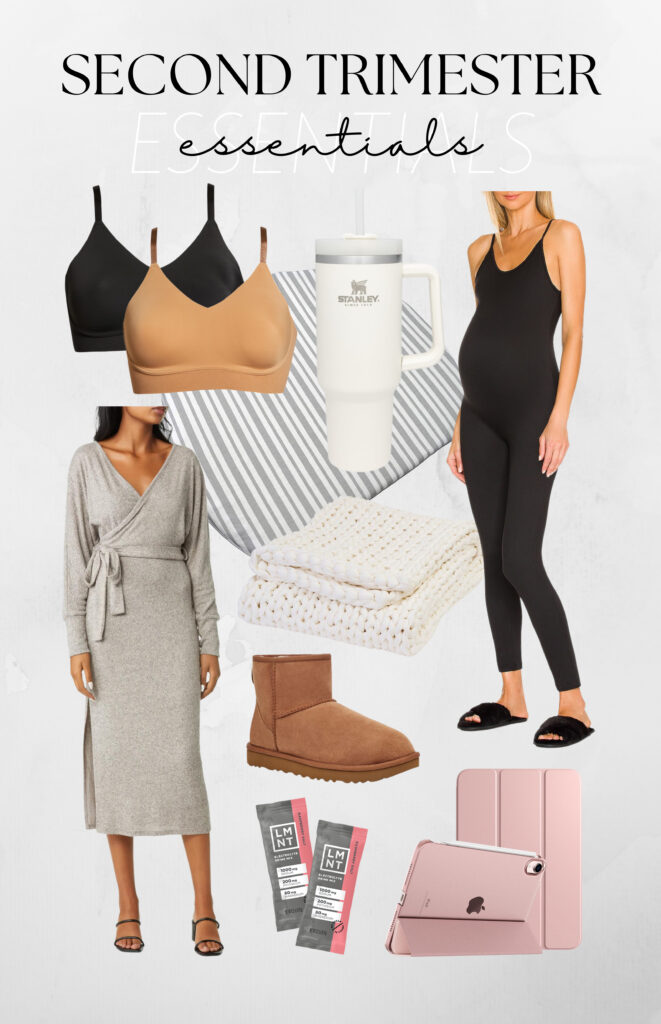 True & Co Bras // With a growing bump also comes growing boobies, lol! I ordered some new True & Co bras that are two cup sizes bigger. I loveee these bras for pregnancy because they are so, so comfortable. There's no annoying straps that dig into your back and they're soft enough to sleep in. They also hold up really well in the washing machine!
Stanley Cup // I used this Stanley tumbler all of first trimester, and it never left my side in my second trimester, either. There's something about the Stanley tumbler that is just so nice and kind of addicting to drink out of – if you have it, I'm sure you get it! I think it's the straw… or it could be the fact that it's so big, you hardly ever have to refill it. Either way, I am obsessed with this thing!
Boppy Pregnancy Wedge Pillow // Sleeping is pretty uncomfortable during pregnancy – I am normally a stomach sleeper and it's really hard for me to get comfortable sleeping on my side! Instead of sleeping with my huge pregnancy pillow, I've been sleeping with this wedge pillow, which is small but mighty! You "wedge" it right under your bump while sleeping on your side, and it's the perfect height/slope to support your bump. Without it, I feel like gravity pulls too much on my stomach and it feel so uncomfortable!! I also love that this pillow is small and is easy to move when switching sides.
Bumpsuit // This bumpsuit has been without a doubt my number one clothing item I've worn during pregnancy! I've suffered from really bad acid reflux this pregnancy and part of the problem has been pants/leggings that are too tight on my bump (even some "maternity" leggings still apply pressure to my stomach and can aggravate my acid reflux). The bumpsuit is super soft and comfortable and doesn't apply ANY pressure to my stomach. These leotards also happen to be really "trendy" right now and you can style them so many different ways (here's one of my favorite ways to wear it).
Comfortable dresses // Aside from my bumpsuit, I've also been living in comfortable, stretchy dresses. I haven't bought any maternity dresses *just* yet, but I've been sizing up and ordering oversized dresses that, again, aren't too tight on my stomach.
Organic cotton knitted blanket // I have been all about comfort this pregnancy, and really loving soft, cozy blankets!
UGG boots // UGG boots are so comfortable and I LOVE that they are so trendy right now (to be honest, I wear them every winter regardless of whether or not they are "trendy" that year lol). The mini UGGs are perfect for slipping on and off whether I am headed to a chiropractor appointment, to take Winnie on a walk or to chase my toddler around the house! It has also been so cold here, and they keep my feet really warm.
LMNT Electrolyte Packets // I am always a bit skeptical of supplements, but after reading this blog post by Lily Nichols (literally my idol and one of the smartest humans alive), I ordered some LMNT electrolyte packets and have been drinking them ever since. I really do enjoy the taste of them (they taste even better than Gatorade to me!) and I can definitely tell that I'm more hydrated on the days that I drink them! After reading about all of the benefits of electrolytes, I love knowing that I'm doing something good for myself and my baby, too.
iPad & iPad case // My favorite way to unwind at night is to watch Netflix or YouTube videos in bed. I have become really attached to my iPad and watch it almost every night! I put away my phone and allow myself to zone out for 30 minutes, which I swear helps me fall asleep faster and sleep better at night. I often feel a lot of stress during the day, so this 30 minutes is sometimes my favorite of the entire day!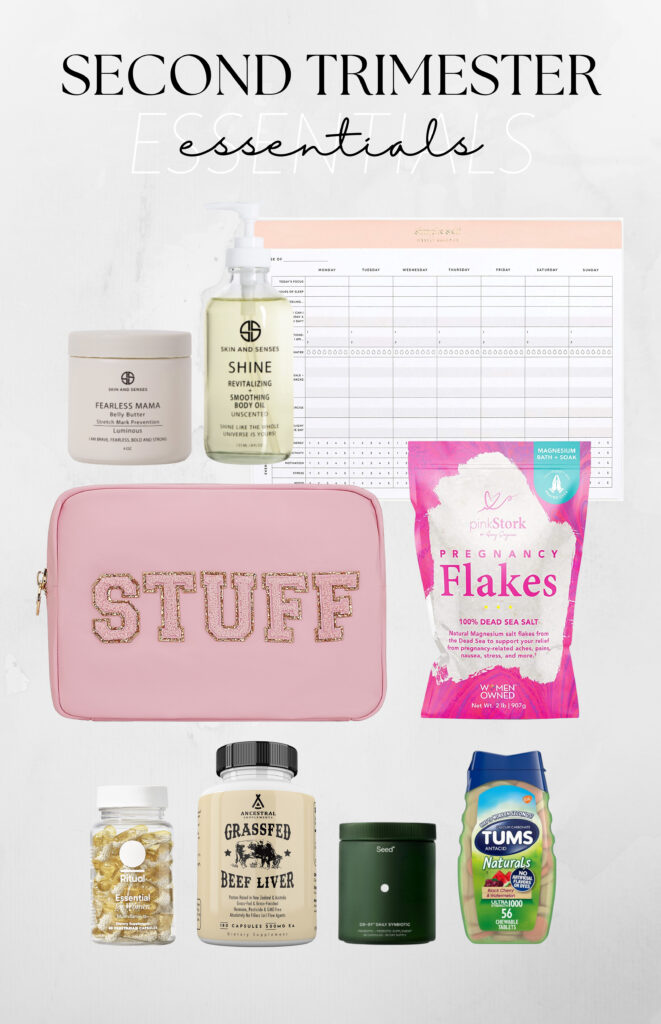 Skin and Senses belly butter & body oil // These are two products that I used all during my first pregnancy and have continued with my second! The belly butter is such a nice product – it is completely "clean" (I get the "unscented" one). I rub it between my hands to warm it up first, then apply it anywhere that I could get stretch marks like my stomach, butt and chest. Everywhere else, I apply the body oil (also in the "unscented.") It keeps my skin feeling nice and moisturized, and I love that both products are so clean!
Wellness Tracker notepad // I have really had to work hard to keep myself accountable for healthy habits this pregnancy. I have been wanting to treat food as a "reward" and it is so tempting to order Chickfil-A or Starbucks and to skip workouts! I definitely have good and bad weeks, but this Wellness Tracker notepad has been a really positive influence in my life. I find it very motivating to keep track of my meals, water intake, sleep, and workouts and it really helps me stay accountable.
Stoney Clover "STUFF" bag // I have a bag just like this that I keep all my pregnancy "stuff" in (supplements, LMNT packets, etc.) and it's not a necessity but it has been super helpful.
Pink Stork Pregnancy Flakes // I have purchased this item 32 TIMES from Amazon over the last two years. I signed up for the subscription during my first pregnancy and I continued to use them even after I gave birth. These bath salts truly are amazing – I sprinkle a bunch in a warm bath and then soak for 20 minutes. They're made of pure magnesium, which is essential during pregnancy – some studies suggest that supplementing with magnesium may reduce the risk of complications like fetal growth restriction and preterm birth. I swear that my nausea felt better after using them, as well.
Ritual Essential Prenatal Multivitamin // I love the Ritual prenatal multivitamin – it's lemon-flavored and easy to swallow, plus it contains all the essential nutrients for baby, including choline, iron and the methylated form of folate.
Grass Fed Liver Capsules // I started taking these liver capsules during my second trimester and I swear they help me with my energy levels! I really wish I was able to eat liver, but pregnancy food aversions made me stop trying in my first trimester. These capsules contain desiccated liver – you can't taste it AT ALL and they're a fantastic source of iron, B vitamins, Vitamin A, Vitamin C and choline. The serving size is 6 pills but I rarely take that many, usually just 2 or 3 a day! P.S. If you're confused on why anyone would want to eat liver, I encourage you to read this article.
Seed Daily Synbiotic // I take this every morning. It's really a probiotic and is great for your gut and also getting things "moving along," which I have – ahem – needed help with this pregnancy.
Tums Naturals // Like I told y'all, I have been dealing with a lot of acid reflux this pregnancy! These Tums have literally been my best friend!!! I don't go anywhere without them, lol. I try not to take them unless I really need them, but I have gone through a few containers already! The Tums "Naturals" are made without artificial flavors and dyes, so I feel like they are better for you than the normal Tums!
Okay, I hope all of this information didn't bore you to death! If you have any pregnancy favorites I would LOVE to hear them (especially any acid reflux remedies!). I am all ears!
xoxo