I'm so excited to share our Ballard Designs LIVING ROOM REVEAL with you guys! If you remember a looong time ago, last February to be exact, I shared that I was working with the Design Solution team to design and furnish our main living room, and shared a little bit of that process with you guys in this blog post. Laura, our designer, worked really hard on the plans and since then, our living room has finally come together! It was such a fun process to watch unfold – we would get one piece of furniture, then another, until finally all of the coffee table books were placed, the lightbulbs were in, and our entire living room was complete. It was so cool to watch Laura's design truly "come to life!"
As a reminder, here's what our living room looked like when we moved in (to see more photos of our house when we first bought it, click here for my empty house tour!):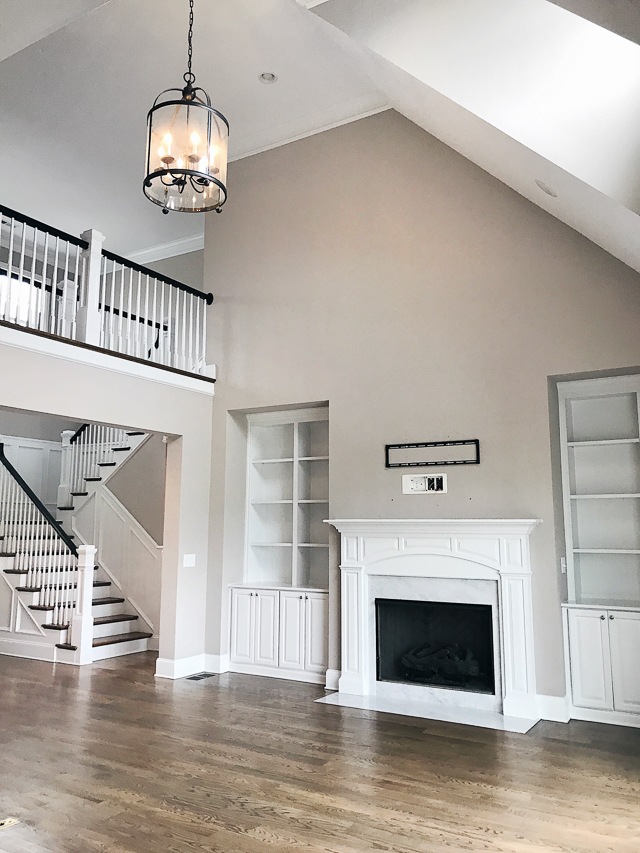 Chris and I are totally in love with our new space. We really wanted the living room to look beautiful and sophisticated, but still comfortable and a place where we could drink our morning coffee or entertain guests and not be too scared of "messing it up." The most important factor was our seating choices, especially the sofa: we wanted an elegant design, but still super comfy! We chose the Lawrence Sofa in the Queens Velvet Gray (with weathered wood finish) and are so happy that we did. It has a slightly curved back, which adds a feeling of coziness and softness to the space. The velvet fabric that we chose is sooo soft, too! It makes you want to just curl up and fall asleep. You can see the curved back of the sofa in the below photo: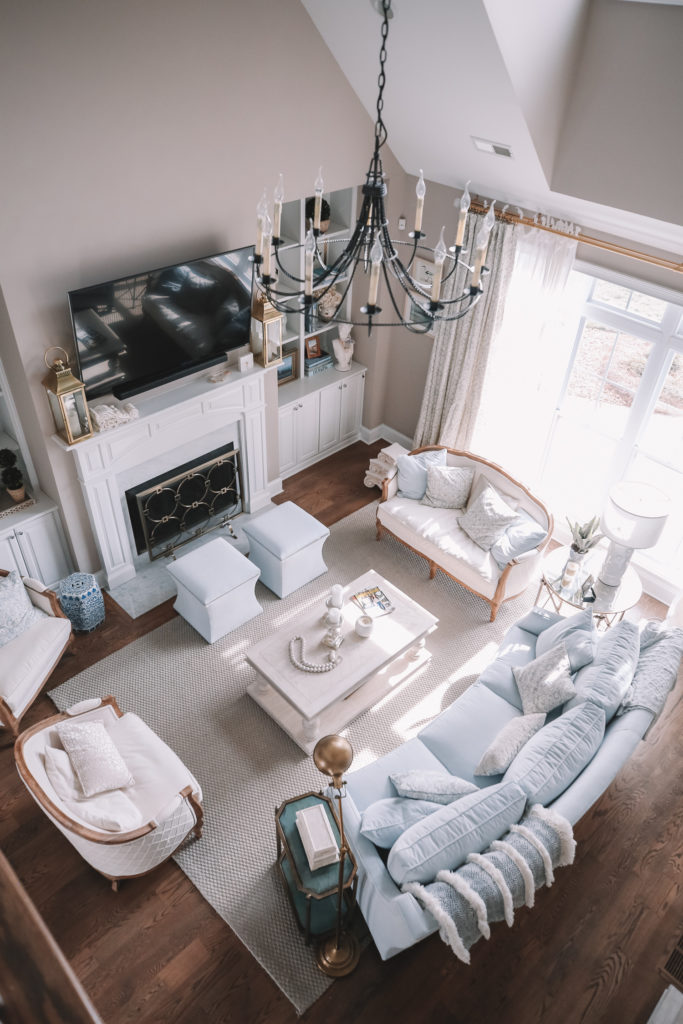 In addition to the Lawrence Sofa, we also really loved the Sofia Settee and Sofia Chairs. They're completely customizable, which we had a lot of fun playing with. We went with a base fabric of the Queens Velvet Snow, and on the backside we did a really fun fabric, the Stockton Cream, which has a really pretty diamond stitch pattern but still kept the overall look of the chair very neutral.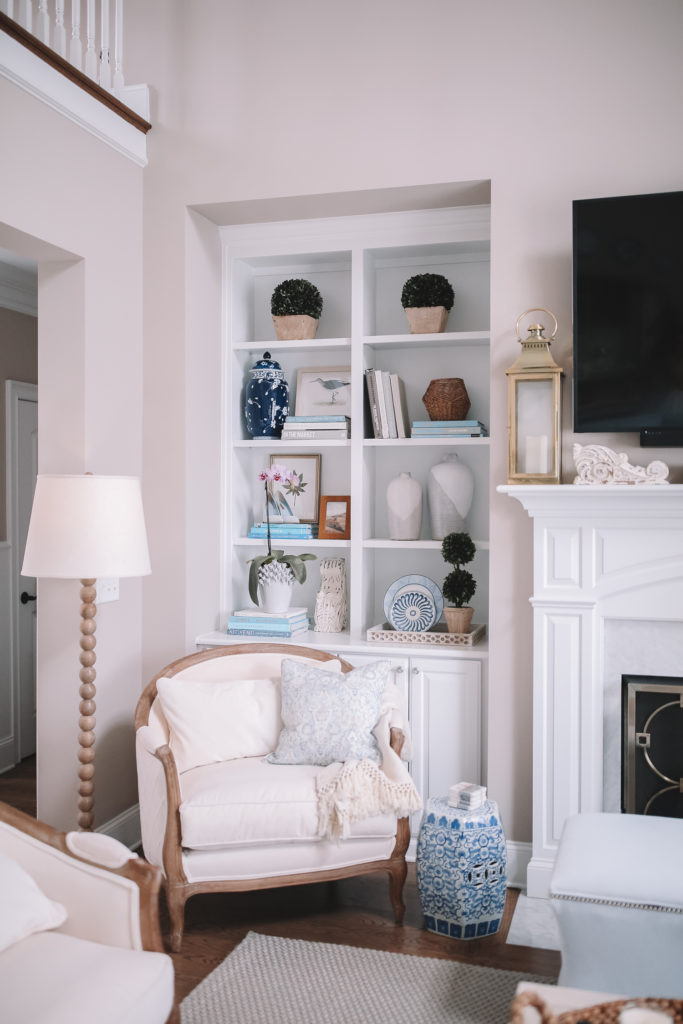 Some of my other favorite pieces include this gorgeous Andrews coffee table, as well as the fireplace screen (which really stands out!). Another favorite? All of the decor for the built-in bookshelves! When we originally bought our house, I was clueless to how we should style these shelves, but Ballard Designs put together a whole plan for them! These decor pieces are so easy to mix and match and switch out with the seasons.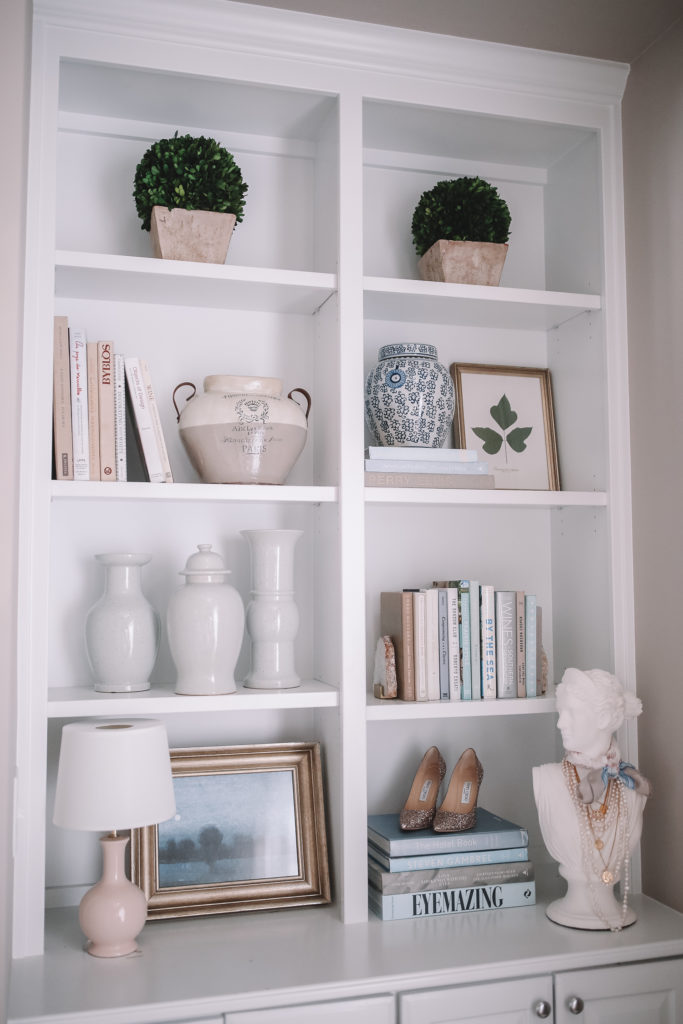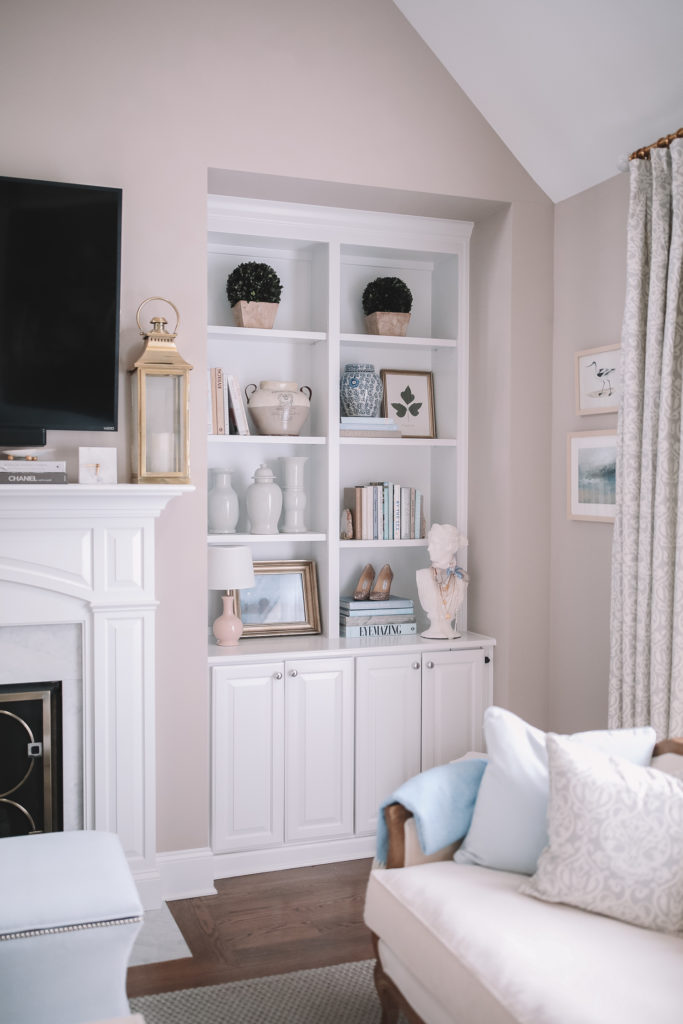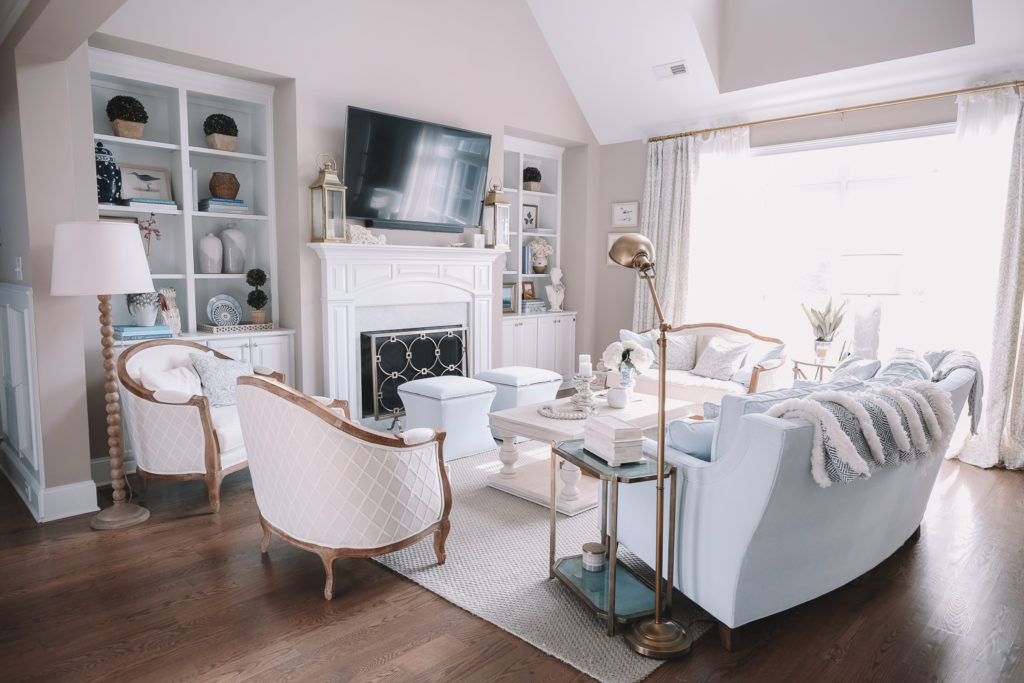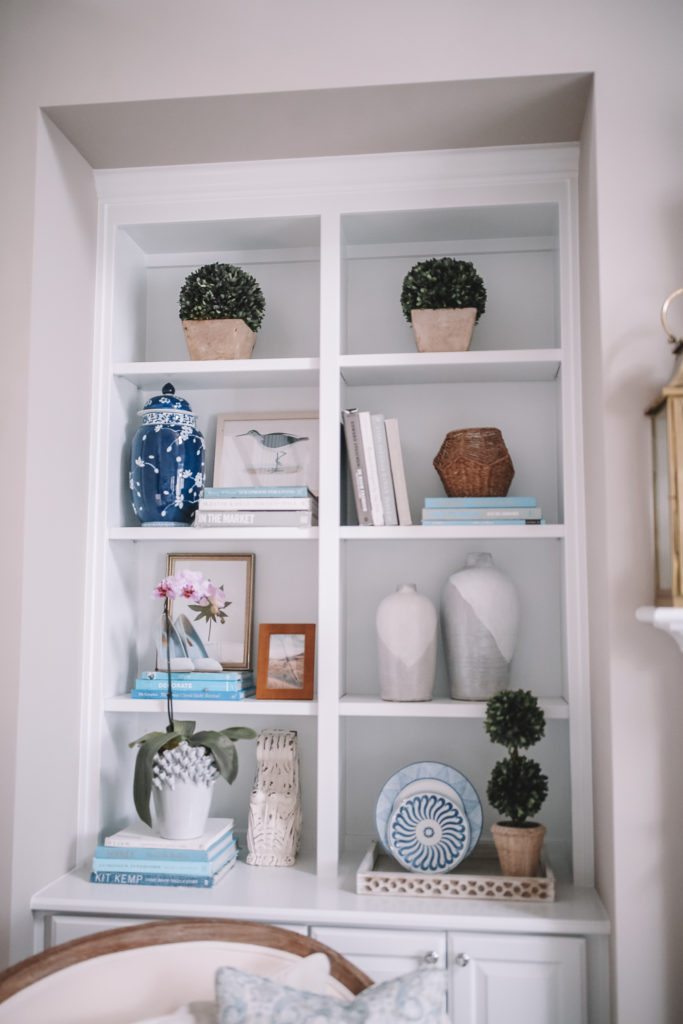 We started by placing these boxwood topiary domes at the top of each shelf to establish some symmetry in the room. Then we peppered in some coffee table books (mostly from used book stores) and several of these blue and white ginger jars to create interest. Vases also make great decor for bookshelves: I love this small Bubaix Urn and these vases from the Ames Vase Collection. Lastly, we placed a bunch of petite art from Ballard Designs throughout the shelving units – we used a few of these Pressed Leaf Prints and these Sandpaper Art Prints. The finishing touch to the shelves was this bust. We added some of my pearl necklaces around her neck, since I am a fashion blogger after all 🙂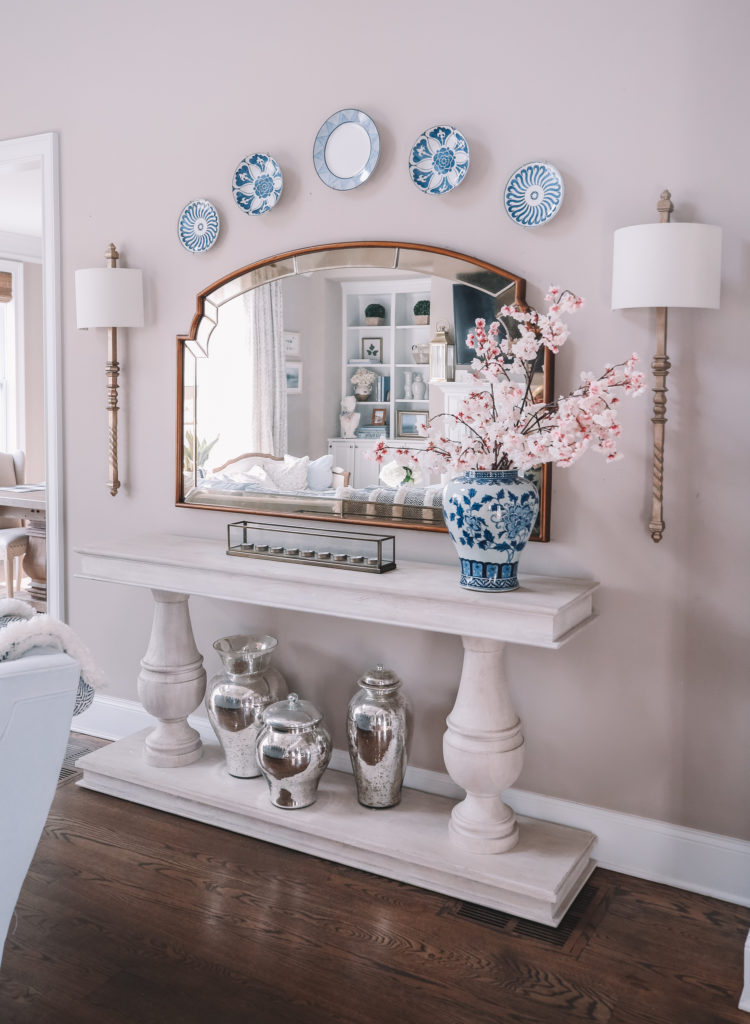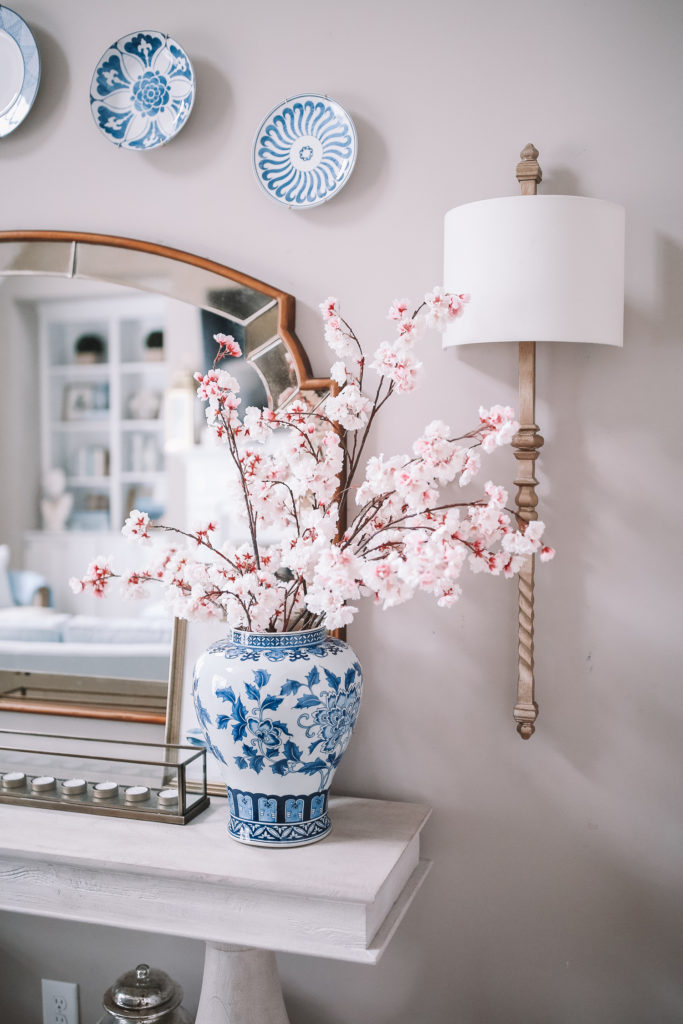 For this little corner of our living room, Laura suggested this Andrews console table which I think is STUNNING (it also matches our coffee table!). We added these mercury glass vases to the lower shelf, these cherry blossom stems to a large ginger jar for a pop of color, and hung blue and white plates above the mirror. She also recommended having these Cartagena Sconces installed – I was worried they would be difficult to install, but our electrician knocked it out in less than an hour. I would NEVER have thought to put sconces there, but it really completes the room – when they're turned on, the extra light makes it feel so cozy in the living room!
We are so in love with our new space!!! I love how it's sophisticated and elegant yet cozy and comfortable at the same time. My favorite time of day is 5 p.m. when I'm finished with work for the day – I pour a glass of rose and snuggle up with Winnie to watch reality TV before Chris gets home from work – hehe! When we are hosting guests, it's the perfect room for us all to hang out in – nine people can sit comfortably in the space. Thank you, thank you, thank you to Ballard Designs and Laura for such a wonderful job on the space – we will forever be grateful and can't wait to create all new memories in our living room!
I've linked up every single item in the "Details" box below, but if I didn't answer your question in this post, feel free to leave a comment below and I'll get back to you there! And if you're interested in working with the Designs Solution yourself (it's FREE!), you can learn more about it here. xoxo