Happy Friday everyone! I asked in yesterday's blog post what you would like to see on the blog today and the "empty house tour" response was overwhelming – so that's what we're doing today! The movers aren't coming to move out my apartment furniture until next week, so this is truly an EMPTY house tour. I think most of these pictures are a little boring since there's no furniture at all, but oh well! It has been a little weird staying here without a bed or sofa to sit on. Winnie follows me from room to room and just looks at me, like "What are we doing here, Mommy?" Haha! Anyway, let's get on with the tour…
This is the front door to our house! I originally fell in love with it because it's so unique! I picked up a fall wreath from Homegoods a few days ago, and my parents are giving Chris and I a doormat as a house warming gift, so that will be here soon 🙂
When you come in through the front door, you walk right into the main living room, with the main staircase immediately to your left. You can't see it from the photos but our dining room is to the right. I immediately fell in love with the main living room – especially the marble fireplace and built-in bookshelves. The previous owners hung a TV over the fireplace, which we plan to do as well. We also really like the color on the walls – it's a really pretty neutral/beige.
Next is the kitchen! I took these photos while it was gloomy and raining outside, but normally the kitchen is full of natural light. The cabinets are painted a soft grey color, although they look different colors in different lighting. Maybe one day we would paint them all white, but for now we love them!
I also love the tiny marble tiles that make up the backsplash…
We've decided that this little corner of the kitchen will be our coffee bar. We want to make it really cute and coffee-themed, haha!
I can already picture these hooks filled with bookbags and sporting equipment for our kids! 🙂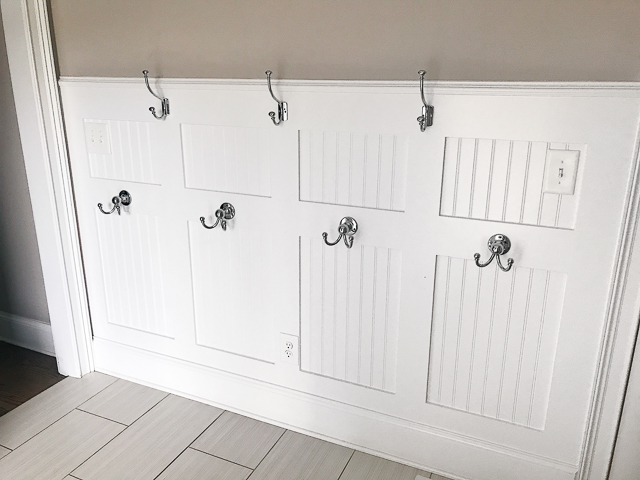 Up the stairs there's a family room – we want to add a TV and leather couches, maybe a pool table or some arcade games!
This little home office is directly next to the family room. I'm trying to convince Chris to paint these bookshelves white (he says if I had my way, everything in our house would be white – oops!). This will be really convenient when we have kids, since there are multiple desks.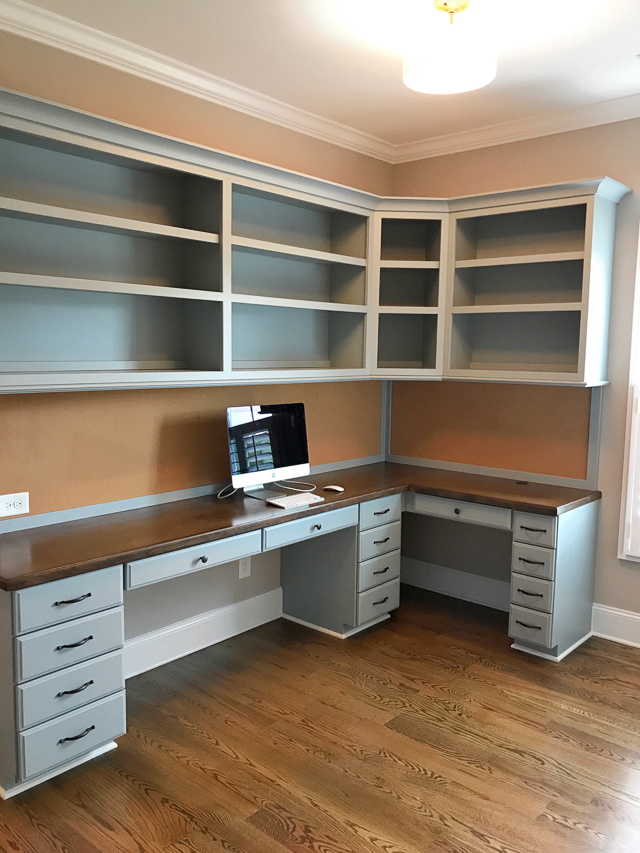 There are more bedrooms upstairs, but they are painted bright purple, green and blue, so I won't share those haha! Chris has already designated one as his "man cave" where I'm sure there will be lots of Clemson paraphernalia and manly decor!
This is the view from upstairs.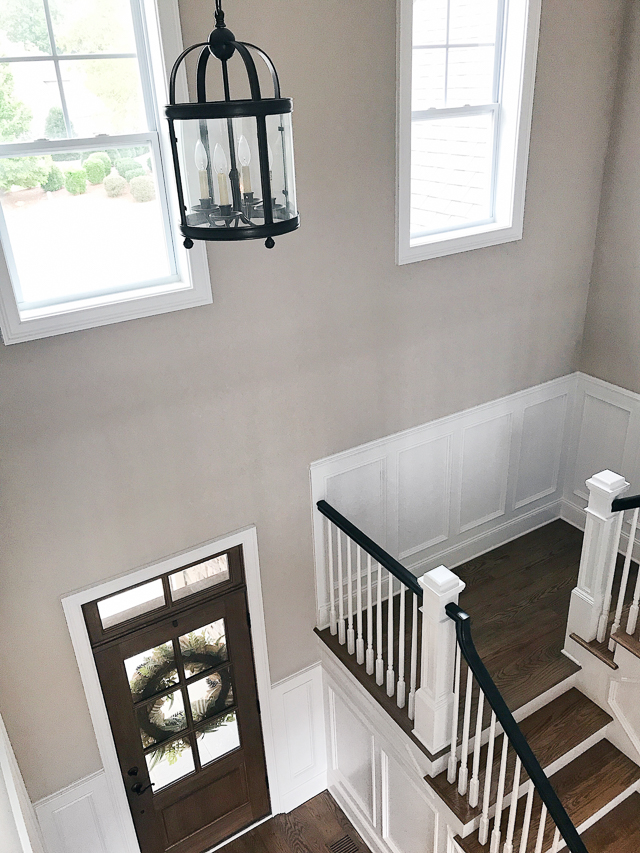 Now on to the master bathroom and closet! (The bedroom has my air mattress in it right now so I did't take a picture.) We are contemplating re-painting the bedroom and bathroom but we'll see! I have taken a bath in the bath tub every single night so far, haha 🙂
The closet is one of my favorite rooms in the house. There are two windows and there's a "girls side" and a "guys side" and of course the girls side is a little bigger 😀
Thanks for sticking around till the end of the post! Sorry for the grainy quality of some of these photos – it was raining outside and I just ended up using my iPhone for most of these because the camera lens I needed is packed away in a box somewhere. If you have any ideas for how to decorate a particular room, I would love to hear them!! I can't wait to share the whole process of decorating and organizing with you guys 🙂
I hope everyone has a WONDERFUL weekend!
xoxo