Back to school is just around the corner and that means busy nights filled with homework, extra curricular activities and earlier bedtimes too. All the running around doesn't leave much time for meal prep and cooking, so I thought I would share some of our favorite EASY weeknight dinner recipes with y'all! These are some of our favorite dinners that are consistently part of our weeknight meal rotation. They are so easy to put together and full of flavor, protein and veggies too!
If you're looking for more easy recipes, check out this blog post for more of our weekly favorites, as well as this recipe for Zucchini Boats or this blog post I wrote specifically on Trader Joe's dinners.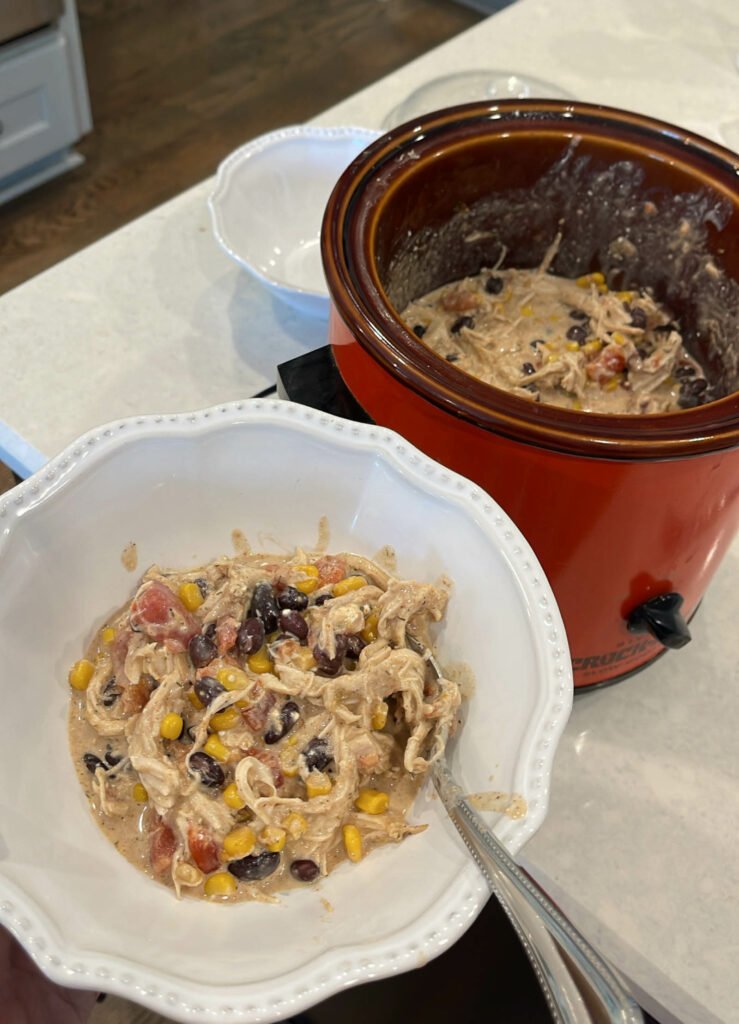 This first one is one of our very favorites and is so, so easy to make! You literally throw everything in the crock pot in the morning and it cooks all day. You do need to reserve around 5 minutes before dinnertime to shred the chicken, but that's it! We like ours super spicy so Kennedy does not eat this with us, but you could definitely tone down the spice and this would be appropriate for an older child.
Cream Cheese Chicken Chili
Ingredients
1 can black beans (drained & rinsed)
1 can corn (undrained)
1 can Rotel tomatoes (undrained)
1 package ranch dressing mix
1 Tbsp. chili powder
1 tsp. cumin
1 tsp. onion powder
1 8oz. package cream cheese
2 chicken breasts
Instructions
Place chicken at the bottom of the crockpot.
Pour the can of corn (undrained), Rotel tomatoes and black beans (drained) on top of the chicken.
Top with seasonings and ranch dressing mix and stir together.
Place cream cheese block on top.
Cover with lid and cook on low for 6-8 hours.
After cooking time is over, take the chicken breasts from the crock pot, shred and stir back into the chili.
Let cook for another 10 minutes and then enjoy!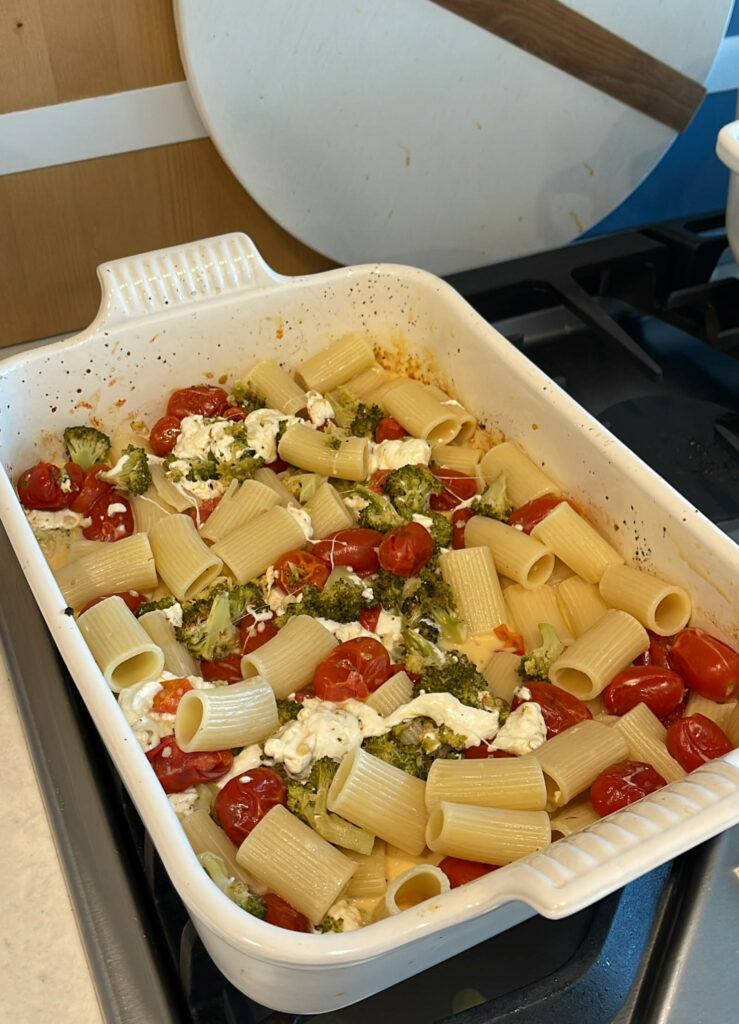 This recipe is actually an adaptation of a recipe from TikTok (if you've heard of TikTok Pasta – that's it!). I switched up the original recipe some by using burrata cheese instead of feta, and adding some broccoli for a little nutrient density. This recipe is SOOO easy and delicious. It would be even better with some grilled chicken on top, but that is a little too time consuming for me, so we have it just plain and we love it. Kennedy loves this one, too!
Burrata Pasta
Ingredients
2 pints of cherry tomatoes
1/2 head of broccoli, cut into small pieces
3 small garlic cloves, minced
1 box of pasta noodles of your choosing
burrata cheese (we use two whole burrata cheese containers but we really like cheese)
2 Tbsp olive oil
fresh basil
Instructions
Preheat the oven to 400.
Toss cherry tomatoes and sliced broccoli with minced garlic and olive oil, place in baking pan.
Bake for 40-50 minutes.
While the tomatoes and broccoli are baking, boil the pasta following the instructions on the pasta box.
Take the tomatoes and broccoli out of the oven, add the burrata on top and mix it in to create the sauce.
Add the noodles into the sauce and stir.
Sprinkle fresh basil on top before serving.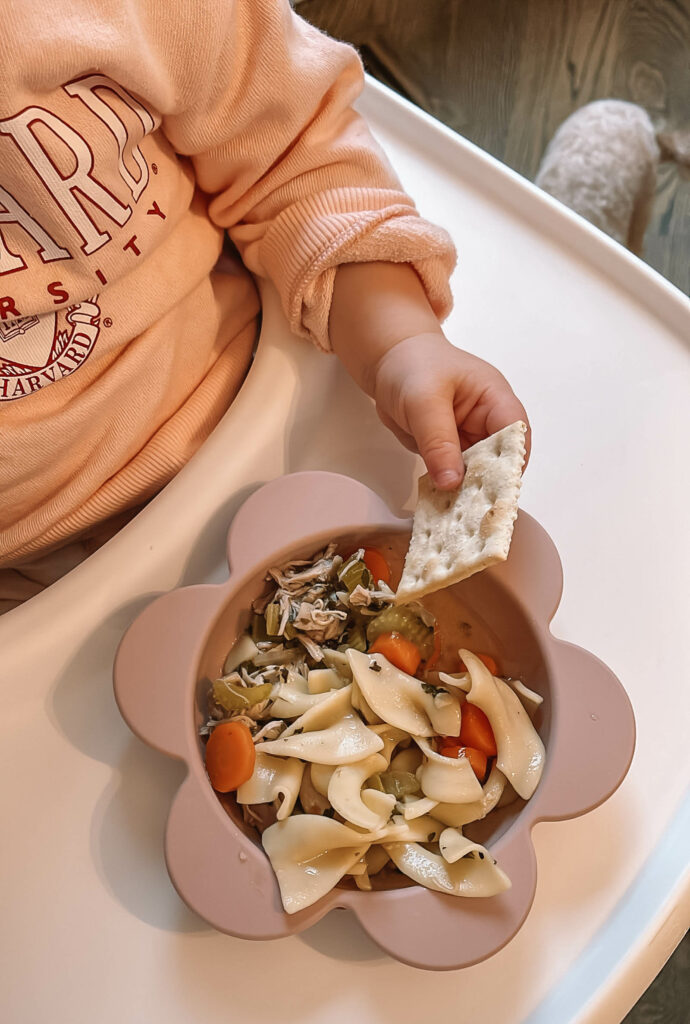 This next recipe is a household favorite! Chris makes it every Sunday night and it makes enough for us to eat during the week as well (either for lunches or a whole other dinner). Kennedy enjoys this one, too! To make it a little easier, you can chop up the veggies beforehand and store them in the fridge for up to 24 hours. Chris likes to chop the veggies during Kennedy's nap time, and then it's really easy for him to throw together at dinnertime. Keep in mind, this recipe does simmer for an hour, so you'll want to make it a full hour before you plan to serve!
Homemade Chicken Noodle Soup
Ingredients
2 Tbsp olive oil
1 medium yellow onion
3 cloves garlic
1/2 lb. carrots
1/2 bunch celery
2 split chicken breasts, bone-in (this is important!)
1 tsp dried basil
1 Tbsp dried parsley
1/2 tsp dried thyme
1 whole bay leaf
Freshly cracked pepper
2-3 tsp salt
1 cup of egg noodles
Instructions
Dice the onion and mince the garlic. Add the onion, garlic, and olive oil to a large pot and sauté over medium heat for about 5 minutes, or until the onions are soft and transparent.
While the onion and garlic are sautéing, wash and slice the carrots and celery. Add them to the pot and continue to sauté for a few minutes more.
Pull the skin from the chicken breasts. Add the chicken breasts to the pot along with the bay leaf, basil, parsley, thyme, some freshly cracked pepper, and eight cups of water. Cover the pot, bring it to a boil over high heat, then reduce the heat to low and simmer for one hour. Make sure the pot continues to simmer for the whole hour – this will ensure that the chicken shreds easily!
After an hour of simmering, remove the chicken from the pot. Using two forks, pull the meat from the bone and shred it. Season the broth with salt (the salt will really make the flavor of the broth "pop!"). I end up using 2 to 3 teaspoons.
Add the noodles to the pot, turn the heat up to high, and boil the noodles until tender (about 7 minutes). Return the shredded chicken to the pot. Taste and season again with salt if needed. Serve hot, even better if it's alongside some sourdough bread!