Chris and I cook the exact same meals day after day… it's easy to get caught in a recipe rut when you don't have a whole lot of time to prepare and cook dinner in the evenings. Last week we got a little fed up (lol) with our repeat recipes and decided to get creative and try out some new ones – hence a trip to Trader Joe's! All of these meals are SUPER easy and we usually had enough left over for at least one lunch portion the next day. They each take less than 30 minutes to make, and they're surprisingly tasty, too!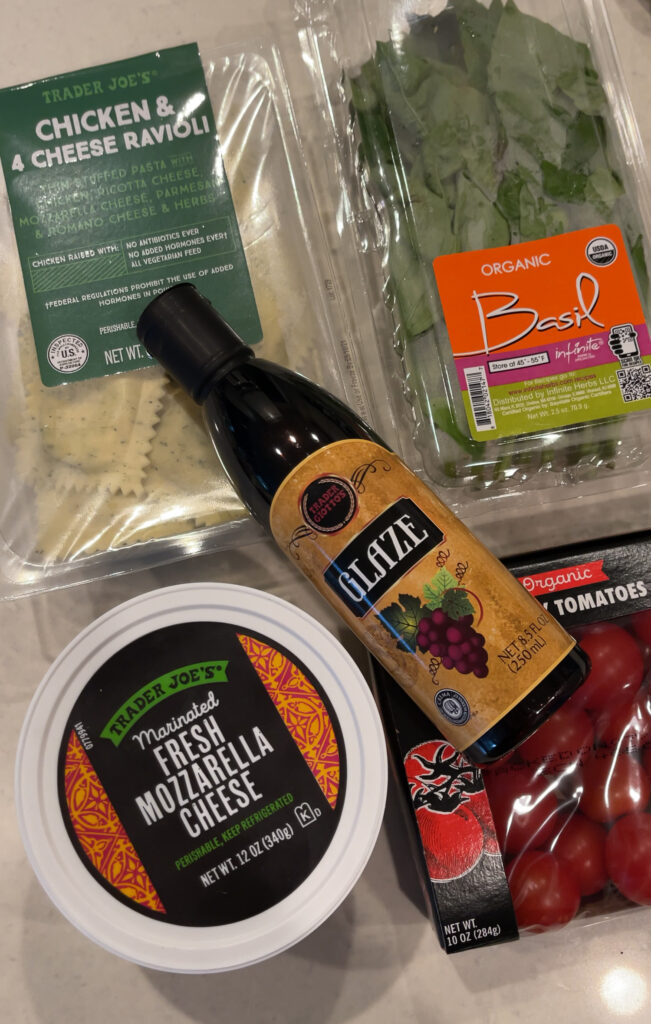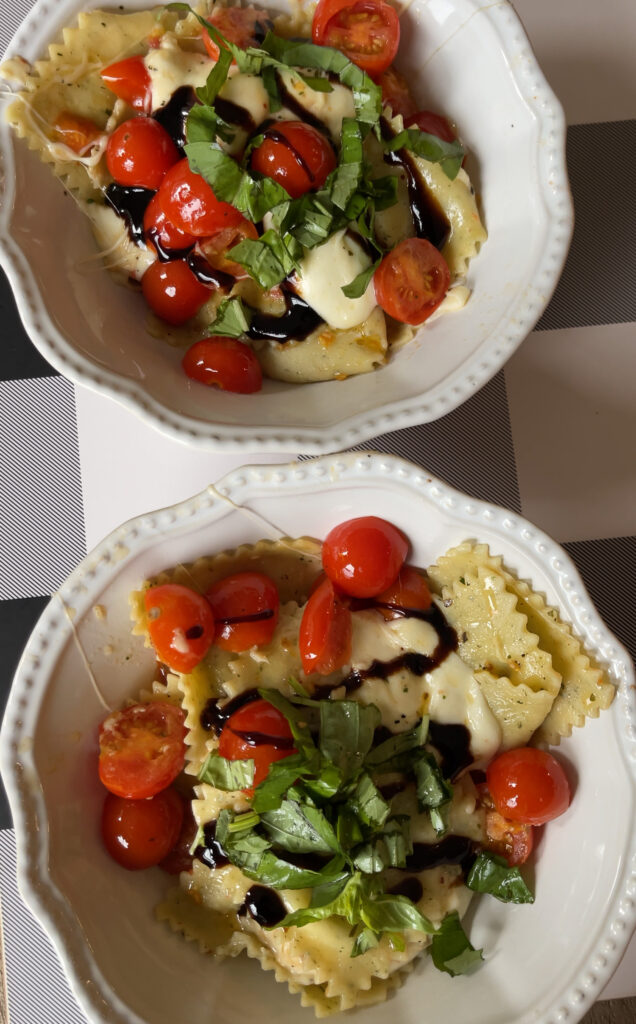 Caprese Ravioli
This was probably mine and Chris's favorite recipe out of all three – we both agreed that it needed to make it's way into our weekly rotation! It's soooo good and decadent and fresh. You will love it!
Ingredients:
1 package of Trader Joe's Chicken & 4 Cheese Ravioli
1 Tbsp olive oil
1 cup cherry tomatoes, halved
6 oz. Trader Joe's Marinated Mozzarella Balls
Balsamic Glaze to taste
Fresh basil for garnish
Directions:
Cook ravioli according to the package instructions.
In a large skillet or pan over medium heat, add olive oil and cherry tomatoes. Let blister for 3-5 minutes, stirring occasionally.
Add the cooked ravioli to the skillet with the tomatoes.
Top with the mozzarella balls. You can also spoon on some of the marinade for extra flavor. Cover and let cook for 2 minutes (not too long or the mozzarella will melt!).
Top with balsamic glaze and fresh basil, and enjoy!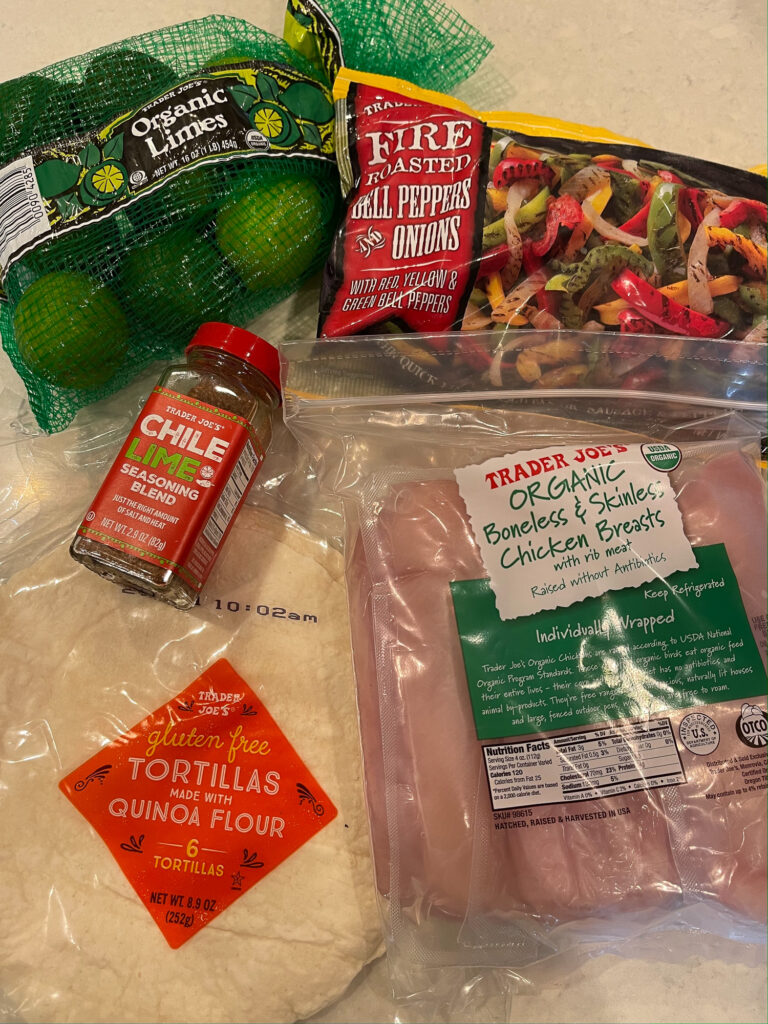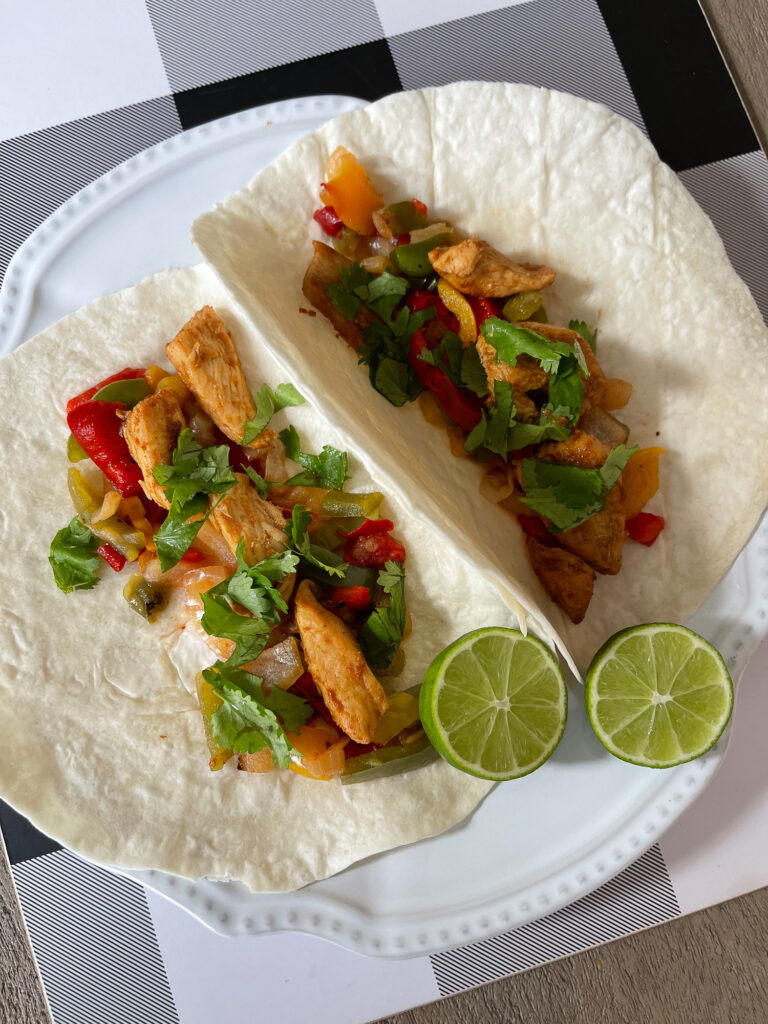 Chili Lime Chicken Fajitas
Chris and I love a good chicken fajita recipe! This one is especially nice because it's ready in under ten minutes. I still like the taste of my sheet pan fajitas a little better, but these are ready in much less time. You save a lot of time by not having to cut up all those veggies! Oh and definitely do yourself a favor – don't buy the "healthier" tortillas – flour is the way to go!
Ingredients:
2 chicken breasts, cut into strips
1 package of Trader Joe's Frozen Fire Roasted Peppers and Onions
1 package of flour tortillas (at first we tried a healthier option, but I definitely prefer the flour tortillas!)
2 Tbsp Trader Joe's Chili Lime Seasoning
Olive oil
Optional: fresh limes, fresh cilantro, Greek yogurt or shredded cheese for topping
Directions:
Toss chicken breasts strips in olive oil and chili lime seasoning until they are well coated. Heat on a skillet until cooked through.
In a separate skillet, heat 1 Tbsp olive oil and then pour desired amount of frozen peppers and onions. Heat on high, uncovered, for 2-3 minutes, stirring often, until done.
Toss together the chicken breast strips and veggies.
Garnish with cilantro leaves and squeeze lime juice all over the chicken and peppers mixture.
Serve with tortillas and your favorite toppings and enjoy!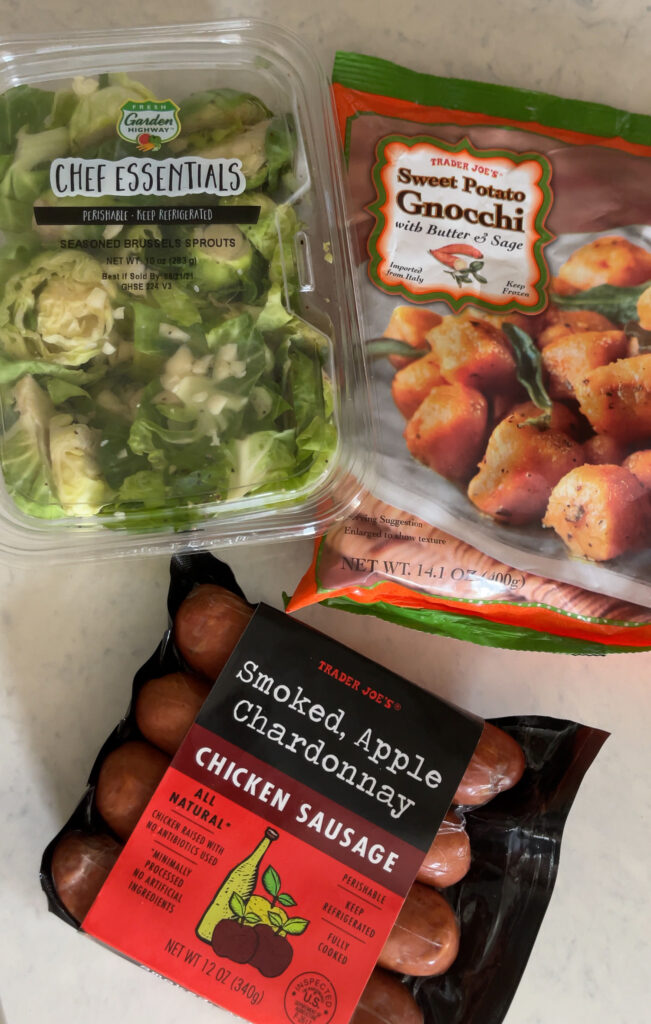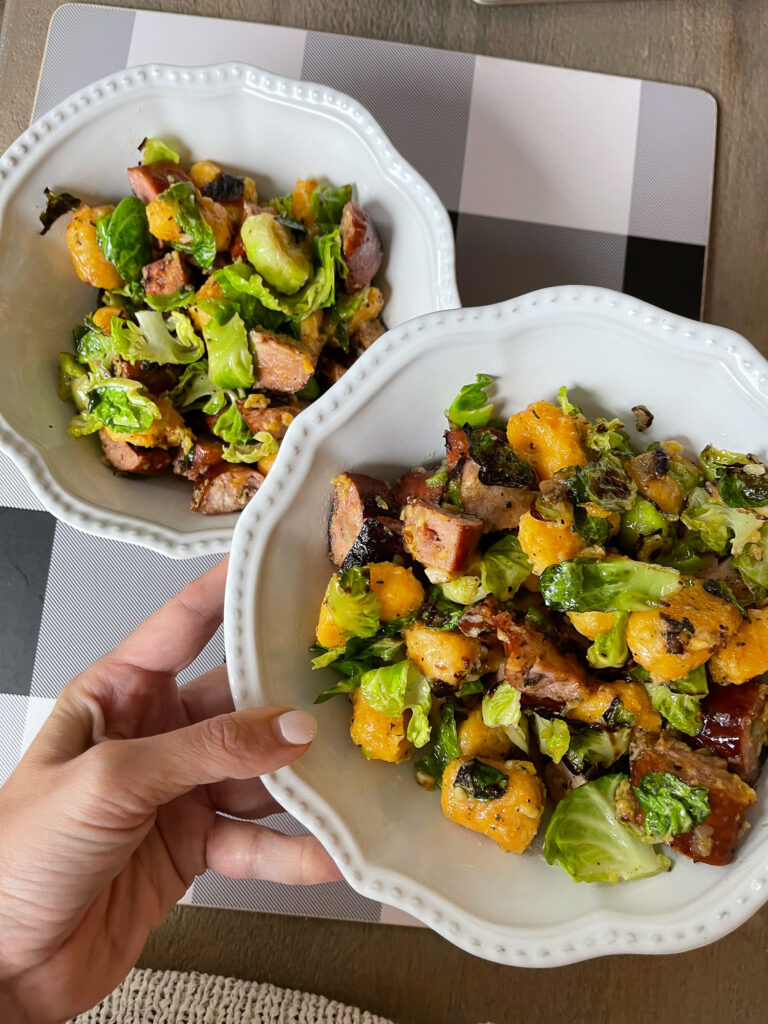 Sweet Potato Gnocchi with Brussel Sprouts & Chicken Sausage
This next recipe is an unexpectedly delicious dish. I wasn't sure how all three of these ingredients (gnocchi, Brussels sprouts and sausage) would all taste together, but I really loved it. And another win: it takes less than 15 minutes to prepare!
Ingredients:
1 bag Trader Joe's Frozen Sweet Potato Gnocchi
1 package of Trader Joe's Smoked Apple Chardonnay Chicken Sausage
Brussels sprouts (To save time you can buy Trader Joe's Shaved Brussels Sprouts. My TJ's was sold out so I just got regular and they worked too!)
2 Tbsp olive oil
Directions:
Chop Brussels sprouts if you aren't using the shaved ones.
Slice chicken sausage into coins.
In a large pan over medium heat, add 1 Tbsp olive oil.
Add chicken sausage coins and cook for 4 minutes on each side or until each side is browned. Set aside.
Add Brussels sprouts to the pan and cook for 2-3 or until softened. Set aside.
Add the other 1 tbsp. olive oil and frozen sweet potato gnocchi to the pan. Cook for 5-6 minutes on each side or until softened and warm.
Add sausage and Brussels sprouts back to the pan and cook everything for another 2 minutes.
Enjoy!
Let me know if you try them and what you think!