It's officially zucchini season and we are going crazy for zucchinis over here! Chris, Kennedy and I have ALL been eating zucchinis lately, as our local farmer's market has them in abundance. (Yes, even Kennedy loves steamed zucchini!) I got some inspiration to share one of mine and Chris's *favvvvorite* recipes after we had it for dinner one night this week – Chicken Parmesan Zucchini Boats! It's not the easiest of all time, but it might be the most delicious. 🙂 Honestly the most time-consuming thing is shredding the cheese by hand. You can skip this step and buy pre-shredded cheese, but it won't taste quite as good – I promise! (And when you scoop out the zucchini to make the "boats," don't throw it away just yet!! Read on for a great use of the leftover zucchini.)
Chicken Parmesan Zucchini Boats Recipe
Ingredients
1 lb ground chicken
3 zucchinis
2 cups marinara sauce
2 cups freshly shredded mozzarella
1 cup shredded parmesan
Directions
Preheat oven to 400 F.
In a large skillet, cook ground chicken over medium heat until no longer pink. Season to taste with salt, pepper and garlic powder
Add the marinara sauce to the skillet and let it simmer while you prepare the other ingredients.
Cut off the end of the zucchini, then cut them in half length-wise. Use a spoon to carve out the guts to make "boats."
Shred the cheese. (You can use pre-shredded, but it tastes better if you do it yourself!)
Mix 1 1/2 cups mozzarella and 1/2 cup parmesan into the sauce and stir until melted.
Spoon the mixture into the boats and sprinkle remaining cheese on top.
Bake for 25 minutes and ENJOY!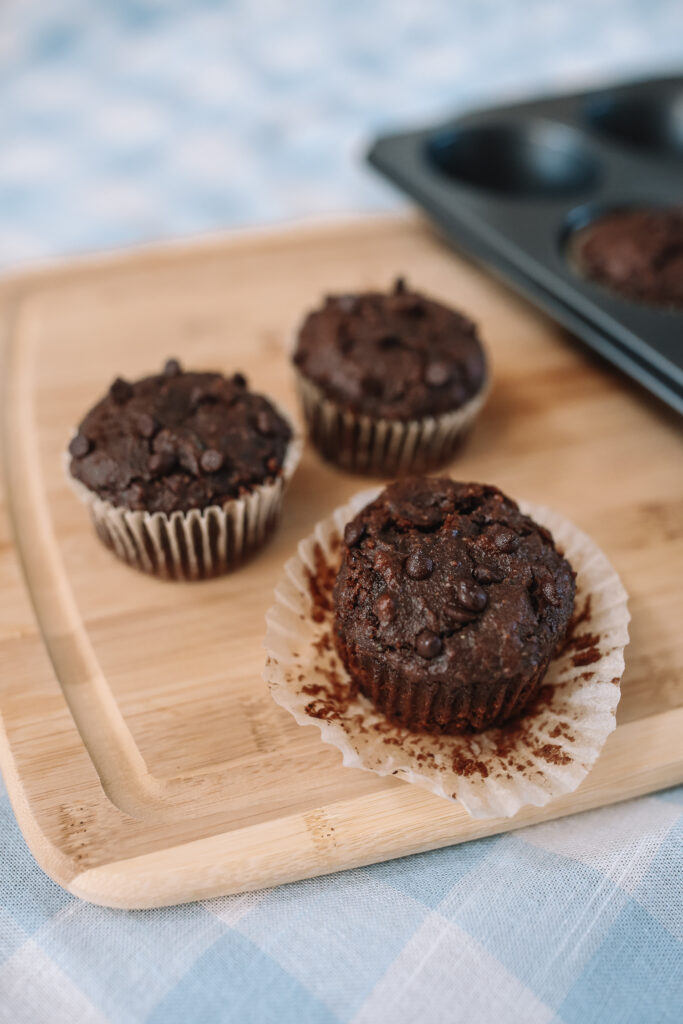 The next recipe was my assistant, Chelsea's, idea! She made the Zucchini Boats recipe but instead of throwing out the scooped zucchini, she tossed them into muffin batter. I was honestly blown away the first time she made these – you can't taste the zucchini at ALL, and they are sooo moist and chocolate-y and delicious! And you don't feel guilty about eating these since they're technically "healthy," right?! 😉 She got the original recipe from Kale Junkie – it can be found here.
Zucchini Muffins Recipe
Ingredients
1 3/4 cup almond flour
1/4 cup cacao powder
1/4 cup melted coconut oil
1/2 cup almond butter
2 eggs
3/4 cup chocolate chips + 1/4 cup extra to sprinkle on top
1/2 cup maple syrup
1 tsp baking soda
About 1/2-3/4 cup grated zucchini (this is where you get to use the leftovers from the zucchini boats!)
pinch sea salt
Directions
Preheat oven to 350 F.
Line a muffin tin with liners and set aside.
Grate the zucchini leftovers and then press between paper towels to remove as much moisture as possible.
Whisk together the almond flour, cacao, baking soda, and sea salt.
Add the melted coconut oil, eggs, almond butter and maple syrup into a blender.
Blend for about 15-20 seconds.
Pour wet ingredients into the bowl with the dry ingredients.
Fold in the zucchini and the chocolate chips.
Pour batter into the prepared muffin tin.
Sprinkle the remaining 1/4 cup chocolate chips on top of the muffins.
Bake for 23-25 min or until firm.
Enjoy!