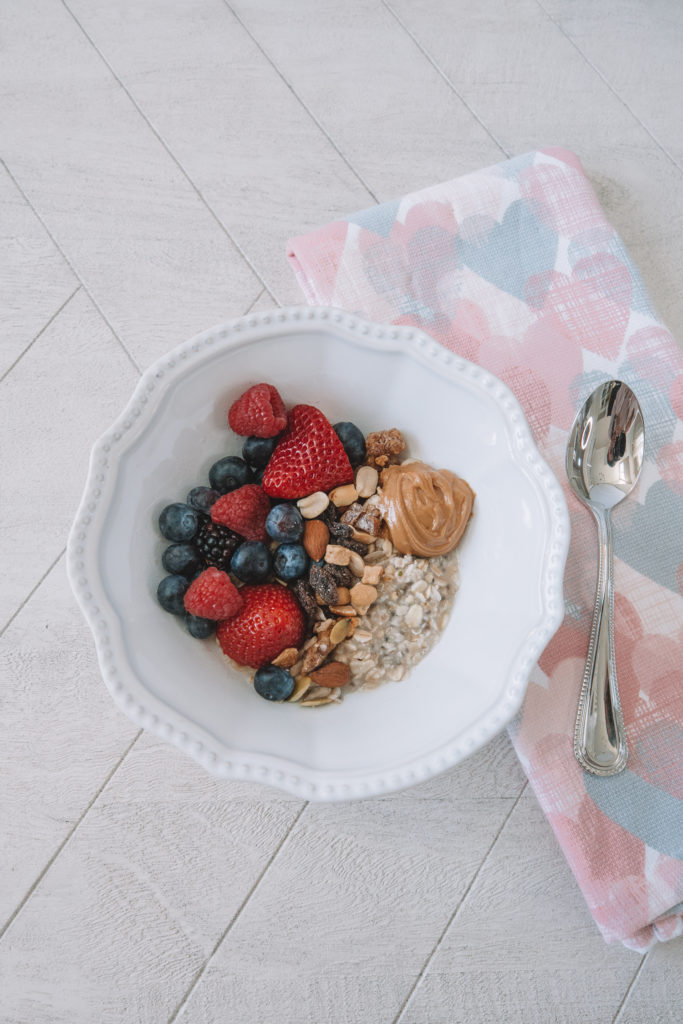 Happy Friday you guys! A bunch of you have asked what I eat now that I'm vegetarian, so one day this week I photographed everything I ate throughout the day. It has certainly been a journey to go vegetarian – I've had to re-train my brain to not center every meal around meat, and after nearly 30 years of doing just that, it was definitely tough in the beginning. At first, you may feel that your meals are "missing" something, but you eventually get over that – and it forces you to get creative and also discover new foods! Chris and I also struggled at first coming up with vegetarian meals that both him and I enjoy, but we're finally to the point where we have a few favorites that we both love (and sometimes Chris grills chicken or turkey meat and adds it to whatever we're eating). Anyways, let's get started!
7:15 am: I wake up hungry first thing in the morning so I have to make and eat breakfast right away. The first thing I do every morning is make a cup of hot lemon water (squeeze half a lemon into a coffee mug and add boiling water) and sip on it while I make my breakfast. I actually have been sneaking coffee back into my morning routine so sometimes I'll have regular coffee or mushroom coffee (which has less caffeine) instead. My go-to breakfast this winter has been a hearty bowl of oatmeal. I really like these Qi'a oatmeal packets – they contain chia, buckwheat, quinoa and hemp in addition to oats. All I do to make it is heat up some water in my water boiler, and mix it with a packet of oatmeal in a bowl. I let it sit for a few minutes and then add a scoop of peanut butter, some organic trail mix and fresh berries. It's sooo good! Then I head out the door to make it to my 8:30 a.m. pure barre class.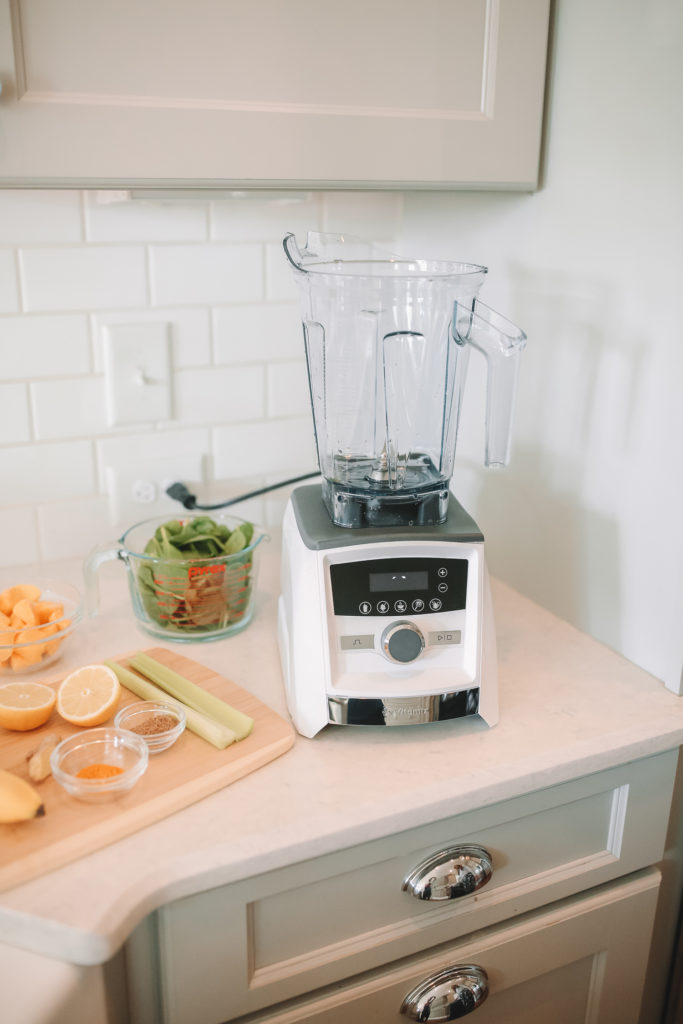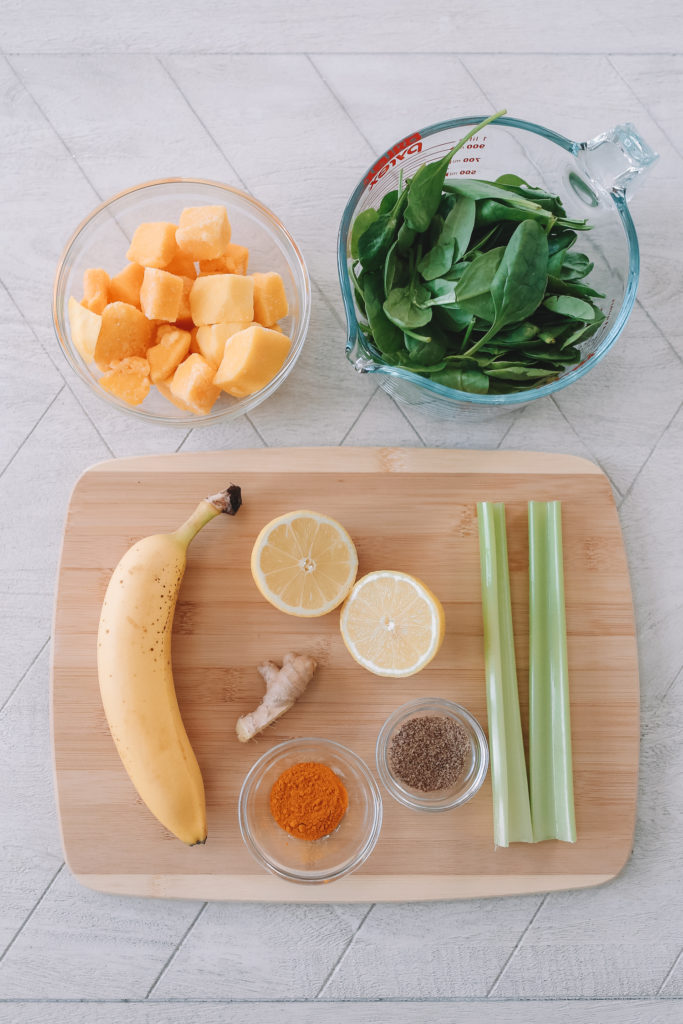 10:30 a.m.: After my pure barre class I make one of my green smoothies (I blogged about my recipe here). I'm not lying to you guys when I say I make this multiple times per week!! It's delicious – I usually make a double batch and keep half in the refrigerator for the next day. A couple of you guys commented and said to add a pinch of black pepper to the smoothie because it helps your body absorb the turmeric – so that's what I do now! This particular day I sit down and answer some emails while I sip my smoothie. My brother comes over at 11 every day for work!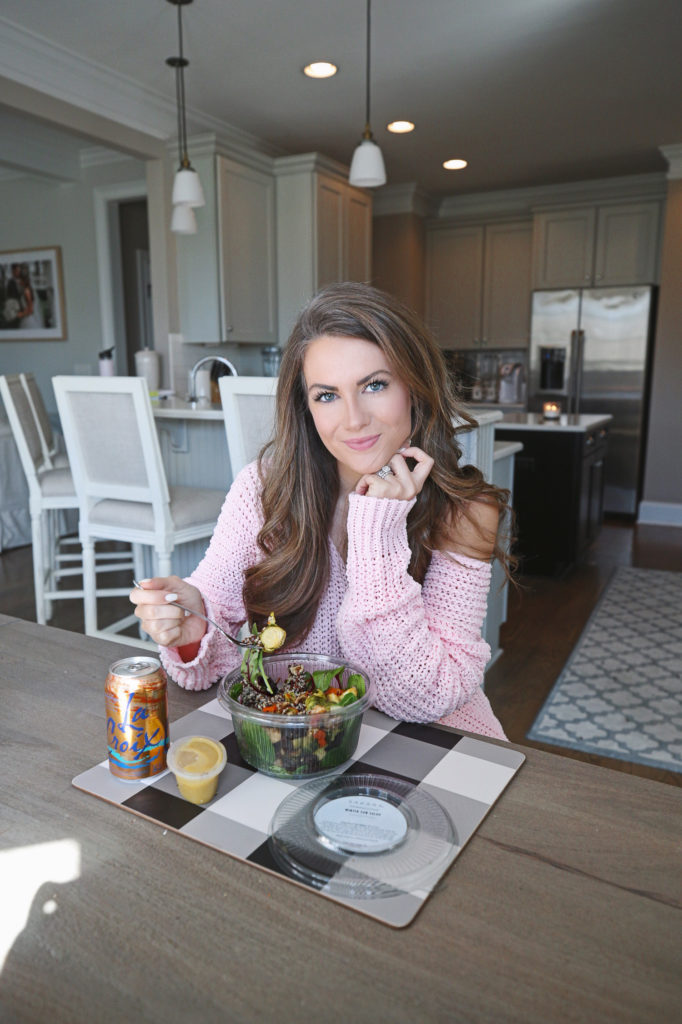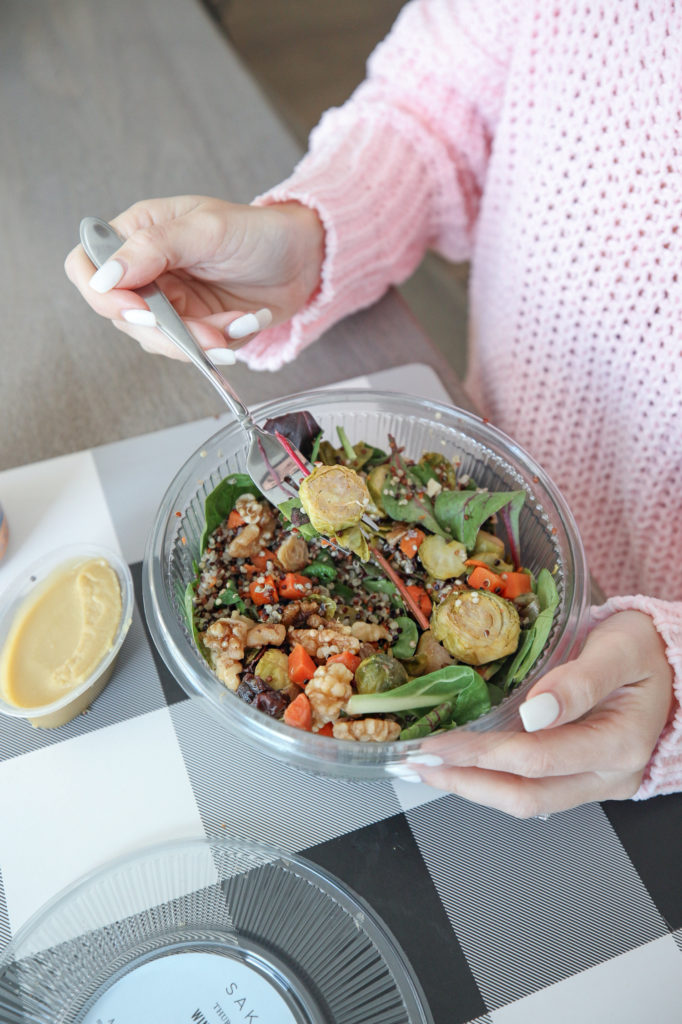 1:30 pm: It's a later lunch today because my brother and I have been working on a few campaigns. By 1:30 pm I'm starving, and luckily I have a Sakara Life meal in my fridge that doesn't require any cooking or prep work! Today's meal is a Winter Sun Salad with roasted brussels sprouts, tart dried cherries, carrots and quinoa. If you haven't heard of it before, Sakara Life is a meal-delivery system that is 100% plant-based, organic, and gluten-free (I blogged about my experience using it here). Since my initial week ordering Sakara Life, I've re-ordered it so many times – usually every single week I'm not traveling! Every meal has a lot of greens in it and they are loaded with veggies – the meals are super creative too, like veggie burgers, ravioli, tomato soup and pad thai. I spend my own money on the meals week after week and truly believe in their brand! (However they did reach out to me with my own discount code in case you guys want to try it – use code REF_SCP15 to receive 15% off your first order, meal plan or anything on their site. You can check out their site here.)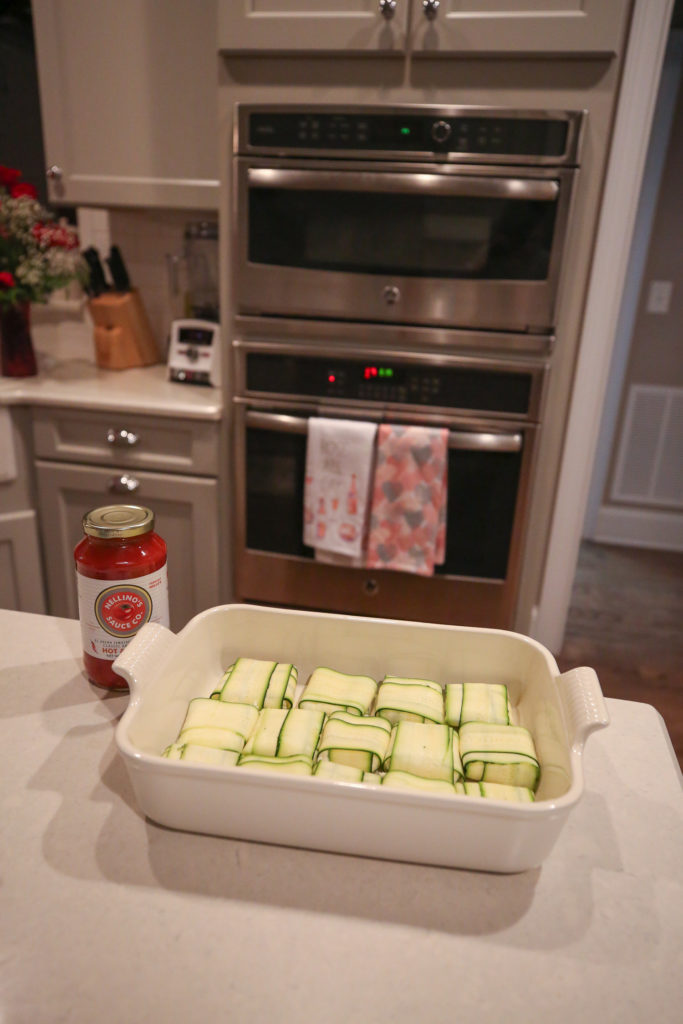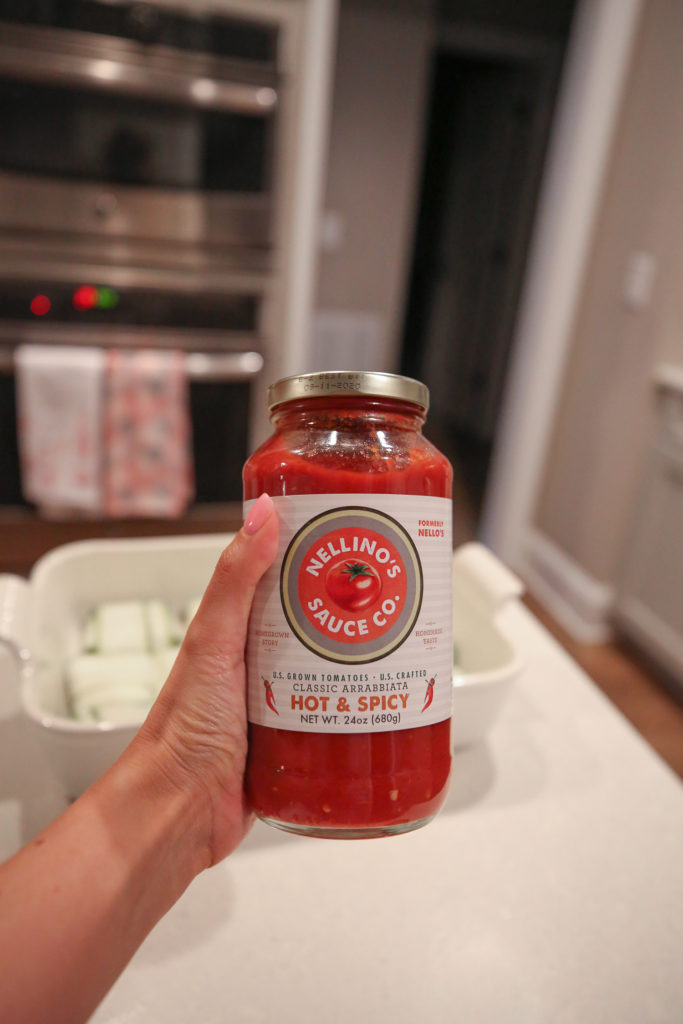 7pm: Chris gets home from work around 6 and we'll usually catch up for a little bit and then start making dinner. Zucchini Ravioli is one of our favorite meals and we both love it – and neither one of us misses the meat! 🙂 It's just like cheese ravioli except for there are no noodles – you use zucchini instead! We originally found the recipe here, and there's even a video that shows you how to cut the zucchini, but here's the exact recipe that we use – it's a little different that the original:
INGREDIENTS
Olive oil spray, for baking dish
5 medium zucchini
2 cups ricotta
1/2 cup finely grated parmesan (we usually buy a block of parmesan cheese and grate it ourselves – it tastes the best that way!)
1 large egg, lightly beaten
1/4 cup fresh basil, diced
1 clove garlic, minced
Freshly ground black pepper
1 1/2 cups marinara sauce (if you can find it, we love Nellino's Hot & Spicy Sauce)
1/2 cup shredded mozzarella
DIRECTIONS
Preheat oven to 375° and grease a large baking dish with olive oil spray (I like using the spray because it's less calories, but extra virgin olive oil works too!)
Make the noodles: Using a vegetable peeler, slice each zucchini into flat strips, peeling until you reach the center. These are your "noodles."
Make the filling: In a medium bowl, combine ricotta, Parmesan, egg, 2 tablespoons basil and a dash of black pepper.
Assemble the ravioli: lay two strips of zucchini noodles down on a cutting board, then another two more perpendicular to the first strips. You should end up with a "T" shape. Spoon about 2 tablespoons of filling in the center of the T. Bring the ends of the strips together and fold over to the center, working one side at a time. Turn the ravioli over and place in the baking dish seam-side-down. Repeat with remaining zucchini and filling.
Pour marinara around the zucchini and top the ravioli with mozzarella.
Bake for around 25 to 30 minutes, are until the cheese is melted and starting to brown on top.
Top with remaining basil and grate some fresh Parmesan on top to serve. Chris really likes to add red pepper flakes to his as well!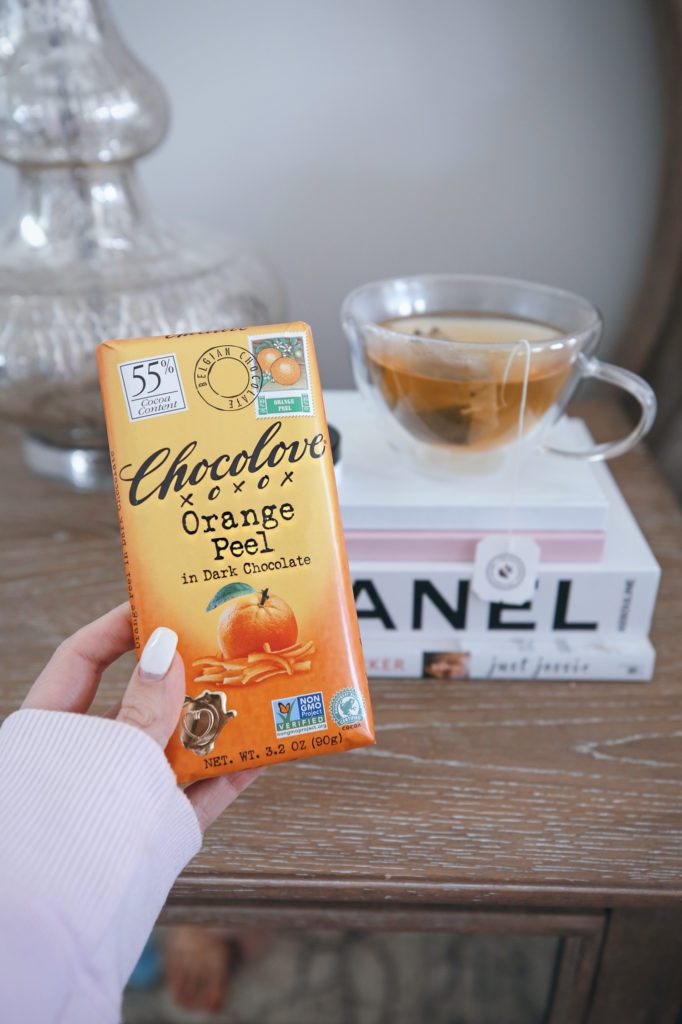 8pm: For dessert I like having a few pieces of this Chocolate Orange Peel bar – it's sooo good, you can definitely taste the orange peel in it. Even though the package isn't labeled as vegan, it's actually a vegan chocolate so it doesn't have any milk in it! I don't normally like dark chocolate however I LOVE this bar. It's so so good! After my two pieces of chocolate I'll usually make an herbal tea and Chris and I will relax in bed and either watch a movie or a TV show. Usually if we can't find something to watch we'll rewatch episodes of The Office on Netflix (our favorite) and then turn out the lights for bed. I try to have lights off and fall aslseep by 10:15 these days!

I plan on doing an entire blog post on easy vegetarian meals, I get asked this question over and over and by now I have a whole list of easy lunches and dinners! Let me know if that's something you would like 🙂