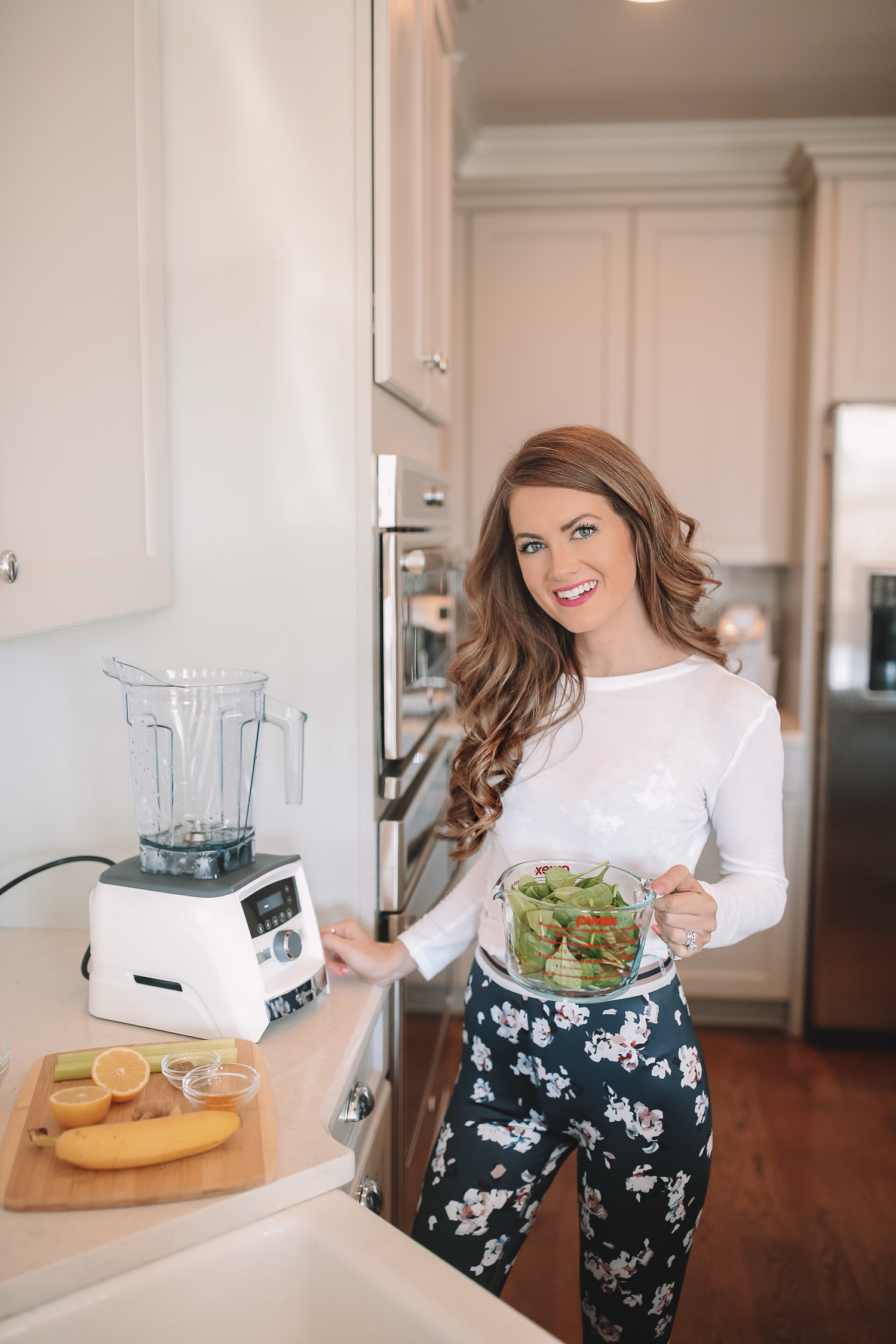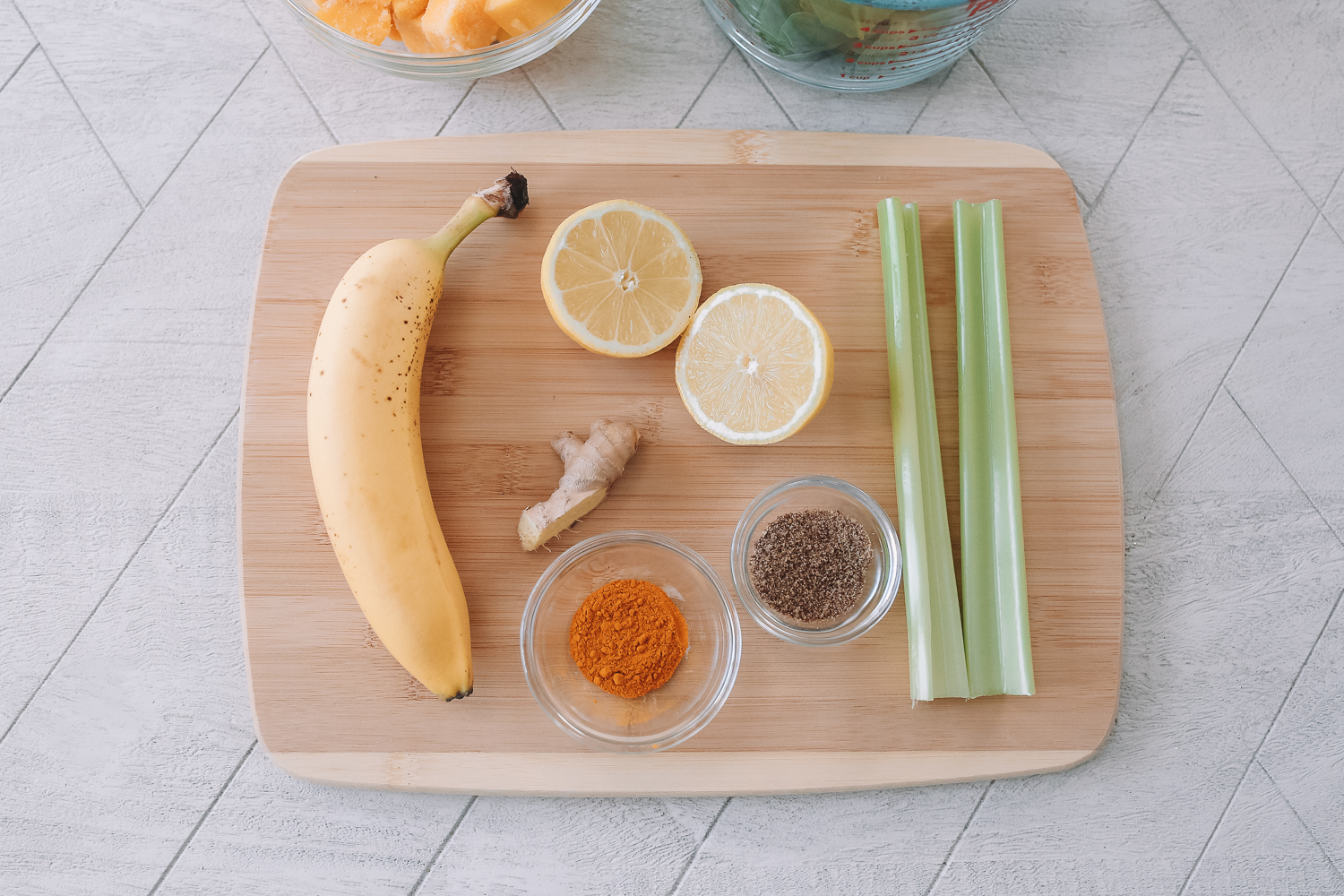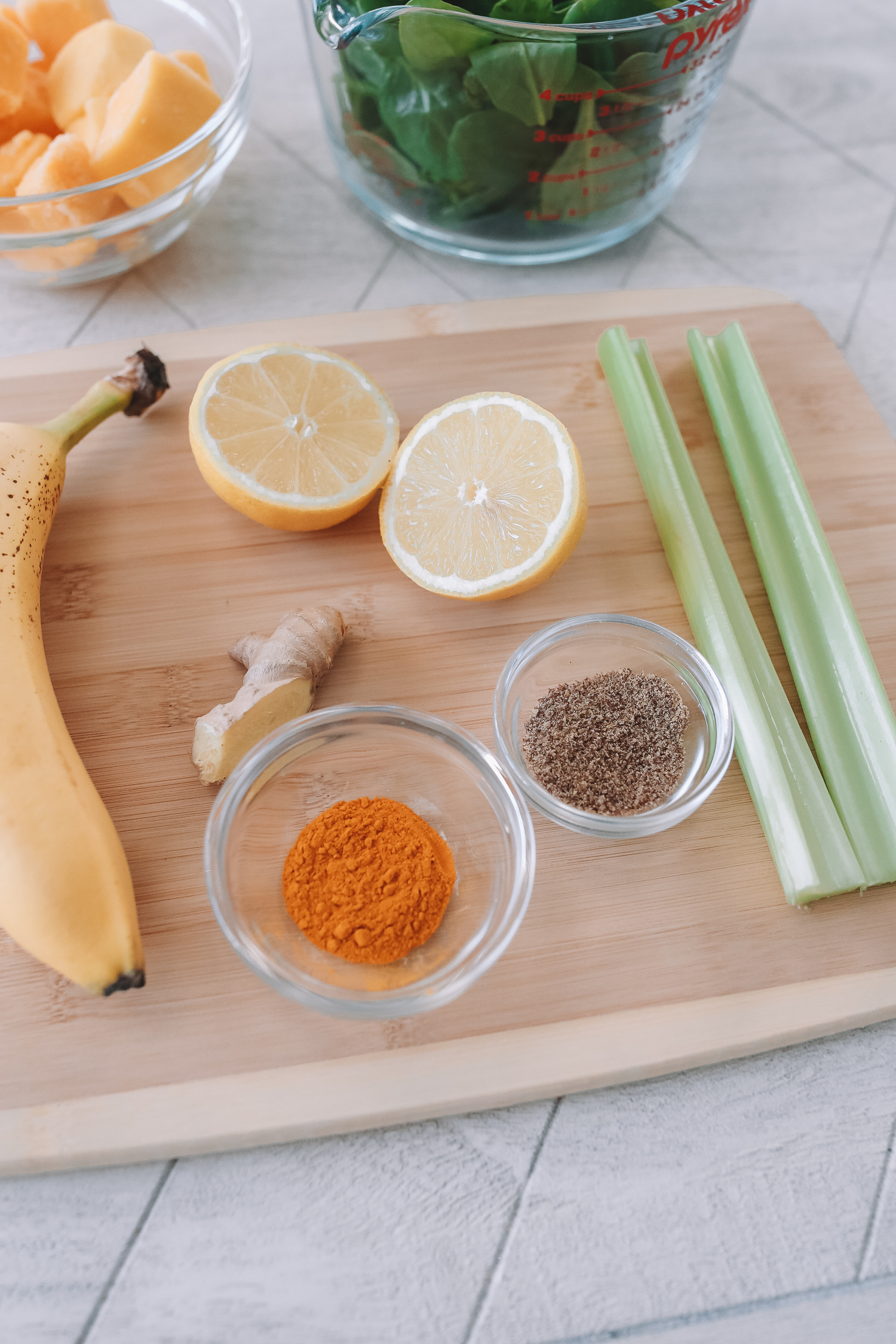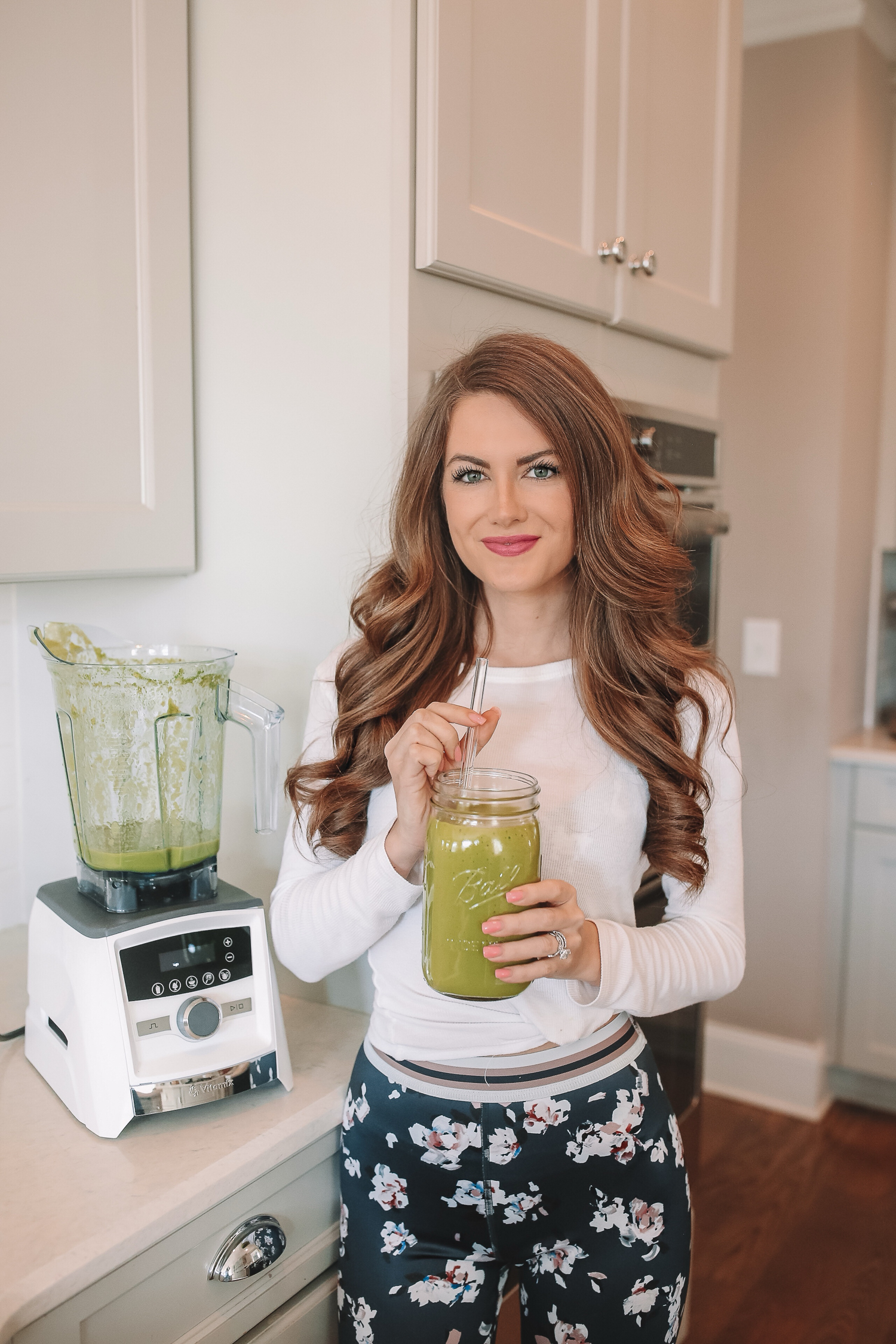 Happy Monday you guys! I posted a poll on Instagram stories last night about what you would like to see on the blog today, "My green smoothie" vs. "How I fight seasonal affective disorder." At first the green smoothie post was winning so I started working on it… then checked later and the post on SAD had way more votes! I'm sorry you guys, the SAD post will definitely be up sometime this week! Hopefully you still want to hear about my green smoothie today 😀
Last week, a very exciting purchase came in the mail: a Vitamix blender! I have been thinking about buying one of these professional blenders for a loooong time – I have probably watched more than a hundred YouTube videos on reviews and recipes over the last few years! My blender finally gave out, so it seemed like a sign from God that it was the right time to order one 🙂 And I couldn't be happier! I've used it every single day to make this exact green juice… we've also used it to make "nice cream" (ice cream made out of bananas) and even a carrot potato soup. How crazy is this – the Vitamix's motor is so strong, that if you blend ingredients for a couple of minutes, the friction will actually heat up and cook the ingredients… which is how you can create soup with it!
The green smoothie recipe I'm sharing with you today is one of my favorites. You can definitely still make this if you don't own a Vitamix, although it could end up a bit "chunkier" since the blender might not be able to finely puree all of the ingredients. But it still tastes just as good! I like making this first thing in the morning and drinking it before I eat any solid food. Think of your stomach when you first wake up as a clean slate – since your stomach is empty, it will really soak up whatever you put into it! That's why I like to have a smoothie first thing in the morning – it's easy to digest and contains tons of nourishing vitamins, minerals and antioxidants.
My Green Smoothie Recipe
INGREDIENTS
2 cups water
Juice from 1 lemon
1 TBSP flaxseed meal
1/2 TBSP turmeric
Ginger root (peeled)
2 cups spinach (or kale)
2 stalks of celery
1 frozen banana (make sure to freeze it without the skin)
1 cup frozen mango
RECIPE
Add everything to your blender in the order that it appears above, and blend blend blend! I love drinking it out of a big ol' mason jar with a glass straw.
This smoothie tastes amazing (I can really only taste the banana, mango and ginger!), but each of these ingredients has a VERY specific purpose. My husband even loved it, and had no idea how amazing it is for him! Here's a little rundown on all these good-for-you ingredients:
Lemon
You've probably heard that drinking lemon water first thing in the morning is great for you, but have you ever asked why? There are so many reasons, but the main one is that it's detoxifying! The citric acid found in lemon water has been shown to protect liver function and prevent oxidative damage, and help the liver's natural ability to detoxify the body. It will also help you from getting sick – the high amounts of vitamin C, potassium and folate will boost your immune system and keep your body healthy. A big bonus is that vitamin C also happen to be great for your skin: it helps you fight free radical damage and helps your body to product collagen, which is essential for smoothing out fine lines in your face.
Flax
Flaxseeds are one of the most powerful plant foods on the planet. There have been tons of scientific studies on flaxseed that prove these little tiny seeds can help reduce your risk of heart disease, cancer, stroke, diabetes and enlarged prostates in men. I like to buy flaxseed meal because the seeds are ground up; sometimes if you eat them whole, they can pass right through your system and you won't get any of the benefits! Flaxseeds contain Omega-3 essential fatty acids, fiber and they contain 75 to 800 times more lignans than other plant foods.
Turmeric
You will not taste any of the turmeric in this smoothie, but you will benefit from it's wide-ranging health benefits! Turmeric has been touted for its anti-inflammatory benefits, decreased cancer risk and support of detoxification, but scientists recently discovered that turmeric can also improve cognitive function, help improve memory and delay the onset of dementia. It can even lessen arthritis! Just a little bit goes a long way – you only need a small amount to get the health benefits.
Spinach and/or Kale
I aim to get greens with every single meal, and this is a great way to get them in at breakfast! I've tried this smoothie with both spinach and kale, and they both taste great. Dark leafy greens help protect bones from osteoporosis and prevent against inflammatory diseases. Surprisingly, spinach and kale are also both high in protein!
Celery
Celery juicing is a huge health craze right now, touted for it's abilities to reduce bloat and even clear acne. So why not add it to your daily smoothie? Celery can lower inflammation, reduce high cholesterol, prevent liver disease, and much more. I recommend checking out this Instagram account for more info on celery juicing!
If you own a Vitamix, I'd love to hear your favorite recipes! Leave me a comment or feel free to email me! xoxo