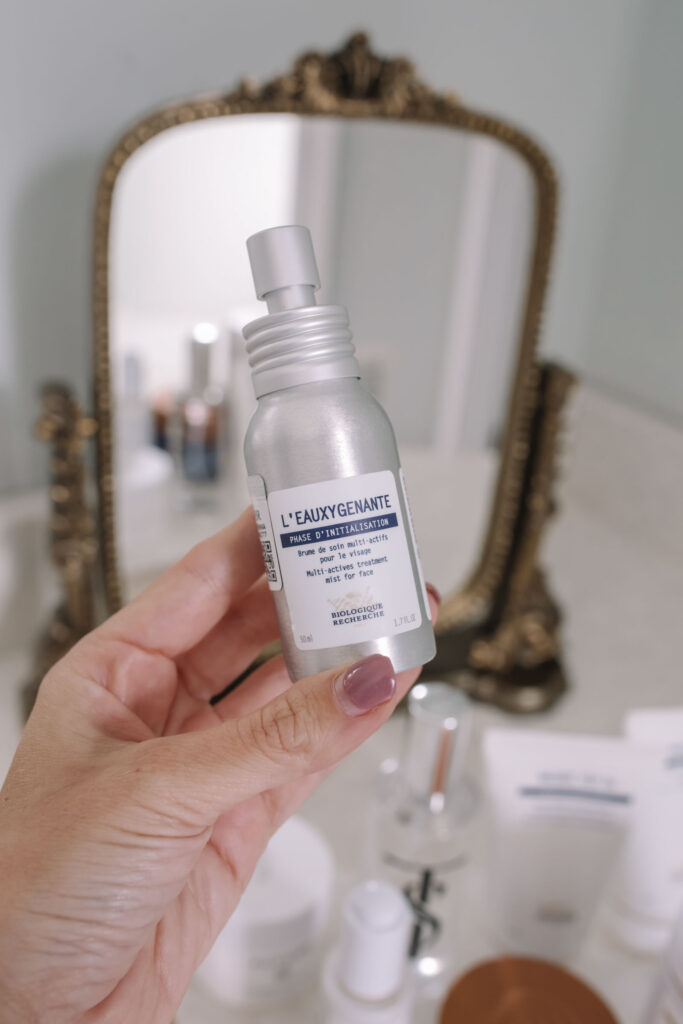 I haven't posted about my skincare routine since I was pregnant with Collins, so I thought it might be the perfect time to update you guys as we go into the cooler fall months. You already know that I trust Toska with my skin (and my life), and I have seen Toska a few times since pregnancy to tweak my routine to find the perfect combination for my skin. And I'm *really* happy with how my skin has been doing lately. You can find all of these products on Toska's website as well as book a consultation with her!
Step One: CLEANSER
Yep. Still using this Cleansing Balm! Toska introduced me to it and now I am addicted to it. ADDICTED. I've bought this product over and over, I'm so scared of running out that I even keep an extra in my bathroom cabinet. I tend to have really, really dry skin, and this product somehow keeps my skin cleansed but moisturized (even in the winter months). The Cleansing Balm is literally that: a solid, unscented balm that melts into a luxurious cleanser when water is added. How I use it: I massage a pea-sized amount into dry skin, then add a little bit of water with my fingertips to emulsify. I then use a clean wash cloth with warm water to gently "scrub" or wipe away the balm. It literally dissolves my makeup and leaves my skin feeling so good afterwards!
Step Two: SERUM
For serum, I've been using Serum Iso-Placenta. I use 6 to 8 drops all over my face and press it into my face with my fingertips. Iso-Placenta is a regenerating serum that treats dark spots and redness. It also treats post-acne scars (which I don't really have), but it can help rebuild your epidermis (which I need).
Step Three: MOISTURIZER
I have two different moisturizers in rotation each week, depending on how my skin feels. One product I am extremely faithful to (I am already reaching the very bottom of my FIFTH jar), is Crème Verte Espoir A.R.. Toska told me that this moisturizer was specifically formulated for redness, which I have found to be true, and it happens to be extremely moisturizing at the same time! This product is formulated to reduce the appearance of small blood vessels that can make your face and cheeks appear red. It also soothes and helps rebuild your skin barrier. All I know is that I love how my skin feels when I use it, and it really DOES help with the redness in my cheeks!
The other product that I use interchangeably with Verte Espoir is Future's Extreme no.1 Cream. It's rich in plant extracts, vitamins, essential fatty acids and natural oils. It also smells really good, but doesn't have any fragrance added – it smells so nice and natural! It's great for delicate or thin skin, and I would say my face is definitely on the thin side!
Step Four: MASKS
At night, I finish with a little bit of Crème Masque Vernix – even though it's a mask, it's a MIRACULOUS moisturizer and the results are instantaneous. It's named for vernix – the protective layer on a baby's skin at birth – and it really does lock in all of the skincare products and form a protective layer that lasts all night long. Using it as the final step in my skincare routine really helps lock in the moisture and repair my skin barrier.
I also use a few other face masks a couple of times per month. I start with putting on Masque Vivant for five minutes, wash it off, then apply Masque VIP 02 leave it on for however long I can.. usually an hour or so! I wish I had time and remembered to do this more often as Toska says it can really make an impact on your skin!!
Facial Mist
The last time I was in, Toska gave me this facial mist. While I have no idea how to pronounce it (you try it – L'Eauxygénante!), it now comes with me everywhere! I personally like to use it while traveling, after pure barre classes and on mornings when I didn't get enough sleep the night before. This oxygenating mist provides instant hydration and refreshes devitalized skin! It also helps your skin defend itself against environmental elements and transition between different climates (which is why I always bring it in my plane bag).
If you have any questions, leave them below and I'd be happy to answer them! If you're interested in a facial or having an online consultation with Toska, you can check out all of the information and pricing on her website! She really is the VERY best!!!
Anyway, let me know if you have questions! xoxo