Gooood morning, friends! And happy 2023! I hope you all had a wonderful Christmas and New Year's Eve/New Year. I am so excited to kick off a new year and I have a lot planned for the blog this year! Starting with – my updated pregnancy-safe skincare routine. I am actually embarrassed that it took me so long to get this post up (I will blame it on pregnancy exhaustion). I love my current skincare routine so, so much that I have bought seconds, and thirds, of all these products. And yes, with my own money (this post is not sponsored).
For some backstory, I visited Toska about a month or so after I found out I was pregnant and asked for her help! If you've been following me for a while, you know that at this point, I would basically trust Toska with my life. She helped my skin get through my first pregnancy, and since then we've continued to tweak a few things in my skincare routine (for the better!) as my skin, and hormones, continue to change.
So without further ado, here is my current skincare routine! (Below)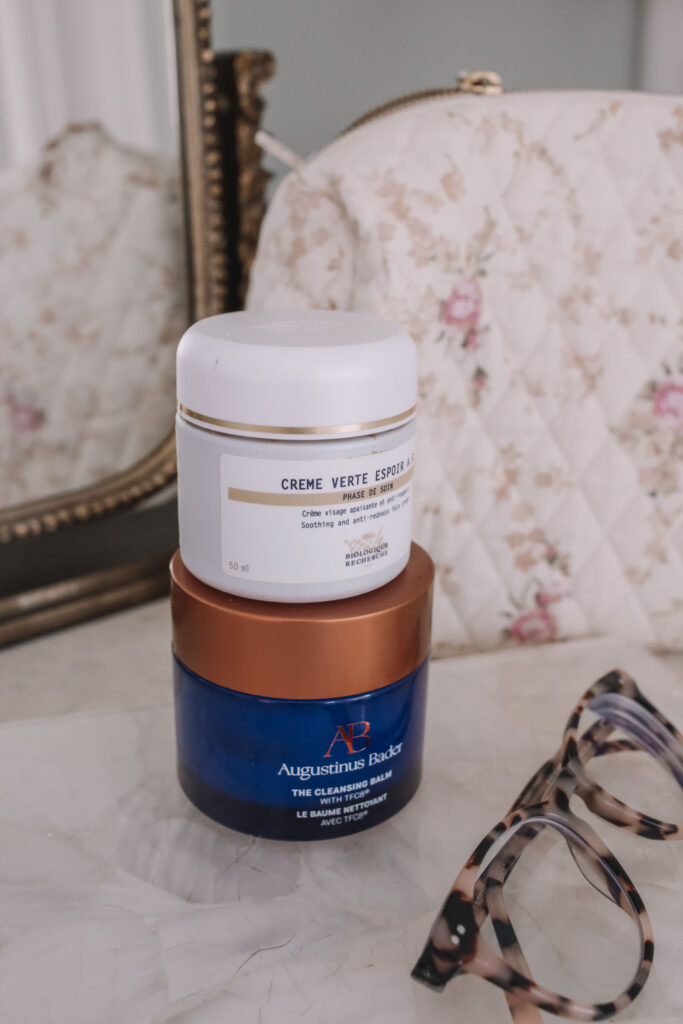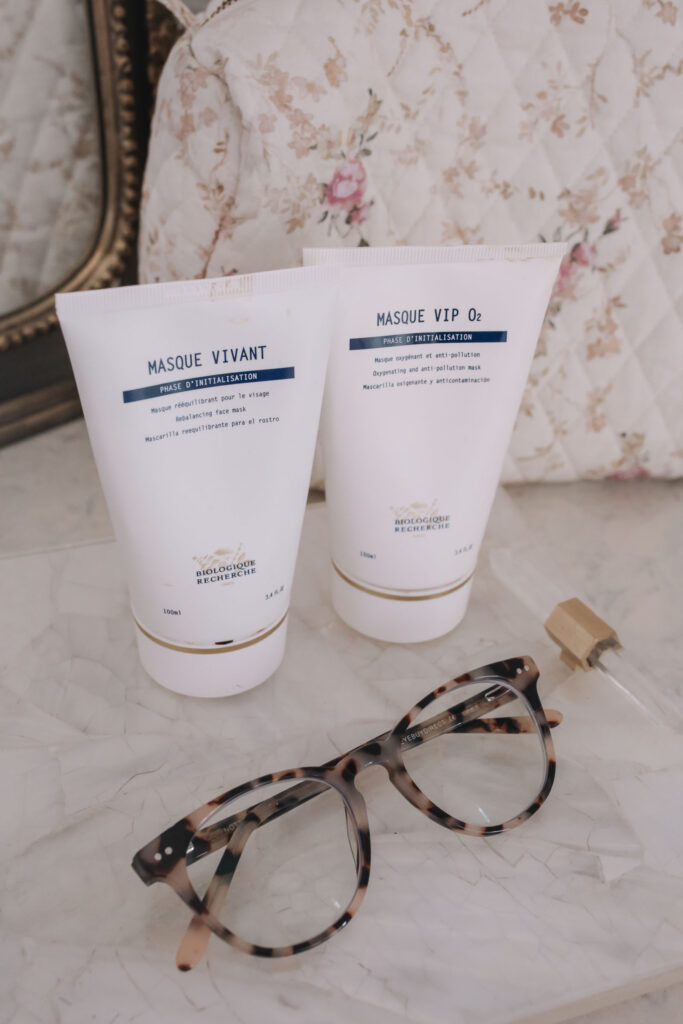 Cleanser
Toska introduced me to this Augustinus Bader Cleansing Balm and now I am addicted to it. ADDICTED. This is one of the products I've mentioned that I've bought *three* times now. I tend to have really, really dry skin (especially in the winter), and this product has somehow kept my skin cleansed but moisturized this entire winter long (yep, even in the TEN degree weather we had last week.) The Cleansing Balm is literally that: a solid, unscented balm that melts into a luxurious cleanser when water is added. How I use it: I massage a pea-sized amount into dry skin, then add a little bit of water with my fingertips to emulsify. I then use a clean wash cloth with warm water to gently "scrub" or wipe away the balm. It literally dissolves my makeup and leaves my skin feeling so good afterwards! I use the Cleansing Balm around five times per week, and then the other two times I use Auteur's Definitive Enzyme Cleanser (side note, I've been using this my entire pregnancy and I'm still not exactly sure what an enzyme cleanser is haha, but I think it's a bit more exfoliating than a regular cleanser). Toska recommended that I use this cleanser a few times per week (every day is too much for my skin), but it provides some extra exfoliation and helps visibly brighten skin tone and fade hyperpigmentation.
Serum
I realized after photographing this post that my serum was still in my travel bag and didn't make it into these photos! I apply these Beauty Drops as my serum after every cleanse. Toska introduced me to this brand, called Future – it's a small-lesser known Israeli brand that makes some of the best herbal serums on the market. This particular serum is very nourishing and is rich in plant extracts – it's great for calming and soothing fragile skin. Calling my skin fragile is an understatement, I have to be so careful what I put on it or it gets inflamed! These Beauty Drops really are soothing and keep my redness at bay.
Moisturizer
Another product I am extremely faithful to (I am already reaching the very bottom of my second jar), Crème Verte Espoir A.R.. Toska told me that this moisturizer was specifically formulated for redness, which I have found to be true, and it happens to be extremely moisturizing at the same time! This product is formulated to reduce the appearance of small blood vessels that can make your face and cheeks appear red. It also soothes and helps rebuild your skin barrier. All I know is that I love how my skin feels when I use it, and it really DOES help with the redness in my cheeks!
Masques
A couple of times per month I do an extra series of face masks (usually if I know I'm going to be up late working on the computer). I start with putting on Masque Vivant for five minutes, wash it off, then apply Masque VIP 02 leave it on for however long I can.. usually an hour or so! I wish I had time and remembered to do this more often as Toska says it can really make an impact on your skin!!
If you have any questions, leave them below and I'd be happy to answer them! If you're interested in a facial or having an online consultation with Toska, you can check out all of the information and pricing on her website! I really wish I could make it to Charlotte more often to see her!!! I know once the new baby comes I will have even LESS time to do so haha (you know how it is).
Anyway, let me know if you have questions! xoxo