I have been meaning to sit down and write a blog post updating you guys on my skincare journey. Cause man, it has been a JOURNEY! For my entire life, I have had what I'd call "okay" skin. It's not amazing, but it's not bad either. While I've never really dealt with breakouts or serious skin issues, I also never felt super confident being seen without makeup. This went on for pretty much my entire life – until this year. I have NO IDEA what happened this year, but my skin started acting up and I experienced a whole new slew of problems (also, this was before I got pregnant, so I couldn't even blame hormones, haha.) In January and February of this year, I noticed that my normally okay skin was very not okay. It was so dry, you could barely touch it with your finger and it would flake off. Not to mention, I had redness in both cheeks, on my forehead, and a smattering of small red bumps across my entire face. I didn't feel like myself! And I can't even tell you the toll that it took on my self-confidence.
I had been hearing about Toska Husted for years now… yes, THAT Toska Husted… the same one that gave J.Lo a facial before her Super Bowl Performance earlier this year. After listening to a few of my friends rave about her, and also scrolling through the Before and Afters on Toska's Instagram, I decided it was worth a shot. I am incredibly lucky that her spa is located right here in North Carolina, in Charlotte, making it incredibly convenient to book a consultation. And so I did!
Before photos: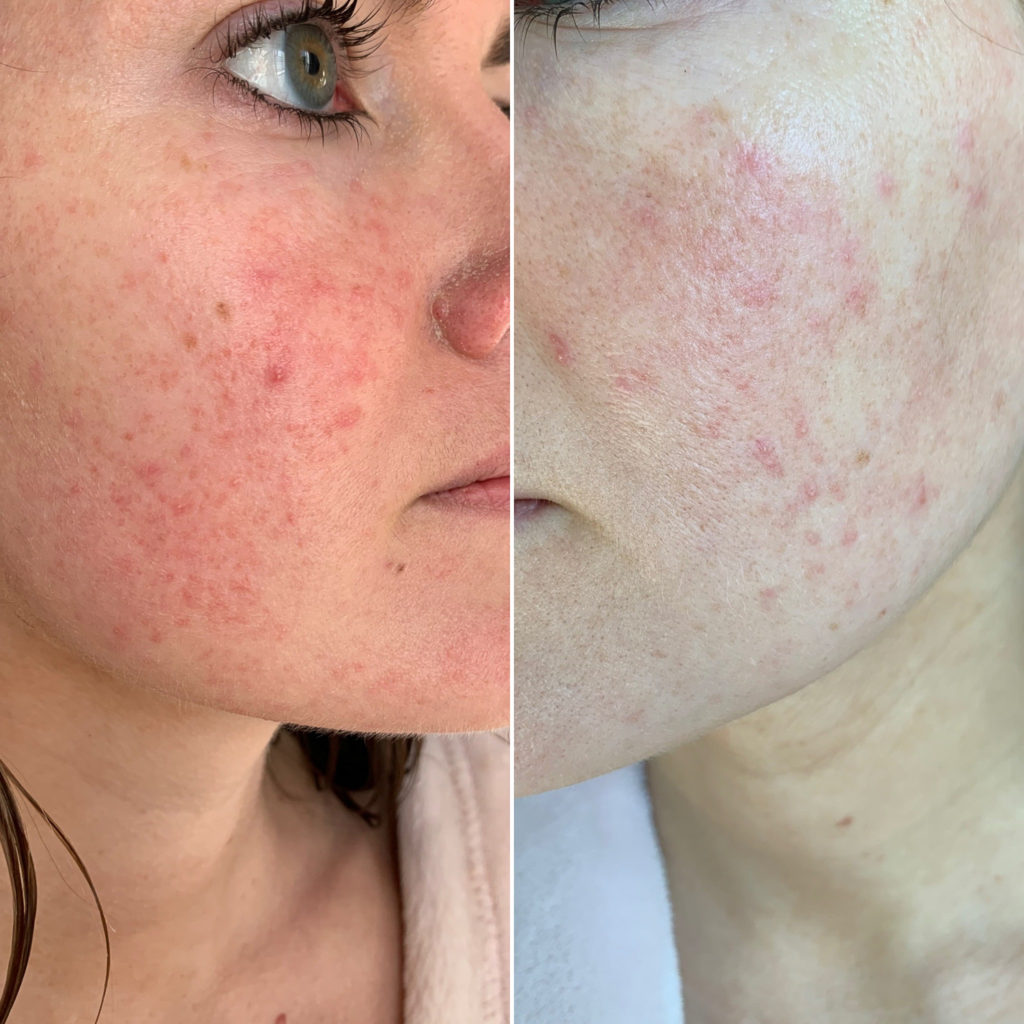 I had my first meeting with Toska back in the beginning of March. From the start, Toska was warm and inviting and made me feel like her friend. While she agreed that my skin was in a bad place, she was confident that we could get it back to its normal state, and better, using the Biologique Recherche skincare products that her spa specializes in. Right away I had a bunch of questions about these products – are they "clean"? Are there any weird or harmful ingredients? At the time, we were trying to get pregnant… so I also wanted to know if they were safe for pregnancy. I was elated to find out that Biologique Recherche has been doing "clean beauty" long before that term even existed. Founded back in the 1970s, the company has always used the highest-quality ingredients on the market. The products are formulated in France according to their super strict laws and regulations (much stricter than in the United States). Each formula is comprised of at least 20% raw actives, and everything is made without silicones, parabens or sulfates. Biologique Recherche does not even put any fragrance in their skincare products… which you can confirm with your own nose right away after smelling any of their products! They have very unique smells because they're concentrated with active ingredients. After discussing with Toska and doing my own research, I felt confident that this skincare line is the best of the best… I mean, Jennifer Aniston uses the products religiously and just look at her skin!!
After my initial facial, Toska prescribed me a skincare routine using Biologique Recherche products. Since our original appointment, we've tweaked things a little bit according to my skin and the progress we've made. That is the beauty of working with Toska one-on-one… she does not make generalized prescriptions, but really tailors the skincare routines to your exact skin.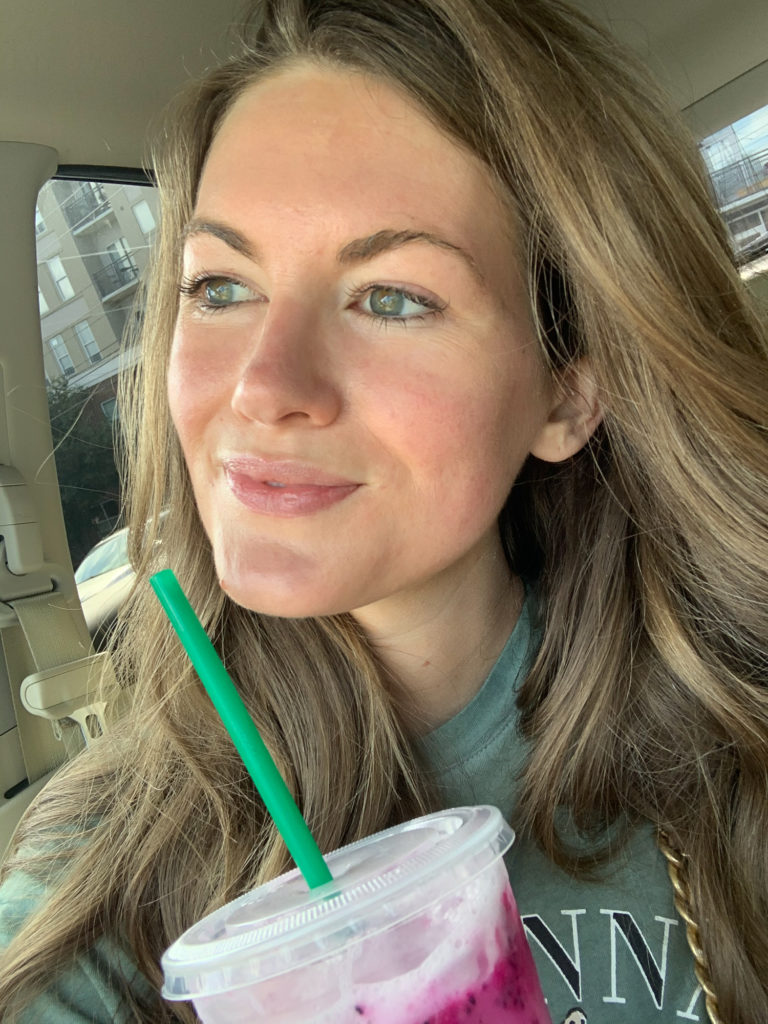 The progress: I'm happy to report that my skin has made HUGE strides since earlier this year. The above photos are after a recent visit to Toska's spa. The texture is radically different – but you can't really capture the change in photos – you'd just have to feel it! My skin now feels moisturized and plumped – and doesn't flake off on your fingers anymore. And the pesky redness (which Toska told me is rosacea), is *slowly* going away. Overall, my skin tone is evening out, which I think you can clearly see from the updated photo! Toska assured me that true change takes time… and also, we are now fighting against pregnancy hormones! The fact that my skin has continued to get better despite being pregnant is a true testament to Toska's expertise and the Biologique Recherche line.
I wanted to walk you through my exact skincare regimen today, while also noting that what works for me might not work for others. If you're curious, you can book an online consultation with Toska herself, or any of the talented estheticians at Toska European Spa, to put together a skincare routine customized to your exact needs. I also want to point out that the entire skincare line, along with most of the Biologique Recherche products, are pregnancy safe. There are only two products that are not pregnancy-safe, and that's the P50 1970 and the P50V 1970 (which I do not use). The version of P50 I use, the P50V, is absolutely pregnancy-safe. So, without further ado, here is my exact nightly skincare routine!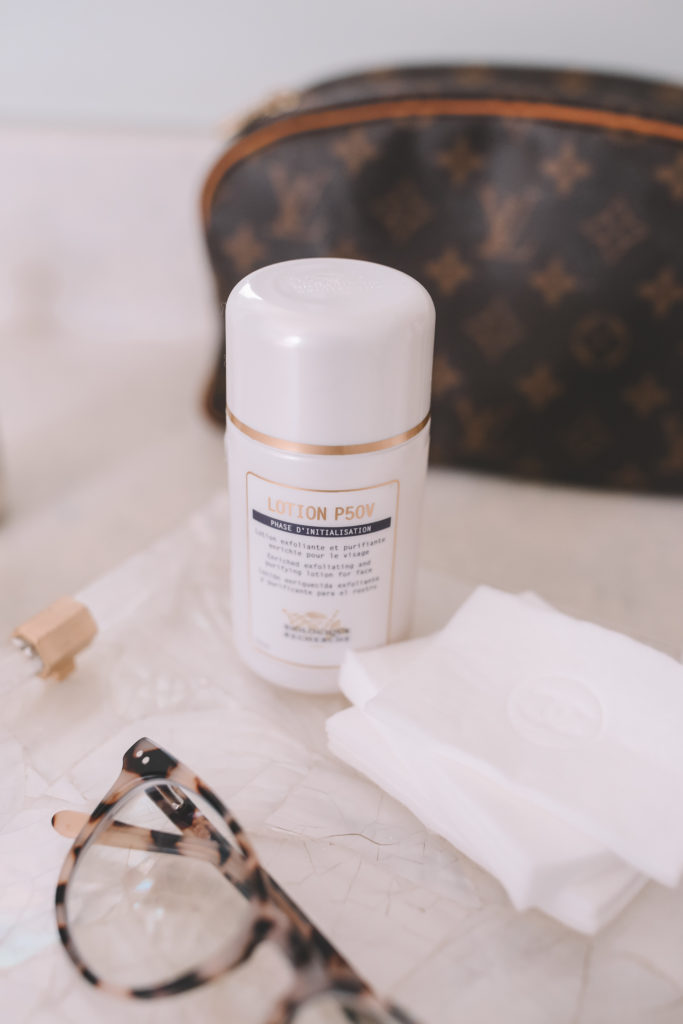 Step One: Micellaire Water
Odds are you've probably heard of micellaire water before! I apply Eau Micellaire Biosensible to a cotton pad to gently remove most of my face makeup and foundation (skipping over my eye makeup).
Step Two: Lait E.V.
For the second step, I like to take a little bit of warm water and rub my eyelashes between my fingertips to take off my mascara. Then I use a very gentle cleanser, Lait E.V., to cleanse the rest of my make-up and the leftover mascara. I apply Lait E.V. like a cream, in an upward motion, then rinse it off with a moistened cotton pad. This cleanser never leaves my face feeling tight or dry… instead my skin feels soft and refreshed. Toska's tip: never wash your face with hot water! Use cool or lukewarm water, since hot water can dry it out.
Step Three: Lotion P50V
Lotion P50 is the product that everyone RAVES about. This product has a cult-following and is known to transform people's skin (just do a quick Google search and it will confirm this – it has even been referred to as "Jesus in a bottle!"). Despite the name, Lotion P50 is actually not a lotion… it's more like a toner and exfoliator in one, and it has a very odd smell at first that might take you a few weeks to get used to. 🙂 I personally use the Lotion P50V, which is specifically for devitalized skin. It's gentle enough for me to use every night, and has performed WONDERS for my skin in achieving a more even skin tone. In case you're wondering, the "P" stands for peeling, and the "50" is for 50 days, or two epidermal cycles – the time it takes for it to transform your skin! I apply Lotion P50V to a cotton pad, and then gently press it into my face.
Step 4: Sérum Dermopore
I apply Sérum Dermopore to my nose and in between my eyebrows, where I have larger pores… to help tighten them up!
Step 5: Sérum Placenta
I then use Sérum Placenta as an all-over serum… I apply a little to my hands and then gently press into my face, all over. This repairing serum helps restore moisture and epidermal elasticity (which I need!) and also reduces skin imperfections.
Step 6: Crème Elastine Marine *or* Crème Masque Vernix
Step six is to apply a moisturizer! I switch off between Crème Elastine Marine (I also use this in the morning) and Crème Masque Vernix. If I had to pick a favorite BR product, it would hands down be Crème Masque Vernix! I go through a whole tub of this stuff in just a few months because I love it and use it so much – it is a MIRACULOUS moisturizer and the results are instantaneous. I really credit this product for taking my skin from flakey and dry to moisturized and dewy. It's named for vernix – the protective layer on a baby's skin at birth – and it really does lock in all of the skincare products and form a protective layer that lasts all night long. With other moisturizers I've tried in the past, they felt fine when I went to bed, but I would still wake up with flakey skin – almost like the moisturizer melted off overnight. Not with Crème Masque Vernix – I wake up the next morning feeling like I JUST put it on. I think technically this product is a face mask, but I use it most nights as it if it were a moisturizer. It is WORTH. EVERY. PENNY.
A couple of times per week, I do an extra series of face masks – usually on nights where Chris and I watch a movie or I have a lot of work to do on the computer. I start with putting on Masque Vivant (another product with a massive cult following) for 5 minutes, wash it off, then apply Masque VIP 02 mixed with my favorite Crème Masque Vernix and leave it one for however long I can.. usually an hour or so! The combination of Masque VIP 02 and Crème Masque Vernix is incredibly calming and cooling for sensitive skin – and incredibly moisturizing.
In addition to my nightly skincare routine, I've continued to see Toska once or twice a month for treatments – and for her to check on my skin and see how it's doing! I believe the best results are achieved with facial treatments combined with a customized at-home regiment of products.
If you have any questions, leave them below and I'd be happy to answer them! This has been a really long blog post and I probably didn't quite answer everyone's question. Overall, I am beyond thrilled with the progress my skin has made and cannot wait to see even more improvement in the future (especially after these pregnancy hormones balance themselves out come January – LOL!). If you're interested in a facial or having an online consultation with Toska, you can check out all of the information and pricing on her website – or feel free to give the spa a call at 704-332-8500.