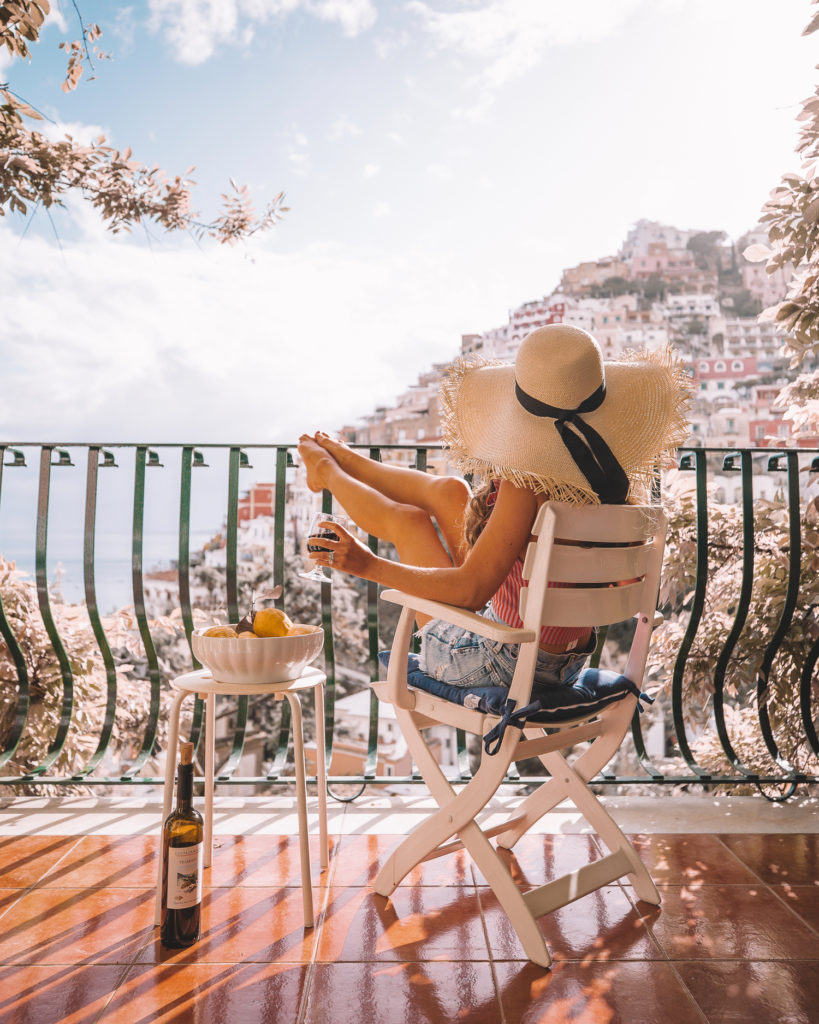 There's just something about the Amalfi Coast in Italy that keeps calling my name. I can't stop going there!! This past trip was my third year in a row, and now that I'm home I already have the itch to go back. People always ask what my favorite travel destination is, and without hesitation I say the Amalfi Coast. For someplace so far away, it truly feels like "home" to me. Everything from the people, the food, the views that take your breathe away and threaten your heart to stop beating – there is truly no other place like it in the world. Read on for my full travel guide to Positano – and if you have any questions, feel free to leave them in the comment section and I'll get back to you there!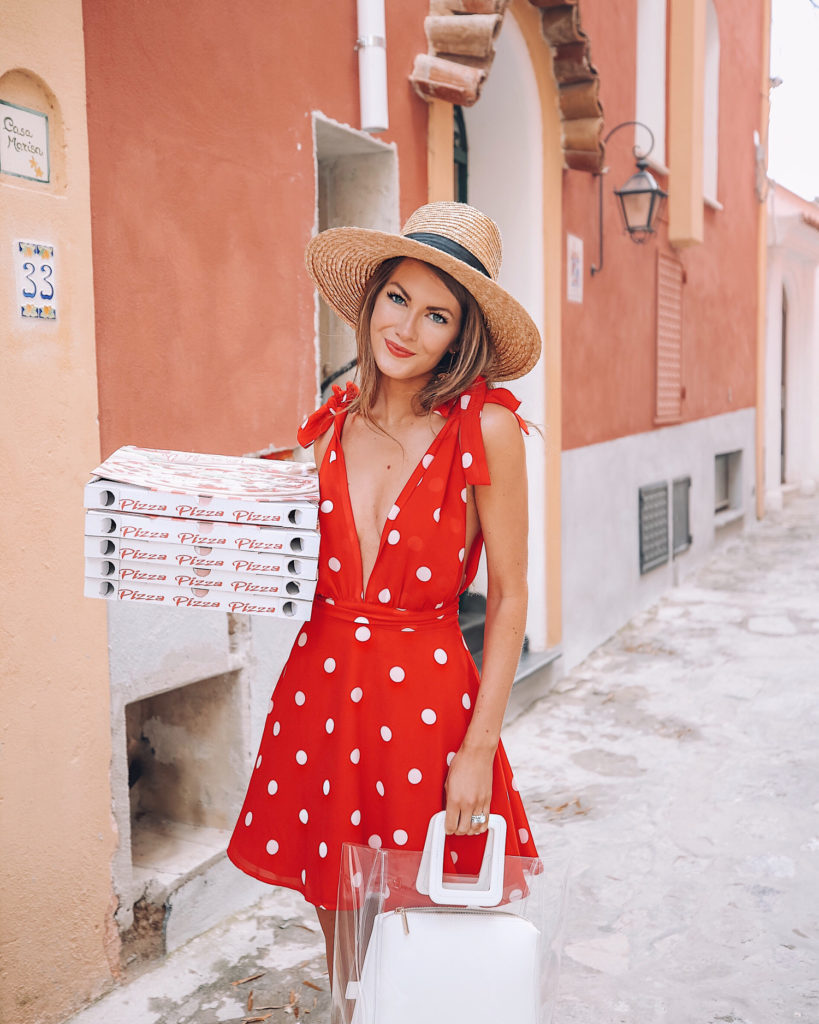 How to Get There
We've traveled to Positano two different ways: via Rome and Naples. If you fly into Rome, the easiest route is to take a taxi from the airport to the train station (30 minutes), then a fast train to Salerno (2 hours), then a ferry to Positano (1 hour). This is the route we took last time, but I found it to be a VERY long and taxing day. This time we decided to fly into the Naples airport, instead. We ended up having more airline connections to get to Naples, but once we landed it was only a 1.5 hour drive to Positano. I personally preferred this method! It was less stressful to only have one car ride once we arrived at the airport.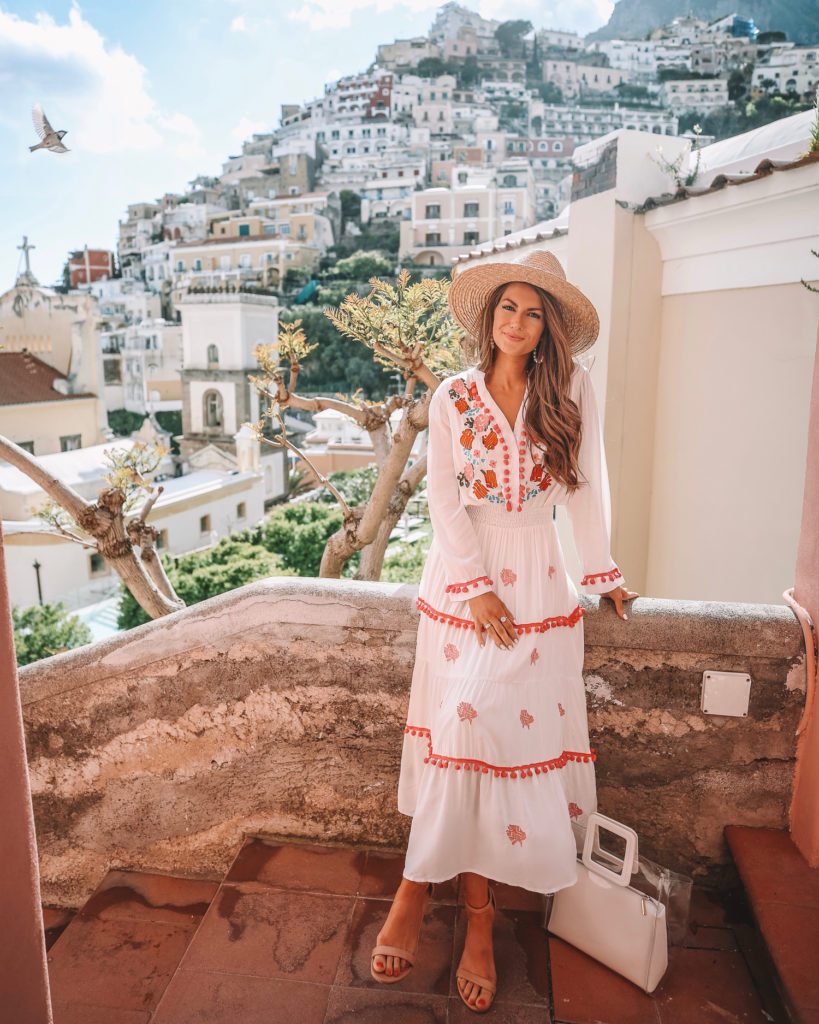 Best Time to Visit
This one is tricky! Two years ago when we visited in May, it was near perfect weather. It was sunny the entire time and it was warm enough for us to wear shorts, sundresses and bikinis every day. This past trip was unbelievably chilly – it was in the 50s and 60s, with several storms and rain showers passing through the coast daily. Although it may look warm from my photos… it really wasn't! Most of the time I had a jacket and scarf over every outfit, and I stashed them out of sight for photos. That being said, chilly weather is very atypical for the Amalfi Coast – everyone we talked to said that May is usually beautiful! Once you get into the months of June and July, things REALLY heat up in Positano. It gets incredibly hot! You should consider all of that when booking your trip. Another thing to keep in mind is the crowds. Two years ago when we came in May, it felt like such an authentic and real experience because there were hardly any tourists. This time around, though – wow it had changed! There were tourists EVERYWHERE. The streets were teeming with people holding selfie sticks and DSLR cameras, shouting in English (clearly not Italians, haha). Supposedly the crowds get even worse in June, July and August.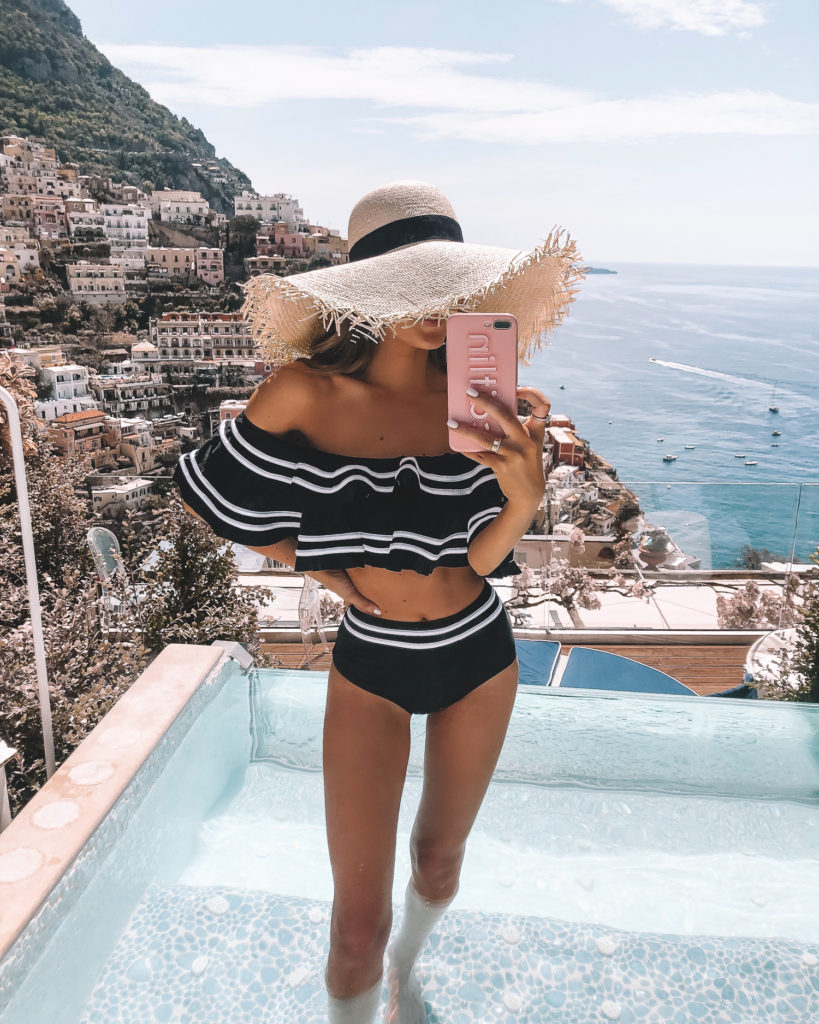 Where to Stay
A RENTAL: I think an Airbnb or HomeAway is a great option for Positano and is much more affordable than the hotels. We stayed in this this HomeAway for around $300/night. It is located right next to Le Sirenuse, the most expensive hotel in Positano, and offers the exact same view (but for thousands of dollars less!). This little place has everything we needed for an extended stay: two bedrooms, three bathrooms, a comfortable sofa, a TV, and a small kitchen with microwave, stovetop and refrigerator. It has a GORGEOUS patio with outdoor seating and lounge chairs, and it's own private walkway down to the beach. It's also located close to a market so that you can grab fresh produce and water bottles to keep at your house. If you go to my Positano highlight on Instagram, I showed a little tour of our house! If you'd rather stay at a hotel, here are some great options:
POSEIDON HOTEL: We love Poseidon Hotel, we make a point to visit every year! If you're looking for a classic Positano hotel, this is it. It's absolutely breathtaking, from the interior decor and patio to the views of Positano. Plus the owners are two sisters and they absolutely go out of their way to make every guest feel at home!
VILLA FIORENTINO: This is an AMAZING option if you are headed on your honeymoon! We actually rented the Honeymoon Suite solely because we wanted to take pictures at the infinity pool. This hotel is one of the most romantic I've ever been in! The staff here is amazing and every detail was perfectly thought out. Our room was beautifully decorated, the bed was comfortable and the bath products in the bathrooms were the most heavenly-smelling products I've ever used, haha. Every day they would give you a breakfast sheet and you could pick all the foods you wanted for breakfast the next morning and what time you wanted it to arrive. You will definitely want to hang out at the pools if you stay here: there are three different pools, but one is a crazy hot tub with clear panelling! It is perfect for photos (I do believe that you have to be staying at the hotel in order to use the pool.) Our best day in Positano was spent at Villa Fiorentino – it was our only hot day, and we put on our swimsuits and ate pizza and drank rose on the sundeck!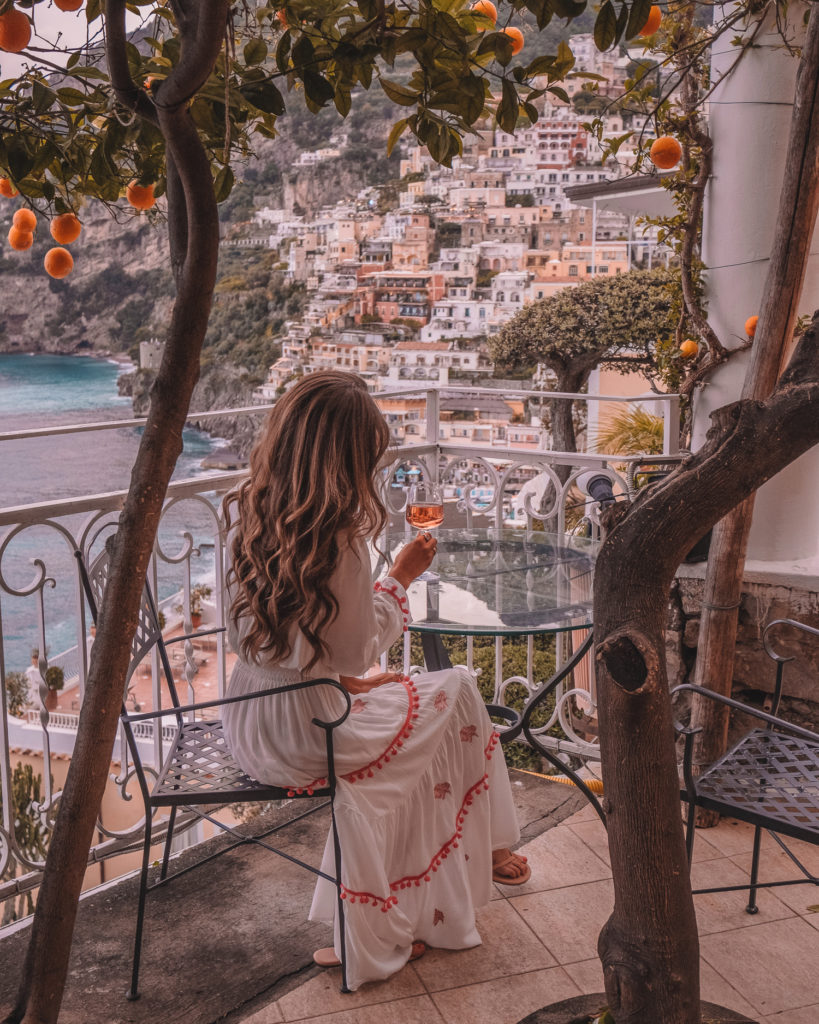 Where to Eat
BREAKFAST/LUNCH:
COLLINA BAKERY: We went here almost every single morning for a cappuccino and a Nutella croissant! We always got it to go and then brought it back to our little house to eat on the patio. The coffee here is AMAZING, but even Italian coffee can't beat a Nutella croissant. This croissant is OUT. OF. THIS. WORLD. By the way, Nutella in Italy is completely different than the Nutella in America! It comes in a glass jar and is made without all of the chemicals and preservatives that come in the American version. You can definitely taste the difference – it's WAY better!
CASA E BOTTEGA: This place is sooo good for lunch! At some point during your time in Italy, you will probably crave some greens,a welcome break from pasta and bread. Or at least I did 🙂 Casa e Bottega has the best fresh juices, smoothies, salads and vegan/vegetarian meals. They even make a pasta made out of zucchini noodles!
IL TRIDENTE: We went to Hotel Poseidon one afternoon and dined at Il Tridente (the hotel's restaurant). I had the best gnocchi that I had the ENTIRE trip! It was so fresh and delicious, my mouth is watering as I type this, haha. Hotel Poseidon also has an amazing view, you will definitely want to take pictures here!

DINNER:
RISTORANTE MAX: This was our favorite meal that we had the ENTIRE trip. First of all, this restaurant is not touristy at all! Second, definitely ask about the specials because those ended up being our favorite meals – my mom had some fish baked with potatoes, capers and olives and she said it was the best fish she had her ENTIRE life. I had homemade pasta with truffle (also amazing), and my brother had spaghetti with lobster. All three of us loved it so much that we made reservations again for our final night (and all three ordered the exact same thing again hahahha). Also – ask for a glass of Chianti! It was also the best wine I had the entire trip!
DA VINCENZO: This restaurant was recommended to us by our driver, Lupo. The atmosphere of this restaurant is sooo cool – it is built into the cliffs of Positano, so it looks and feels like a cave inside! There are candles lit everywhere and it feels so romantic. The food is also incredible – and definitely order the fried cheese for an appetizer.

LE TRE SORELLE: This restaurant is located right on the beach – you have to go to the beach restaurants at least once while you're in Positano! We could see the ocean from our table, and went right around dusk so we got to watch the sunset. I had some gnocchi with fresh tomato sauce and basil and my mom had baked fish and we both loved our meals. Definitely don't skimp on dessert, either – their lemon cake was our favorite part of the meal!
TERRAZZA CELLE: This restaurant has a pretty fancy menu, but it is BEAUTIFUL! The terrace is absolutely one of the prettiest of Positano. Definitely make a reservation ahead of time and ask for a table with a good view – you will appreciate it when the sun is setting and all of the lights are turning on in Positano!


What To Do
RELAX! The Italians are hard workers but they have also mastered "the art of doing nothing." Take a note from their book! It's okay if you don't have every day packed with activities – part of the fun of being in Italy is not having plans. Sleep in, enjoy a leisurely afternoon on your patio reading, go for a walk and stumble upon a cute cafe – take everything at a slow pace and truly soak it in while you're there.
Take a boat to Da Adolfo Restaurant – Grab the free boat with the red fish from the port at 11 a.m. Be sure to make reservations for the beach club ahead of time (if you're staying at a hotel, the concierge can do this for you). Da Adolfo is about 15 minutes outside the city by boat. You can rent a lounge chair and lay in the sun for a few hours before sitting down for lunch at the restaurant. Be prepared to stay for a few hours and catch the boat back around 4 p.m.
Visit Franco's Bar for drinks. It opens at 5pm and there's always a line outside, so it's worth it to get there at 4:45 and wait for 15 minutes to be one of the first inside. Everything inside is photo-worthy, from the lemon trees planted around the restaurant to the bar's blue and white striped awning. Their drink menu is really neat (I loved my aperol spritz) and they give you a free bowl of olives that were some of the best olives I've ever had in my entire life. 🙂
Hike the Sentiero Degli Dei (the Path of the Gods), a trail that links Agerola to Nocelle. The name, the Path of the Gods, is an indication of how spectacular the scenery is throughout the hike.
Spend a day at the beach. There are two: Spiaggia Grande (the bigger beach) and Spiaggia del Fornillo (the smaller beach). Spiaggia del Fornillo is less busy than the main beach, Spiaggia Grande, and just as pretty. It's also lined with places to eat and drink so you can grab lunch between tanning sessions.
Buy local shoes. Positano is known for their sandals and a lot of places will custom make them for you – you pick out the design and the material and they will fit the sandal to your foot.
Shop! There are a ton of local boutiques and art/pottery stores that are really fun to peruse. All of the pottery places will ship back to the United States (even full sets of plates and mugs) so don't worry about trying to squeeze it into your suitcase. Definitely head to Pepito's for some linen while you're there – they make the best shirts and dresses!
Visit Fiordo di Furore, an incredibly quiet and beautiful beach along the Amalfi coastline. Google it to see how beautiful it is!
Take a boat out for the day. You can hire a private driver right on the beach (just be sure to get there early in the morning around 9 a.m.) and they will take you out on the boat. Stop by Vini e Panini for a sandwich and bottle of wine to bring with you before boarding the boat.
Take a day trip to Ravello. Ravello is located high in the mountains above the Amalfi Coast, offering some of the beautiful views you'll ever see in your life. While you're in Ravello, visit the gardens of Villa Rufolo, have lunch at Villa Maria's, and enjoy a spritz on the patio at Palazzo Avino.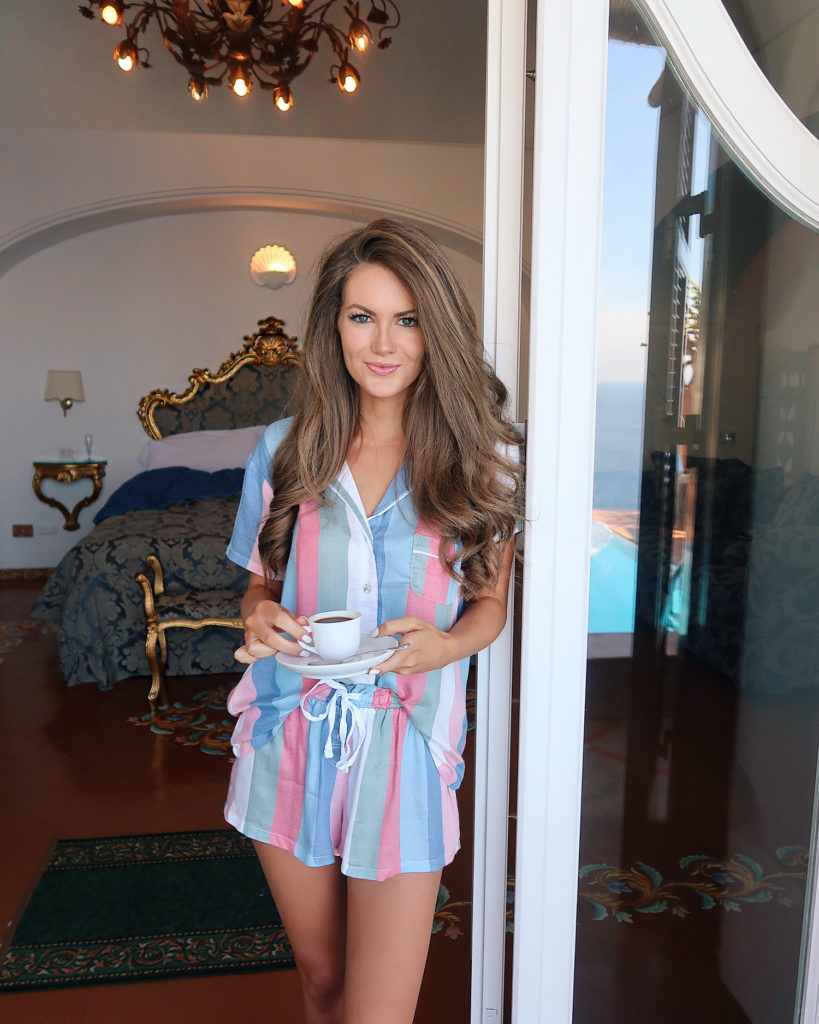 How to Get Around
If you're staying in Positano for several days, you really don't need a car – you can get everywhere you need to go by walking, or by boat! I actually recommend that people don't rent a car – it can be really scary to drive on the Amalfi Coast if you don't have experience driving there. If you do choose to drive, be prepared for hairpin turns, steep cliffs, narrow lanes and dizzying heights. If you need to get somewhere that isn't walkable, I recommend hiring a private driver. We used Mr. Lupo for transportation both to and from the Naples airport and for a day trip to Ravello. He is awesome! He was born and raised on the Amalfi Coast and knows everything about the area. I recommend booking him ahead of time – his email is lupenluigi@hotmail.com.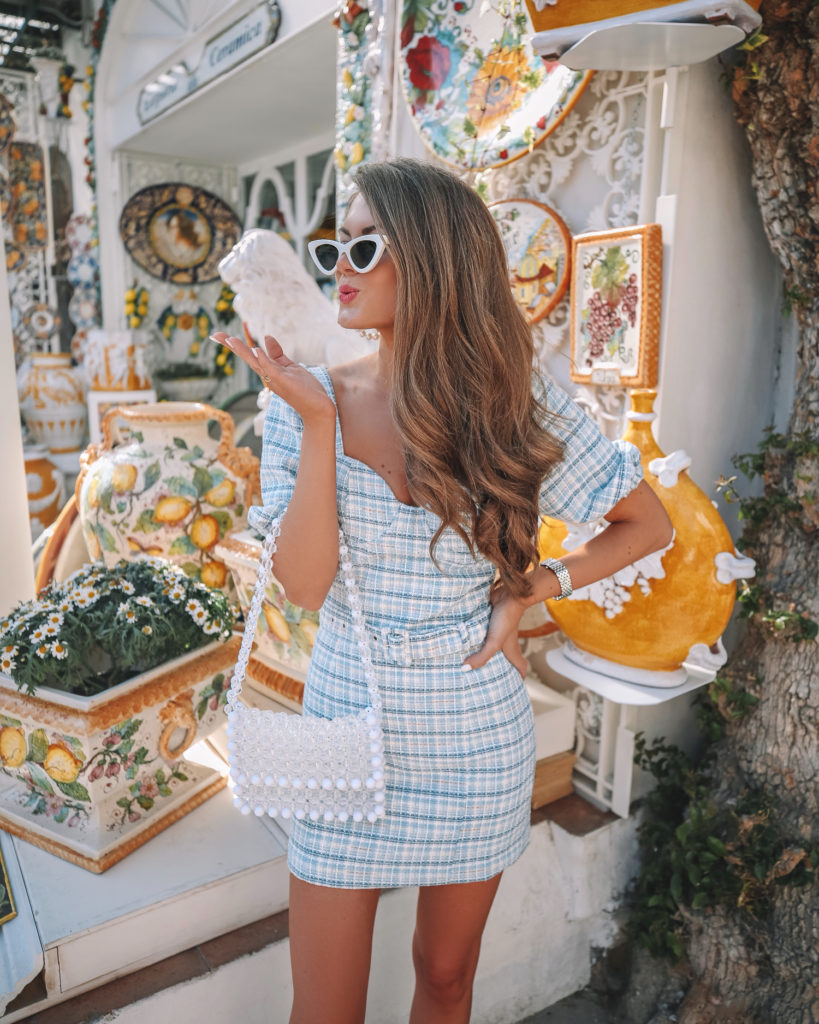 What To Pack
This section is a little difficult to write, since we experienced vastly different weather in Positano from year to year! I would definitely check the weather forecast ahead of time. Even if you're expected to have warm temperatures, I would still pack a rain jacket and a cardigan, since it can get cool at night. No matter what, definitely pack comfortable shoes! Not only will you be walking a lot, but you will be taking STAIRS everywhere. Positano is a village made up of stairs! I switched between my TKEES sandals and a pair of white slide-on sneakers every day. Other important items to pack include a converter and adapter (the plugs are different in Italy), a hat, a crossbody bag, and a scarf that can be worn multiple ways (as a sarong, around your neck, etc.).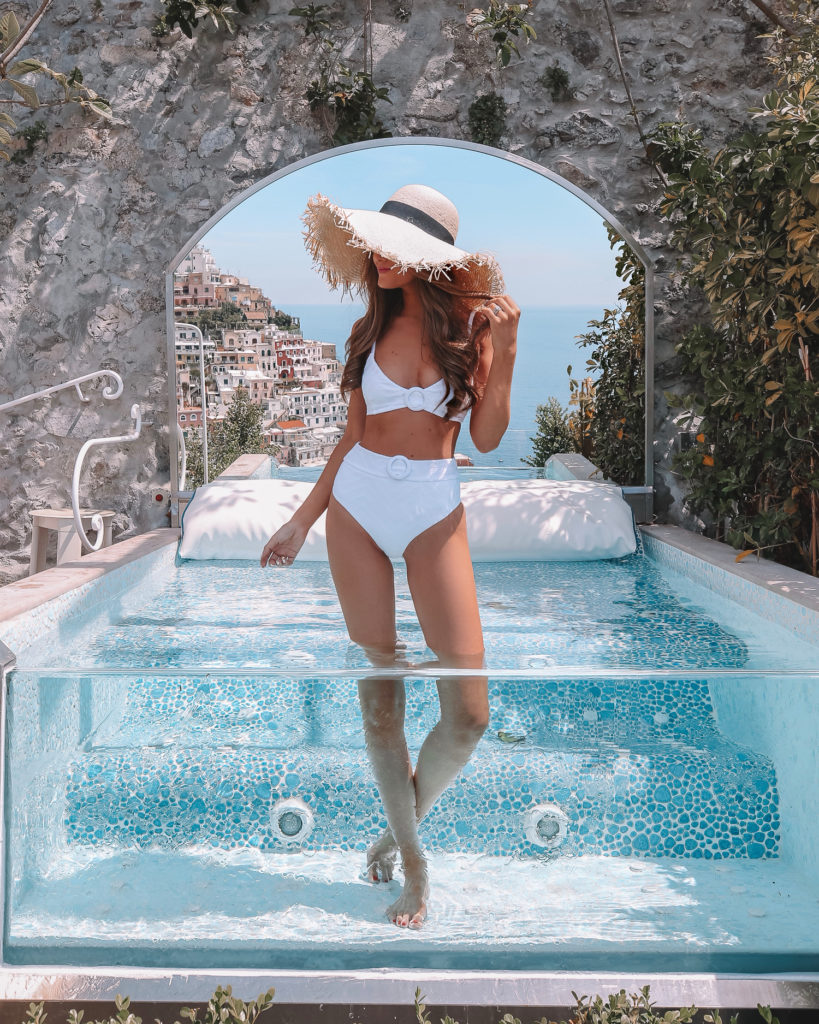 Other Helpful Tips/FAQs
You have to make reservations for nearly every single restaurant in Positano – it is actually frowned upon if you walk into a restaurant and expect to get seated without a reservation! It's pretty easy to make reservations, though, and most restaurants allow you to make them online.
Tipping is not expected in Italy. Most restaurants charge a cover charge (usually one or two euros per person), so they don't expect a generous tip like in America. If the service is out of this world, then you can leave one or two euros on the table for the server.
My last tip is weird but TRY THE CAPPUCCINO! It is unbelievable and does not taste at all like the American version. You will thank me 🙂
Like I said, if you have any other questions, feel free to leave them in the comment section and I'll get back to you there!