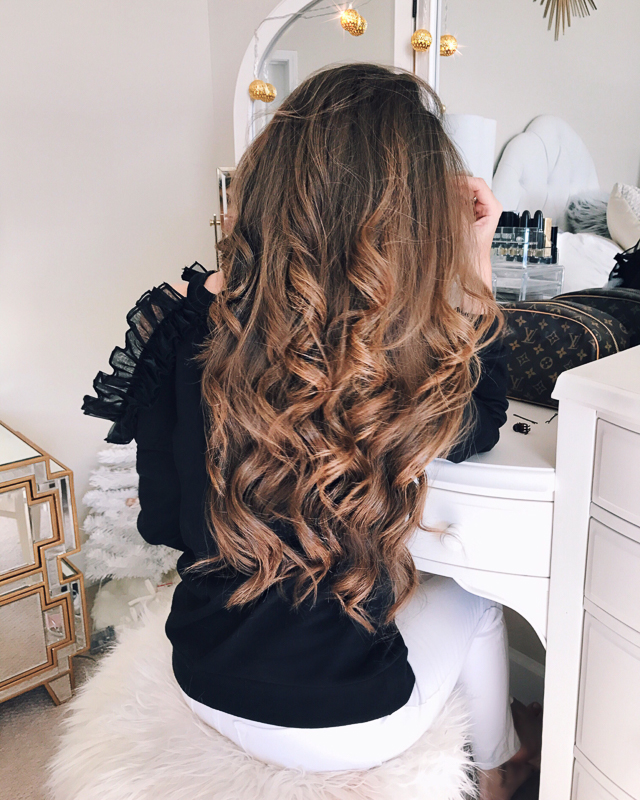 Fun fact, in middle school my hair used to be completely FRIED. I would straighten it every single day and didn't take care of it at all – one of my friends even commented that it "looked like straw" (which hurt my feelings). Anyway, fast forward several years of taking really good care of my hair, and I was able to transform it from looking like "straw" to healthy and voluminous (while still using heat products on my hair). So take my hair as the example that it IS possible to regain healthy hair once you think you've damaged it!
I've compiled a few of your questions from Instagram and emails and am answering them below. If you have some additional questions, please leave them in the comment section below and I'll get back to you!
Also FYI, this post is not sponsored in any way or form. Just my honest opinions 🙂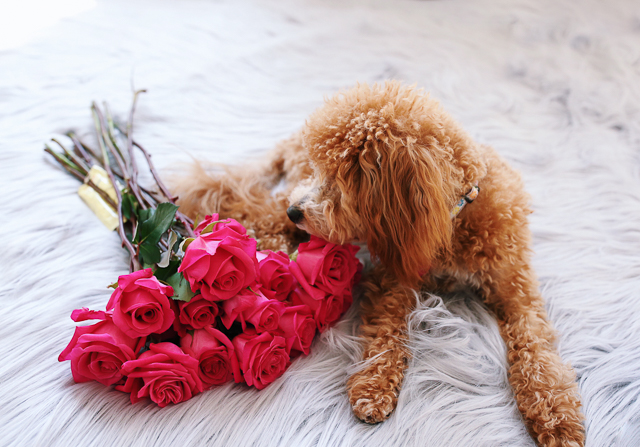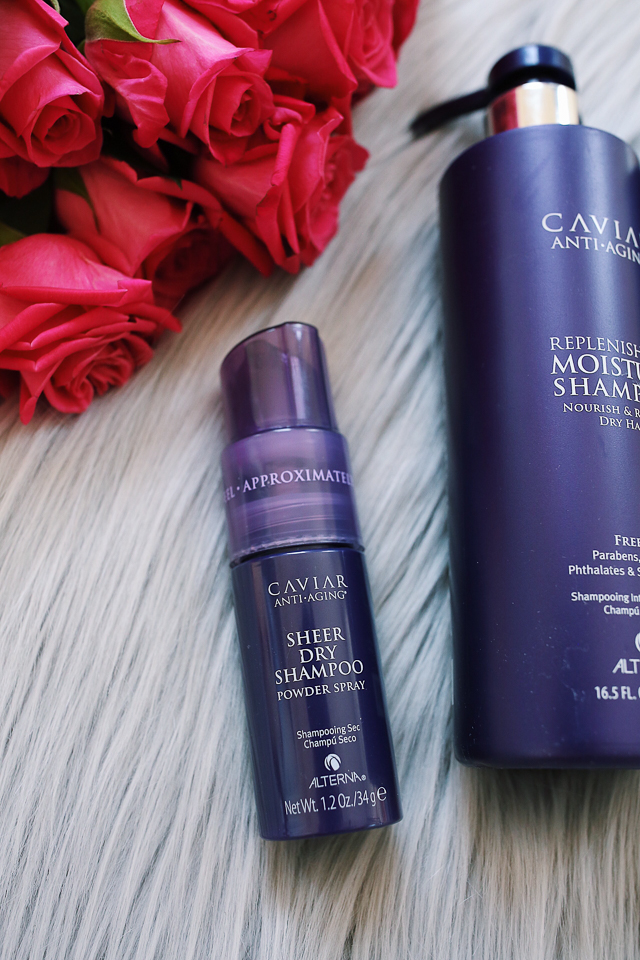 Q: What shampoo and conditioner do you use?
A: If you've been reading my blog for long you may already know that I'm obsessed with this shampoo and this conditioner and have been for the past year. It makes my hair feel healthier and stronger than any other shampoo and conditioner I've ever used. It is expensive, yes, but completely worth it. Here's a little clip from an email I received from a reader a few months ago (hi Pamela, if you're reading!): Hi Caitlin! So I finally tried the Alterna shampoo & conditioner & OMG!!! I loooooooove it! It leaves my hair so soft! And the Aveda damage remedy is amazing too! Thanks so much for your advice; it saved my hair!"
Q: How often do you wash your hair?
 A: I only wash it once or twice a week! I try to get away with going as long as I can in between washes (I take a lot of baths with my hair pulled up in a bun :). Not shampooing your hair every day is actually really good for your hair – there are a lot of natural oils in your hair that make it healthier and shinier, and shampooing strips your hair of these oils. I typically wash mine at the beginning of the week… once I blow dry and curl it, I won't have to do anything to it for a few days. Sometimes I touch up the curls with my curling wand if I'm taking photos, but thats it. I also rely on dry shampoo a lot in between washings. The one I'm really loving right now is this one – it's powder based (rather than aerosol) and is small enough to fit in your purse or carry-on so it's easy to take with you on-the-go!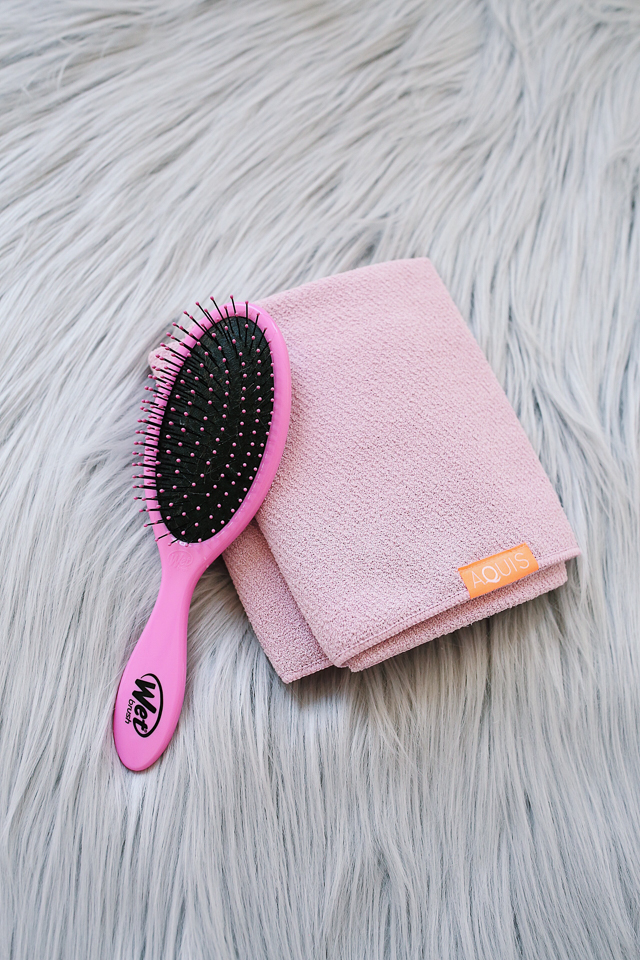 Q: What's your shower routine like?
A: This may be a little weird, I do have a pretty strict shower routine, haha! I apply shampoo first and shave my armpits while the shampoo is on my hair, then I rinse out the shampoo and apply conditioner just to the ends of my hair. I am careful to avoid my roots because this makes them more oily! While the conditioner is on my hair I'll shave my legs, lather up with body wash and then gently comb the conditioner through my hair with this two-sided comb (I use the larger side). This gives the conditioner plenty of time to really soak into my hair! When I've gotten all the tangles out with my comb, I'll rinse off for a final time and get out of the shower. I immediately use this super absorbent towel to dry my hair off and wrap it around my head. This particular towel protects your hair's natural integrity while also cutting drying time in half (plus it's cute and pink!).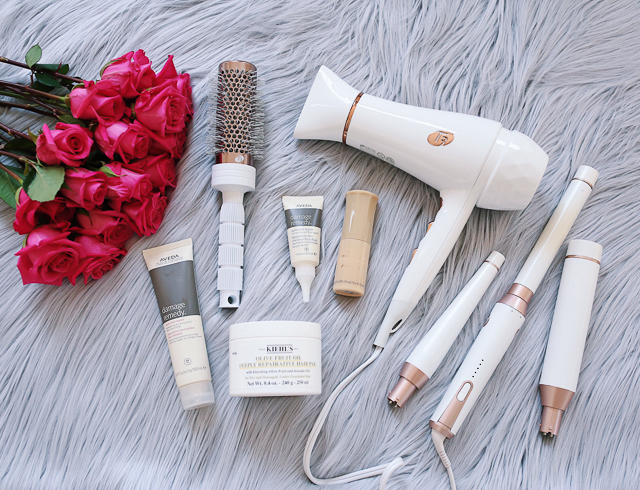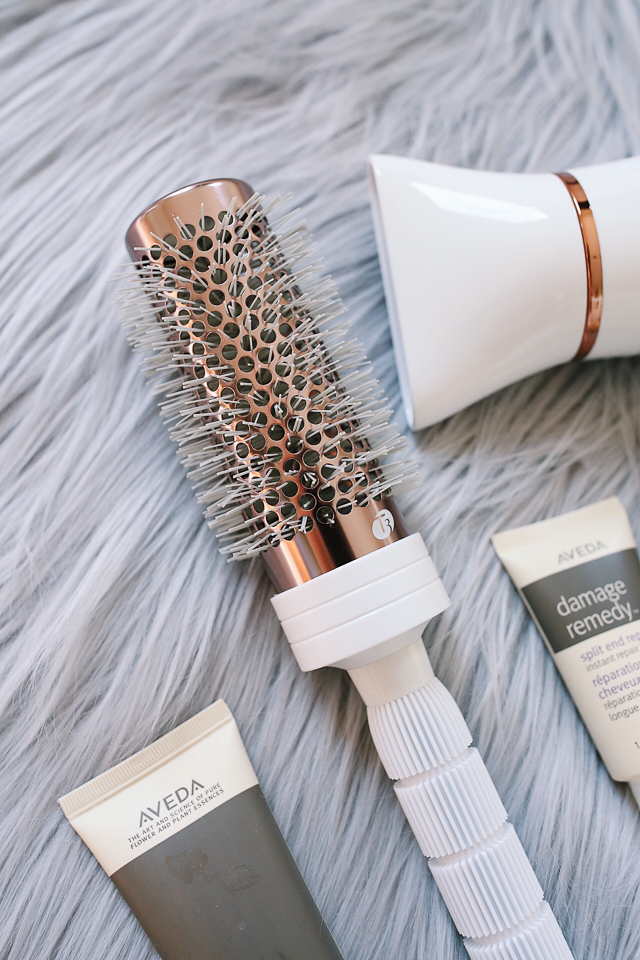 Q: What heat products do you use to blow dry, straighten, and curl your hair?
A: To blow dry, I use this hair dryer. It's extraordinarily powerful and dries my hair much faster than other dryers. It has two speeds and three different heat settings (I use the middle heat setting). I don't straighten my hair very often but I when I do, I use this straightener – it's amazing. And finally, to curl my hair I use this curling wand with the 1″ attachment. I have talked about this curling wand so many times – it is an investment, but the best wand I've ever used.
Q: Is your curling wand really THAT good?
A: You would be surprised how much I hear this question, but the answer is YES! It's the real deal, y'all! I've convinced several of my friends to get it and they swear that they will never use another curling wand again. I have no idea why it works so well, but it does. The curls last for multiple days!
Q: What curling iron and hair dryer did you  use overseas? I'm not sure what to get since the outlets are different and voltage can fry a normal one from the States, even with a converter.
A: The trick to using heat products overseas is making sure that they're dual voltage! My curling wand is dual voltage, and all I needed was an adapter to plug it into the outlets in Italy. I had zero problems with it the entire two weeks and it curled my hair perfectly! As for the hair dryer, I own the travel sized version of my normal hair dryer – it is also dual voltage and works with an adapter. It's incredibly powerful for it's size and I love that it folds up to become even more compact. I bring both the travel hair dryer and curling wand with me on every single trip I go on.
Q: How do your curl your hair?
A: I actually filmed a YouTube video a loooong time ago! I'm kind of awkward in front of the camera haha, but the video can be found here. A good tip I go by: always curl the strands of hair away from your face!
Q: Do you still straighten the roots of your hair before you curl it?
A: No, I don't! I used to do this, but realized that I was unnecessarily using a lot of heat on my hair that I didn't need to. Now I blow dry my hair straight and then use the curling wand only on the ends. It actually gives my roots more volume this way, since I'm not flattening my hair with the straightening iron.
Q: Can you recommend a good deep conditioner?
A: Yes! After trying out DOZENS of deep conditioners this summer try to find the best one, I think I've found it! I'm OBSESSED with this one – it's from a trusted brand, and you only need a small amount (even for long hair) to make it feel soft, shiny and manageable. It's been a miracle worker this summer since my hair has been exposed to the sun and the harsh chemicals in pool water. Once every other week I'll substitute this one for my normal conditioner and it leaves it feeling healthier than ever.
Q: Do you use a heat protector on your hair before drying and curling it?
A: I do! Remember when I had fried hair in middle school? I NEVER used heat protector, and learned my lesson. I have raved about this product before and I still use it before blow drying my hair. I also recently discovered this split end repair and it is a new holy grail product – it's hard to avoid split ends when your hair is long and this stuff really helps! I apply it to the ends of my hair once I'm done blow drying and before I curl it.
Q: I was just wondering how you get volume in your hair? I have about the same length as yours and I always have trouble getting volume because my hair is so heavy.
A: This volumizing product has been my secret weapon over the past couple of months! A bunch of you noticed that I had a little extra volume recently, haha, and it's all this product! I never would have thought that a powder could deliver so much volume, texture and holding powder, but this product proved me wrong. The pump diffuses a light-as-air powder that creates height without any weight or oil – it doubles as a dry shampoo by also absorbing excess oil on the scalp. Simply point and shoot where you'd like to add body and enhance texture – I like to apply it just to my roots. It's truly a miracle product for volume!
Q: Do you wear hair extensions?
A: Nope! I don't wear hair extensions and never have.
Q: Any tips for growing out your hair?
A: Taking care of your body by exercising and eating the right foods is actually the best way to make your hair grow… Make sure you're getting enough protein and vitamins in your diet. Also – they say you're supposed to get a trim every six weeks, but I totally don't follow that rule. Don't get a trim unless you need one, otherwise you're just preventing your hair from getting longer!
Q. How you do you keep your hair as it is when you work out? When I work out I have to put my hair in a ponytail and then it gets all over the place. I would love to wash my hair less but the whole working out thing ruins it.
A: I go to Pure Barre for workouts 2-3 times per week and I just braid my hair while I'm there (it's a lot less "stressful" on your hair than putting it in a ponytail). The workout consists of really small, isolated movements and is really hard but I'm never sweating that much, so it saves me from having to wash my hair. I use dry shampoo afterwards.
Like I said above, if you have an additional question let me know in the comment section and I'll respond there!