We recently took a trip to Florida with my one-year-old and she had the BEST time. We all got some sunshine, walked on the beach, and my daughter discovered that she loves the swimming pool more than anything else in life – lol! While our vacation was very enjoyable and relaxing, the flight… errrr… was not. We had two long travel days and most of the travel occurred during Kennedy's typical nap times. The hardest part of the plane ride was just keeping her entertained the entire time. My daughter has a pretty short attention span, so I had to keep introducing new toys, activities and snacks throughout the flight. To be honest, it was quite a bit of work! However, I was really glad that I had prepared in advance, because Kennedy did not cry once on the flight and seemed to thoroughly enjoy herself (even despite skipping her naps!).
Here are some of the things we brought with us that I consider "travel essentials" and really helped us survive both travel days: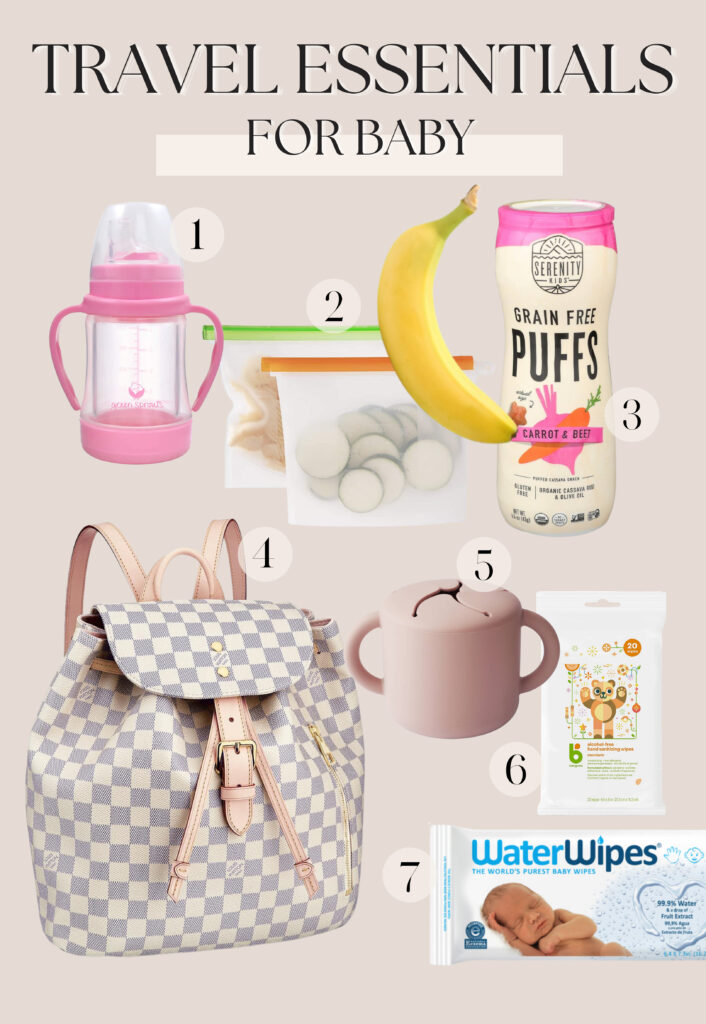 This sippy cup is one of Kennedy's favorite cups! It comes with two different spout options, but Kennedy prefers the straw so that's the one that we typically use. It's completely leak-proof, which makes it great for travel, and although the outside is plastic, the inside (where the liquid touches) is all either glass or silicone, making it a great non-toxic option. We brought the empty cup with us through security, and then I purchased a water bottle and filled the cup with water right after so that Kennedy could have fresh water throughout the flight.
These reusable bags are a great way to travel with your toddler's snacks. They weigh less and take up less space than Tupperware, and you can re-use them throughout the trip. I didn't want to rely on processed food for Kennedy the entire travel day, so I filled these reusable bags with some cut-up tomato and cucumber. I also brought a banana in my carry-on bag!
three // Puffs
Meals and snacks are a great way to break up the time on an airplane and eating is just as much an "activity" as playing with toys. Puffs make a great plane snack because they aren't messy and they're easy to eat on-the-go! Kennedy really likes these Grain Free puffs and an entire container was enough to last us our entire five-day trip. These puffs are organic, grain-free and contain zero grams of sugar – as far as puffs go, I think they're one of the healthier options out there! We also brought these peanut butter puffs with us (I get the travel-sized bags), which were great to have on hand and were perfect for eating out of Kennedy's snack cup.
A diaper bag is (obviously) a must! You want a bag that is easy to carry through the airport, which is why I really like using a backpack. I also put a felt divider in my bag to make it more organized – otherwise, I can never find anything when I want to!
We are obsessed with this snack cup in our household and use it on a daily basis! It came in even more handy on the plane. It's the perfect size for Kennedy to reach her hand in and grab a puff, but the unique design prevents snacks from falling out. You can even turn it upside down, and nothing falls out! We liked using this on the plane because I didn't have to worry about dropping puffs everywhere on the plane floor.
We used these hand sanitizing wipes our entire trip, I always made sure to have a pack in my bag at all times! These are a great, safe option for sanitizing your hands and your child's hands before meals and snacks. As far as sanitizing wipes go, I think these are a great option, as they're made without parabens, sulfates, phthalates, synthetic fragrances or dyes, and they kill 99.9% of common bacteria.
These are the wipes that we use for Kennedy, but they're not just great for diaper changes. They are so pure (made almost entirely of water), that we also use them on messes, hands, clothes, even faces.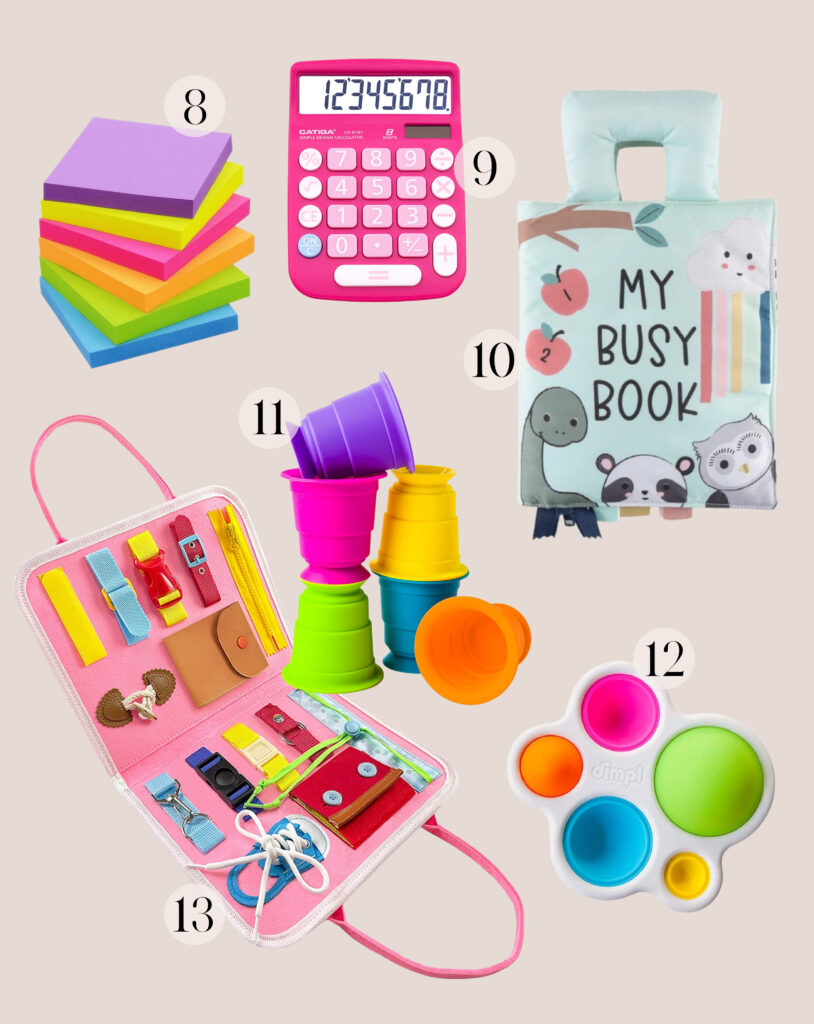 Now on to toys and entertainment! One big tip I received was to introduce new toys on the flight. If your child has already seen the toy and played with it before, they are less likely to want to interact with it on the flight! I kept several of these toys hidden in my bag and then pulled them out on the flight. Kennedy LOVED receiving new toys and they kept her occupied for quite a while! I revealed half of the toys on the way there, but made sure to keep some hidden for our return flight as well!
This might seem odd, but sticky notes are a great item to bring with you on the plane for babies and toddlers. I stuck colorful sticky notes all over the seat back and tray table, as well as the window. Kennedy enjoyed pulling them off and sticking them back on!
Yep, I ordered Kennedy a regular 'ol calculator off of Amazon, and she loved it! She enjoyed pressing the buttons, especially when she noticed that they showed up on the small LCD display. I think she thought it was a cell phone!
This Busy Book was my secret weapon and I can't recommend it enough, as it kept Kennedy entertained for a good thirty minutes on the flight to Florida. Each page has a new, interactive activity to keep your toddler busy, from using a button and buckle, counting, telling time and lacing. The "pages" are made of a soft, fabric cloth and all of the illustrations and images are super cute. Some of the activities were a little too advanced for Kennedy, but she will grow into it, if anything it allows her to use the book for another few years!
These flexible silicone suction cups are so versatile – they stack, bend, and add virtually no added weight. Another perk was that Kennedy enjoyed playing with them in the bathtub during our trip!
Another secret weapon that is very similar to the "Busy Book" above, except I saved this one for the plane ride home! This book provided another thirty minutes of entertainment for Kennedy on the way home. This busy board for toddlers features 14 different varieties of buckles, zip pockets, lace, etc., with a set of hook and loop alphabet letters that you can attach to the front. This is another toy that Kennedy can grow into, as some of the buckles were too hard for her to buckle, while she could do others no problem.
Kennedy LOVES this Dimpl Toy that her grandparents got her for her birthday! I bring it with us everywhere in her diaper bag. It's great for diaper changes, car rides, and yes, the plane as well. She really enjoys pushing and popping the silicone bubbles. She actually enjoyed this toy more than the calculator and sticky notes.
The below items are not pictured, but I quickly wanted to mention a few other items that I consider to be "must-haves!:
If your child is small enough, I HIGHLY recommend a Doona stroller for travel purposes. This item is a stroller and car seat in one! I cannot tell you how useful it was on our trip, because I was able to stroll Kennedy around in the Doona and also use it as a car seat whenever we drove anywhere on our trip. It was so nice not to have to bring to separate items! It was also particularly useful in the airport. I kept Kennedy in the Doona right up until we boarded the plane – I simply left the stroller at the end of the jet bridge, and then when we landed it was one of the first items they brought up from underneath the plane. Just a note about size – Kennedy is 13 months old and still able to fit in the Doona, but she will likely outgrow it soon (I am dreading that day!!).
Other items we would not have survived without include a pacifier and pacifier clip! Kennedy does not use a pacifier much during the day, but I let her suck on it the entire flight to help with her ears! It was very comforting to her. The pacifier clip was 100% necessary – she dropped that pacifier so many times and it would have definitely ended up on the nasty plane floor if not for the clip!
iPad
And lastly, we did bring the iPad with us on our trip, and it was indeed very helpful! I am not a big proponent of screen time for babies and toddlers (we try to give Kennedy as little screen time as possible), however for travel days I think it's totally fine to use. And sometimes very necessary! I downloaded a few Netflix shows (such as the Wiggles and Little Baby Bum) to the iPad so that she could watch them without sound. She was definitely very interested in the iPad and I 100% think it helped keep her happy! You could always bring it and use it as a last resort if needed.