We recently had a great family vacation in Vail, Colorado, so I wanted to dedicate a full travel guide to Vail on the blog! I have been to a few different cities in Colorado (I have written Travel Guides to both Aspen and Telluride), so I really wanted to visit somewhere new. I had heard a lot about Vail and was super excited to check it out. We were really looking forward to cooler temperatures, even though we knew that the leaves had not started changing yet! Vail was beautiful, but overall I was most surprised to find that Vail is basically a KID HEAVEN! Not even joking. It is by far the most kid-friendly place I have ever traveled to, and for that reason, it makes Vail a perfect destination for families. We all had a blast, but Kennedy in particular was really living her best life. LOL!
Below I am rounding up some outfits from the trip, but scroll to the bottom of this post for my FULL travel guide.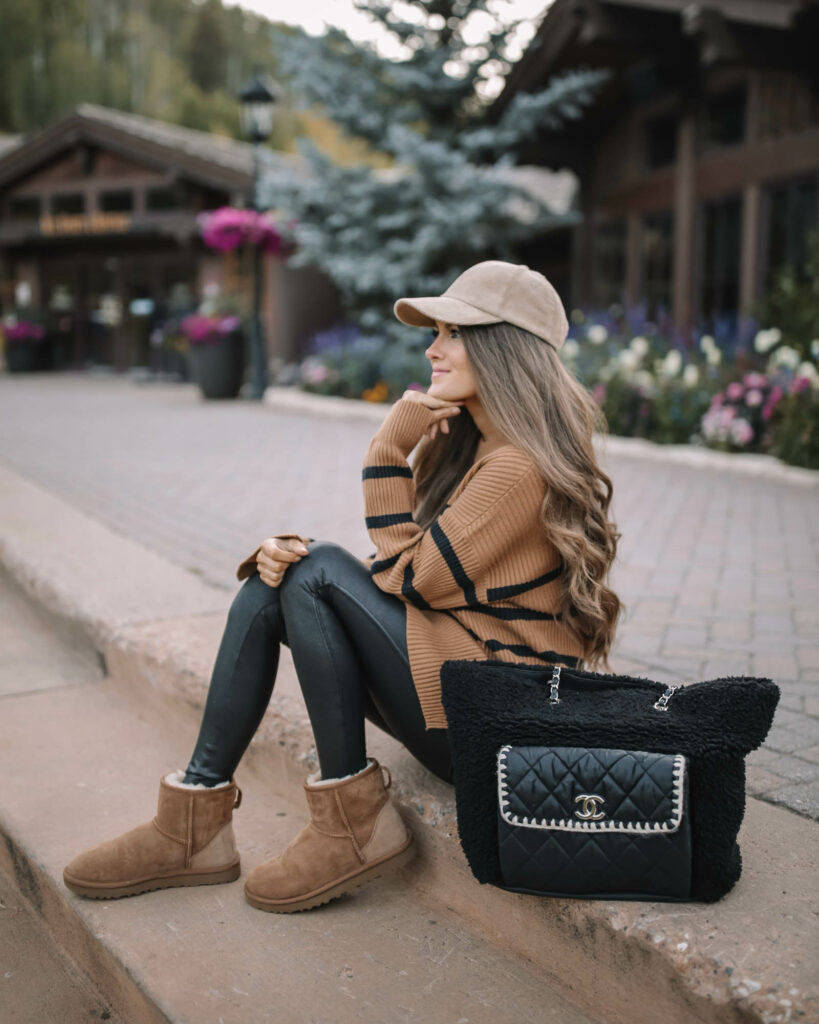 Abercrombie striped sweater // SPANX faux leather leggings // UGG Classic Mini II boots // corduroy hat // similar Chanel tote bag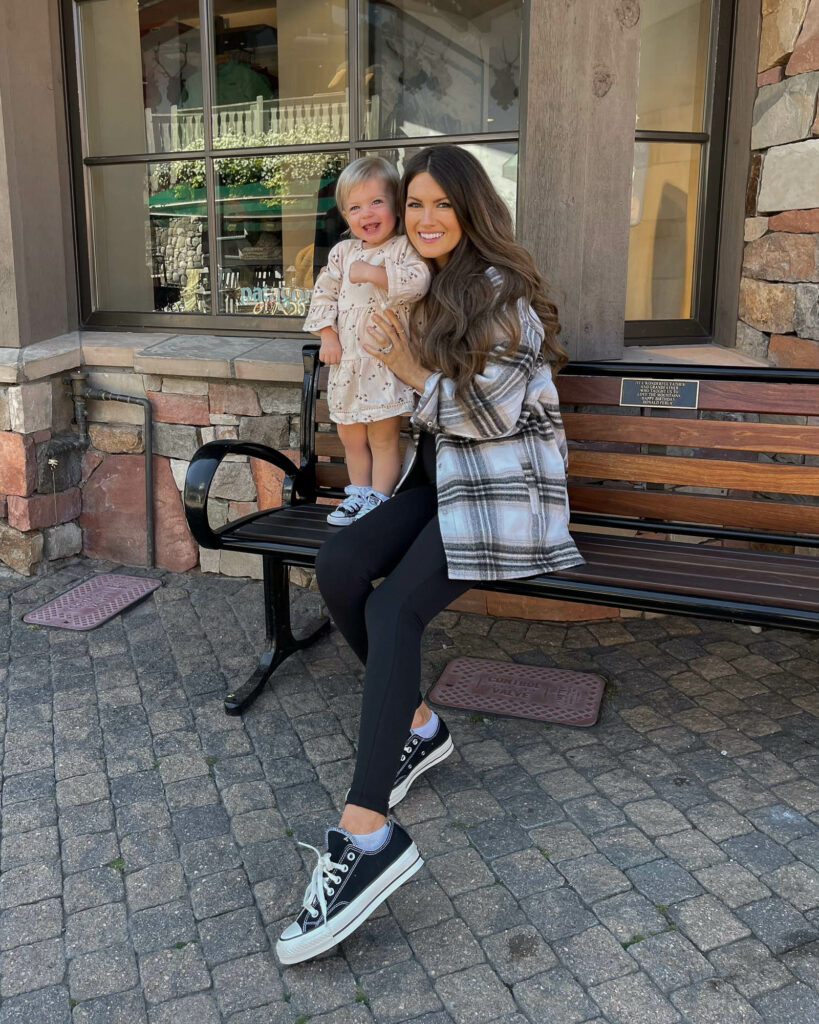 On me: Bumpsuit The Kate // plaid shacket // Converse Chuck 70 sneakers // On Kennedy: Spearmint Love dress // baby Converse Chuck Taylor sneakers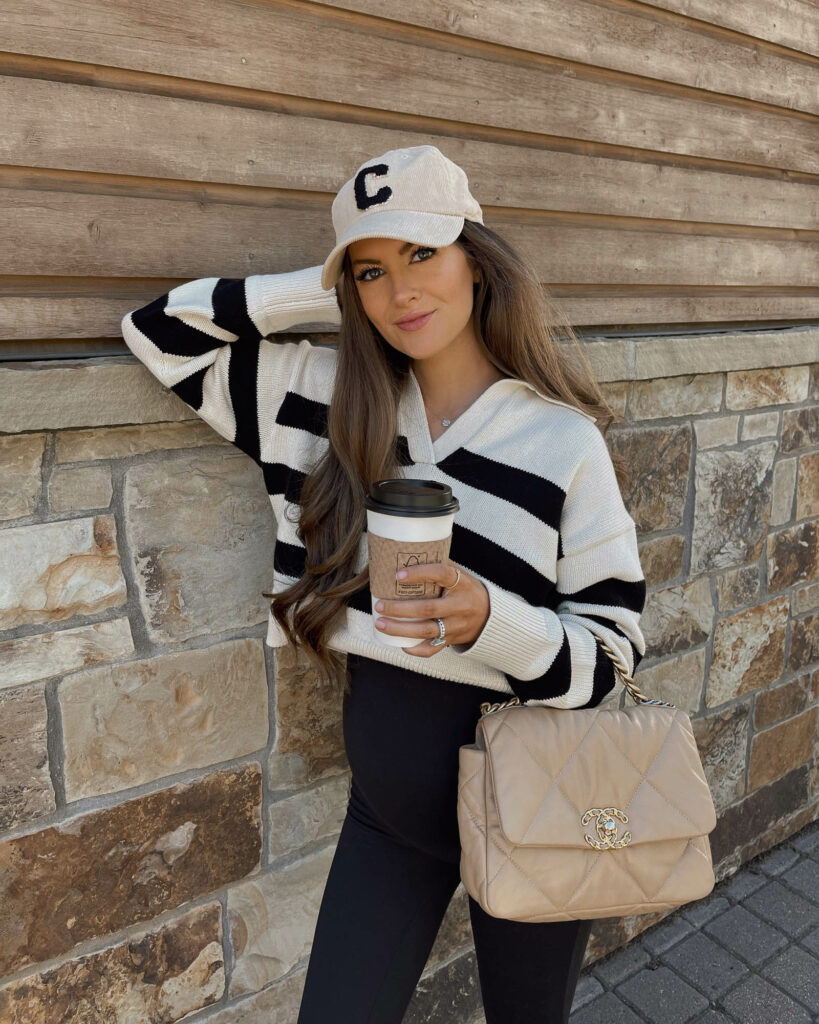 Bumpsuit The Kate // similar striped polo sweater // Chanel handbag // varsity letter corduroy hat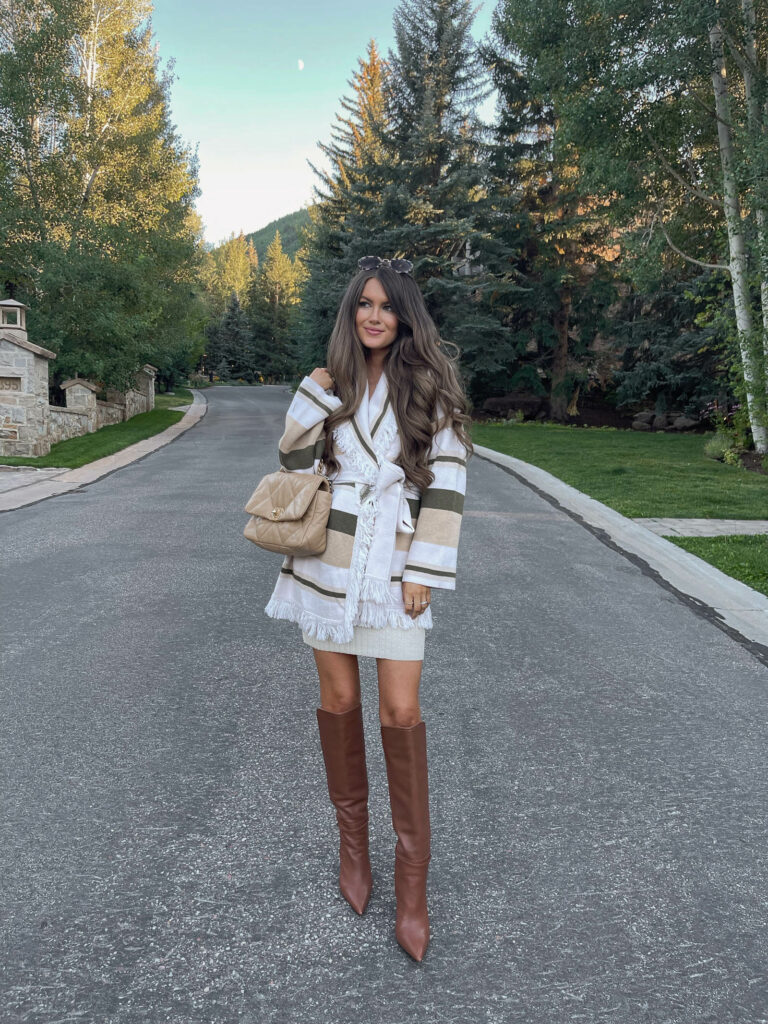 Tularosa Atlas blanket stripe fringe cardigan // BDG Urban Outfitters ribbed cami minidress // Reiss Caitlin knee high // Miu Miu sunglasses // Chanel handbag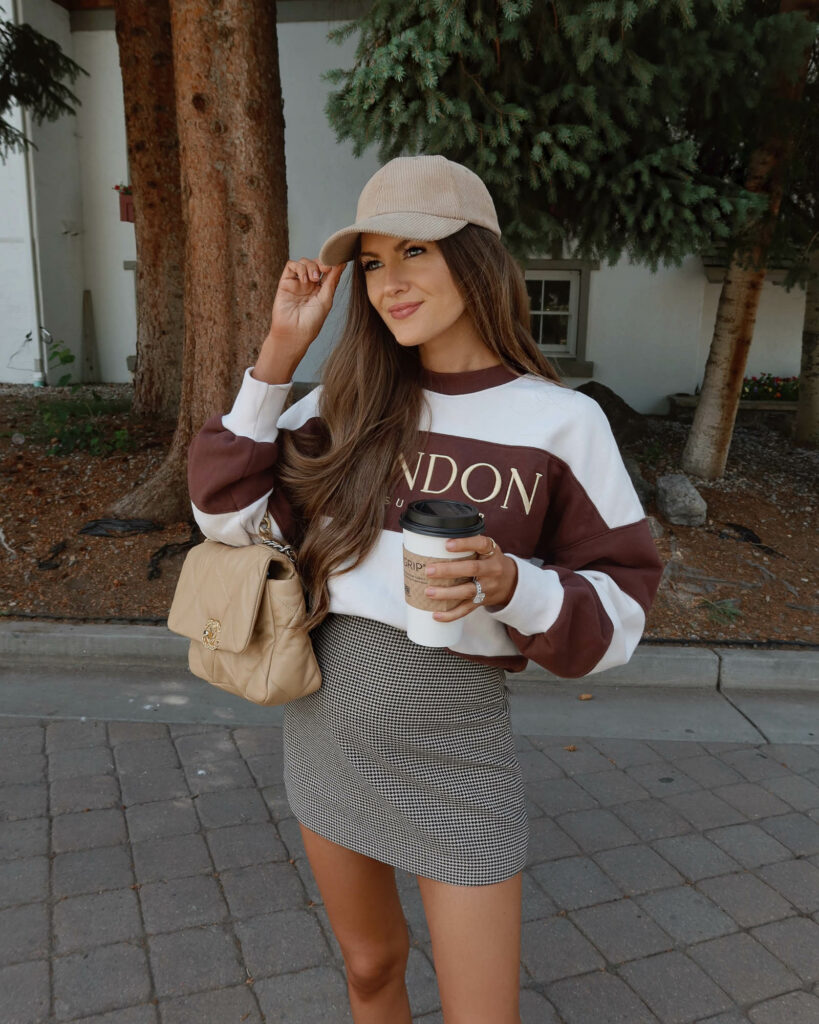 Abercrombie sweatshirt // houndstooth miniskirt // corduroy hat // Chanel handbag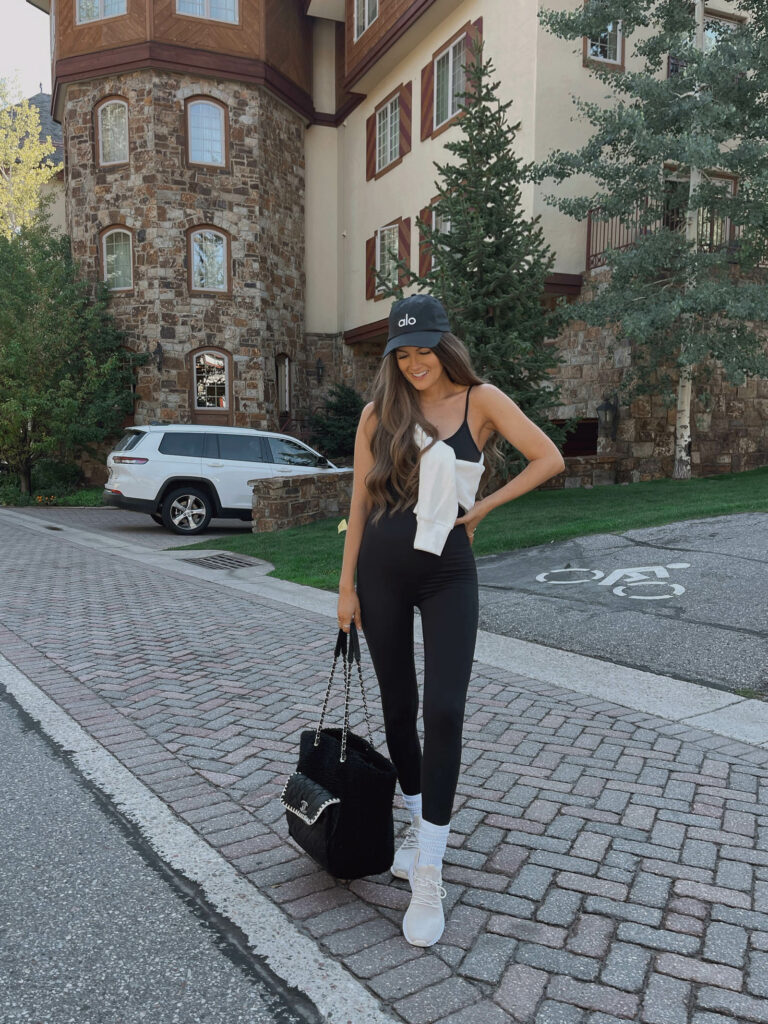 Bumpsuit The Kate // sweatshirt // socks // Amazon sneakers // similar Chanel tote bag // Alo hat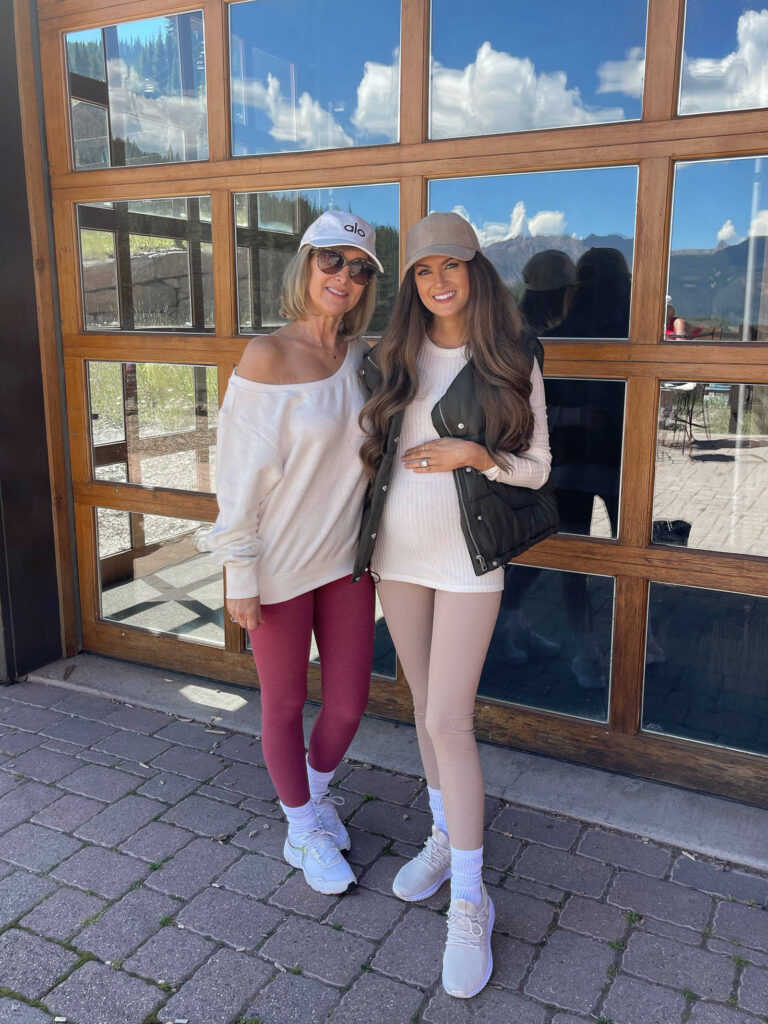 On CarCar: Vuori Clean Elevation legging // Spiritual Gangster sherpa long sleeve shirt // Alo hat // On me: H&M puffer vest // ribbed long sleeve shirt // corduroy hat // socks // Amazon sneakers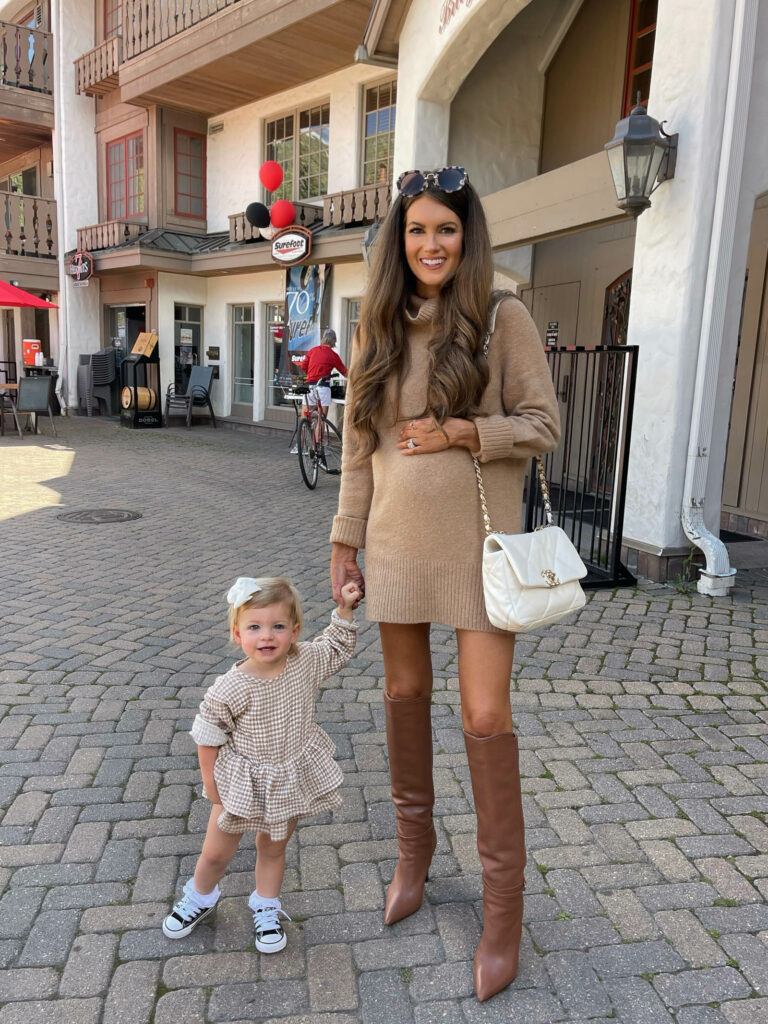 On me: Amazon sweater dress // H&M jacquard-wear scarf, similar here // Reiss Caitlin knee high boots // Chanel handbag, similar here // On Kennedy: Spearmint Love plaid ruffle dress // baby Converse Chuck Taylor sneakers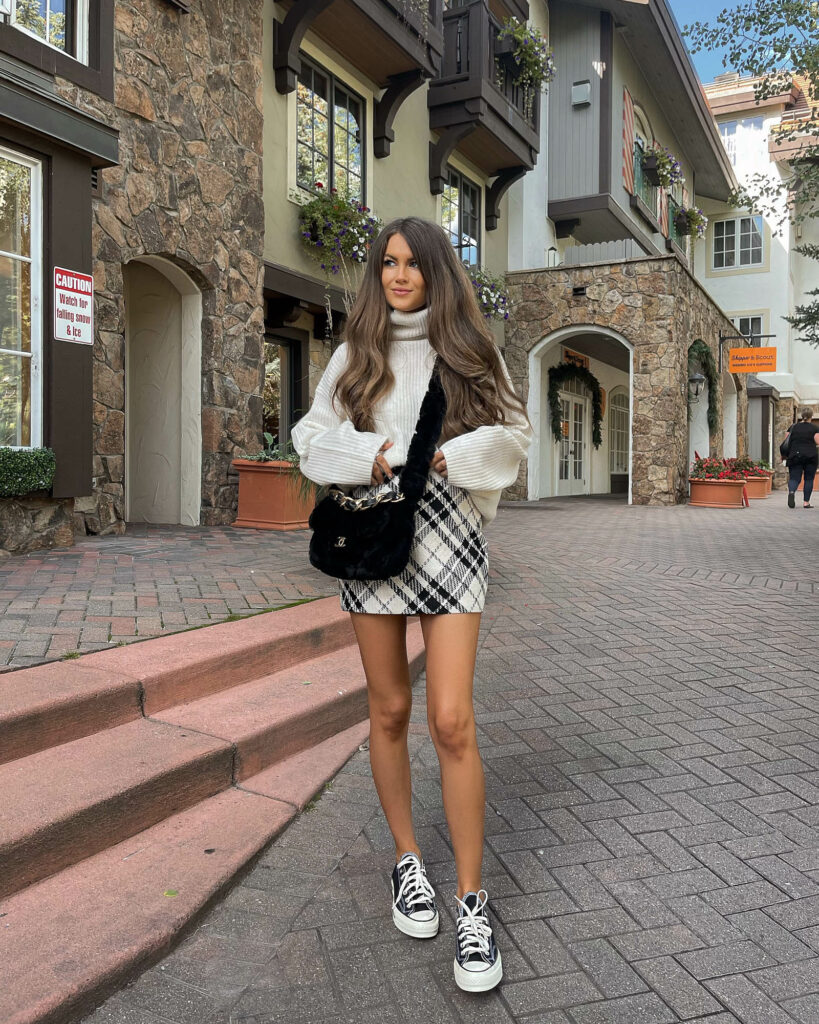 H&M oversized turtleneck sweater // plaid mini skirt, similar here // Converse Chuck 70 sneakers // similar Chanel handbag
How to Get There
To get to Vail, we flew directly from Charlotte to Denver, then rented a car to drive the remaining two hours from Denver to Vail. To be honest, it was a LONG travel day with a toddler! The Denver airport is HUGE, you have to get on a train just to get to baggage claim. And if you rent a car, there's another 15 minutes bus ride over to the rental car place before you can even pick up your car. Another warning: the drive from Denver to Vail can be quite tumultuous – there are often wrecks that lead to traffic jams, and there are not a lot of gas stations, restrooms or restaurants along the way (it is mainly just scenic mountains). We sat in more than three hours of traffic on the way home trying to catch out flight out of the Denver airport! All that being said, it might be better to catch a connecting flight from Denver into Vail, and then just rent a car in Vail!
Where to Stay
VRBO: We chose to stay in a VRBO during our time in Vail. I've found that staying in a VRBO is much easier with a toddler, rather than a cramped hotel room! We stayed in this exact condo, which was located right in the middle of Vail Village and had plenty of space with five bedrooms and four full bathrooms. Kennedy even had her own room, which was amazing so that we did not disturb her during her naps and nighttime sleep! The condo had a full kitchen (great for making meals for Kennedy), a nice living room and even a small outdoor patio where you could sit outside and enjoy the sights and sounds of Vail. It was definitely kid-friendly, too – we were able to add on both a crib and high chair through the rental company. The only downside to this particular unit is that we had to park far away and roll our luggage across the cobblestone streets to get it to the condo – not something that we were looking forward to after a very long and taxing travel day!
FOUR SEASONS RESORT VAIL: There are plenty of hotels in downtown Vail (and all of them looked beautiful), but I read the most positive things about the Four Seasons, so that's why I'm including it in this Travel Guide. Located at the gateway to Vail Village, we had to drive past it on the way to our VRBO and it looked absolutely beautiful from the outside! This is a 5-star hotel and supposedly has amazing service, an amazing spa and amazing views.
Where to Eat
GORSUCH SKI CAFE: My friend Claudia told me about this place and I'm so glad she did, we ended up going here almost every morning for coffee and breakfast! It ended up being RIGHT beside our VRBO so we only had to walk a few feet to get there. If you have time for a leisurely morning, definitely sit outside by one of their luxurious fire pits and wrap up in one of Gorsuch's signature blankets! For breakfast we loved their quiche, chocolate croissant, and their baked egg, ham and cheddar croissant, alongside a steaming hot latte. Be sure to go back in the afternoon and order a Maple Lemonade – it is surprisingly refreshing (and a little tart!) and so, so good. Kennedy loved it, too – she drank half of mine and I didn't even get to enjoy it all, haha!
YETI'S GRIND: There were a few mornings that we were up at 7am (because of the time change) and Yeti's Grind was the only coffee place open, so we ventured out to get coffee! What a cute and quaint little coffee shop located at the bottom of Vail Mountain. As the name suggests, the coffee shop's theme is the "yeti" and there are a bunch of cute coffee mugs and stuffed animals for sale that go along with the theme. The staff is very nice and their coffee was amazing – especially their specialty lattes (I really enjoyed the "Italian Stallion"). My biggest complaint is that they don't make their own breakfast foods, they just warm them up in the microwave – for that reason, I recommend going elsewhere for food!
BIG BEAR BISTRO: This tiny little restaurant ended up being our very favorite meal of the entire trip! We didn't even eat in the restaurant, we ordered pickup and then took it back to our little outdoor patio to enjoy during Kennedy's nap time. The food was incredible, from their Croissant French Toast to their fresh mozzarella panini. Best meal of the trip!!
LOS AMIGOS: Los Amigos is a quaint little Mexican restaurant located at the base of the gondola lift. We spent a very enjoyable afternoon on their patio looking out over the mountains and watching the gondola. The atmosphere is excellent and while the Mexican food was not the best I've ever had, I would still recommend it for the experience alone.
MOUNTAIN STANDARD: We booked a reservation for Mountain Standard in advance, as we heard that it's one of Vail's best restaurants and apt to fill up quickly! This rustic and relaxed tavern is located right next to Gore River right in the center of Vail Village. The majority of Mountain Standard's menu is prepared over an open and live wood fire and they have a very diverse and delicious menu. We enjoyed the sour cream and onion dip (for an appetizer) and rotisserie chicken (entree). The best part of the entire meal, though, was their mac'n'cheese off of the kids' menu! I was fighting Kennedy for every bite.
UP THE CREEK: This might have been our favorite dinner experience that we had in Vail! This restaurant was incredibly relaxed (but still nice) and located right along the Gore River. We had a seat outside on the patio and enjoyed watching both kids and dogs play in the river all evening long! I ordered a delicious soup and salad combo while my mom really loved her salmon. The food was good but the atmosphere was even better – we felt so relaxed at dinner sitting in the sunshine and enjoying our food!
THE RED LION: If you're looking for a SUPER casual restaurant to grab a drink, watch a sports game or listen to some live music, The Red Lion is where it's at! Our VRBO was located right across from this restaurant and there seemed to be laughter and music happening at all times. We did stop in for a quick bite one night, they serve a variety of simple comfort foods that were pretty tasty. If I weren't pregnant, I definitely would have ordered and enjoyed a few pints of beer! 😉
VENDETTA'S: We picked up a pizza from Vendetta's on our first night in Vail – we were exhausted from traveling and pizza seemed like a quick option! I HIGHLY recommend the "Popeye's Passion" pizza – a mix of pepperoni, sausage, mushrooms green peppers, onions and black olives. It was a delicious and easy option for our first night in Vail!
SUNDAE ICE CREAM: We stopped by Sundae one night after dinner to pick up some ice cream, and I highly recommend doing so, whether or not you have kids! Kennedy and I shared a scoop of Salted Cookies & Cream and WOW! It was amazing. All of their ice cream is crafted in small batches and they have tons of unique and interesting flavors, as well as sundaes.
FUZZYWIGS CANDY FACTORY: If you have kids, Fuzzywigs is a must-visit while in Vail. They have every type of candy imaginable, along with ice cream, fudge and hand-crafted chocolate treats. While we didn't order any ice cream, we did pick up some chocolate-covered pretzels and pecan turtles to enjoy back at our VRBO and they were sooooo good. The pretzel had a generous dollop of caramel in the middle and was absolutely *divine.*
What to Do
EXPLORE THE VILLAGES: There are two "villages" in Vail, both with plenty of shops and restaurants and things to do: Vail Village and Lionshead. They aren't too far from each other, there's a trail (Gore Creek Path) that connects the two villages that takes around 15 minutes to travel by foot. If you're not up for walking, there is a free shuttle that connects the two villages. Both are beautiful and worth exploring! Since we stayed right in the heart of Vail Village, we spent most of our time there and really loved it.
RIDE THE GONDOLA: Both Vail Village and Lionshead have their own gondolas (Gondola One leaves from Vail Village while Eagle Bahn leaves from Lionshead). Both take riders 10,000 feet up the mountain and have a variety of activities and hiking opportunities once you reach the top. Apparently (and we did not know this), the gondola from Lionshead is much better with a lot more to do at the top! A gondola pass is not cheap (we paid $50 per person) and we were a bit disappointed once we reached the top of Gondola One and were told that the Lionshead one was better! We still walked around a little bit and ordered burgers from the little restaurant. The burgers were delicious but there was not much for us to do since we had Kennedy with us. We saw a ton of hikers and mountain bikers, so if you're into those activities then you should definitely check it out!
BETTY FORD ALPINE GARDENS: We absolutely loved the Betty Ford Alpine Gardens and would have spent every day here if we could have! This beautiful alpine botanical garden is located at the foot of Vail Mountain and is open to the public. We strolled here from our VRBO, ordered a lavender sparkling water at the little gift shop, then perused the gardens and stayed for the main attraction: an awesome and HUGE playground for kids. The playground was one of the biggest I have ever seen, with multiple sections dedicated to different age groups. Kennedy loved going down the slide, it was the perfect size for her, and she could even climb the little steps all by herself. If you do have kids you will also want to check out the Children's Garden (located right next to the gift shop). There are some small picnic benches for kids, as well as a little "market" that has wooden foods and baskets so that children can pretend they're in a grocery store.
FARMER'S MARKET: Vail holds a farmer's market every Sunday and WOW it is incredible! There are hundreds of vendors, from jewelry makers to farmers to food trucks. We ordered some fresh-squeezed cherry limeades and had a blast walking through the stalls and checking out all the different products. Definitely wear sunscreen and bring your stroller!
VAIL LIBRARY: If you do have a child, the Vail Library is an awesome option: it has an entire children's section with lots of toys, games and books. This is also a great indoor activity if it's too hot outside or it's raining!
PIRATE SHIP PARK: The Pirate Ship Park is a really cool playground (shaped like you-guessed-it, a pirate ship!) located right behind Los Amigos next to Gondola One. Although this playground had a lot of amenities for older kids, Kennedy still really enjoyed it! The creek is right next to the pirate ship, so we dipped our feet into the creek afterwards (another activity that Kennedy thoroughly enjoyed).
SHOP: If you're in the mood to shop, both Vail Village and Lionshead have many different shops for you to peruse. I personally loved walking through Gorsuch. Everything was really expensive so I didn't buy anything, but it was all so beautiful! We also found the cutest shop for kids, Skipper & Scout, with toys and clothes galore.
HIKE: If we didn't have a toddler with us, we definitely would have hiked some of the mountain trails! This website shows all the best hikes in Vail (with pictures!).
If I'm being completely honest with you guys, I think I prefer Aspen to Vail! Aspen is rich with history since it was originally a mining town, while Vail is fairly new (established in the 1960s). While it was pretty, it was EXTREMELY crowded, and after talking to a few people, it seems like that is pretty consistent year-round. However, like I said above, Vail is definitely the most kid-friendly place i've ever been and for that, I am giving Vail MAJOR points, because let's be honest, when you become a mom, it is all about your kids anyway!!!
Let me know if you have any questions about Vail in the comments and I will be happy to get back to you there!