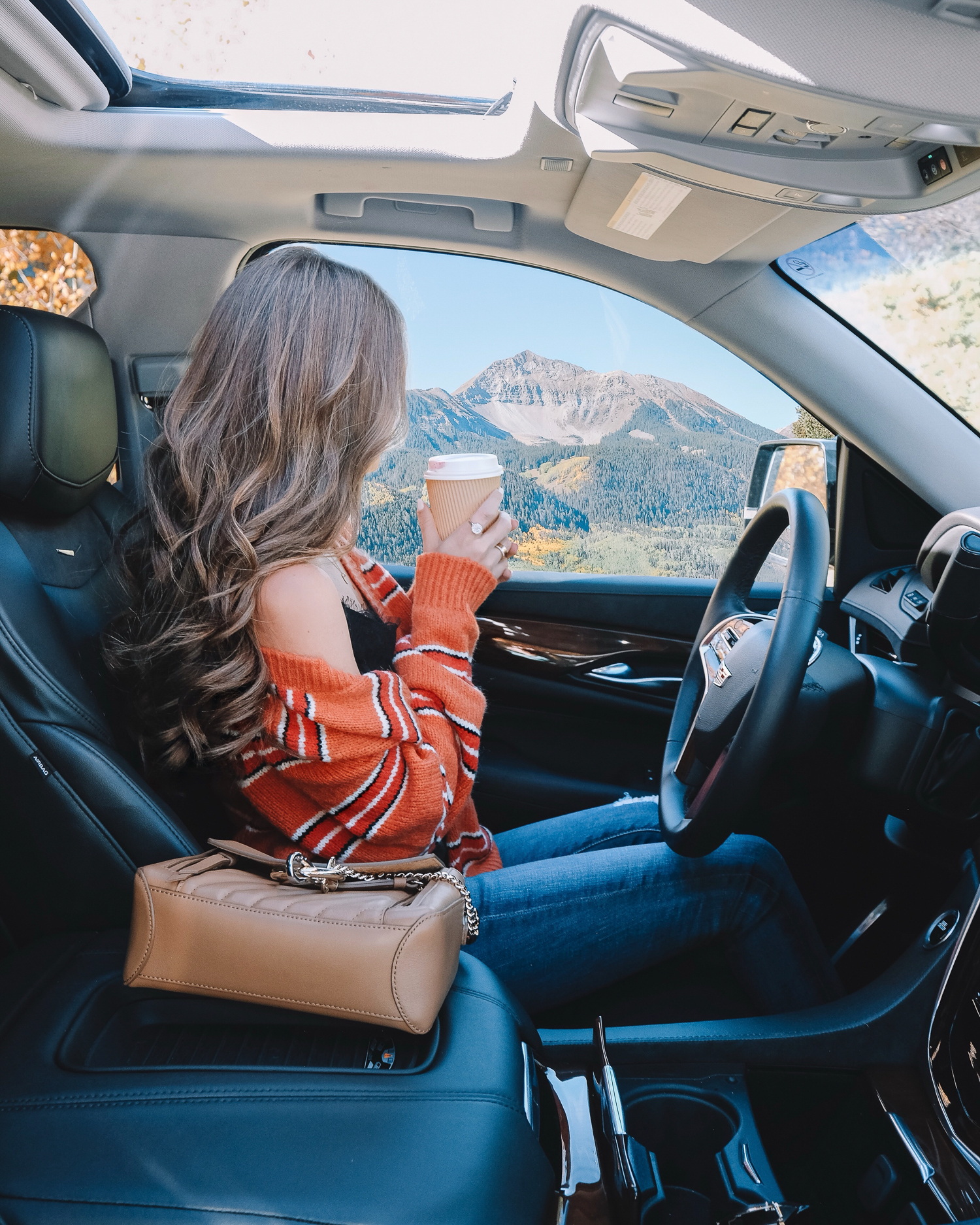 cardigan (also comes in a dress version) // black lace tank (fully stocked) // AG jeans // Chloe handbag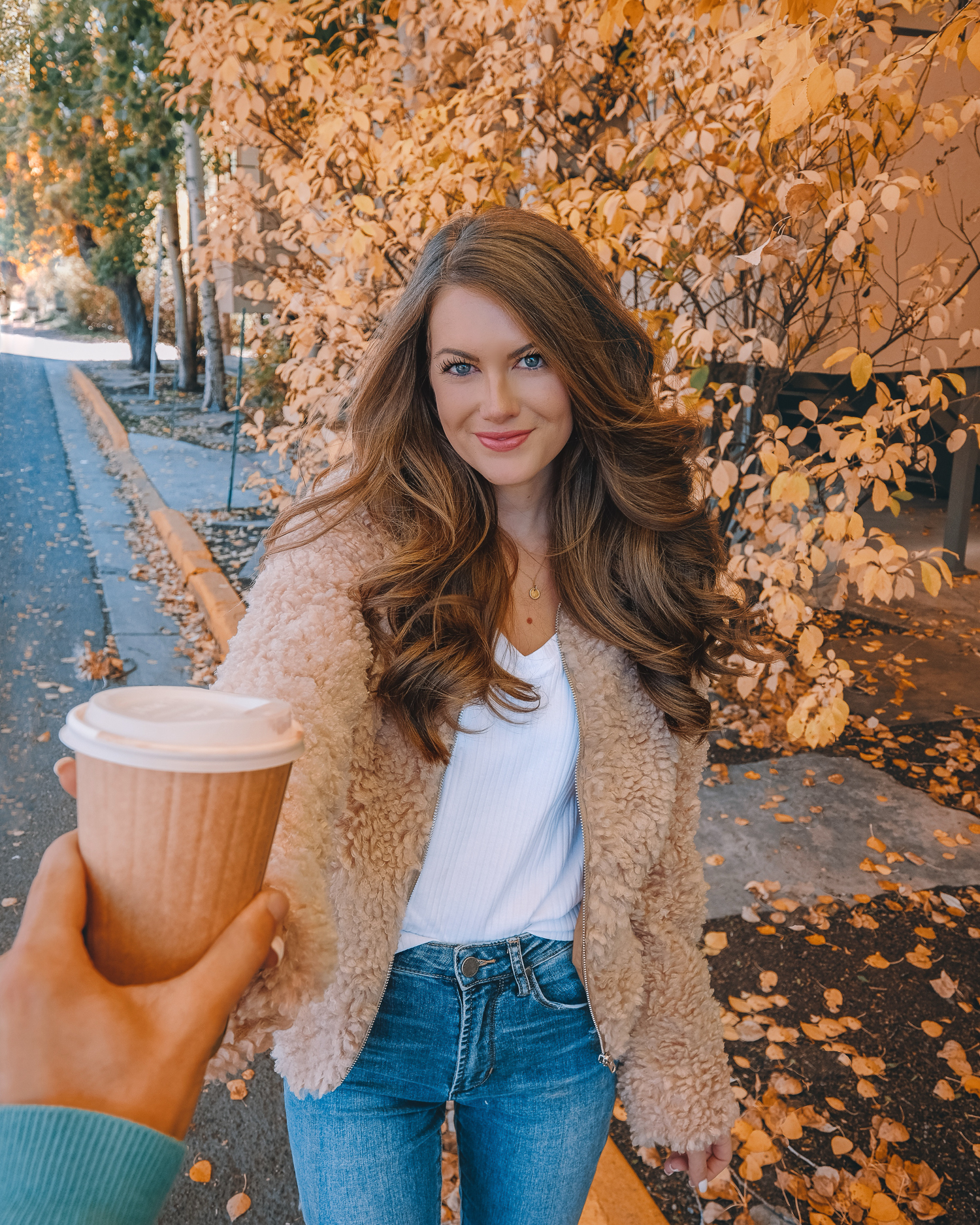 white V-neck top // fuzzy jacket // jeans // David Yurman initial necklace
turtleneck sweater dress // tassel scarf // Louis Vuitton Neverfull // tall boots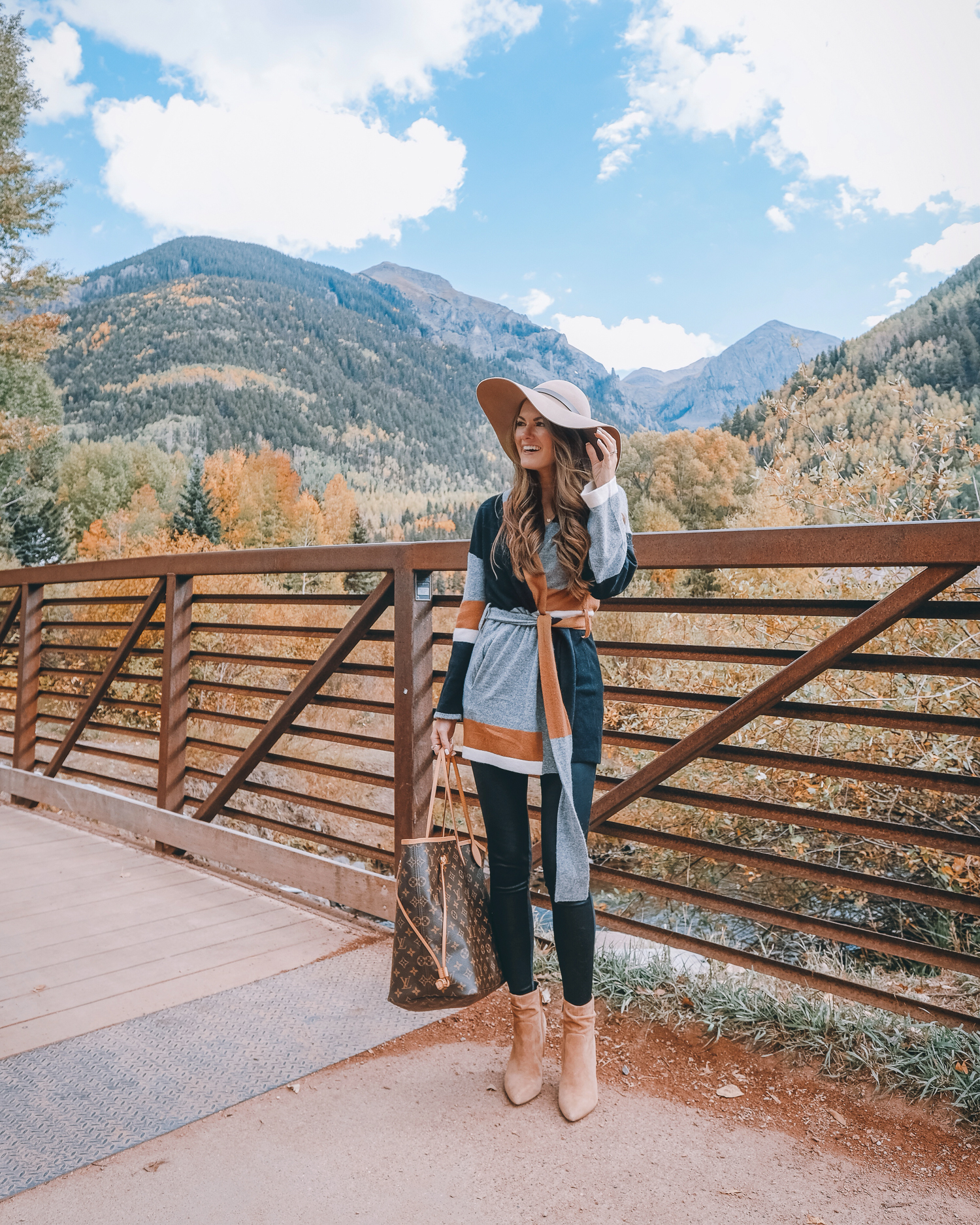 black and tan cashmere cardigan // white lace tank // faux leather leggings // Louis Vuitton Neverfull // booties // floppy hat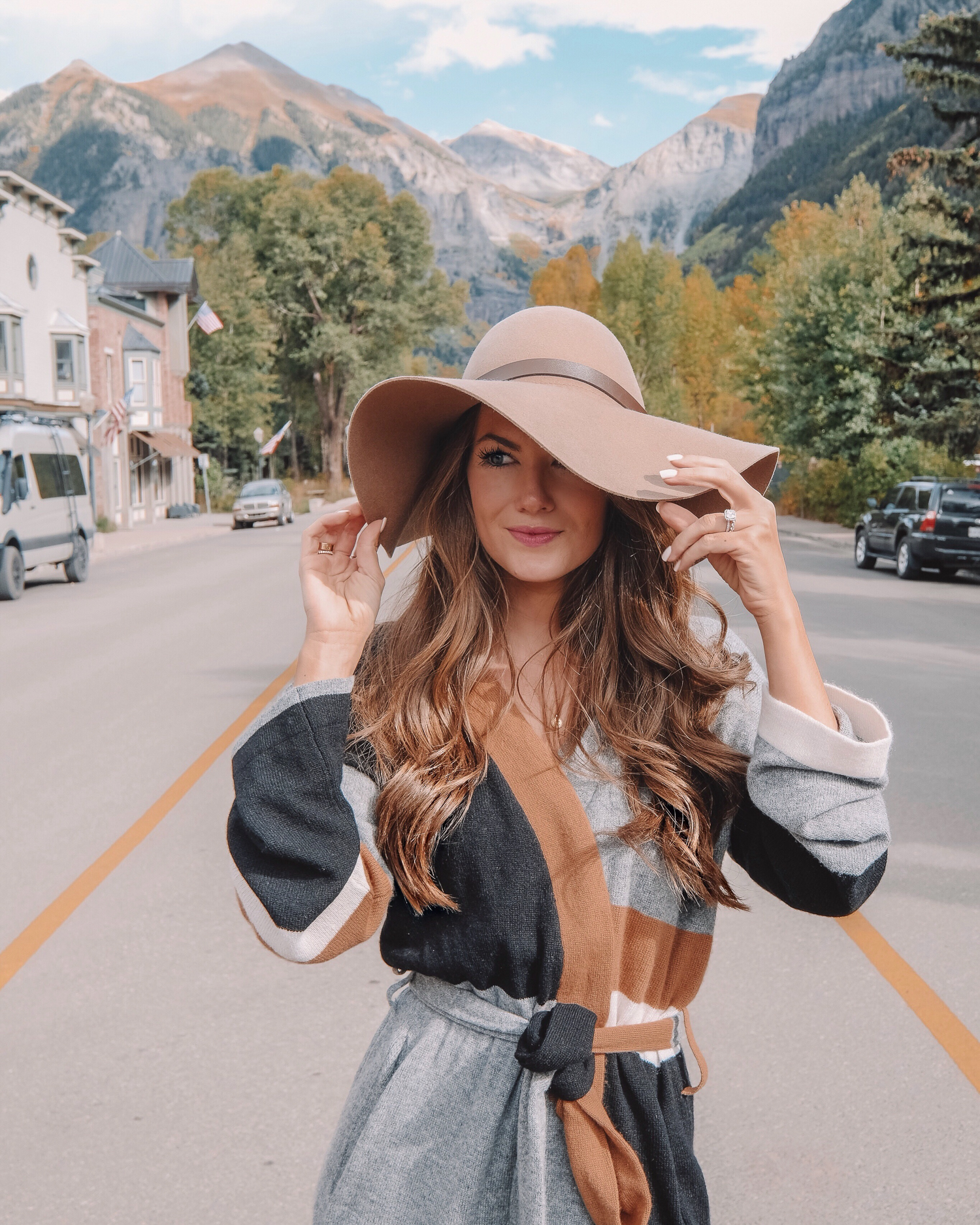 Whenever I told my friends I was going to Telluride, Colorado, their response was the same every time. "Tell-you-what!? How did you decide on that?" Truth be told, I have been to Aspen several times and was a bit tired of it. Not that Aspen isn't beautiful, but part of the fun in traveling for me is getting to see new places, eat at new restaurants (taste new coffees 😉 ), etc. It requires a lot of research, but traveling somewhere new always sparks creativity in me. I had heard a TON of good things about Telluride: it's a foodie town, not as commercialized, magnificent views, in addition to being a great place for hiking and outdoor adventures – and I can happily report that WE LOVED IT. It was the perfect fall getaway, and now I want to go back and bring Chris and my family too!
Where to Stay
There are a bevy of hotels in Telluride – and in the neighboring town, Mountain Village. It's worth looking into both towns for VRBOs, or if you love to ski, there are several ski-in/ski-out hotels.
ELEMENT 52: We stayed in a two-story residence at Element 52. We were able to find an amazing last-minute deal on VRBO, so we booked it right away! (From my understanding, the cost might go up in the winter since that's their most popular time.) The entire place was decorated beautifully, from the elegant dining table and fireplace, to the magnificent king-sized bed with fur pillows. It had all of the feels of a luxurious mountain cabin retreat. Also, the front desk staff were amazing: Hunter and Alex both made us feel at home. They knew we were in Telluride to take photos, so they spent an hour with us going over all of the best photo locations to visit!
Where to Eat
Telluride has arguable the best food I've ever tasted in America. I know that's a bold statement, and I don't say it lightly! Every single meal we had was not only great, but it was always followed by "This is the best ___ I've ever eaten," whether it be taco, pizza slice, burrito, etc. You get the point 🙂
GHOST TOWN: Our favvvvorite place! We ate here three (maybe four?) times during our trip for breakfast or lunch. They serve both local and organic ingredients whenever possible, which we automatically loved. All of their toasts are phenomenal, one of their toasts has avocado and chili crunch. Their veggie burrito was also out of this world (the best I've ever had). I also tried numerous drinks of theirs – my favorites were the matcha latte, coconut milk vanilla latte and their "purple" smoothie.
TACO DEL GNAR: The coolest, gnarliest taco place of all time. Do me a favor and go here right away and order the "Avo." Picture this: a taco filled with tempura avocado, topped with ginger miso vinaigrette, shredded cabbage, kimchi and wasabi aoili. My mouth is watering.
BROWN DOG PIZZA: Known for their "Detroit Style" pizza, a deep deep dish! We ordered one of the veggie-style Detroit pizzas but I heard that the "3-1-3" and "Brooklyn Bridge" pizzas are their most popular.  This is also a really nice casual place to grab a beer!
SIAM: THE BEST THAI FOOD WE'VE EVER HAD! The pad thai there was out of this world. This place got amazing 5-star reviews… if we had one more night in Telluride, we would have gone back!
221 SOUTH OAK: This farm-to-table restaurant did not disappoint. The restaurant itself is in a quaint old house and has an amazing, very romantic atmosphere. They have a full regular menu and a full, second vegetarian menu, with some of the most creative vegetarian dishes I've ever laid eyes on. I ordered the vegetarian gnocchi dish and it was superb.
ALLRED'S RESTAURANT: This is the one place we didn't get to go… whenever we would try to make reservations here, it was fully booked! Allred's Restaurant is located at the top of a mountain, so you have to ride the free gondola to get here. Since it is at the top of a mountain, it is supposed to have an amazing view of the sunset. I would say make reservations here in advance! We were recommended to get there early enough to watch the sunset and grab a drink before eating dinner.
THE COFFEE COWBOY: I'm including this on the list, although it's technically just a coffee shop and not a restaurant. It's actually run out of an airstream in downtown Telluride, so you can walk right up and order a coffee from the window. I ordered the "Annie Oakley," a latte with cinnamon and caramel – yummmmm.
What To Do
HIKE! There are tons of hikes to do in Telluride. You can drive right up to Bridal Veil Falls and then hike a little bit to see a gorgeous waterfall. The one hike we REALLY wanted to accomplish was the Blue Lakes Hike – however, it is at least a six-hour hike, and our luggage didn't arrive on time so we didn't have any of our gear on the day we had planned to hike. I really want to go back just so we hike the trail! This site has some great photos of what it looks like from the top of the hike.
EAT! As I said above, Telluride is a total foodie town. Definitely indulge in their amazing restaurants!
DRIVE! My brother and I hopped in the car one day and drove down 145 South (right outside of town). The leaves were just beginning to change a beautiful golden yellow and some of the sights took our breath away. There are a bunch of places you can pull off the road and take pictures of the mountain scenery.
If you have any questions about Telluride, let me know in the comments! You can check out my other travel guides HERE. xoxo