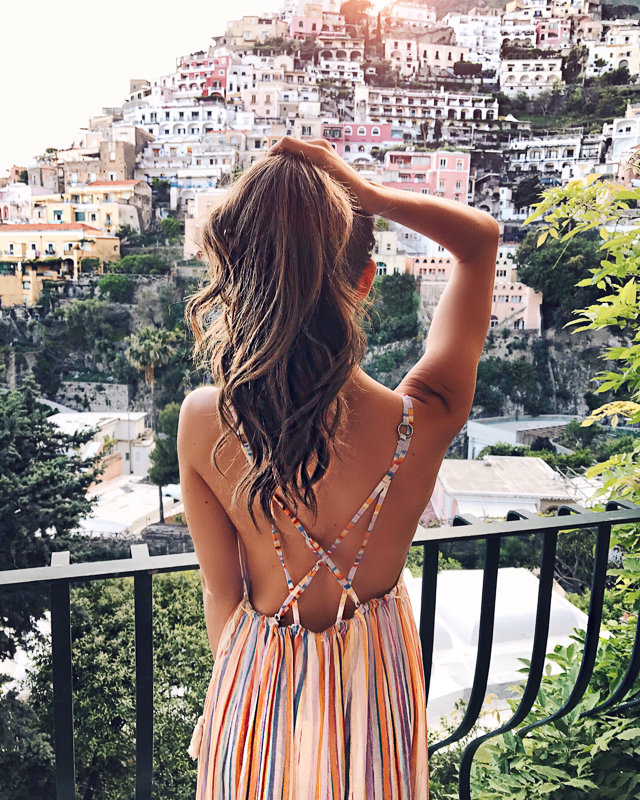 For the next couple of weeks I'll be sharing Travel Guides to some of the cities we went to in Italy. It was by FAR the best trip I've ever been on, with amazing food, views and experiences. I did tonnnnns of research for this trip, probably more than I've ever done for a trip before. I wanted to feel prepared and make the most out of our time there, so I researched restaurants, activities and even how to order coffee (tip: ask for the Americano!).
Our travel itinerary looked like this: We landed in Rome and traveled straight to Positano, and from there we went to Ravello and Capri, and then finally back to Rome for a few nights. Since Positano was the first place we stayed, and also our longest leg of the trip (we stayed four nights and five days in Positano) I thought I would begin there!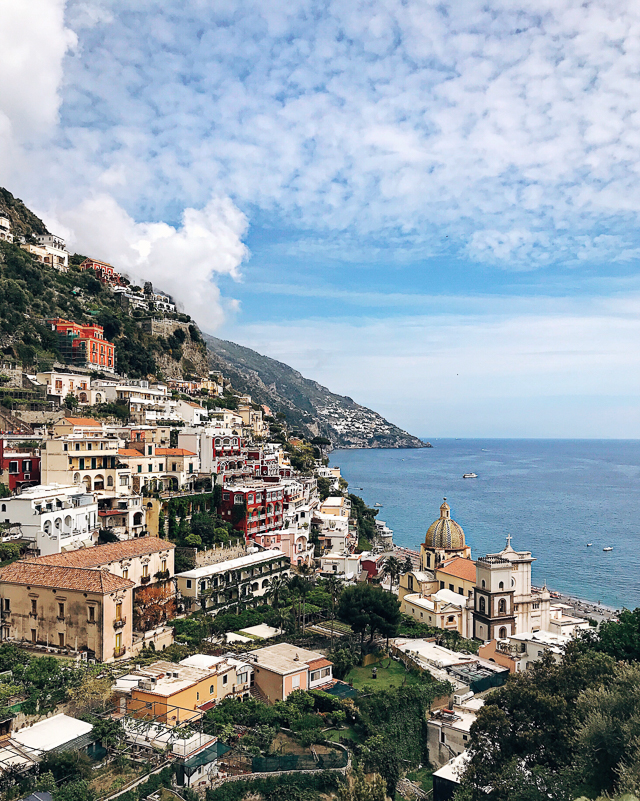 A little bit of backstory on Positano: John Steinbeck once said, "Positano bite deep. It is a dream place that isn't quite real when you are there and becomes beckoningly real after you have gone." And I have to agree – from the moment you first catch sight of the views from the Amalfi Coast, you'll have to pinch yourself to make sure it's real. Photos and even videos simply can't do it justice. It's the prettiest, most captivating place I've ever been. We decided to go in the month of May because the temperatures are mild, the flowers are blooming and it's not quite peak season, so you don't have to worry about crowds.
HOW TO GET TO POSITANO
There are two ways to get to Positano: by land or by water. We flew into the Rome airport on a direct flight from Charlotte, N.C. Once we landed in Rome, we took a taxi to the Rome train station, about 30 minutes away. Our plan was to take the fast train to Salerno (2 hours) and then from Salerno, take the ferry to Positano. This is the fastest route, but be sure to check the ferry times! We ended up missing the ferry from Salerno to Positano, so we took a taxi instead. Although this was a longer route, the views were unreal! Also – be prepared for a really long day of travel. We arrived in Rome at 9:30 a.m. and didn't get to our place in Positano until 4:30 p.m.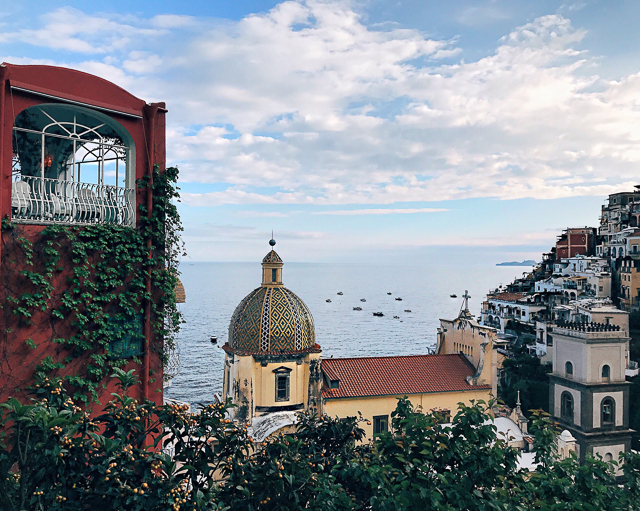 The view from our vacation rental
WHERE TO STAY IN POSITANO
A vacation rental:
We rented
this vacation rental
and absolutely loved it (watch my YouTube video for a full tour!). It's located right next to the famous Le Sirenuse hotel, so it offers the exact same view and more space for a much better rate. There were two bedrooms and three bathrooms, plenty of closet space for all of our clothes, and a kitchen with microwave, stovetop and refrigerator. It also has a private pathway to the beach that's around a 5-minute walk. We could not recommend it more!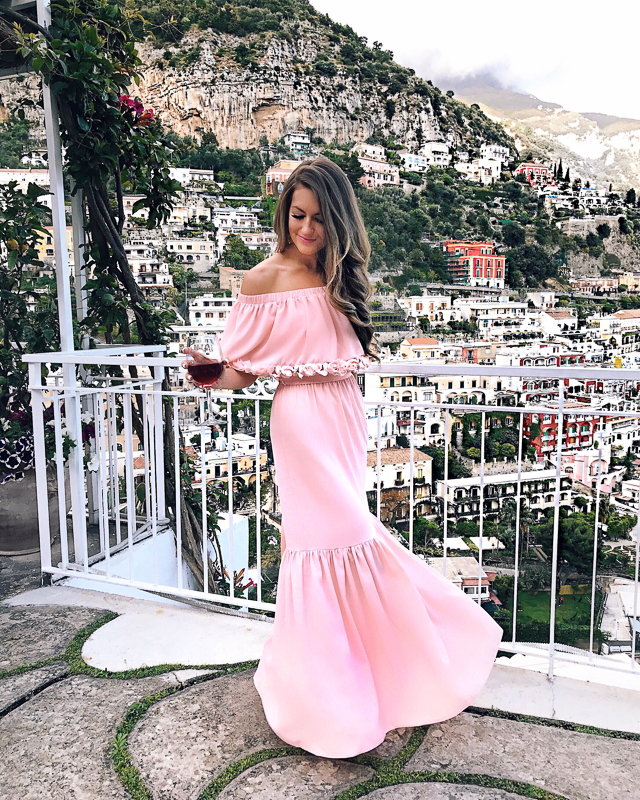 The view from Hotel Poseidon. Get my dress here!
HOTELS:
There are dozens of hotels in Positano, all completely different and unique, but all beautiful. When choosing a hotel, the most important thing to keep in mind is location. Positano is built on the side of a mountain, and some hotels are located at the top of the hill (which means a LOT of stairs/walking) and some are located at the bottom. I would recommend staying mid-mountain or at the bottom of the mountain since these locations are closest to the main beach, Spiaggia Grande, as well as all the restaurants and shops. Although some of the hotels can be pricey, almost all of them include breakfast each morning. I recommend staying at
Hotel Poseidon Positano
– we had the chance to visit and it's absolutely breathtaking, from the interior decor and patio to the views of Positano. Everyone also agreed that the best meal we had in Positano was at Hotel Poseidon's restaurant. If you want to splurge,
Le Sirenuse
is the most famous hotel in Positano (several movies have been filmed there) and also boasts an amazing location. Le Sirenuse is a family-run, luxury boutique hotel located in the heart of Positano. It has a Michelin star restaurant and a pool surrounded by lemon trees overlooking the ocean.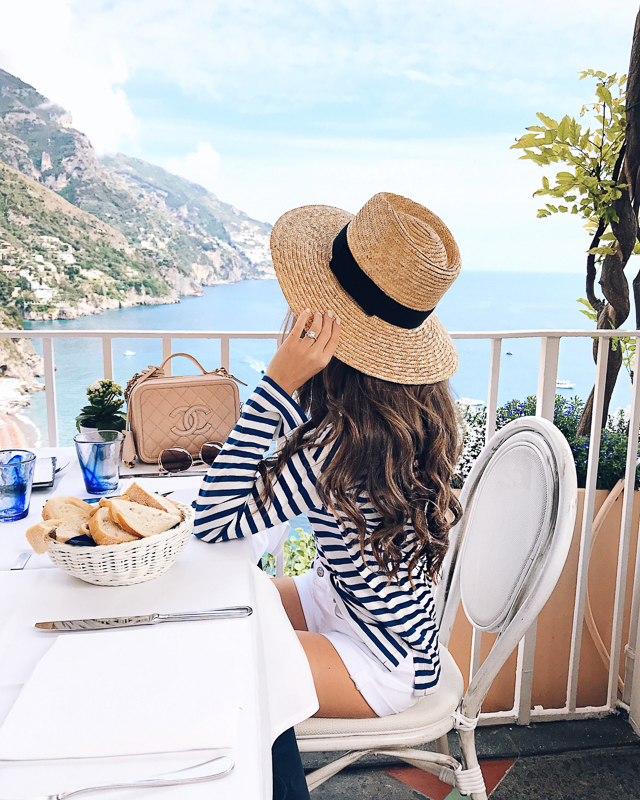 The view from Caffe Positano. Full outfit post here!
WHERE TO EAT IN POSITANO
Breakfast/Lunch
Drinks
Franco's Bar: Definitely check out Franco's Bar, located in Le Sirenuse, for champagne and cocktails!
Hotel Poseidon Positano: Hotel Poseidon has a great poolside bar. Order a bottle of rosé and snag a table next to the railing for a great view.
Dinner
Hotel Poseidon Positano: Our favorite dinner that we had in Positano! I ordered the buffalo mozzarella stuffed ravioli and it was the best dish I had in Positano. My mom and Brit ordered lemon risotto with shrimp and they loved it, too. For dessert we all had the Lemon Delight – pure Heaven on Earth!
Ristorante Le Tre Sorelle: We went to this restaurant on our first night in Positano and had a great experience. It's located right on the beach so we got to watch the sunset and we could see the ocean from our table. We ordered a margherita pizza and an order of gnocchi with fresh tomato sauce and basil, and everyone had a little of each. Both dishes were amazing. Also, it is customary for the waiter to bring out Limoncello after your meal – a delicious Italian liquor made with lemon rinds. You have to try it at least once while you're there!
Ristorante Max: We didn't get a chance to try Restaurant Max's but we heard really good things about it from some people we met in Positano! It has really fresh, authentic food and isn't touristy.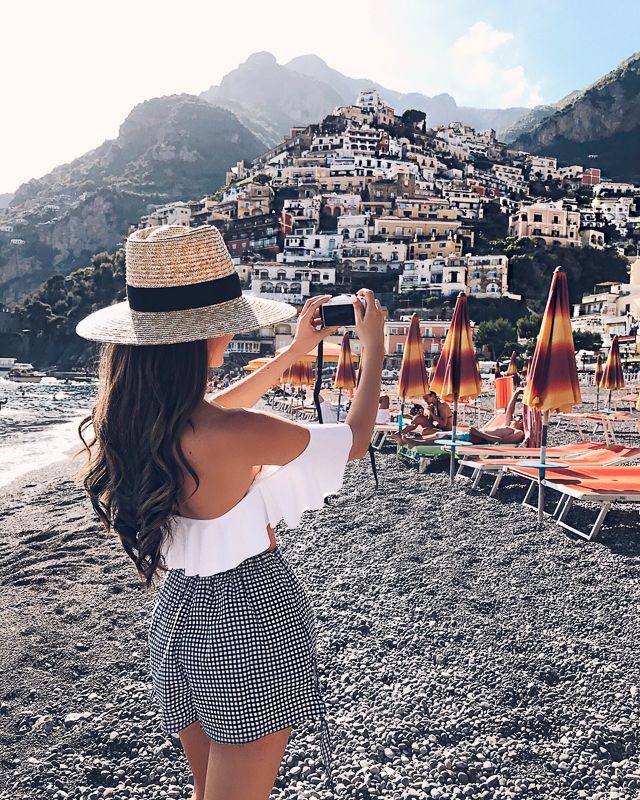 Spiaggia Grande in Positano. Full outfit post here!
Driving Hotel Poseidon's beetle by the coast. Full outfit post here!
WHAT TO DO IN POSITANO
Take a boat to Da Adolfo Restaurant – Grab the free boat with the red fish from the port at 11 a.m. Be sure to make reservations for the beach club ahead of time (if you're staying at a hotel, the concierge can do this for you). Da Adolfo is about 15 minutes outside the city by boat. You can rent a lounge chair and lay in the sun for a few hours before sitting down for lunch at the restaurant. Be prepared to stay for a few hours and catch the boat back around 4 p.m.
Hike the Sentiero Degli Dei (the Path of the Gods), a trail that links Agerola to Nocelle. The name, the Path of the Gods, is an indication of how spectacular the scenery is throughout the hike.
Spend a day at the smaller beach, Spiaggia del Fornillo. It's less busy than the main beach, Spiaggia Grande, and just as pretty. It's also lined with places to eat and drink so you can grab lunch between tanning sessions.
Buy local shoes. Positano is known for their sandals and a lot of places will custom make them for you – you pick out the design and the material and they will fit the sandal to your foot.
Shop! There are a ton of local boutiques and art stores that are really fun to peruse.
Visit Fiordo di Furore, an incredibly quiet and beautiful beach along the Amalfi coastline. Google it to see how beautiful it is!
Take a boat out for the day. You can hire a private driver right on the beach (just be sure to get there early in the morning around 9 a.m.) and they will take you out on the boat. Stop by Vini e Panini for a sandwich and bottle of wine to bring with you before boarding the boat.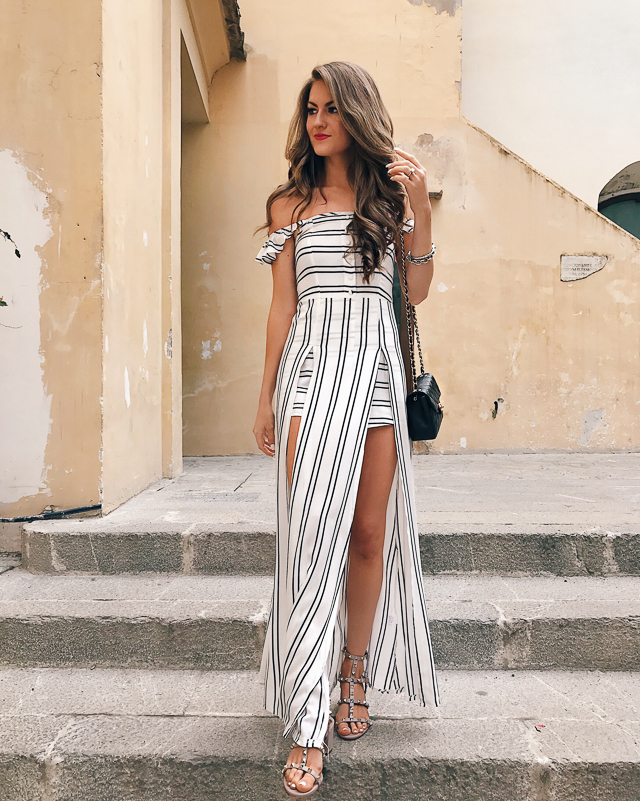 See my full blog post on this outfit here.
Check out my YouTube video on my Positano Travel Diary, below, and be sure to subscribe to
my YouTube channel
to be notified when the rest of my Italy vlogs go up 🙂
If you've been to Positano before and have any recommendations, let us all know in the comments!
xoxo