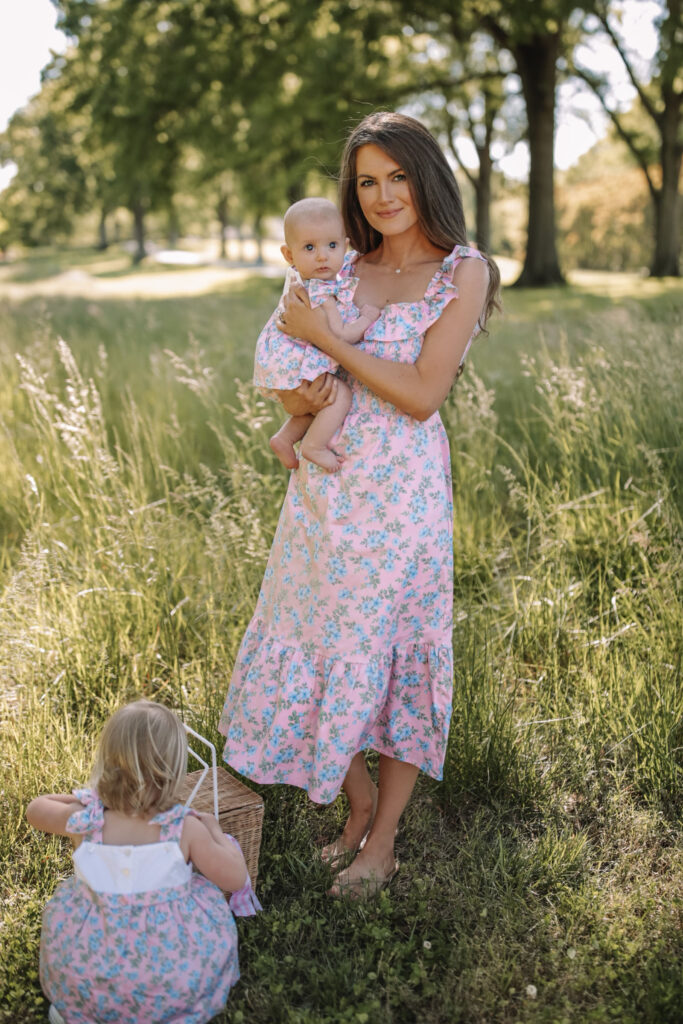 As I write this post, I am reminded of this blog post I wrote from when Kennedy was only three months old! Collins is the same age in these photos and I find myself reflecting on how motherhood has changed for me… this postpartum period has been similar in a lot of ways, but also very different. I wanted to write an honest post for all of the mothers who are also struggling out there. Often times, Instagram can make one's life seem so "perfect." I have tried to do a better job of sharing the realities of motherhood alongside "pretty" photography. I hope that you can see that in today's post! Anyways. On to my reflections…
This time around, I find the sleep deprivation to be equally as tormenting – maybe even more so! Sleep is even more scarce when you have a newborn that wakes every few hours during the night and a toddler that wakes up early to start the day. There are days when I am so very tired, I wonder if I will ever not be tired again. It is such a defeating feeling. Even when I do get a good night's sleep, it doesn't seem to make a dent in my overall energy levels – I don't think one night can make a difference in a few months' worth of sleep deprivation! I find myself thinking, "If only I had more energy, I could be a better mother to the girls… I would cook this, or do this craft, or play this game," etc. It is not a very good train of thought, but it is honestly what runs through my mind. I can't wait to sleep through the night again! I know it will come at some point, but it seems so very far away right now.
I am also struggling with postpartum anxiety… again. I know it is related to my hormones, but it is so very frustrating! A few symptoms include feeling a heaviness as soon as it starts to get dark outside, trouble sleeping, my mind constantly creating scary scenarios where my kids are hurt or in danger, vacillating moods, and just generalized anxiety at all times. I know that it does, eventually, go away, but it is getting to the point where I'm considering getting on medication. I feel constantly overwhelmed and anxious, to the point where I can't fall asleep at night – despite how tired I may feel!
While postpartum has certainly been a struggle for me, it hasn't been all bad. For starters, my heart has never felt so full or my life so complete. I spent nine months worrying that I wouldn't be able to love this baby as much as I loved Kennedy, and I have been blown away by my emotions since giving birth to her. My heart literally doubled in size the day Collins was born. I love them both, so much, so fiercely, it's really hard to put into words how I feel about them. Like nothing in my life really matters, except for them. It's an all-encompassing type of love. The minute that Collins was here, I couldn't imagine life without her. She's such an integral part of our family… and she's only just a baby. Some days I look at her and just sob because I couldn't love her more if I tried.
Being a mother to Collins has come easier this time, too. I've already been through the motions with Kennedy. I've been able to trust my instincts more with her, am more confident in my abilities as a mom. When she cries, I instinctually know what's bothering her, how to soothe her, how to pat her butt in the way that she likes or which song to hum to put her to sleep. I cherish each and every moment with her, in part, because now I know how fast the time goes – how fast they grow up. I feel like I'm enjoying her more this time around, if that makes sense. When Kennedy was born, Chris and I both went through a period of grieving when we realized our old, carefree way of life was "over." We did not feel that at all, this time. Our lifestyle has already changed so much, that adding on another child didn't make a huge impact – we already knew what to expect, already found our "groove" as parents.
And finally, I will leave you with this – there is NOTHING that compares to seeing your two children interact and love each other. My heart wants to break into a million little pieces every time because I just can't handle it. Kennedy constantly wants to give her sister hugs and kisses, while Collins is constantly watching her and smiling and laughing at the things she does. Kennedy really is the sweetest big sister. The other day, we were driving in the car with both Kennedy and Collins in the backseat. Collins was crying, and I could hear Kennedy soothing her in the backseat saying, "It's okay Collins, don't cry, we'll be home soon, sissy…" To hear my two-year-old daughter comforting her baby sister was enough to bring tears to my eyes. I feel like their bond is just beginning. They both have the sweetest hearts, and that is all I really want – for both of them to have kind souls.
Being a mother to two is truly the best thing ever (despite the challenges). I can't wait for the sleep deprivation to pass, for my hormones to stabilize, for my girls to grow from being sisters to best friends. I am so in love with my little girls and feel so blessed to be creating this family with Chris.
Until next time…
xoxo