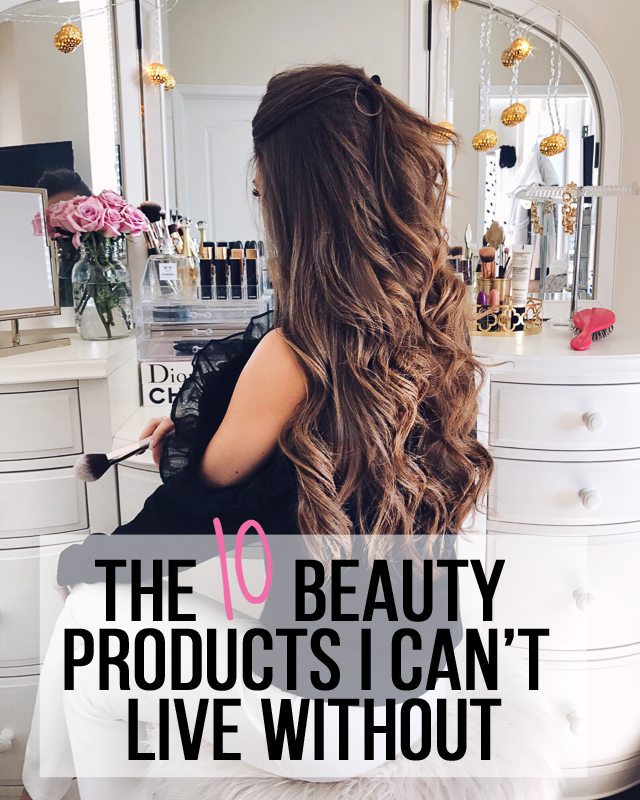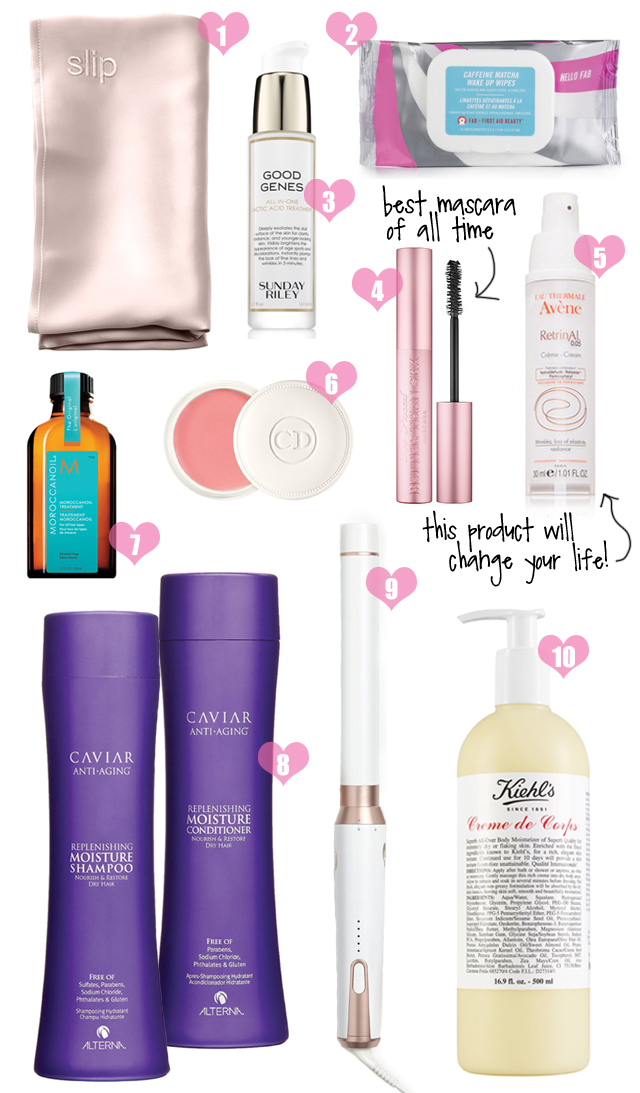 I have blogged about this pillowcase before, but seriously this is one of the most life-changing beauty products out there (IMO!). After a couple of years sleeping on this
silk pillowcase
I don't think I could ever go back to a regular pillow – I even pack it in my suitcase on trips so that I can switch out pillowcases while I've traveling! Sleeping on silk has numerous benefits – silk fibers are less absorbent than other fibers, so they help lock in your skin's moisture and whatever products you apply to your face before bed. The smooth fibers also reduce facial wrinkles and split ends. I seriously wake up in the morning without ANY pillow wrinkles on my face. It's a miracle.
two
//
Sunday Riley Good Genes
Sunday Riley's Good Genes is a lactic acid treatment that works WONDERS for your skin. If you follow a lot of beauty YouTubers, you may recognize this product (they always rave about it, and for good reason!). I started using it every-other-night back in December, and this product (in conjunction with a retinal) has changed my skin. It helps to fade acne scars, reduce pore size, and when I wake up in the morning my skin is glowing and plump. Yes – it is expensive – however it is truly worth every penny. One pump is all you need to cover your entire face (I'm still using the same bottle from back in December). I am truly hooked on this product.
three
//
First Aid Beauty Caffeine Matcha Wipes
These refreshing wipes by First Aid Beauty are also a game changer. I use these in the morning before applying my makeup – they help remove any leftover makeup that I didn't get all the way off the night before, but they're also infused with skin brightening vitamin C, soothing aloe vera, and energizing caffeine to help "wake up" your skin. They're honestly the best makeup wipes I've ever used.
four
//
Too Faced Better than Sex Mascara
I would die without mascara, and Too Faced
Better than Sex Mascara
is the best of the best of the best. I sometimes get asked if I'm wearing false lashes but nope – that's just how good this mascara is! I've been using it for three or four years now and will probably never use any other mascara.
five
//
Avene RetrinAl 0.1 Intensive Cream
My dermatologist in Charlotte recommended
this retinal
and I've been using it ever since. If you don't know much about retinoids, read
this article
or do a simple google search on them. My dermatologist said that she recommends it for all women in their late 20's and upwards – it's the one product that all dermatologists use themselves and it TRULY helps with the aging process. The one I use is less harsh than other brands because it's a cream. I haven't had any redness or peeling (which can happen with other brands), but I also make sure to moisturize every night!
six
//
Dior "Creme de Rose" lip balm
I keep this lip balm tin right beside my bed and I apply it every morning and night. I love love love the luxurious scent of it, and it makes my lips feel like butter!
seven
//
Moroccanoil hair treatment
I've been using this hair oil for YEARS and I don't know if I'll ever stop! Sometimes I use it on wet hair to make it more manageable another times I use it when my hair is dry to make it look silky and smooth. I've tried other hair oils and nothing compares!
I blogged about this shampoo and conditioner a long time ago and have since gotten dozens of emails from y'all saying you tried it and loved it! I've never found a shampoo and conditioner I love as much as this brand – they make my hair soft, silky, moisturized and manageable. The
"replenishing moisture" kind
keeps my hair looking and feeling healthy (which is a hard task when you apply as much heat product to it as I do!).
nine
//
T3 Curling Wand with 1″ barrel
I'm sure y'all are probably sick to death of me talking about this curling wand (I am sick of myself haha) but it truly is the best out there. I use the 1″ barrel on my hair in pretty much every single blog post. The curls last for days and I absolutely love how it curls my hair. (P.S. You can enter my giveaway for this curling wand
HERE
!)
ten
//
Kiehl's "Creme de Corps" body lotion
Last but not least, this body lotion is the holy grail of body lotions. I have been using it consistently since last July (consistently as in – every single time I get out of the shower). It doesn't have a particularly strong or noticeable scent, which I like, and it's incredibly rich, creamy and luxurious feeling without being greasy AT ALL. My skin did not feel dry one time this winter and I know it's because of this product!!
I would love to hear about the beauty products you can't live without!! Let me know in the comments 🙂
SHOP THE POST:
JavaScript is currently disabled in this browser. Reactivate it to view this content.