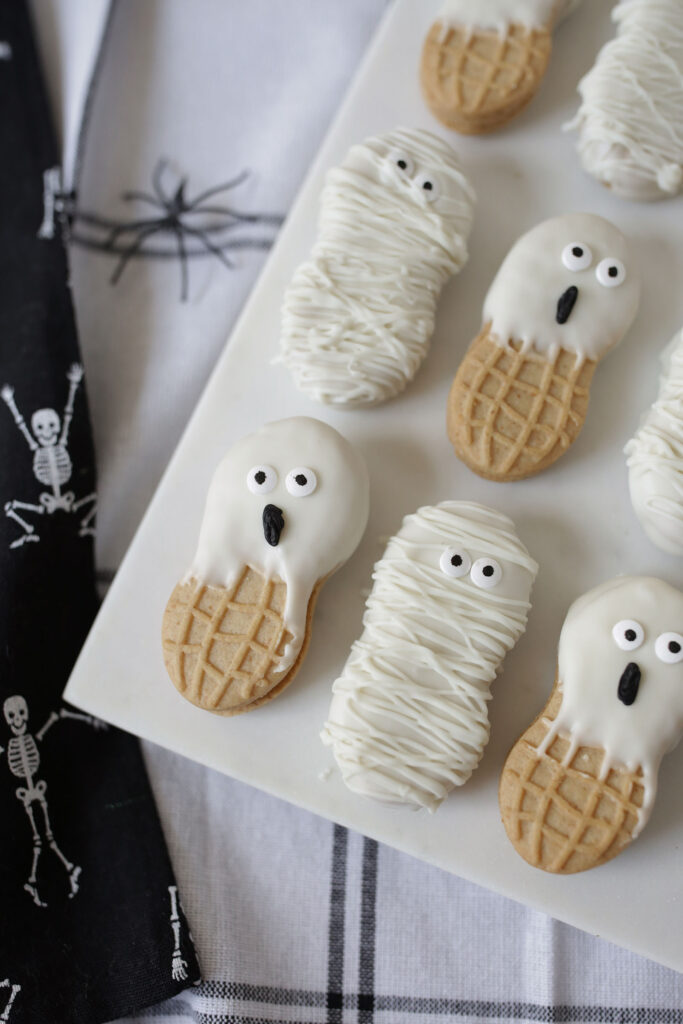 Y'all knoooowww I have always loved holidays – July 4th, Halloween, Christmas, Valentine's Day – you name it, I celebrate it! But there's something extra special about having a young child at home. You see everything through their eyes as they see it for the first time, including the magic of holidays. My daughter Kennedy is almost two years old and really starting to understand the world around her, which makes this October EXTRA fun! We have been celebrating the month of October by doing one fall activity per day, and this means baking up some fun (and easy) Halloween treats.
These cookies that look like mummies and ghosts were a big hit in our household! (Both with Kennedy and my husband.) And they were so easy to make. Here's what you need to whip up a batch!
Nutter Butter Mummies & Ghosts
Ingredients
One package of Nutter Butter cookies
12 oz white chocolate melts
Small tube of black frosting
Two plastic bags (such as Ziplock)
Directions
Melt white chocolate according to package instructions (we found that a double boiler worked a lot better than the microwave! The microwave tends to make the chocolate too thick.)
Line baking sheet with wax paper.
For ghosts, hold the bottom of the cookie by hand and dip into the melted chocolate, making sure you cover the front and back. For mummies, use a fork to dip the entire cookie into the chocolate. You may need to let excess chocolate drip off before placing on the cookie sheet.
Lay cookies flat on cookie sheets and immediately place two candy eyeballs on each cookie while the chocolate is still warm.
Place cookie sheets in the refrigerator for 10 minutes to "set" the chocolate.
Fill one ziplock bag with black frosting and one with white chocolate (from the double boiler). Cut the very tip of the bags with a pair of scissors.
When the cookies are done setting, use the black frosting to draw mouths onto the ghost cookies. For the mummies, drizzle white chocolate over the cookies in a zig-zag pattern to make it look like mummy's wrapping.
Allow the cookies to cool completely and enjoy!
xoxo