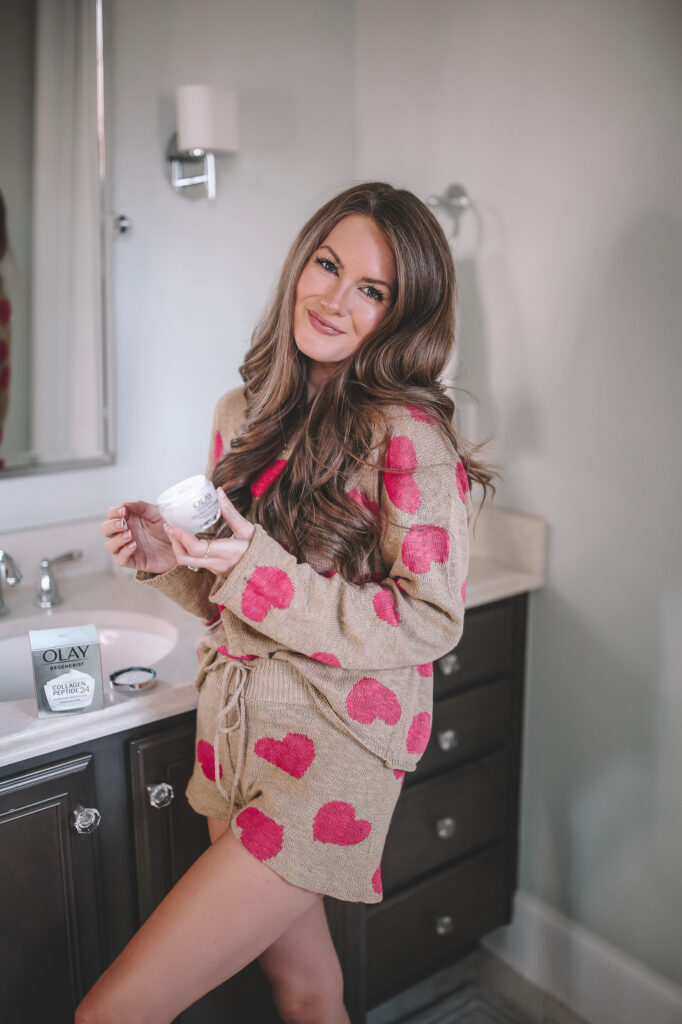 *Thank you to Olay for sponsoring this post
Skincare update! I'm still using a lot of the same products I used during pregnancy and still focusing on really clean ingredients since I'm breastfeeding. But one thing I have added to my morning skincare routine is Olay's Collagen Peptide24 Moisturizer. Similar to the Olay Max (that I reviewed here!), the Collagen Peptide24 Moisturizer is incredibly hydrating but also contains peptides to boost your natural collagen production. I neeeed all the collagen I can get right now because my skin has lost its "plump factor." I have definitely noticed more fine lines and wrinkles lately (does that always happen when you have a newborn?) and continued use of this moisturizer has been proven to help reduce lines and wrinkles!
So what exactly is in it? Collagen Peptide24 Moisturizer uses the highest concentration of pentapeptide. And if you're wondering what that is, peptides are building blocks of skin proteins – and this specific one has been clinically proven to boost your skin's collagen production – which in turn helps reduce fine lines and wrinkles. (And a quick note about what's NOT included: there are no parabens, phthalates, mineral oil, fragrance or synthetic dyes.) My skin feels moisturized (but not greasy) after applying, even in the dead of winter. I apply it in the morning along with SPF!
You can purchase Olay's Collagen Peptide24 Moisturizer on their site here.