Now that November is here I'm in full Christmas mode! But… before I start sharing gift guides and Christmas content with y'all, I wanted to round up October's best selling items. I had so much fun putting together this list – I got to see items that I designed make the list along with a lot of other really pretty pieces that will keep you warm and cute all season. And seriously, thank you so much again for all your support of my fall collection with Pink Lily! I LOVE seeing you all styling the pieces that you ordered and all your sweet messages about how much you love the collection really mean so much to me!!!!
Without further ado…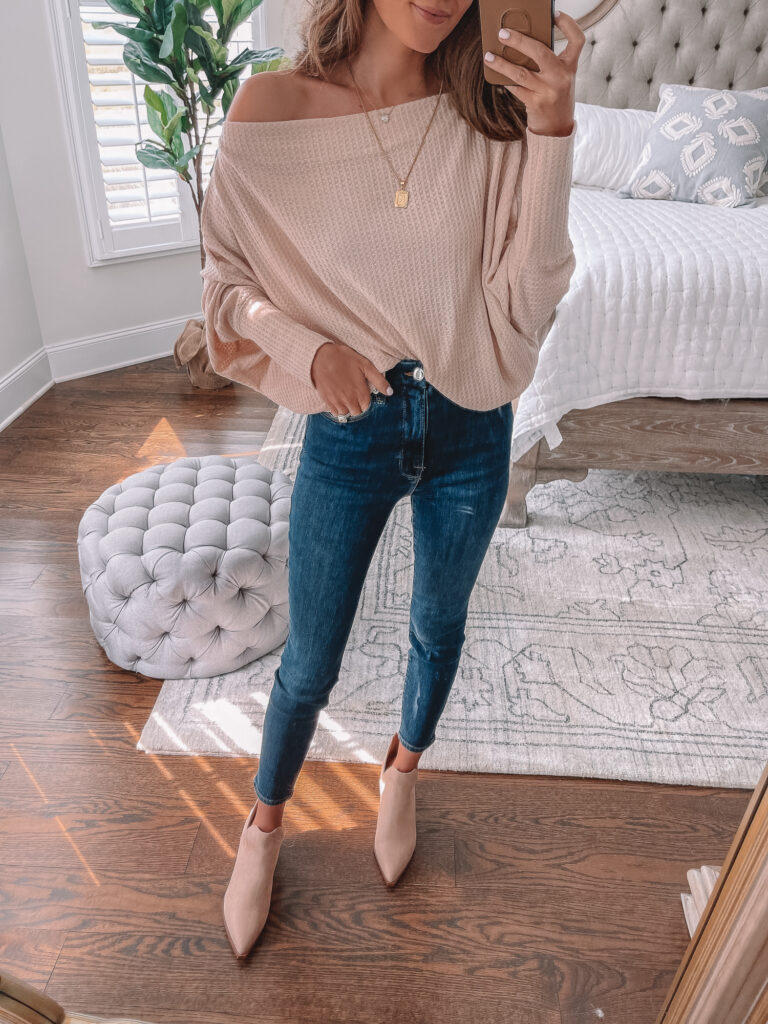 This Amazon top is such a cozy staple piece to get and wear over and over again as the days get colder! It's so comfortable that it feels like wearing a pajama top. Pair it with leggings and you've got an outfit perfect for cuddling by the fire. Or tuck it into a pair or jeans, put on cute pair of booties and you're ready for happy hour with your girlfriends. I bought this top in apricot and white, but it's also available in a lot other pretty colors.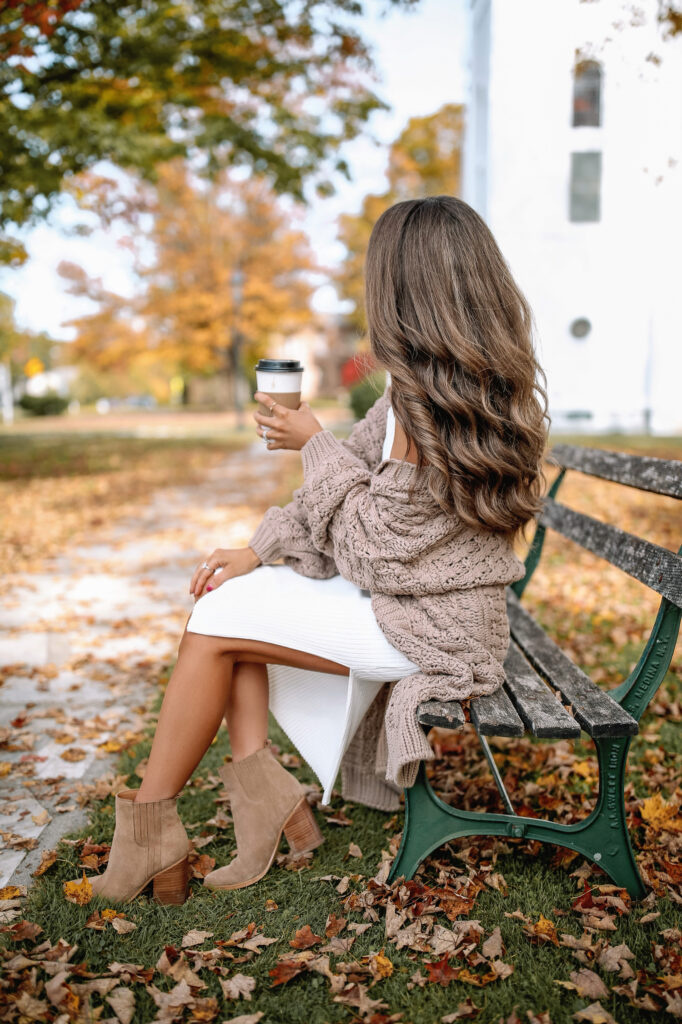 Funny story… I named a lot of the pieces in my collection after important people in my life, and this cardigan is called "the Chrissy" after my husband! He was so cute, he told me he wanted a piece named after him and we thought "the Chris" was a little masculine haha, so "Chrissy" it was. This cardigan is so warm and has a pretty chunky pattern on it that makes it super cozy. It's also the perfect brown color that looks great with every color of boots! I personally like to wear it off the shoulder for a more fun and flirty style.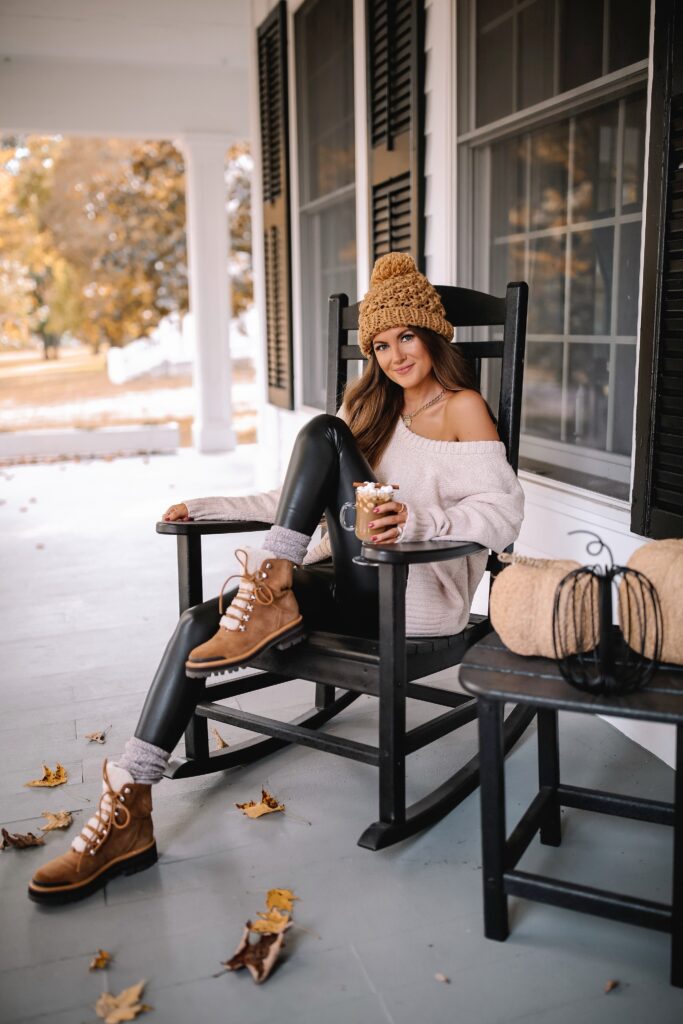 These shearling lace-up boots are my go to as soon as it starts to get chilly outside. They are the perfect boots for a more casual, outdoorsy look! You can wear them both hiking and in town for a lunch date. I've had mine for a few years now and I truly, 100% recommend them. Right now they are fully stocked at Nordstrom, so go snag them while you can because they always sell out fast. I promise they are worth the investment! The fit is TTS.
I am so proud of these faux leather leggings from my collection with Pink Lily! They are such high quality and they are less than $50! These leggings are lined with a fleece like material so they will keep you warm during the winter months. They are so versatile and look great with oversized sweaters, shackets, combat boots and black boots. I even had a few people DM me to say they're better than the Spanx version!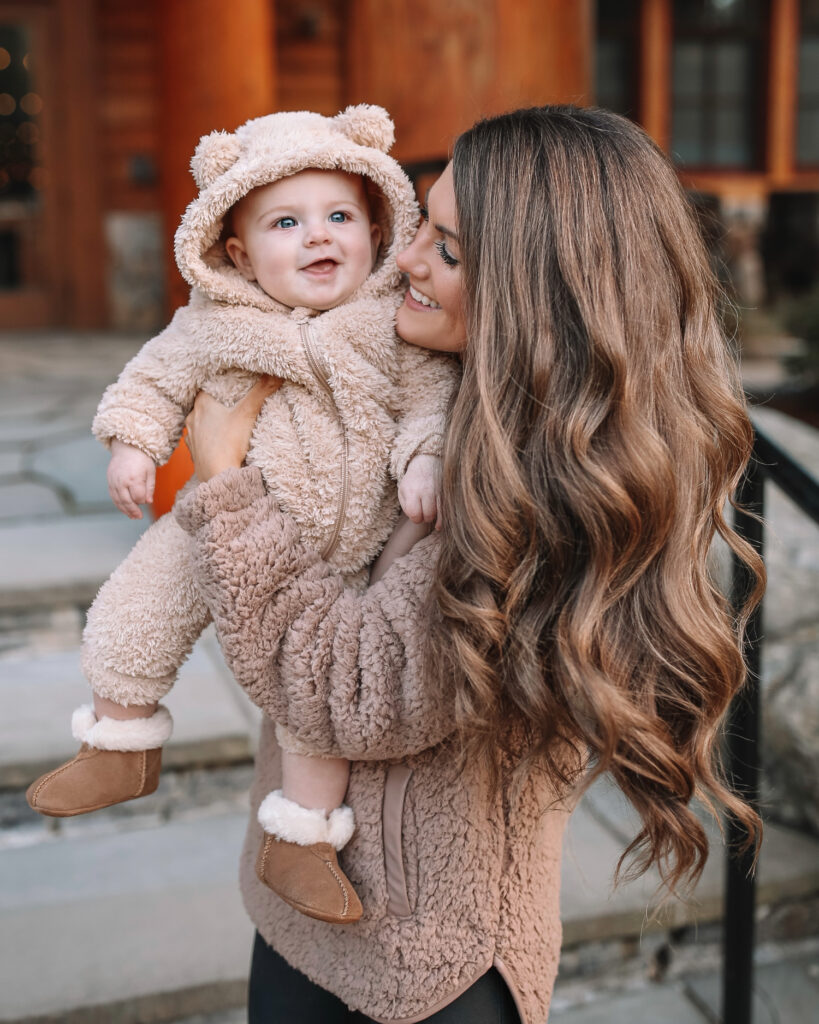 Are these not the cutest things you have ever seen?! The first time I saw baby UGG boots, I knew Kennedy needed a pair! She wore these during her first trip to Vermont and they kept her little feet warm the whole time. Plus they were easy to put on and take off, which made getting dressed a lot easier. These would make a great Christmas gift if you have a baby on your list! I have a pair of adult UGGs that are very similar and I love matching her on our morning walk.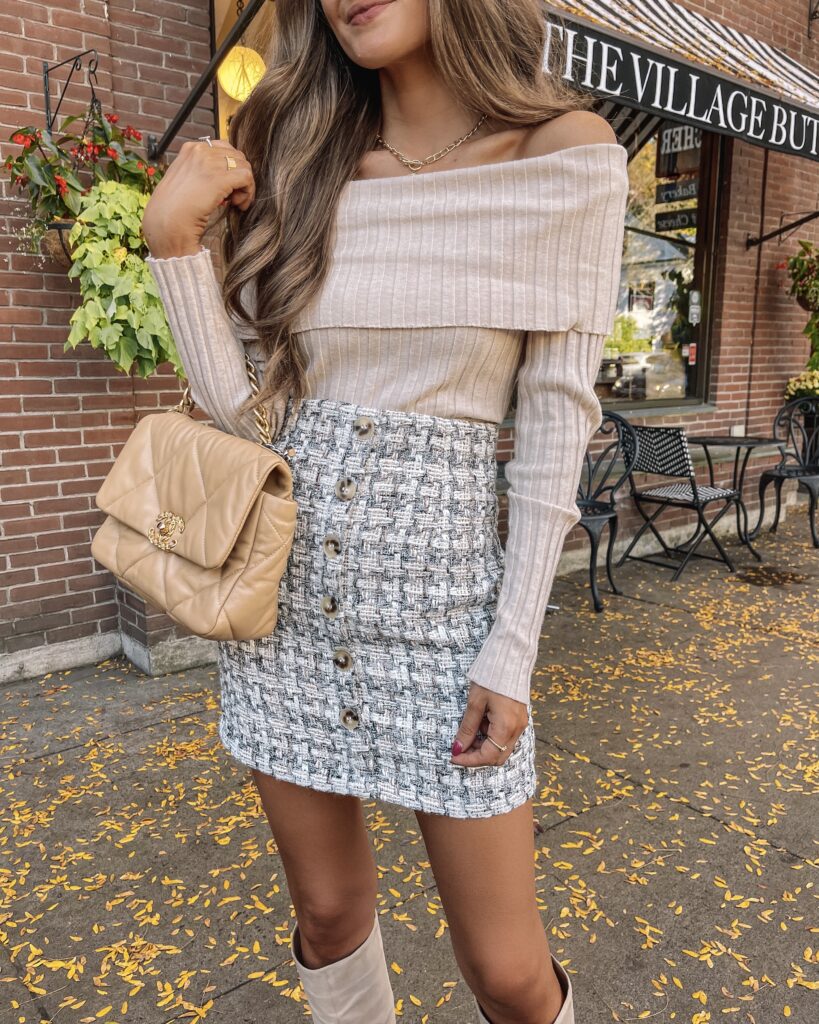 I love the ribbing on this bodysuit from the collection! The texture makes every outfit you wear it with more interesting and fun. The off-the-shoulder design makes it a little flirty too. It's perfect for date night, and is super easy to wear with jeans because of the snap closure. I also have to mention that this bodysuit is SO SOFT and comfortable.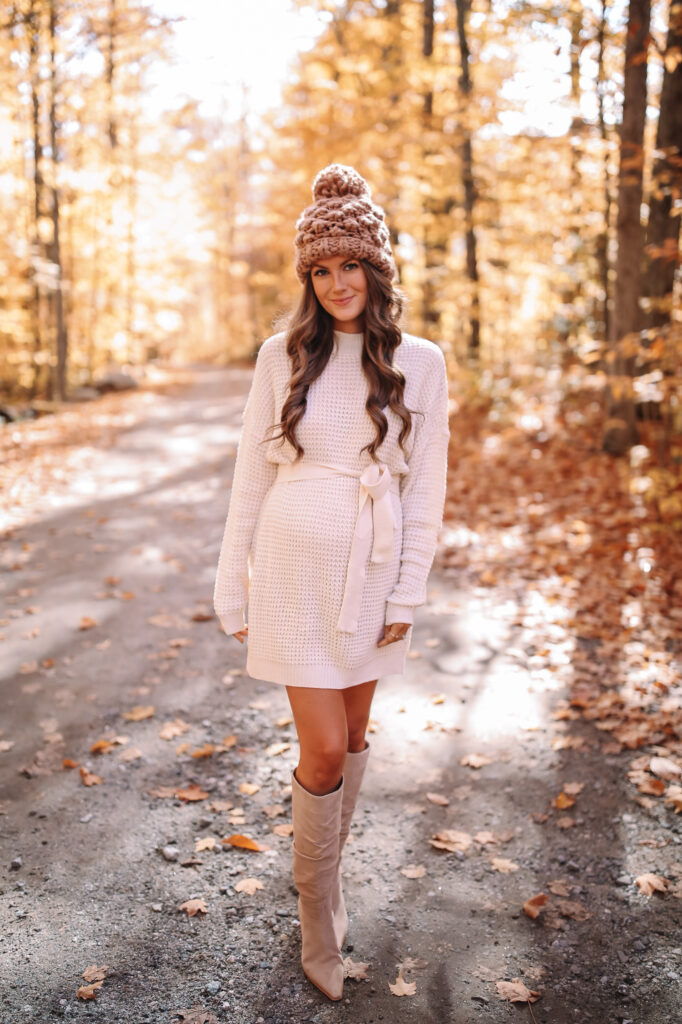 I was surprised to see this textured Amazon sweater dress pop up on the best sellers list since I actually wore it last year. It's one of my favorite sweater dress purchases from Amazon… maybe ever! Not only is it really comfortable, but it's also a pretty thick material that's not see through at all. Plus the belt makes the dress super flattering and it looks cute with a baby bump for all you mamas-to-be out there! (Side note – this photo is from last year when I was pregnant haha)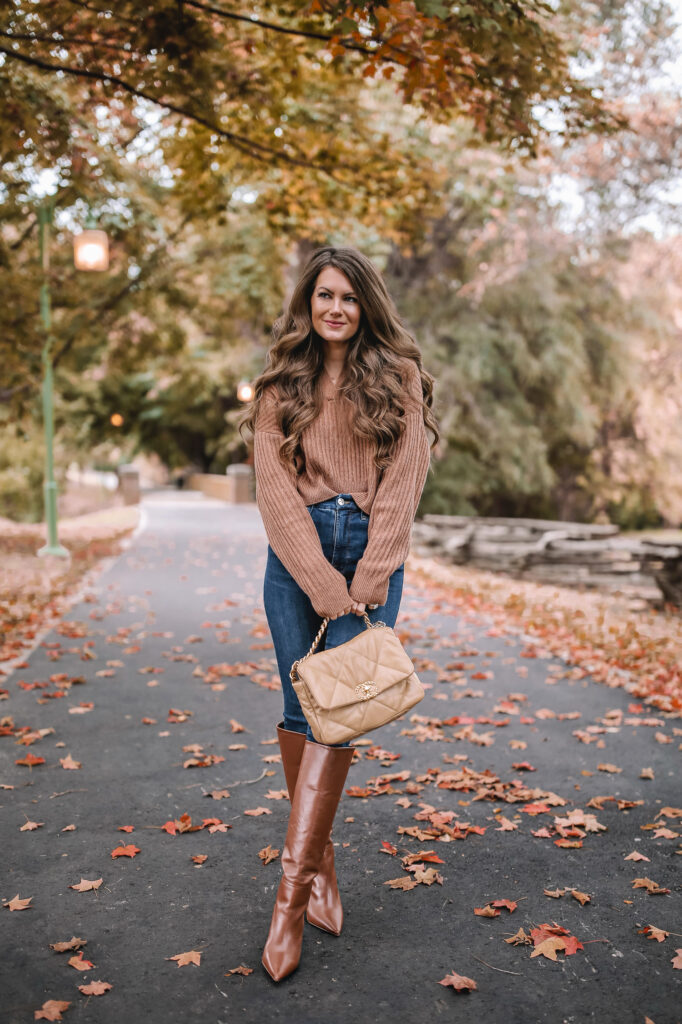 I love how this polo sweater combines the cozy look with the preppy look for the perfect sweater for fall of 2021! The lightweight knit will keep you warm while the collar will keep you on trend. I like to wear it tucked into a pair of jeans with knee high boots for a classic look. But I think it would also look cute tucked into a skirt.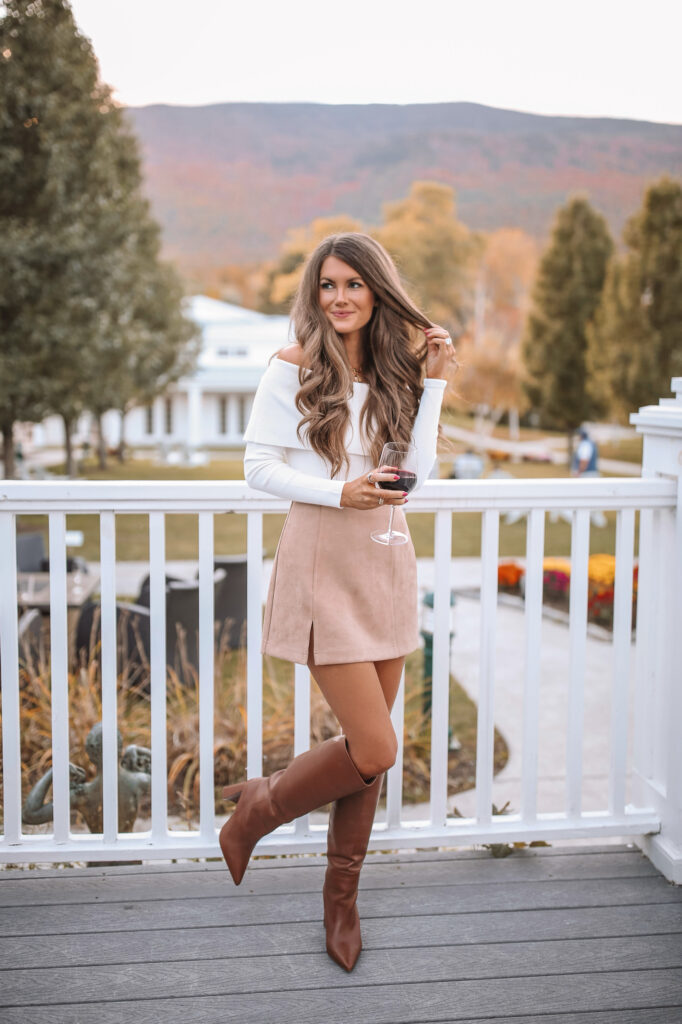 Not surprised at all to see that these boots made the list again this month! I'm OBSESSED with them and it looks like y'all might be too! I keep finding myself reaching for them to pair with every outfit I try on! They look great with skirts and dresses, and equally as good with dark skinny jeans and a sweater. I hope y'all aren't tired of seeing them yet because I'll be wearing them all fall and winter too hehe!
This might be my favorite skirt from the collection! The little slit makes it really flattering and it's a super soft, high quality material. Plus the ways to style this skirt are endless! I've worn it with chunky sweaters, fitted sweaters, cardigans and button-ups. It also looks great paired with booties as well as knee high boots. I think this skirt would be so cute to wear to a Thanksgiving dinner this year too!
I'd love to know your favorite item. 🙂