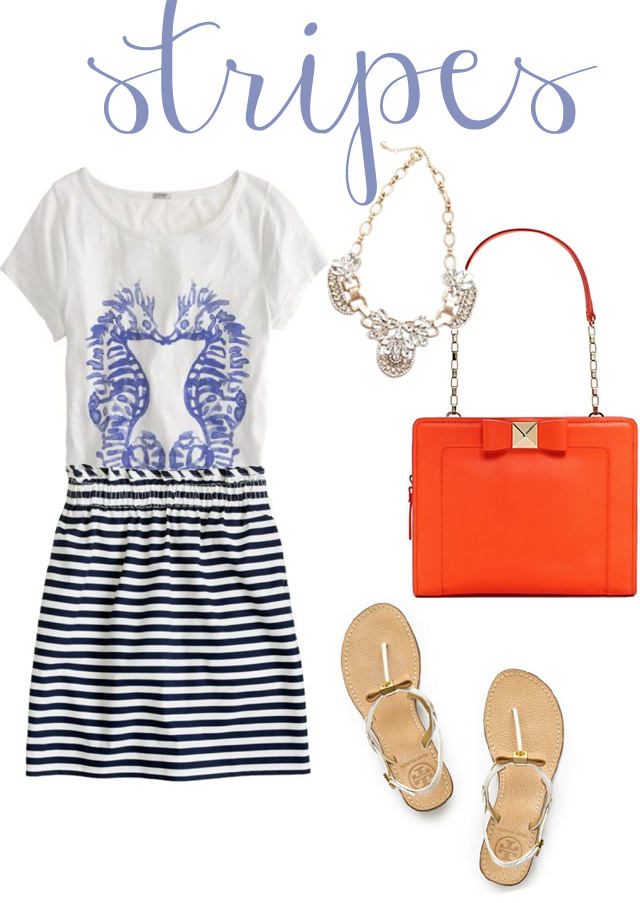 {
sea horse cotton tee
}{
stripe city mini
}{
deco art crystal necklace
}
{
bow terrace monroe bag
}{
kailey wedge thong sandal
}
This week's theme for Friday Fancies is stripes! I love stripes, so this was a fun outfit to put together. I've really been into "pattern mixing" lately, so I thought this seahorse tee was a fun print to pair with this adorable striped skirt. Throw in a gorgeous crystal necklace (I have this exact one) and a bright bag, and you're good to go.
Although this outfit doesn't contain stripes, here's a similar skirt-top-necklace combo I wore to work yesterday:
The skirt is from J.Crew, but unfortunately I bought it a few seasons ago!
Hope you all are having wonderful Fridays. I'm leaving for the beach tomorrow for a whole week of fun in the sun and could NOT be more excited!! And you know what that means… a whole week of vacation means lots of blog posts, and that hair tutorial video I promised a few weeks back! 😉
Love, Cait