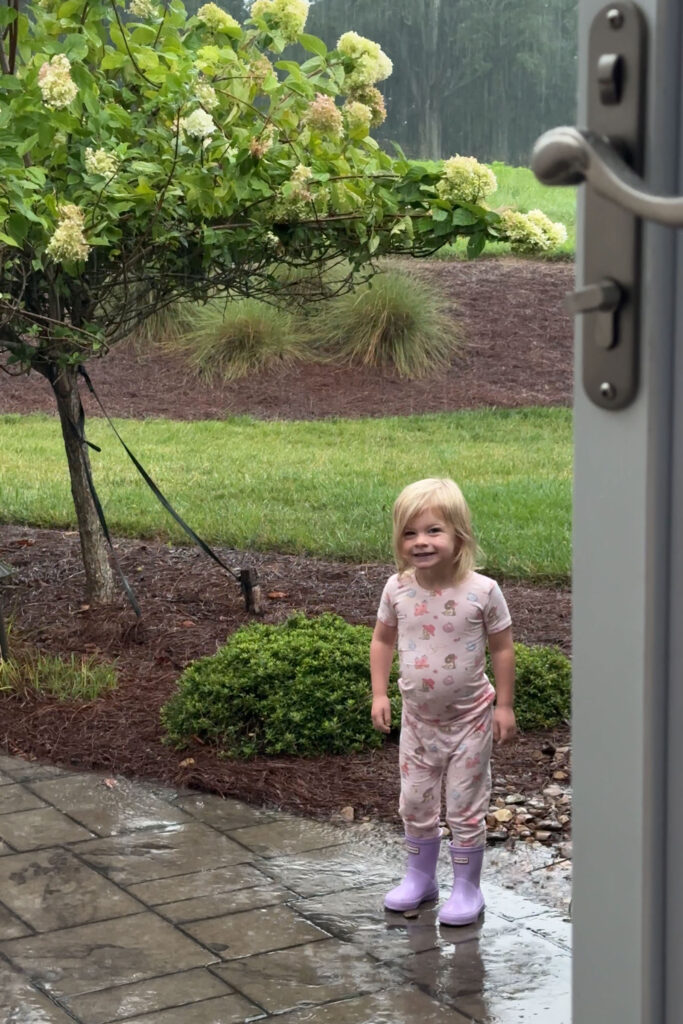 1. Flower Hair Clips
Kenny's hair is getting longer so we wanted an easy way to get it out of her face without having to pull it back in a ponytail all the time. We found these mini hair clips on Amazon and they are super cute! I like how they stay put and hold her hair up without pulling it too tight. I swear she looks like a little teenager when she wears her hair in one of these clips! They even match my big ones.
2. Rainy Mornings
Sometimes you need a rainy morning to remind you to cherish the simple moments – like slow morning cuddles with your kids and playing in the rain. We were blessed with a rainy morning on Thursday and we did just that! I spent a little extra time cuddling with Kenny and Collins in bed and it made my mama heart so happy. Kenny wanted to try out her new rain boots during sissy's nap, so she slipped them on with her PJs and played in the rain! It was so the cutest thing ever! (You know I was hiding under the covered patio though, hahaha.)
3. Our Lunch Making Station
This week I put together a little lunch making station in one of our kitchen drawers and I am obsessed with it! I am just so excited to start making Kenny cute little lunches to take to school! I think having everything I need to put her lunches together in one area will make it a lot easier and less time consuming. I have reusable ziplock bags, silicone containers, fruit/veggies cutters and a little bento box all in the drawer. It only took like ten minutes to organize and I think it's going to be so helpful!
4. Hijack on Apple TV
Chris and I started watching a new show at the beginning of the week – and we already finished it! We binge watched the show Hijack on Apple TV and WOW it was a nail-biter. If you need a new show to watch with your significant other, this is it! It's a tense thriller featuring Idris Alba (we love him!) that follows the journey of a hijacked plane as it makes its way to London over a seven-hour flight.
5. Zucchini Ravioli
We made an oldie but goodie for dinner this week – this zucchini ravioli! We hadn't made it in at least a year and both forgot how dang good it is. It especially tastes amazing in the summer because it's light and fresh! (Even better if you can find zucchini at your local farmer's market.) Pro tip: get yourself a cheese shredder like this one to save time and this recipe comes together much easier and quicker!
I'd love to hear your Friday Favorites, too!
Until next week!