Good morning, friends! This post has been highly-requested – our favorite plant-based dinners! Chris and I love cooking together in the evenings – it's how we reconnect after a long day of work. We'll put some oldies or jazz music on in the background, pour a glass of wine and enjoy each other's company in the kitchen while we cook. Since I've been on my journey to eat more plant-based, I was worried it was going to be a struggle to find recipes that both Chris and I enjoyed (since he still eats meat!). Thankfully, that hasn't been the case. We've found five or six plant-based meals that we both love – all of these recipes are on major repeat in our house! (You will probably recognize a few from my Instastories 🙂 ) These are packed with flavor, and neither one of us misses the meat!
This first one is soo good and fresh – we eat this when we want something light for dinner. Just a note that you have to cook the sweet potatoes beforehand – I usually chop them up in small pieces and put them in the oven at 350° for around 30 minutes. I don't add any seasoning or olive oil to them, either, since you will add seasoning to the soup later on!
Sweet Potato Soup
Ingredients
half onion, peeled, diced
olive oil
2 sweet potatoes, baked and peeled
1 apple, seeded and cored
1 carrot, halved
1 1/2 cups organic vegetable stock
Any spices you like – we love it with ginger, turmeric, curry and a touch of cinnamon (we usually just eyeball it!)
Directions
In a saucepan, sauté onion in olive oil for 5 minutes or until tender.
Place all ingredients into a Vitamix container (or other high-powered blender) in the order listed and secure lid.
Turn machine on and slowly increase to the highest speed.
If your machine has a "soup" setting, choose that one, or blend on high for 5-6 minutes or until heavy steam escapes from the vented lid. Serve immediately.
The next recipe is our all-time favorite: zucchini ravioli! We actually made this last night for dinner 🙂 Chris will text me during the day and say, "Is it a zucchini ravioli night tonight?!" We both love this one so much – it tastes really fresh and you still feel light after eating it (which never happens with pasta!).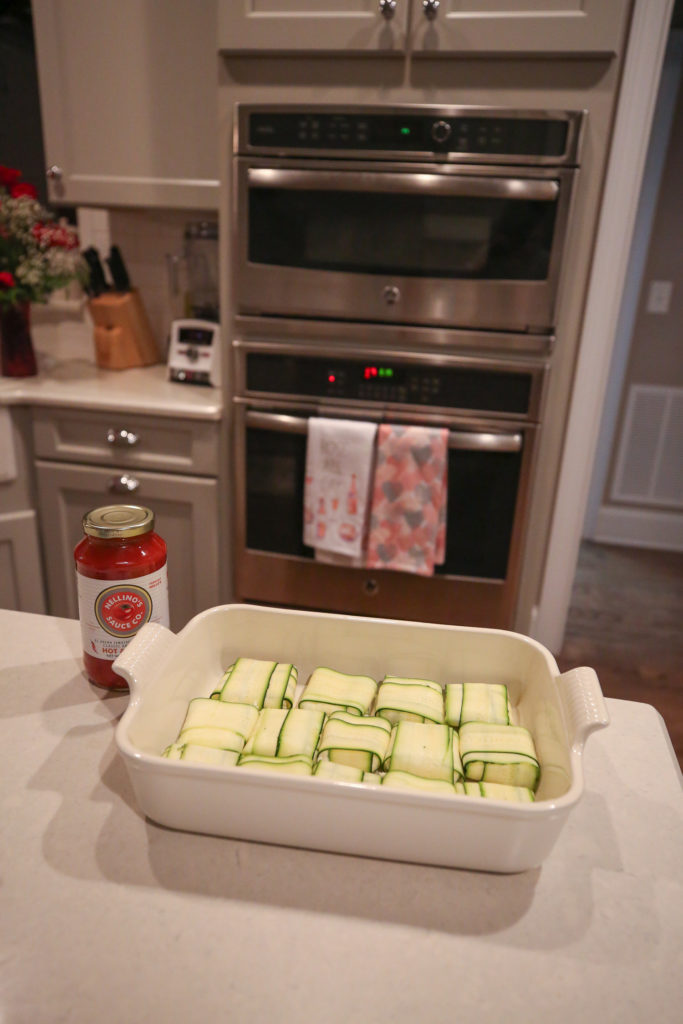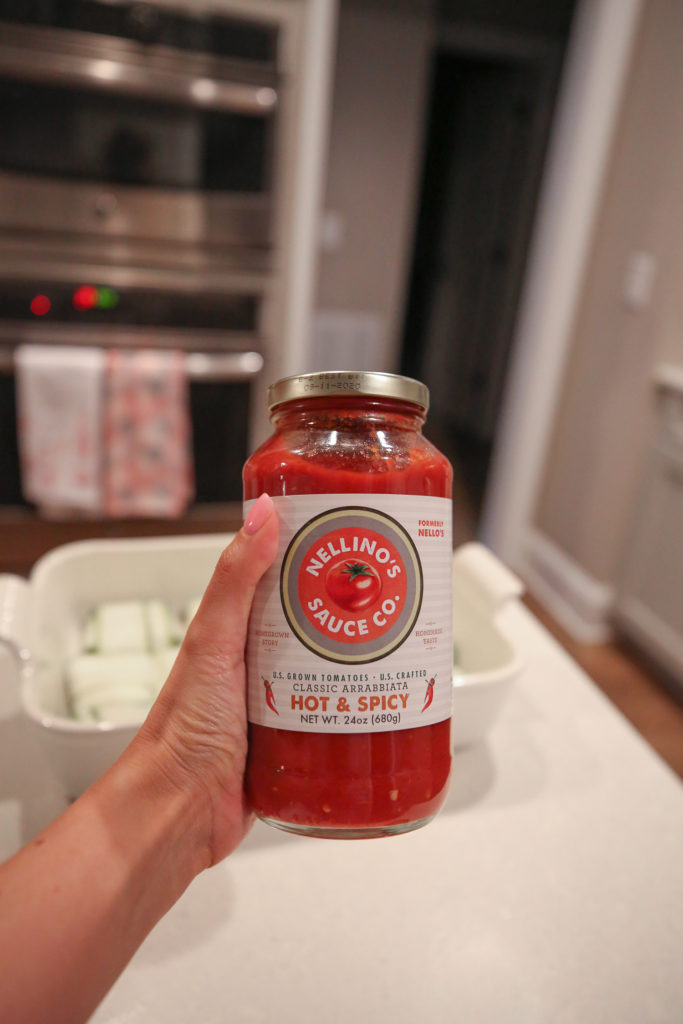 Zucchini Ravioli
INGREDIENTS
Olive oil spray, for baking dish
5 medium zucchini
2 cups ricotta
1/2 cup finely grated parmesan (we usually buy a block of parmesan cheese and grate it ourselves – it tastes the best that way!)
1 large egg, lightly beaten
1/4 cup fresh basil, diced
1 clove garlic, minced
Freshly ground black pepper
1 1/2 cups marinara sauce (if you can find it, we love Nellino's Hot & Spicy Sauce)
1/2 cup shredded mozzarella
DIRECTIONS
Preheat oven to 375° and grease a large baking dish with olive oil spray (I like using the spray because it's less calories, but extra virgin olive oil works too!)
Make the noodles: Using a vegetable peeler, slice each zucchini into flat strips, peeling until you reach the center. These are your "noodles."
Make the filling: In a medium bowl, combine ricotta, Parmesan, egg, 2 tablespoons basil and a dash of black pepper.
Assemble the ravioli: lay two strips of zucchini noodles down on a cutting board, then another two more perpendicular to the first strips. You should end up with a "T" shape. Spoon about 2 tablespoons of filling in the center of the T. Bring the ends of the strips together and fold over to the center, working one side at a time. Turn the ravioli over and place in the baking dish seam-side-down. Repeat with remaining zucchini and filling.
Pour marinara around the zucchini and top the ravioli with mozzarella.
Bake for around 25 to 30 minutes, are until the cheese is melted and starting to brown on top.
Top with remaining basil and grate some fresh Parmesan on top to serve. Chris really likes to add red pepper flakes to his as well!
This next one is another favorite of ours, Sweet Potato and Black Bean Quesadillas! We have experimented with a few versions of this, including enchiladas, but we always come back to the quesadillas. We have this small griddler that I really love (and highly recommend), but you can also make these on the stovetop. They are sooo good and filling!!
Sweet Potato & Black Bean Quesadillas
INGREDIENTS
1 large sweet potato, peeled and diced
1 teaspoon chopped fresh cilantro
1/4 teaspoon chili powder
1/2 teaspoon salt
1/2 bag frozen corn
1 (19 ounce) can black beans, drained and rinsed
8 flour tortillas (we get the big ones! If you can find the Ezekiel sprouted tortillas those are the healthiest)
1 cup shredded Cheddar cheese
Optional: Salsa and plain Greek yogurt for toppings
DIRECTIONS
Plug in and turn on your griddler or George Foreman.
Place sweet potatoes into a large pot and cover with water; bring to a boil. Reduce heat to medium-low and simmer until very tender, about 15 minutes. Drain and transfer to a bowl. Mash sweet potatoes and mix in cilantro, chili powder, and salt.
Head up corn. I like to heat it up over the stove, or you can place corn in a microwave-safe bowl and microwave on high until warmed, 1 to 2 minutes.
Spread sweet potato mixture onto 1/2 of a tortilla; cover with black beans and corn. Sprinkle Cheddar cheese atop corn (I usually sprinkle less cheese; Chris sprinkles a lot!). Fold in half (it will look kind of like a taco!). Repeat with remaining tortillas and fillings.
Place filled tortillas on your George Foreman and close the lid. Our George Foreman is large enough to fit two at a time. Keep an eye on it – ours usually cook in 5 minutes! (If you don't have a panini maker or a George Foreman, you can also cook this on the stovetop!)
Serve with salsa and plain Greek yogurt.
Next up is Mexican Quinoa Bowls! Both of us love Mexican food and for a while we were going out to eat once (maybe twice) per week to our favorite local restaurant, until we tried to experiment at home to come up with a healthier version. This can be made in under 30 minutes (we know because we tested it the other day), and sometimes Chris adds lean turkey meat to it, but he has also said he likes it just as much without meat. These also reheat nicely for lunch the next day – you will have LOTS of leftovers!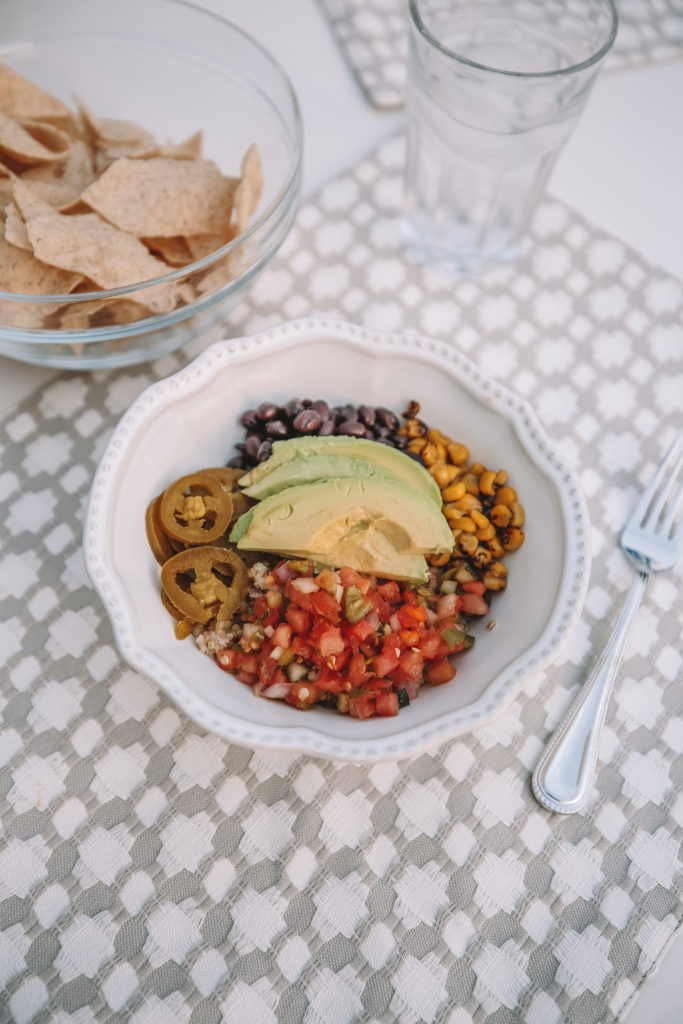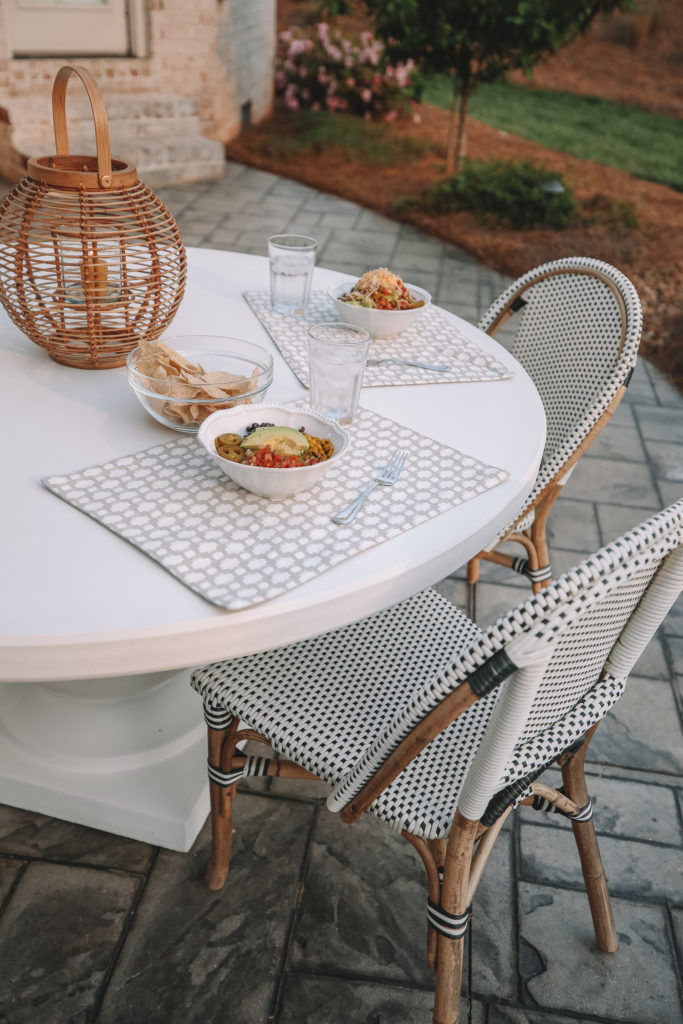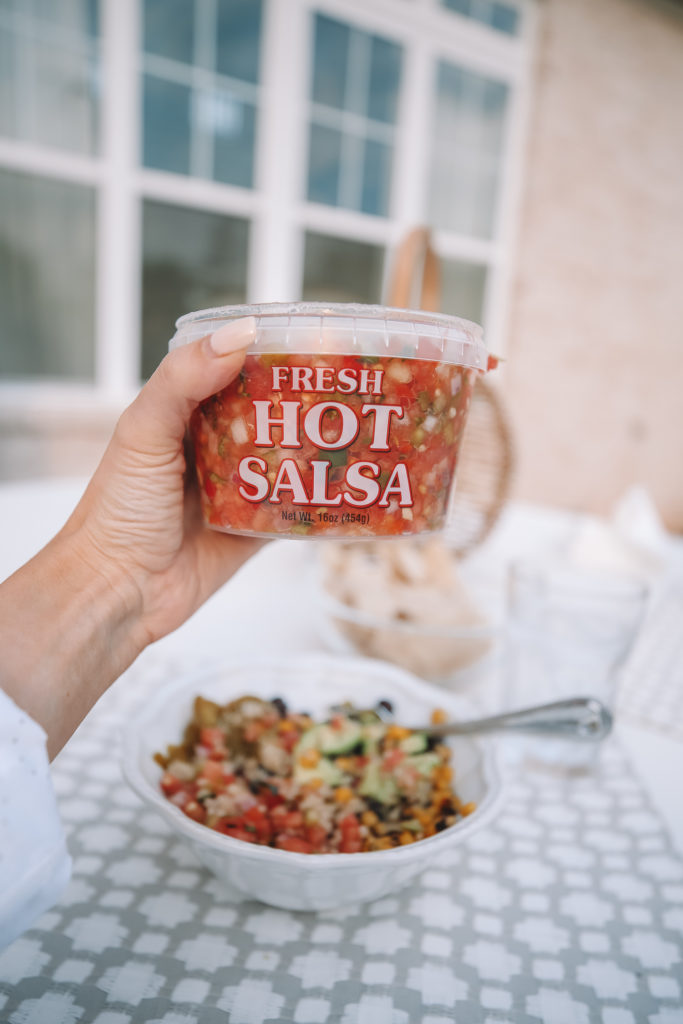 Mexican Quinoa Bowls
INGREDIENTS
2 cups sprouted quinoa
1 can organic black beans, rinsed and drained
1 package frozen corn (we like organic fire roasted corn from Whole Foods)
1 can of jalapenos
Small can of sliced black olives
1 avocado, sliced
Organic plain Greek yogurt
Hot salsa (our favorite is shown above – the most important thing is that it's FRESH! Look for fresh salsa in the refrigerated section of your grocery store, usually near the produce!)
Optional: spinach, shredded Mexican cheese, tortilla chips
DIRECTIONS
Cook the quinoa on the stove first (follow the directions on the package!). At the same time you can also heat up the frozen corn so that everything is ready at the same time.
Layer into bowls: start with cooked quinoa, then add the corn, black beans, jalapenos, olives, and avocado. We set up "stations" for each ingredient so that each person can personalize their bowl.
This Cajun Corn Chowder might be a better winter meal, but I'm going to go ahead and include it. This one is SOOOO good and it's actually vegan! The milk is replaced with coconut milk in this recipe, and it actually tastes even better that way.
Cajun Corn Chowder
INGREDIENTS
1 tablespoon olive oil
1 medium white onion, peeled and diced
1 green bell pepper, cored and diced
2 ribs celery, diced
4 cloves garlic, peeled and minced
6 cups organic vegetable stock
1 1/2 pounds Yukon gold potatoes, diced into 1/2-inch cubes
1 (14-ounce) bag frozen corn
1 cup red lentils, rinsed
2 tablespoons Cajun seasoning
1 teaspoon dried thyme
1 teaspoon salt
1 (14-ounce) can coconut milk
Optional: chopped green onions or chives, saltines, etc.
DIRECTIONS
Heat oil in a large stockpot over medium-high heat. Add onion and sauté for 3 minutes, stirring occasionally. Add bell pepper, celery and garlic, and continue sautéing for 5 more minutes, stirring occasionally.
Add vegetable stock, potatoes, corn, lentils Cajun seasoning, thyme and salt. Stir to combine.
Continue cooking until the mixture reaches a simmer. Then reduce heat to medium-low, cover, and cook for 10-15 more minutes, stirring occasionally, until the potatoes and lentils are tender.
Stir in the coconut milk until combined. Taste and season with additional salt and/or Cajun seasoning if needed.
Serve warm, garnished with your desired toppings. Or refrigerate soup in sealed containers for up to 3 days, or freeze for up to 3 months.
Let me know if you have any questions in the comment section! Love you guys! xoxo