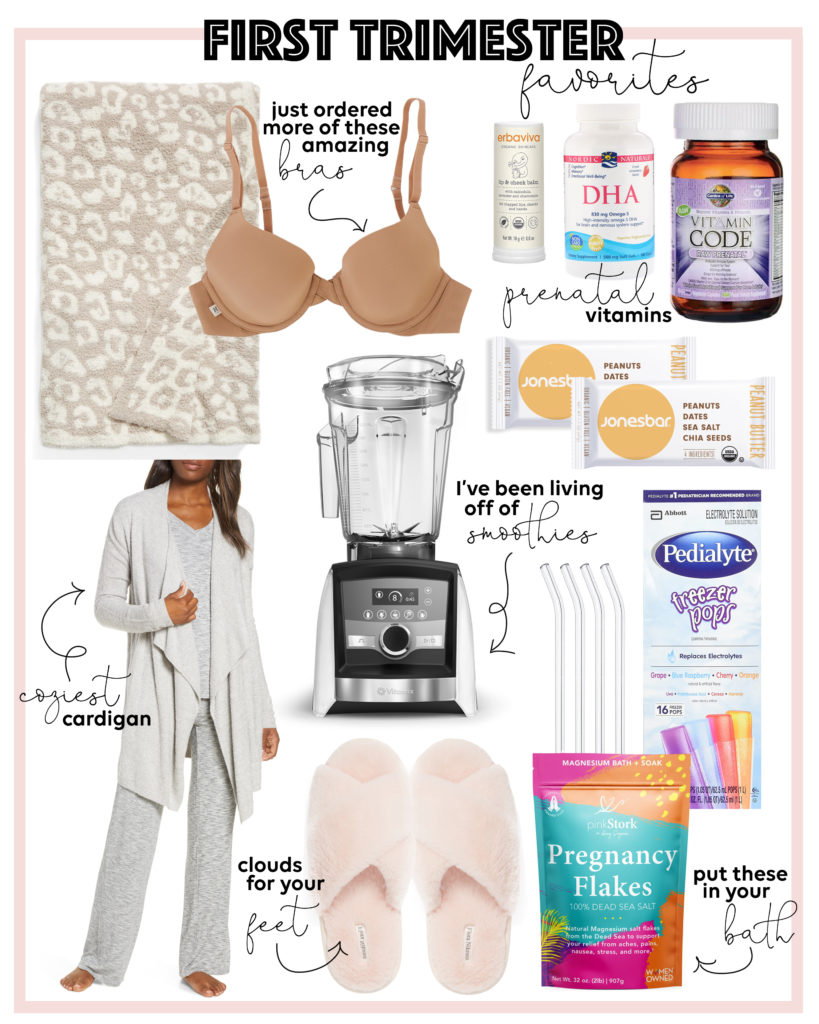 I mentioned a lot of these products in my Pregnancy Q&A blog post, but I wanted to round all of them up in one convenient place! These are pretty much all of the items that got me through my first trimester of pregnancy, and each one was essential! Several of them I'm still using into my second trimester. I'll be quick, but here's why I love each one…
Barefoot Dreams blanket // I've had this blanket for a few years now (it was a Nordstrom Anniversary Sale find) and it is definitely an investment, but it's 100% worth it. This is THE softest blanket I've ever owned – no joke. On days that I didn't feel good, it was nice to cuddle up under this blanket and nap or watch TV on the couch!
Harper Wilde The Base bra // If you're like me, my boobs HURTTTT all first trimester! And they've grown at least a cup size. I had to ditch my old bras and buy some new ones – I went with the Base bra because it's so comfortable, it's seriously like wearing air.
Erbaviva lip balm // I'm really conscious about everything I put on/in my body right now, especially my lips, since you end up consuming some of the product! The Erbaviva lip balm is organic and sulfate- and paraben-free, and is so gentle it's actually made for babies. It smells like honey and lavender, which I love.
DHA supplement & Vitamin Code prenatal vitamins // These are the two vitamins I take every single day.
Barefoot Dreams cardigan // Another must-have: this cardigan is so soft it feels like you're wrapped up in a cloud. I like this cardigan better than a robe because it feels like a robe, but looks more presentable (especially if you have to hop on a Zoom call). Again, its really comforting when you don't feel well.
Vitamix blender // When I felt really nauseous, sometimes smoothies were all I wanted to eat. The Vitamix blender is truly a godsend… it's so powerful, it can whip up a restaurant-quality smoothie in less than a minute. I ordered these Bumpin Blends smoothie cubes to make my mornings even easier.
Glass straws // I used these for drinking my smoothies! Definitely ditch the plastic straws, if you haven't already.
Pedialyte freezer pops // I don't know how "healthy" these are (they probably contain a good amount of sugar), but when I felt really nauseous, I didn't even want to drink water. These freezer pops tasted so good and also helped prevent me from getting dehydrated.
Pink fuzzy slippers // Another necessary item for maximum comfort!
Pregnancy Flakes bath soak // I have these on a subscription plan from Amazon so that I get a delivery every month. They truly are amazing – I sprinkle a bunch in a warm bath and then soak for 20 minutes. They're made of pure magnesium, which is essential during pregnancy – some studies suggest that supplementing with magnesium may reduce the risk of complications like fetal growth restriction and preterm birth.
If you have any tips or "essential items" you want to add to this list, let us all know in the comments! xoxo