Good morning, friends! A few days ago, I had you guys send in your pregnancy questions via Instastories. I rounded up some of the most popular ones below, but if there's any topic you'd like me to write an entire post on, let me know in the comment section. I also wanted to start out this post by saying I know that the topic of pregnancy and conceiving can be a very sensitive topic for a lot of people. I am sharing our story with you today. Even though it took us a while to get pregnant, I know there are so many of you who have struggled for longer, gone through fertility treatments, etc. Everyone's journey and struggle looks different. I may only understand a fraction of what you are going through, but I know what a lonely and hard journey it is – my heart goes out to all of you.
Now, let's begin.
Q: When is your due date?
January 13, 2021. I'm 15 weeks today and the baby is the size of a navel orange!
Q: Tell us the story of how you found out you were pregnant.
It's a little bit anti-climactic haha! I am a serial pregnancy test taker – I ordered this box of 100 tests from Amazon and they're really cheap so I basically tested all the time during the TWW (two week wait). On the cycle we got pregnant, I took a pregnancy test really early on (the morning of 6 DPO – days past ovulation) and saw a very, very, very faint line on the test. I had been taking pregnancy tests for a year and a half and had NEVER seen that before. I got so excited, I ran to Chris's office and showed him the test and was screaming, "DO YOU SEE IT?! DO YOU SEE IT?!" Unfortunately, Chris did NOT see the line!! He was convinced that I wanted it to be positive so badly, my mind was creating a second line. But he could not deny it when it got a teeny bit darker the next day, and then the next, until there was DEFINITELY a second line! And then he was incredibly happy and we were able to celebrate. But it drove me crazy that he didn't believe me at first. 🙂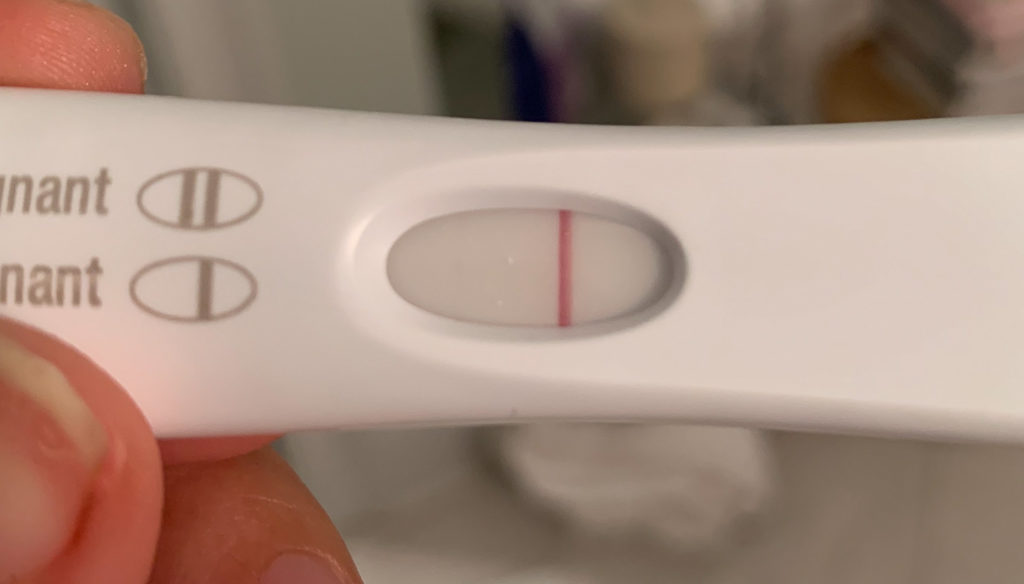 This was a pregnancy test I took that night – can you see the second line?! I definitely can, but you might have to squint a little to see it 😉 Chris and I ran out and bought a package of First Response Early Result Pregnancy tests that night because they're known to be the best!
Q: What is the first symptom you noticed?
The first symptom I noticed was light cramping (I think it was implantation cramps) on 5 DPO. I was also FREEZING COLD on 6 and 7 DPO. I could not get warm! By days 7 and 8 DPO, I started having all of the typical symptoms: my boobs hurt, my sense of smell was heightened, I was SUPER emotional (and still am 🙂 ).
Q: How long had you been trying before you got pregnant and did you conceive naturally?
Chris and I tried for a year and a half before we finally got a positive pregnancy test. We did conceive naturally. To be honest, it was a very tough, lonely, and frustrating journey. This is a very long story, but I'll try to condense it here: We got some test results back a year into our TTC (trying to conceive) journey and our doctor told us that we could probably only get pregnant through IVF. He wanted us to get tested again four months later before sending us to a fertility clinic. For the next four months, Chris and I completely changed our lifestyles – we started taking supplements, ate mostly organic and cooked from home, cut out alcohol and soda, replaced all of our body products with pthalate- and paraben-free alternatives, ditched our Teflon pots and pans, and replaced all of the plastic in our kitchen with glass alternatives. Plus a lot more! We got re-tested at the end of the four months and received amazing results – and a few weeks later we found out we were pregnant. It might seem like a crazy story (it still blows my mind a little!) and I know not everyone's story will be the same as ours, but we feel incredibly grateful. I'd be happy to write a whole blog post on everything we did that ended up working, if you guys want!
Q: How did you keep your spirits up during the "trying-and-nothing-is happening" period?
I have always been an optimist by nature (I think it's just how God made me) – I will always choose to look at a glass of water and see that it's half full. But I will say that when we got the test results back the first time, I was devastated. I cried for two weeks straight, questioning God's plan for us the entire time. If we did end up going down the path of IVF, I realized it could be a very long time before I held my baby in my arms. I know IVF is also a very physically and emotionally draining process. If it came to that, then I would have been ready, but I could not hold back the tears and questions to God. I will never forget that I filled my neighbor in on this information and she cried with me, she hugged me and she said, "Caitlin, God has planned for you to be a mother. It might not be the way you intended, but you will be a mother. And don't you doubt that. He will be faithful." This was exactly what I needed to hear in that moment. And I realized that she was right. I knew God would be faithful, I just needed to continue to have hope. I held on to God's promise that I would become a mother, even if it wasn't the way I had originally planned. I felt so much peace after realizing this, and I really had to let go of all the plans that I had made for myself and for our family. This was up to God, not me. I think realizing that I wasn't in control and simply letting go of it really helped me. And whenever I felt down, I prayed and wrote in my journal… knowing that someday I would look back on that journal entry with a baby in my arms.
Q: Were you tracking your cycle? If so, how and did you use an app?
During my TTC journey, I discovered the book Taking Charge of Your Fertility. I will be forever grateful for this book because I learned so much about my body and cycle, and I really felt so empowered as a woman after reading it. Early on, I started tracking my cycle according to FAM – the Fertility Awareness Method. This method involves recording your cervical mucus and tracking your basal body temperature (BBT) every morning. I ordered a basal thermometer off of Amazon and used an app called Kindara to track everything. I woke up every morning at 6 a.m. to take my temperature, recorded my cervical mucus, and peed on ovulation strips. The FAM method is really cool because it's so accurate – I could determine the exact day I was ovulating every month! Ultimately, this helped us to conceive because we were able to time everything perfectly.
This might seem like gibberish to a lot of you – but the above chart is my chart from the month we conceived! The blue lines show my temperature, and I ovulated on Cycle Day 20 because my temperature increased and stayed high afterward.
Q: Have you had any morning sickness? How did you cope? Have you had food cravings or aversions?
The nausea started in my sixth week of pregnancy. Thankfully, it never got so bad to the point where I threw up, but there were plenty of times I really felt like I could have. For the rest of the first trimester, I felt super fatigued and NOTHING sounded good to eat! I also had a lot of food aversions. The thought of eggs, red meat and fish all made me nauseous. My cravings have mainly been for carbs and sugar (which stinks because I'm trying so hard to eat healthy!). I want pizza, potato chips, OLIVE GARDEN BREADSTICKS, and chocolate chip cookies. On days I felt really bad, I ate whatever I could that made me feel better, and tried not to feel guilty about it (even if it was unhealthy). On days where I felt better, I craved fresh fruit and vegetables and ate lots of salads and smoothies.
Q: What worked best for your morning sickness?
Sea bands and ginger chews unfortunately did not work for me, but here are a few things that did:
Eating several small meals and snacking throughout the day, rather than eating three larger meals. I kept a breakfast bar or saltines right by my bed to eat first thing in the morning.
Pedialyte freezer pops!! These taste really good, are nice and cooling, and also contain electrolytes to help prevent dehydration.
I added these pregnancy flakes to my bath a few times per week and I swear they helped with nausea!
Breathing fresh air. Getting out of the house at least once a day for a walk really helped me.
Distracting myself! Anytime I could successfully distract myself, I barely noticed the nausea. This could be working on a project or just getting lost in a really good TV show – right now I'm really into Vampire Diaries on Netflix.
Q: Can you take baths during pregnancy?
I would consult your doctor about this, but mine said it was fine. I take several baths per week, it's one of the only things that makes me feel better when I'm nauseous! My doctor said it was fine as long as the bathwater is not too hot. You don't want your core temperature to get over 101 degrees. I don't fill the bath up very much and fill it up with warm (not hot!) water. I also don't soak for hours… a good 20 minutes is enough for me!
Q: What prenatal vitamin are you taking?
I'm currently taking this prenatal vitamin, I get mine from Whole Foods. This one is also a great option. Make sure your prenatal vitamins contains folate instead of folic acid. Folic acid is the synthetic version of folate and is hard for most people to absorb! In addition to a prenatal, I've been supplementing with DHA since I've been unable to eat any fish.
Q: How did you hide your bump in the swimsuit pictures you posted?
All of of my swimsuit pictures were taken early on the pregnancy when I wasn't really showing yet! The below photo was taken at six weeks. You would DEFINITELY notice my bump if I took the same picture now! My bump "popped" at 14 weeks.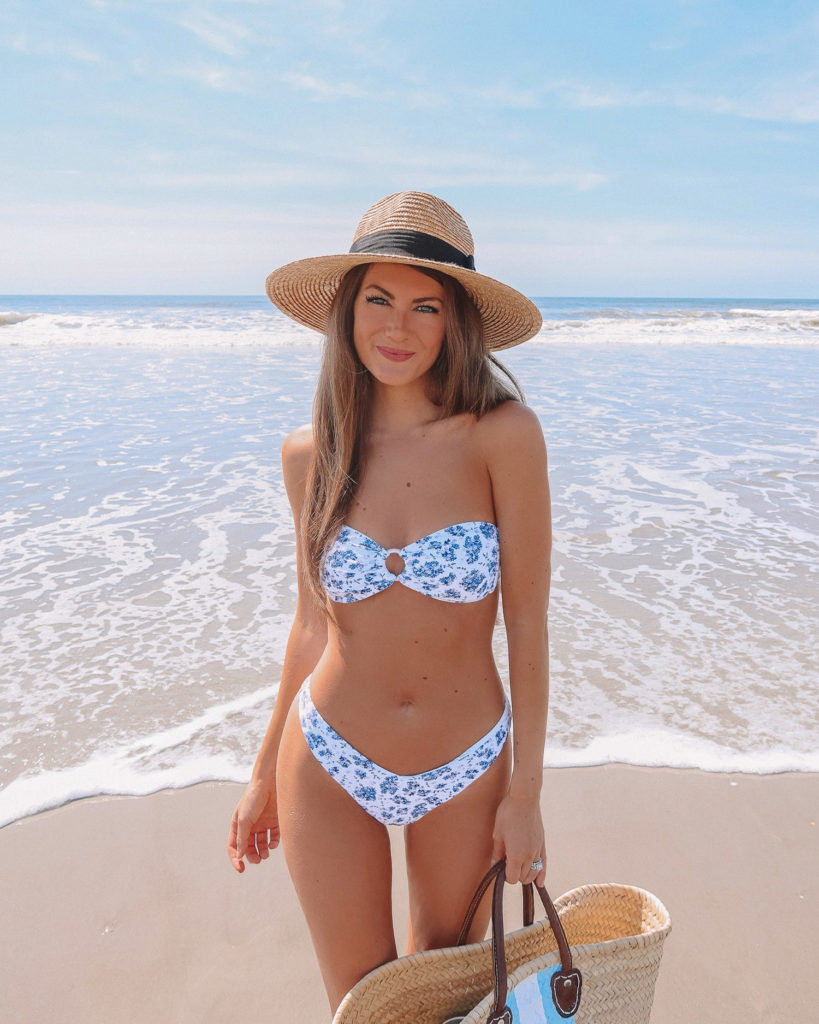 Q: Are you going to find out the gender? Will you be doing a gender reveal?
Yes! We chose to do a non-invasive blood test called MaterniT 21, which can be done as early as 12 weeks. It screens for certain chromosomal abnormalities that could affect your baby's health and development – such as trisomy 21 (Down syndrome) and sex chromosome aneuploidies (SCAs, abnormal numbers of X or Y chromosomes)… and it can also detect if you're having a boy or a girl. We just got our test results back and the baby is healthy, and we know the gender! We want to do something for the gender reveal, but probably won't have a party because we are still practicing social distancing.
Q: Are you exercising like normal?
I could barely work out during the first trimester! I think I worked out once per week, however, I still managed to go on a walk at least once every day (thanks, Winnie!). When you have no energy and feel nauseated, working out is the last thing you want to do! Since entering my second trimester, I've gotten some of my energy back and I've been able to work out several times this week at a higher intensity. (Side note: I have not started "prenatal" workouts yet. I'm still doing my old favorite workouts, just modifying them for pregnancy and what feels good for my body.)
Q: What are you eating now?
Now that I'm out of my first trimester and feeling a little better, I'm able to make healthier choices. I want to do a whole post on pregnancy nutrition – I really think it's soooo important for your baby since everything you eat goes directly to them! I read this book early on in my pregnancy and it's SO GOOD. Some of the foods I've been incorporating into my diet now are organic pasture-raised eggs, bone broth, lots of vegetables, organic chicken and healthy fats like nuts, seeds and avocados. I still can't stand the thought of eating salmon, so I'll keep taking my DHA supplement for now. I've also been craving fruit, so I've been making lots of smoothies. These smoothie cubes have been a lifesaver, and they're formulated specifically for pregnant mommas!
Q: How has pregnancy during COVID been?
Very weird! When you're pregnant, your immune system is lowered (so that your body doesn't reject the baby), and that makes you more susceptible to viral infections, including COVID. We have been taking social distancing precautions extra seriously, while still trying to maintain our sanity. For instance, we cook at home most nights but occasionally will eat at a restaurant if we're able to dine outside and we know that they're practicing safe measures. Doctor's appointments are definitely different with COVID – Chris is not able to come with me to most appointments, including the one where we heard the baby's heartbeat for the first time! Chris was sitting in the car right outside the doctor's office and I Facetimed him in so that he was able to hear the heartbeat as well.
Q: How did you deal with anxiety between first trimester appointments?
The first trimester was full of anxiety for me… especially leading up to the first few doctor's appointments! I had some bad cramping at first and was really concerned for the baby's health. I prayed A LOT and reminded myself over and over that the baby was going to be okay. I've also been doing this daily devotional every morning, and it helps me to keep a positive outlook and reminds me every morning of God's faithfulness.
Q: What was your first baby purchase?
Y'all! I have not purchased ANYTHING for the baby yet! I was waiting to find out the gender. Now that we know… I guess I can start ordering things! I am a little psycho and like to do a lot of research before ordering anything… so it will probably take me a while to create an entire registry. I am really focusing on buying organic/non-toxic baby products when I can.
Q: What cream are you using to moisturize your bump?
I've been researching pregnancy-safe creams and lotions to use (this website is great for that, by the way). So far I've been using this organic shea butter, it's nice but VERY thick. I also placed an order for this one in hopes that it goes on a little easier. This is what I've been using for chapped lips.
Q: Likes and dislikes so far?
Likes: that everywhere I go now, I know I'm not alone 🙂 I talk to my baby all day long. And secondly, my boobs are HUGE! (Well, compared to my A cup before lol!) I love them!!! I told Chris we will just have to keep having babies so that they stay this size for a long time.
Dislikes: My body doesn't feel/look the same anymore. It is a strange feeling to not have control over your body, even though pregnancy is such a blessing! And obviously I dislike the morning sickness and fatigue. I also have to pee all. the. time.
Q: Healthy yet satisfying snacks or protein bars that are safe to have when pregnant?
I recently discovered THE BEST protein bars, I have re-ordered them twice. They're Jonesbars – they contain very few ingredients and are 100% organic. The peanut flavor is my favorite but you might want to check with your doctor before ordering – some doctors don't recommend having peanuts while pregnant. (If you're wondering, I have still been eating peanuts and peanut butter.) Some other snacks I've been enjoying are carrots and hummus, fresh fruit, organic popcorn and raw almonds.
Q: How many children do you want to have?
We want at least three, but maybe we should see how it goes with the first one. 😉
That's it for today's Q&A post, but let me know if you have any more questions! I have a few posts in the works, including my "First Trimester Essentials" and some mocktail recipes. By week two I was already sick of drinking plain water! Oh and thank you AGAIN for all the love and support for Baby Dorsch!
And on one final note, I want to emphasize this again: if you are struggling to conceive, my heart goes out to you. Know that I am praying for you, and don't lose hope.
Xoxox