I CAN NOT believe it's already March! Little miss Collins has been here a little over a month and I feel like she just got here yesterday! February was full of sweet moments and sleepless nights because Chris and I were both on maternity leave, but I am so excited for this new month and for spring too! February's best sellers list is full of a few things I've been loving during postpartum and a lot of cute pieces for spring!
I first got these Boobie Bars from a Thrive Market order and I was hooked as soon as I tried them! They are delicious! I also really feel like they help my milk supply! They were created by lactation consultant and registered nurse. Plus they are made with six organic superfoods that help boost milk supply. I wake up in the middle of the night starving (you hav to consume so many calories while breastfeeding) so this makes an easy and healthy midnight snack!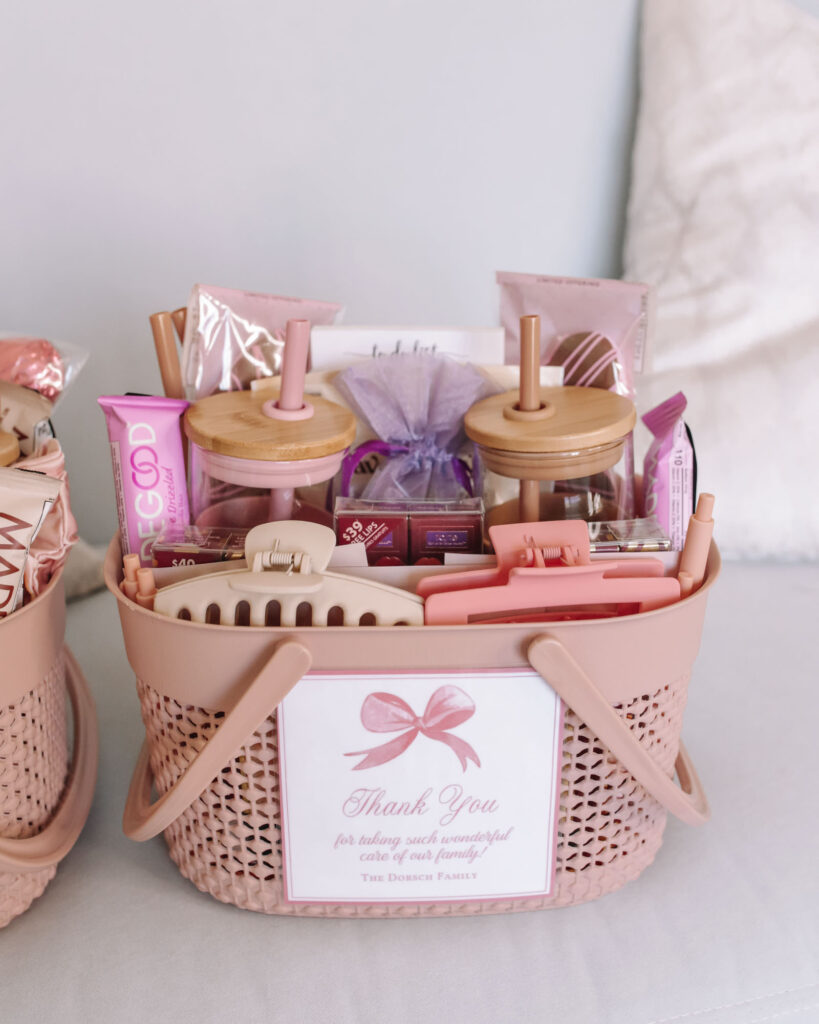 We got these pink baskets for our nurse "thank you" baskets to give to our nurses at the hospital when I had Collins! They are the prettiest shade of pink and they were the perfect size to fill with goodies for our nurses. If you want to know more about what we put in our nurse "thank you" basket, I wrote a whole blog post on it here. I think these baskets would also be super cute for organization around your house – especially in your kids' playroom or as a caddy for bath time!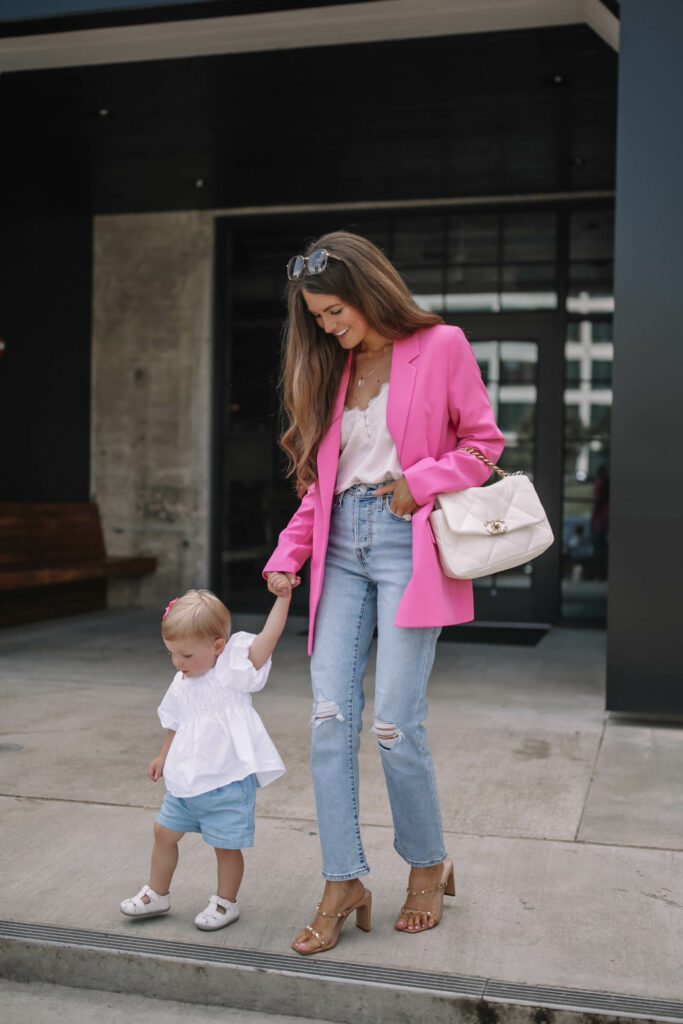 Layers are essential for spring and blazers are the perfect layering piece! They are just so easy to throw over a cute tank or dress and you've got yourself a stylish outfit that's ready for the changing temperatures of early spring. Lucky for us, Amazon has some great blazers! This one is so good that I bought it in three different colors – white, tan and pink! It is really high quality and it fits really well, too. You can wear them over so many things like sweater tanks, Oxford shirts, lace camis, dresses – the list goes on and on. I also love how you can wear this blazer to office or out to dinner depending on how you style it!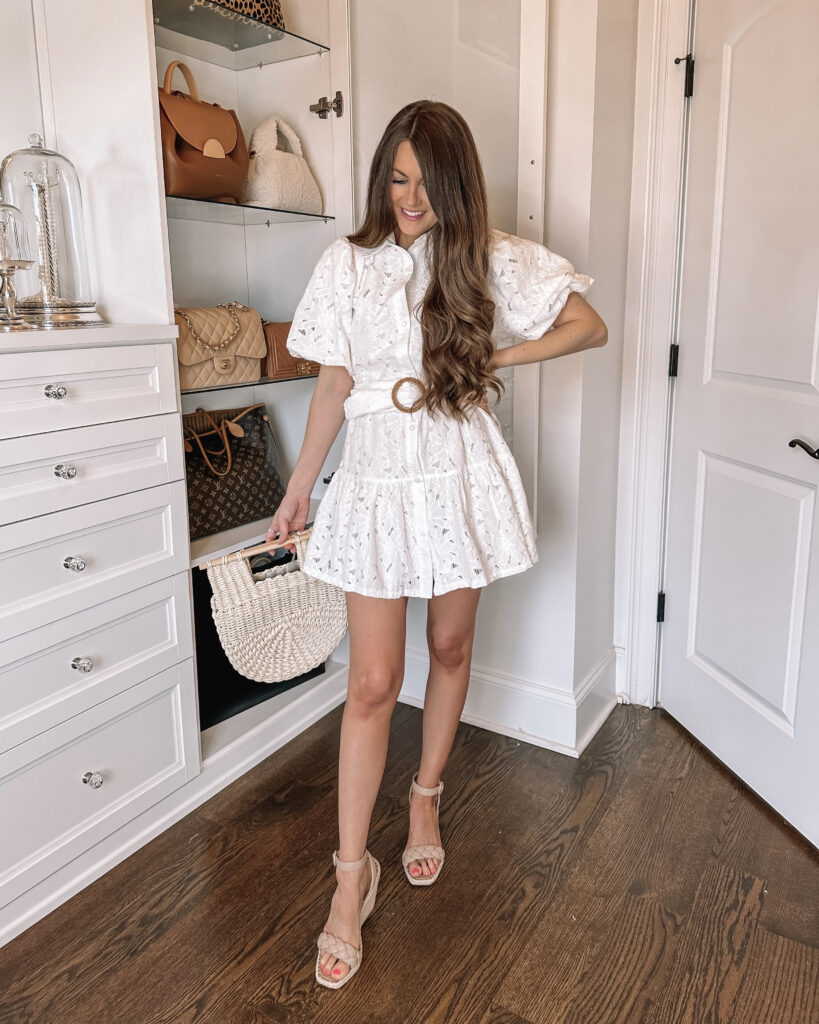 How pretty is this little white dress from Red Dress?! The lace, the puff sleeves and the tiered hemline makes this dress so girly and romantic! I also love how the collar adds a little structure and how the belt makes this dress so flattering! This dress looks and feels designer, but it super affordable at only $58. It's perfect for date night or if you have a warm destination vacation planned for this spring. I also think this dress would be so cute for a bride to wear for a bridal shower!
I think this is the coolest and definitely the most-used of our recent Amazon finds! Right now we have it in the corner of our master bedroom because Collins is still sleeping in there and it's super convenient – especially when she wakes up in the middle of the night. This portable changing table gives us a designated area to not only change her but also a place to keep all her things organized and easily accessible. It's super sturdy and surprisingly a lot bigger than it appears online. I also love how the sides are raised so she can't fall off and how it has wheels (that can be locked) so its super easy to move around if we need to.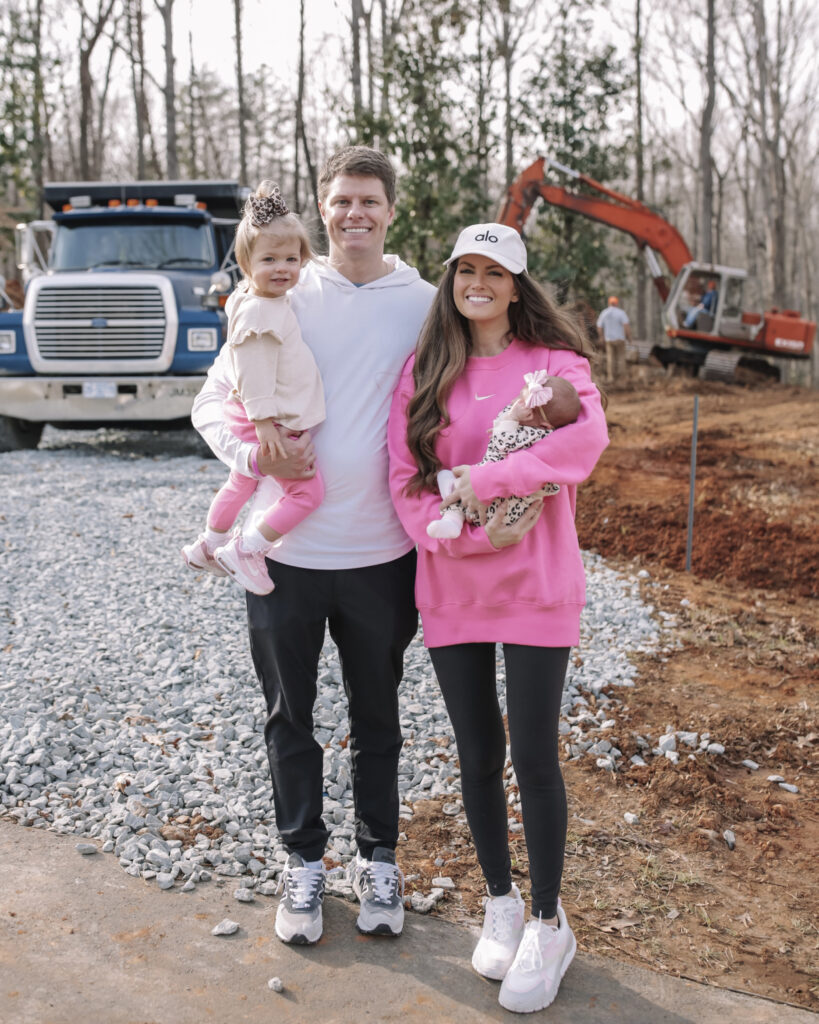 I've been living in leggings since having Collins and it really doesn't get better than the Lululemon Align Leggings! They are the softest and most comfortable leggings I've ever owned. But what really sets these leggings apart is how they never slide down – not even while chasing around a toddler and getting up and down with a newborn all day! They're also the perfect length and they perfect rise. I love the hot pink color, but I also have multiple pairs of black because they are so versatile.
I bought this Nike sweatshirt (also above) to wear postpartum and I'm so glad I did because I have reached for it non-stop over the past month! It has an oversized fit so it's super comfortable and it's the perfect length to wear with leggings. Plus it's such a bright and happy shade of pink! I also bought the matching sweatpants and both pieces look just as cute worn separately as they do worn together! Revolve still has a few sizes left, but it's fully stocked here, at Nike.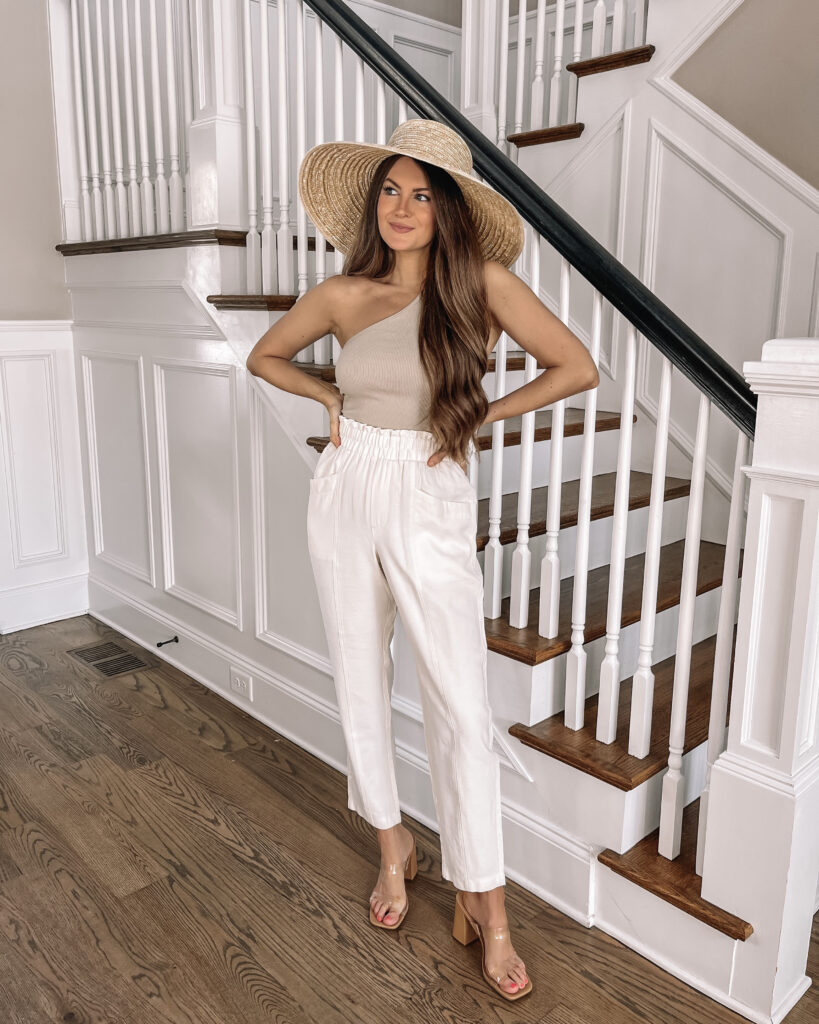 These high-rise pants from Target are a staple piece that you will wear over and over again this spring, summer and even into early fall too! They are super cute and so easy to throw on and head out the door. You can dress them down with sneakers while you're running errands or on travel days and you can dress them up with heels and a cute tank for lunch with friends or date night. I got them in this versatile cream color, but they are also available in pink and black. They're only $25 and fully stocked right now!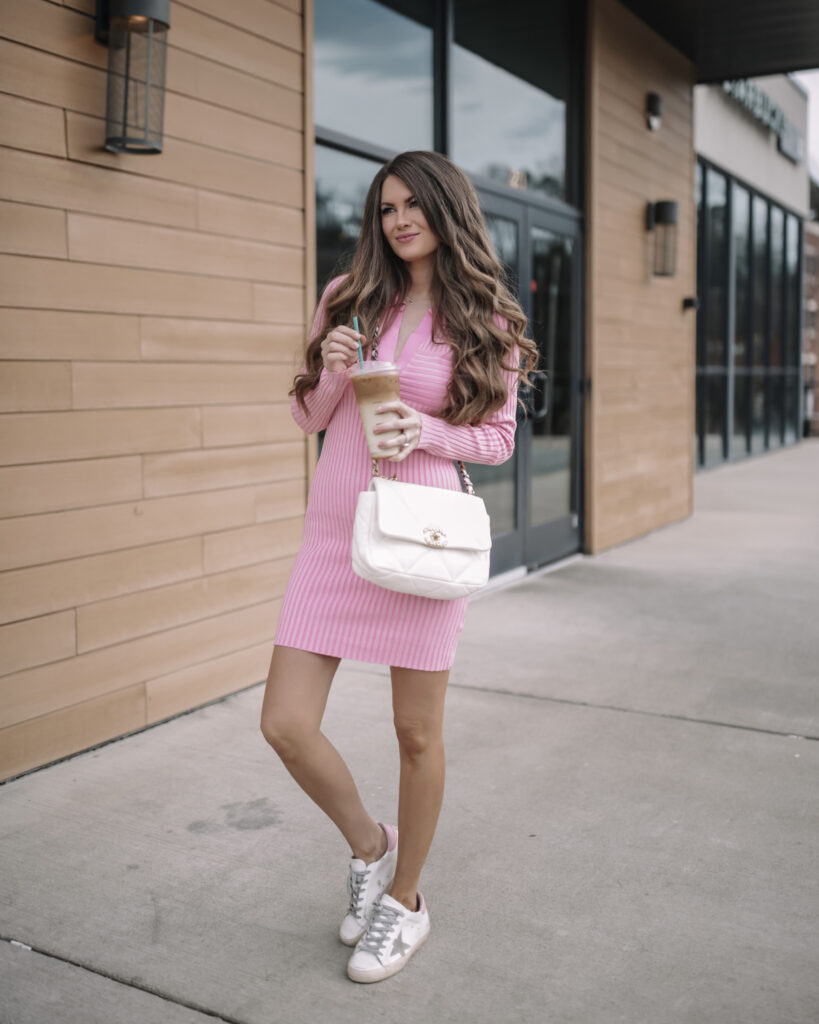 This was one of the "real" outfits I put on after having Collins! It felt so good to get dressed, do my hair and makeup and get out of the house (if even for just a little bit)! I wanted to wear an outfit that looked as good as I felt and was still comfortable too. This pink dress from H&M fit the bill! The ribbing and the collar really make this dress trendy, and it's stretchy so it's super comfortable too. Plus I cannot get over this pretty pink color! I styled it with sneakers here for a more casual look, but you could definitely wear it with a pair of heels to dress it up too.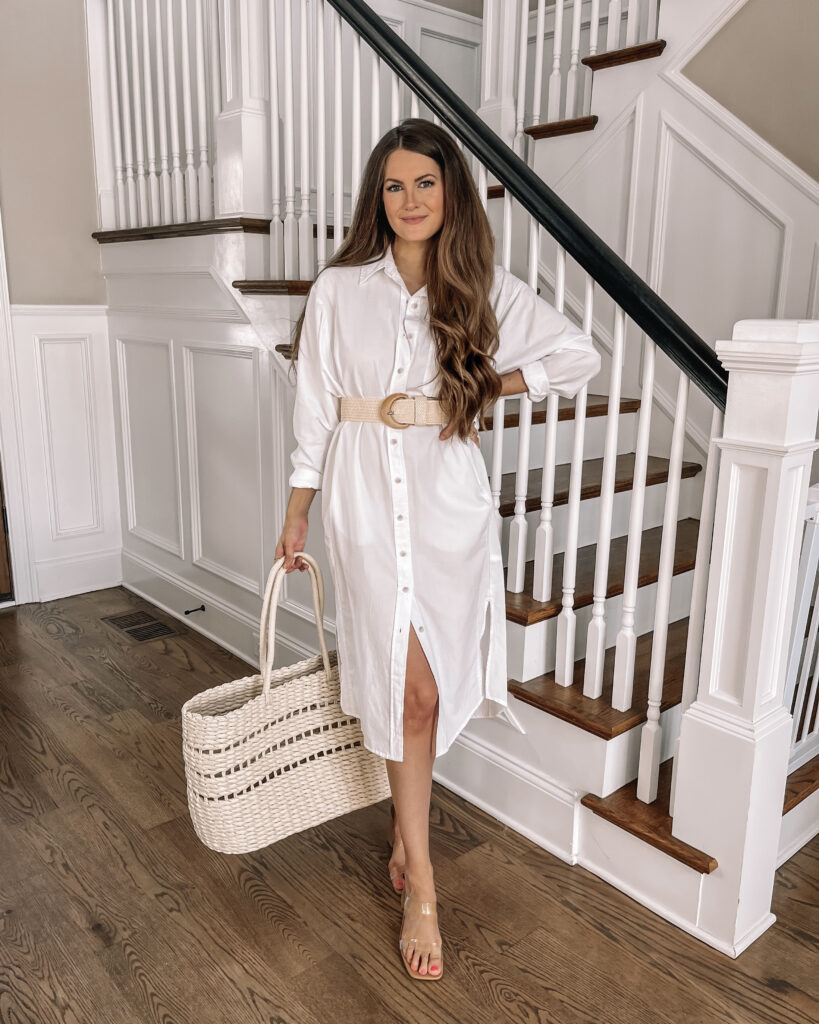 I'm in LOVE with this Target find! This button-up shirtdress has such a classic look and feel! The material is thick and high-quality and the length is perfect. It also has pockets that you can ever so slightly see through the dress and I found that I really like that look! I paired it with these sandals, this belt and this bag– all from Target too! It would look cute as a cover up with flip-flops and a swimsuit underneath too.