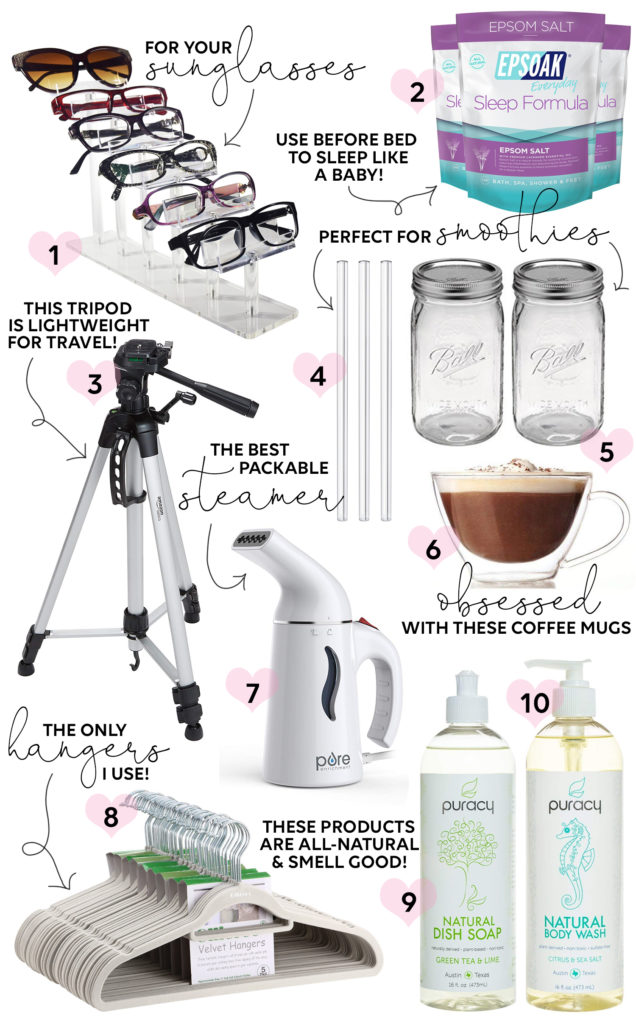 Good morning everyone! Today's post is not sponsored or anything, I just really love hearing about what other people love on Amazon! Over the years I've ordered TONS and tons of items from Amazon, so yesterday I went back through all of my orders from the past several years and picked out the products that I re-ordered over and over again, or got the most use out of. So here we go – my top ten purchases from Amazon!
I have a few of these holders, and they're such a nice chic way to organize sunglasses. Before I had these organizers, my sunglasses would be all spread out throughout the house in different places (a few in my car, one in a drawer in the kitchen, etc.) They were extremely hard to find! This organizer keeps them all in one place and makes it so easy to see all of the sunglasses you own when you're putting together an outfit. Plus you'd never know how inexpensive it is – the lucite looks really nice.
I've reordered these epsom salts four times now on Amazon (each time, I've ordered a 3-pack haha!). I loooove these epsom salts for days that I work out! I run a hot bath at night and pour about a cup of these epsom salts into the bath – the lavender scent is really relaxing, and I wake up the next day without sore muscles. It makes my skin feel really soft afterward and not greasy or filmy at all.
One of my most-asked questions is what tripod I use haha! This one is really light and packable. I've taken it on a number of trips, but it really came in handy during my honeymoon. Almost every single photo that Chris and I took together was taken with this tripod!
These glass straws are amazing for smoothies! I love that they're reusable and you don't have to keep throwing away plastic straws. Because let's be real, it's really hard to drink a smoothie without a straw! These glass straws also come with a couple of little straw cleaners that are really handy. I usually just stick them in the dishwasher and they're fine.
I love these glass mason jars and have placed a couple orders for them over the years! Most recently I ordered this exact set. They're HUGE and I use them for my morning smoothie every day (along with a glass straw). I always make a double batch of smoothies so that I can save half for the next day – these mason jars come with airtight lids that keep my smoothie really fresh even after a couple of days.
Over the years I've gotten so many compliments on these clear coffee mugs, and nobody believes they're from Amazon! These look sooo nice when they're filled with coffee. You automatically feel chic while drinking out of them!
Thanks so my friend Krista for introducing me to this steamer years ago. I really like this one because it's small and portable, but still works really well. I use it almost every day, and even pack it with me on all my trips (you just need a converter for it to work overseas).
When we redid our closet last year, I wanted all of our hangers to match! We donated all of our old ones and then purchased these matching velvet ones. They are sooo nice and I love the light grey/beige color! They're also gentle on your clothes, even sweaters.
I'm in the process of transitioning more of our household cleaners into all-natural. I don't want to use harsh chemicals in our home when we have children! I've used the brand Puracy for a while (I found their body wash first, shown below) and I just started using their dish soap. I'm OBSESSED! It smells sooo good and it's one of the only brands that doesn't contain sulfates. Even my husband commented on how good it smells!
I first started using this body wash three (maybe four?) years ago and really love it. The scent is "citrus and sea salt" and it instantly reminds me of being at the beach when I use it! There are no harsh chemicals in it, and it's made from a plant-derived formula. It also keeps my skin moisturized.
Let me know if there are any household products on Amazon that we need to know about! I love hearing everyone's favorites. xoxo