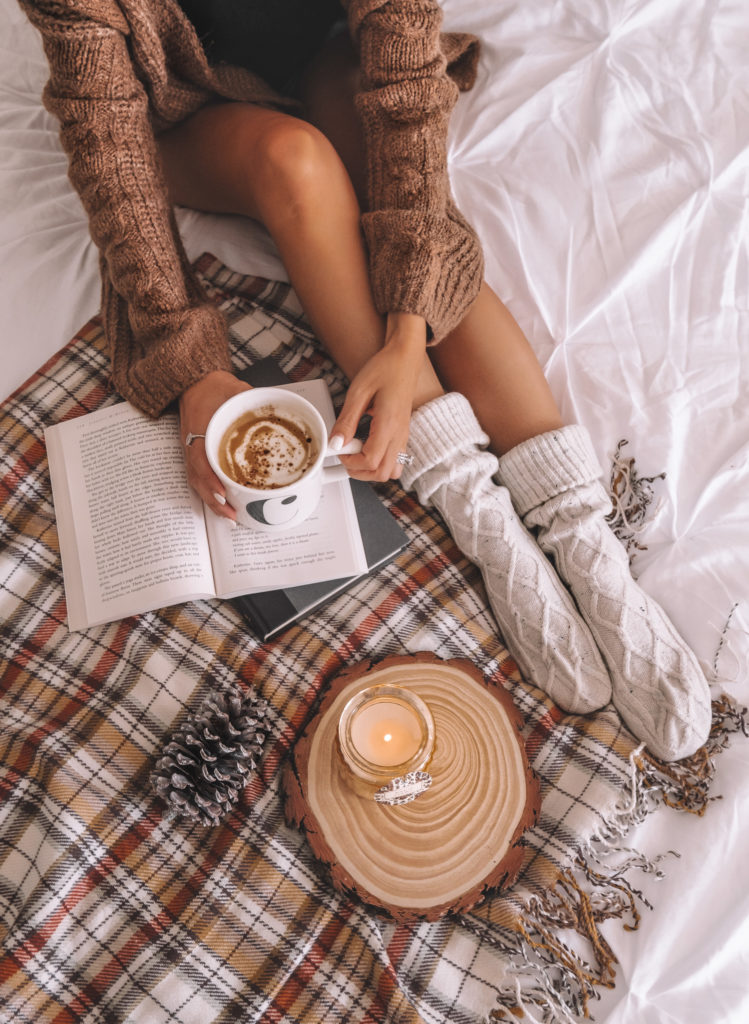 Last week I was on a MISSION to find a pumpkin spice latte recipe that was 1. healthier, 2. tasted good and 3. could be made at home in the comfort of my own kitchen. I don't think I have to tell you guys about how Starbucks' version contains barely any "real" pumpkin and more sugar in one serving than the recommended limit. You probably already know that it's a bit unhealthy (although it does taste good)! I tested more than FIFTEEN recipes last week and time after time, walked away a little discouraged (and with a bad taste in my mouth). I also had trouble sleeping that night because of the amount of caffeine I ingested, hahah. The next morning, I woke up with an epiphany that I should try using espresso instead of K-cups, and that's when this magical HEALTHY HOMEMADE PUMPKIN SPICE LATTE was born. Since that fateful day, I've whipped up one of these beauties every single morning with breakfast. I love how the flavor of pumpkin is present but not overpowering, it's sweet but not sugary, and the scents of cinnamon, nutmeg, ginger and cloves will tickle your nose and have you pulling out your UGG boots and blanket scarves. 😉
Okay, on to the recipe!
My Healthy Homemade PSL
Ingredients
1 shot of espresso
1 TBSP organic maple syrup
1 TBSP organic pumpkin puree (or more to taste)
1 TSP organic pumpkin pie spice
1 cup milk or almond milk
Directions
When the espresso is still piping hot, stir in the maple syrup, pumpkin puree and pumpkin pie spice and stir until well combined.
Using a milk steamer or milk frother, steam the milk until foamy on top, then pour slowly into the espresso mixture.
Top with an extra sprinkle of pumpkin pie spice.
ENJOY!
A few notes about this recipe: You really need an espresso machine to make this. The cheapest one I could find on Amazon is this one for around $100. A typical latte is made with espresso and steamed milk, and it just doesn't work to use regular coffee because it tastes too watered down (trust me, I tried). On that note, you also really need a milk steamer in order to get a creamy consistency with foam on top, but if you don't have one, you could try putting the milk in a blender and blending for a minute or two. For this recipe, I've been using grass-fed, organic whole milk and it froths up beautifully.
Another note: it's really easy to make this entire recipe organic! You can use organic coffee beans or coffee grounds, organic maple syrup, organic milk, etc. and *voila* you have a perfectly clean, delicious latte to help wake you up and get you goin' in the morning without any toxins.
And lastly, if you just don't want to shell out the money for a real espresso machine, we tried this recipe using brewed coffee and a blender and it was quite tasty (and healthy!), although nowhere near as tasty as the version made with real espresso.
Okay loves, that's it for today! If you try out this recipe I would love for you to let me know how you like it! Or if you choose to share it on Instagram/Instastories I will definitely repost! Much love to you all. xoxo