Finally! I have been meaning to get this post up for all of January – so sorry it took me so long. For several years now (since 2015), I've done a big recap of my best buys of the year (all unsponsored!) to update you guys on my very favorite products of the year. These are some of my favorite posts to write, but they are looooong! So grab your coffee – or wine glass 😉 – and let's get started on the best beauty and skincare products I bought all year.
Side note, I know not all of these products are "clean" (that is my focus for the upcoming year). Some of these products I really love and have been using for years and years and years – before I even knew clean beauty was a thing.
BEST PRIMER
This one is the same as last year… I didn't even bother testing out other primers this year because this one is my holy grail and the one I reach for every single time before I have a photoshoot! It really fills in your pores and smooths your skin out before you apply foundation. I have some larger pores between my eyebrows (which I absolutely can't stand) however this product really helps disguise them!
BEST FOUNDATION
I discovered the Natural Radiant Longwear foundation by NARS last year and still love it (I use shade "Vanuatu"!). This is NARS' first 16-hour foundation and it's unlike anything else I've ever tried – it's lightweight, radiant and delivers high coverage that looks incredibly natural, too. I wear this on all of my trips, especially tropical ones, since it's sweat-resistant too!
BEST MASCARA PRIMER
Yep. Still obsessed with this mascara primer!! One tube will last you several months, and it makes your lashes look so much thicker and longer when you put mascara on top. I've been using this for YEARS now and I don't know if I'll ever stop.
BEST MASCARA
I fell back in love with this mascara this year (it was my favorite a few years ago!). It makes your lashes look both long and full – and the brush is really fluffy so it helps to reach every single lash. Plus, it washes off easily with just water. (And on that note, it is not waterproof, but I hate waterproof mascara!) FYI, I use the mascara on top of this mascara primer!
BEST BRONZER
My favorite for several years now: Benefit's Hoola Bronzer. The brush it comes with is really convenient, I use it for contouring my cheekbones and nose. It's the PERFECT bronzer for contouring! I've tried other bronzers and I keep coming back to this one simply for the perfect color and convenient contouring brush.
BEST BLUSH
I'm so proud of myself for branching out in the blush department this year (for many years, I stuck to NARS "orgasm"). This year I fell in love with Charlotte Tilbury's Cheek to Chic Blush in "pillow talk." It's a beautiful pink hue with pearly highlighter in the middle. I usually swish my brush around the outer shade and apply it flat up the cheekbone, starting from the apple of my cheek. Then, with the pointy end of my blush brush, I dip it into the center (the highlighter) and apply it right along the tops of my cheekbones. Or you can blend them on your brush and apply all together!
BEST BROW PRODUCT
Your makeup just isn't complete without good brows, and Anastasia Beverly Hills brow pomade is the be-all-end-all of brow products. I use shade medium-brown! I use this dual-sided brow brush to apply it, and it helps to fill in and shape my brows.
BEST FALSE LASHES
This year I discovered the magic of false lashes. I like my natural lashes, but I was tired of taking mascara off at night. With natural lashes – voila – you have beautiful lashes – and at the end of the night, they don't require any makeup remover, you just peel them off. I really like the magnetic lashes (the ones with the liner), but this pair ended up being my best buy of the year – I do have to cut them down a little bit to fit my eyes, but I can get five or six uses out of each pair and they're sooo pretty (especially in pictures!).
BEST LIP TINT
This is a whole new category this year, all because of this little guy. This lip balm/tint is completely organic and made from the purest ingredients to give you a rosy glow. I haven't used it for my cheeks yet (although you can), but just a pinch on your lips gives them the perfect hint of color. I also love the way this product feels on my lips – it's silky and provides a gentle warmth when I apply it. I use it when I'm not wearing any makeup but still want my lips to have a natural pink hue (sometimes they look really pale and need a little color!).
BEST LIPSTICK
I finally got around to trying the lipstick with a cult-following, Charlotte Tilbury's "Pillow Talk" lipstick. And I love it (like everyone else who tries it!). It's the perfect mix of nude and pink, is universally-flattering on every skin tone, and feels like cashmere for your lips. Hands down, this is the lipstick I reach for every single morning, whether I am running errands in gym clothes or headed to a photoshoot.
BEST HEALING LIP BALM
I really struggled with lip balms this year – I would try out a new product, fall in love with it, and then a few weeks later realize that it was making my lips dryer than before I started using it. Finally, I found this Mario Badescu one and it was a TOTAL GAME CHANGER. I've been using it for six months now and my lips are my moisturized this winter than they've ever been in the past. The product feels sooo silky on your lips. I have two – one for my purse and one for my nightstand – I put it on before bed and it lasts all through the night.
BEST BRUSHES
I've been using It Cosmetics brushes for several years now… I always have a little brush kit nearby. Mine is old but very similar to this one on their website. I think they make some of the best brushes in the beauty industry.
BEST SETTING POWDER
This setting powder is new to me – I actually received it as a gift and it was one of the best gifts I received all year. LOL. It's the Hourglass Veil Translucent Setting Powder and wow it's good. It's so finely milled that it never, ever (no matter how much you apply) looks caked. And it sets my concealer and foundation for the entire day.
Best Skincare Buys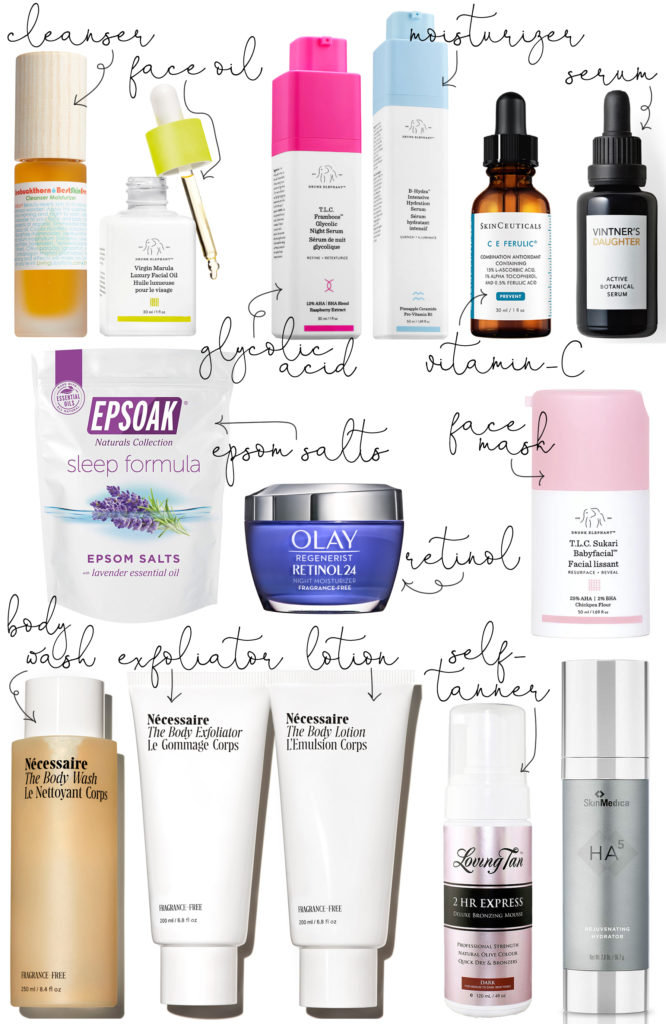 Best Cleanser
I've talked about this cleanser a few times in the past year – first thing first, it is completely clean with organic ingredients such as seabuckthorn oil, jojoba oil and virgin coconut oil. Here's how I use it at night: wet a small portion of a wash cloth with warm water, apply the oil to the wash cloth, then gently go over my face in circular motions to exfoliate and remove makeup until my face is clean. The great thing about this product is that it also moisturizes your skin while it cleanses and exfoliates, it smells delicious, and I've also used it on my body as an all-over moisturizer when I get out of the shower. If you're still not sold on it, check out the 668 glowing reviews on Living Libations' website.
Best Face Oil
I use an oil as a moisturizer every night, and this virgin marula oil from Drunk Elephant works wonders. It's high in critical antioxidants (which protects your skin against environmental stressors and free radicals!), deeply moisturizing, and Drunk Elephant touts it's ability to reverse the signs of aging. I know one thing, I always wake up glowing in the morning whenever I use this!
Best Glycolic Acid
I've started using this glycolic acid serum a few nights a week in an effort to help fade away acne scars and improve the texture of my skin. I swear I noticed a difference the first time I used it! My skin felt overall smoother upon application and I woke up feeling like I was glowing. With consistent use, I've noticed smaller pores and those acne scars really are starting to fade. Just a note that this product works really well in combination with the virgin marula oil (otherwise, it can dry out your skin).
Best Moisturizer
Are you sensing a theme with the Drunk Elephant products? (I've loved everything I've ever tried from their line!) The B-Hydra Intensive Hydration Serum is like a cool drink of water for thirsty skin. I'll apply this whenever I need immediate relief from dry skin – no matter the time of day. Sometimes I even mix it with my makeup primer in the mornings for moisturized skin all day long.
Best Vitamin-C serum
My dermatologist friend recommended this Vitamin-C serum to me and said I should be using it in the mornings. To be honest, I don't love the smell or greasy feel of this product, but I PROMISE it does really work. It contains pure vitamin C and E to enhance your skin's protection of environmental damage throughout the day – which is why it's recommended to use it in the morning! It also works really well as a base for your daily sunscreen.
Best Overall Serum
If you are only going to buy one serum from this list, make it this one!!! Yes, it is very expensive (it really hurts when you finish that first bottle and have to buy a second one, lol) but it is worth every penny. It's strategically formulated with 22 nutrient-rich botanicals and essential oils and SMELLS LIKE HEAVEN. My favorite nights are the ones where I cleanse my face with Living Libations Seabuckthorn Oil and then finish with Vintner's Daughter. The smell alone is so heavenly and puts me right to sleep. Just FYI, I usually switch off between using this one and Drunk Elephant's virgin marula oil (I never use them at the same time).
Best bath salts
I have re-ordered this so many times on Amazon over the past two years. These Epsoak sleep formula epsom salts are absolutely amazing. I love taking hot baths (with a cup of tea!) at night before bed. These epsom salts are infused with lavender essential oils that will instantly make you feel calm and sleepy. Epsom salts are also great for healing sore muscles, so I'll specifically use these if I've had a strenuous workout that day. I SWEAR that they actually work!
Best retinol
I did a campaign with Olay this year and fell in love with their Regenerist Retinol24 Night Moisturizer. Since the campaign, I bought a new jar with my own money – I love that it's so affordable and also really works! (Check out my results and before-and-after photos here). If you're looking for a daily retinol, definitely try one from their line – I found it to be gentle but still effective. Update: since we are trying to conceive I have since stopped using retinol.
Best Face Mask
This product is a facial in a bottle! This is an at-home "facial" that effectively yet gently exfoliates the pore lining and resurfaces by getting rid of built-up dead skin cells. I love that it's called "Babyfacial," because it really does make your skin feel like a baby's: more even, radiant, and baby-soft. I use product this twice a month. Update: since we are trying to conceive I have since stopped using this product.
Best Body Wash
I fell head-over-heels for Necessaire products this year because of their clean ingredient list (LOVE the fact that they're all fragrance-free!). This body wash has been my go-to – I actually just ordered another bottle because my first one only has a teeny bit left. I use it in the shower as body wash, and have also used it in the bathtub to create some bubbles (instead of using a bubble bath). It cleans my skin but doesn't leave it dried out, even during the winter months.
Best Exfoliator
Okay, all my self-tanner girls out there know how important it is to exfoliate between tanning sessions – this one is for y'all!! I use this exfoliator in conjunction with a charcoal exfoliating sponge whenever my tan starts to look wonky – it really is the best for exfoliating and makes your self-tanner go on super smooth.
Best Body Lotion
Another winner from Necessaire – this body lotion is fragrance-free and made of clean ingredients – which means, it's free of sulfates, phthalates, parabens, petrochemicals, mineral oil, silicone and talc. This has the amazing texture and feel of an expensive lotion, just without the overbearing scent. And it's super hydrating – I apply it right out of the shower and it keeps my skin feeling moisturized, even in the winter.
Best Self Tanner
This one should not come as a surprise to anyone 🙂 I've been using Loving Tan 2-Hour Express (in "dark") for a while now to keep a dark tan, even in the winter months. I always feel better and more confident with a tan, and this stuff is the BOMB. Basically, you apply it all over with a mitt, and then can wash it off two hours later and – voila. You're tan. Sometimes I don't even wait the full two hours, I wash it off after one (if I'm in a hurry) and it still does a great job. I've never been streaky with this stuff, I think the key is applying it with a mitt and applying it in a circular motion!
Best Hyaluronic Acid
If you're looking for a hyaluronic acid serum that will also keep your skin hydrated overnight, look no further than SkinMedica's HA5 Rejuvenating Hydrator. This stuff has a cult-following (even Hailey Beiber uses it) – it's made from five different types of hyaluronic acid and helps replenish your skin's natural hyaluronic acid production. I don't use this a lot in the summer but I love incorporating it into my skincare routine a few times per week in the winter!
Best Haircare Buys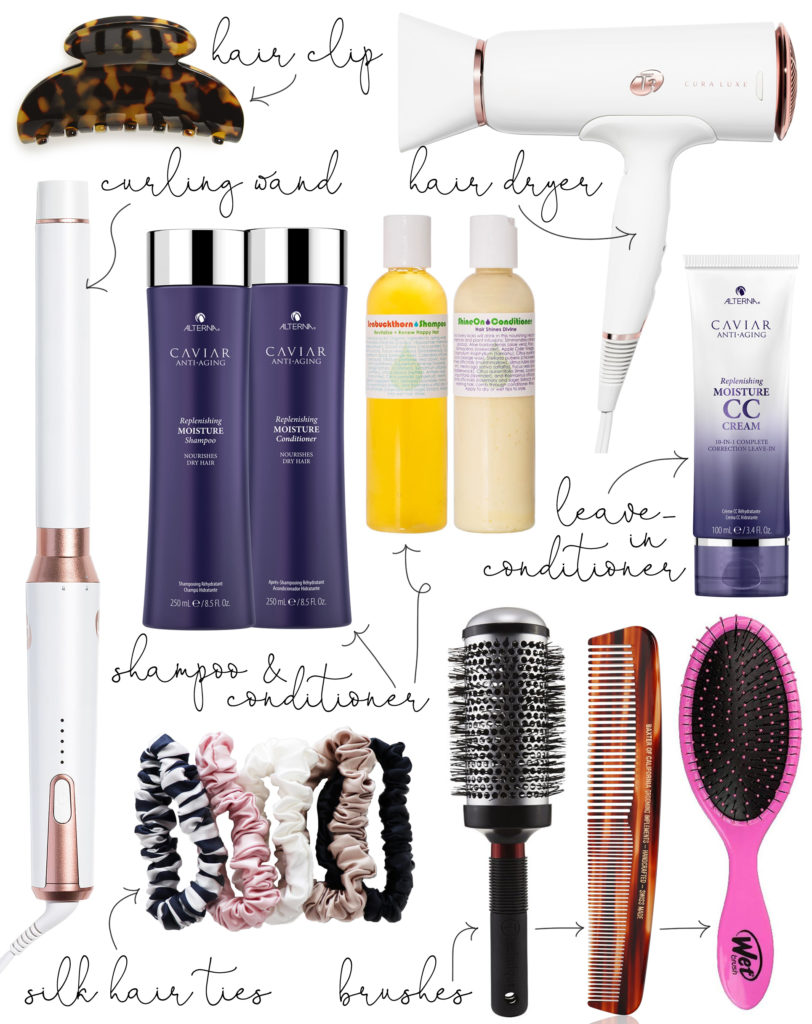 Best Hair Clip
I use this hair clip to create volume in my hair after blow drying/curling it! I pouf up the top strands (so that I look kind of like Elvis) and then clip it to stay in place. I'll keep it like this while I'm getting ready, it helps "train" my hair to have volume, if that makes sense!
BEST BLOW DRYER
Last year I upgraded my dryer to the T3 Cura Dryer and I've used it ever since. This dryer works really fast and makes my hair feel softer. I've talked about it a ton on my blog before so you guys probably already know all about it!
BEST CURLING WAND
Another thing I talk your ear off about – my T3 curling wand. I use the 1″ straight barrel on my hair in pretty much every single blog post – the curls last for DAYS. Just a warning, it does get very hot! I have it set on the third highest heat setting (it goes to five) and it's plenty hot enough.
BEST SALON SHAMPOO AND CONDITIONER
I used a bunch of different drugstore shampoos and conditioners over the past couple years and honestly really liked them all. But if you want to spend a bit more money on a shampoo and conditioner, I think this Alterna Caviar shampoo and conditioner set is truly worth it. I switch up shampoos a lot, but always seem to come back to these. I tend to have dry hair (especially from blow drying/curling it all the time) and these products infuse moisture back in and make my hair feel silky and full of life (without weighing it down at all). Try it once and you'll be hooked!
Best Clean Shampoo and Conditioner
I recently tried out this "clean" shampoo and conditioner. Now, I've only used it twice but HOLY MOLY! I love it. It made my hair feel really soft, yet my curls stayed for days (I used it before taking this photo). The shampoo is so pure that you can also use it as a bubble bath and body wash for babies, too. My mom loved the smell of my hair so much after using this that she ordered her own set. 🙂
Best Leave-In Conditioner
Going along with my love for the Alterna Caviar products is this CC Cream. This is a SUPER strengthening product – perfect if you have weaker hair or split ends. I have a lot of split ends right now so this product is a must-have for me. I apply right out of the shower while my hair is still wet – it makes my hair a lot stronger and decreases frizz – I LOVE how my hair looks after styling with this product.
Best Hair Ties
THE. BEST. HAIR. TIES. OF. ALL. TME. I caved and bought these silk hair ties just to test them out. They're the absolute best. Now I am guaranteed to have one on my wrist at all times (they even sneak into my photos haha like this one). Not only do they not damage your hair at all (since they're made of silk), but they're super strong at the same time. I wear my hair in a low ponytail to boxing and even after an intense workout session, there's not a hair out of place.
BEST ROUND BRUSH
I've been using this thermal round brush for several years… it makes blow-drying my hair so much easier! I use it with my hair dryer at least once a week and the bristles do not melt. If you have long hair, you don't have to worry about your hair getting tangled around this one! I've had mine for so long now that I really need to purchase another one.
BEST COMB
This comb is certainly kind of expensive for a comb, haha, but it's the highest quality one you'll ever own! I use it in the shower to detangle my hair (I actually comb my hair out when the conditioner is still in it – it's way easier on your hair).
BEST WET BRUSH
This detangling brush is perfect for using on wet hair – I use it after a shower to get any leftover tangles out, and then I use it in combination with a blow dryer to air dry my hair. I also always bring one with me in my beach bag!
Random Favorites…
This section is a little random, so I titled it "random favorites" haha. These are some purchases I made this year that were life-changing in some way or the other.
Vitamix
This is the year I finally bit the bullet and got a Vitamix. This thing gets more use in our household than any other kitchen item we own. We're constantly making smoothies, sauces, soups, dips…. even cookie dough dip! We had the Ninja blender before, and it can't even compare to the Vitamix. We're able to make complex (and healthy!) recipes that we were never able to before. Hands-down one of the best purchases we made all year.
Furbo Pet Camera
This year we invested in the Furbo Pet Camera and have gotten so much use out of it. You operate it via an app on your phone, and it lets me check in on Winnie and the cats when I'm not home. You can even feed them treats through the pet treat dispenser! It also gives me peace of mind because it records whenever a person enters the room (that way I know our house is safe while I'm gone).
Adidas Swift Sneakers
Without a doubt my favorite sneakers this year, the Adidas Swift Run Sneakers in white stole the show. Not only are they pretty (love the crisp white), they're amazing workout shoes – they've taken me on runs and through boxing classes without a hitch. I didn't even bother purchasing any other athletic sneakers this year. I also love that they go with any workout outfit, since they're white!
Water Filter
I recently upgraded my water filter to this glass one. We previously had a plastic one which I liked, but mold started to grow in the plastic parts and it really freaked me out! I also just didn't like the idea of our water sitting around in plastic for long periods of time. Hence, I began my search for the perfect glass water filter, and I stumbled upon this one. There is absolutely zero plastic in this design, it's made from ultra-strong borosilicate glass and stainless steel. Not only does it remove fluoride, chlorine, chloramine and heavy metals, but it remineralizes the water by adding iron, zinc, calcium, magnesium, and other minerals and trace elements. I can say with conviction that water from this filter is truly the best water I've ever tasted.
Whew! Sorry that was such a long post you guys! I'd love to hear if you found any life-changing products this year. Leave them in the comments so that we can all learn from each other!