quick shop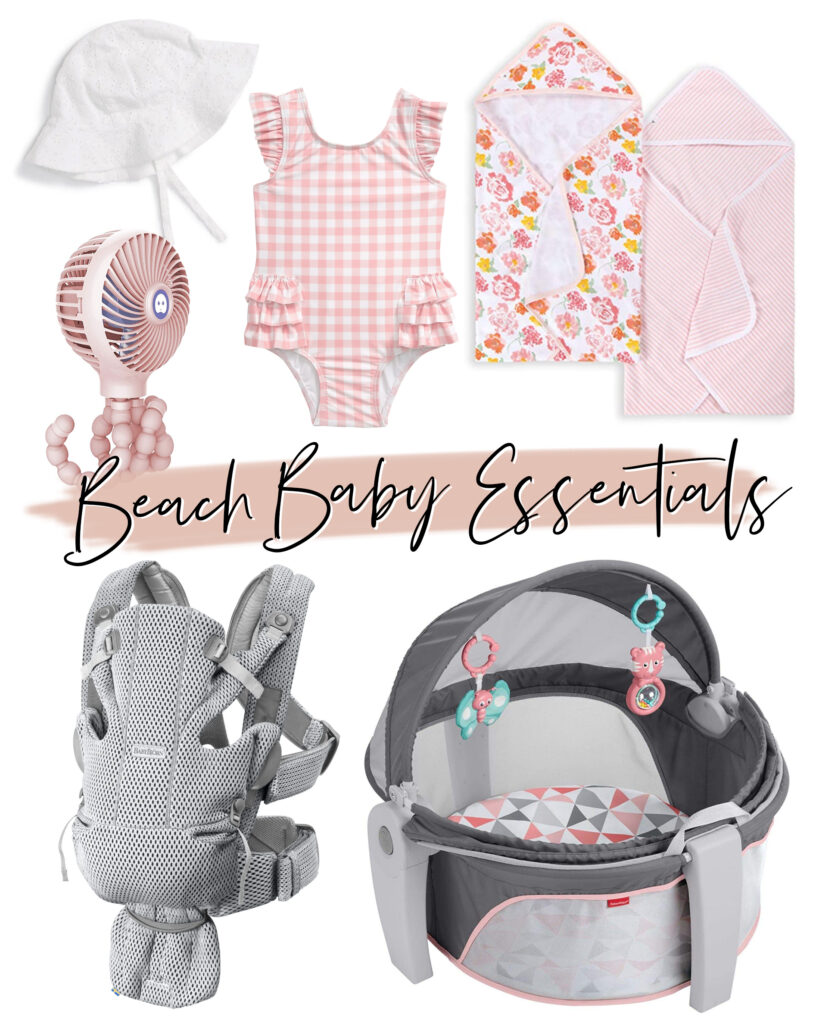 Being on the beach with Kennedy is one of my most favorite things in the world!! She just seems so happy on the beach… she smiles and giggles (I think she likes the wind in her face), and takes the most peaceful-looking naps! We have definitely learned that taking a baby to the beach requires a lot of extra things to be added to the beach bag (and car). With summer vacations right around the corner, I thought it would be helpful to roundup our beach baby must-haves. If you have a baby and think there's something missing from this list, definitely let us all know in the comment section!
This beach dome is a lifesaver! It provides lots of shade and it's a safe place for Kennedy on the beach. She loves to feel the ocean breeze and this beach dome has mesh sides so the wind can get through but it still keeps the sand out! It is also really easy to set up and lightweight enough for me to carry. It's big enough for her to use for several more months, and there's even space for a few toys inside. We have also used it a lot just in our backyard, so you don't necessarily have to use it at at the beach!
I always use this mesh carrier to carry Kennedy with us to the beach, for safety reasons! There are a ton of steps leading to the beach and I know that she'll be safe and secure in this carrier. It also allows me to have my hands free to hold on to the railing or to carry a beach bag. The mesh exterior is light and airy so it keeps us and Kennedy cool. It is also more water resistant than the cotton carries and it's quick-drying, too!
This portable fan is one of our most used baby items! We use it on walks, at restaurants and especially on the beach. Like I said before, Kennedy just love to feel the breeze so when the natural breeze dies down this fan it helps to keep her cool. It easily attaches to her carseat, stroller, and beach dome!
Sand gets everywhere at the beach!! This is especially true for little babies because they have those cute little rolls all over! Baby powder is one of the best ways to remove sand from baby's arms and legs and hard-to-reach places like in between their toes. Make sure the sand is completely dry, and then apply baby powder to any area where the sand is sticking – wipe off the excess sand and voila! It will be like you were never at the beach at all.
Sometimes babies just have dirty diapers on the beach and you have to change them ASAP! That's where these little bags come in handy! You place dirty diapers in these lightly scented bags and they will mask the smell until you can throw it away in a trashcan. I also love how they come in a super cute gingham dispenser pouch!
These wet dry bags are also great to have for quick changes on the beach. I keep clean dry clothes in one bag and put dirty or wet clothes in the other bag. They are easy to throw in your beach bag and they keep the wet clothes separate from the rest of your things!
We made the decision not to use sunscreen on Kennedy until she's six months old (for now, we are really diligent about keeping her in the shade). But, come July we will definitely be packing a clean baby sunscreen – I plan to use this one by BeautyCounter. It's made with incredibly clean ingredients!
Extra Swimsuit
I always pack Kennedy an extra swimsuit in our beach bag! It is great to have on hand in case she has a dirty diaper or if she gets uncomfortable being in a damp swimsuit. Think of it like packing an extra outfit in your diaper bag!
Since Kennedy isn't six months old quite yet and can't wear sunscreen, it's really important that we keep her covered from the sun! So I always make sure I have her a sun hat packed! Most of the time her head is covered by the beach dome. But the sun hat keeps her head and face covered when we go on walks of put her feet in the ocean! We love this one because it matches most of her swimsuits.
If you've been to the beach with a baby and have any tips, definitely let us know in the comments!