Good morning, everyone! I had a bunch of requests for this travel guide to Banff so that's what I'm sharing today. It was easily one of the top two prettiest places I've ever been (the first being the Amalfi Coast in Italy) and it was one of my top five favorite trips, because my mom and I had so much fun on this one 🙂 And we ate a TON of good food, haha! I'm rounding up my instagrams from the trip, but you can find our full trip re-cap and recommendations on where to eat, stay and play at the end of this blog post.
The view from Rock Pile Trail…
This picture was taken at Earl's one day for lunch (more info on Earl's below).
Another image from Moraine Lake, from our hike up Rock Pile Trail.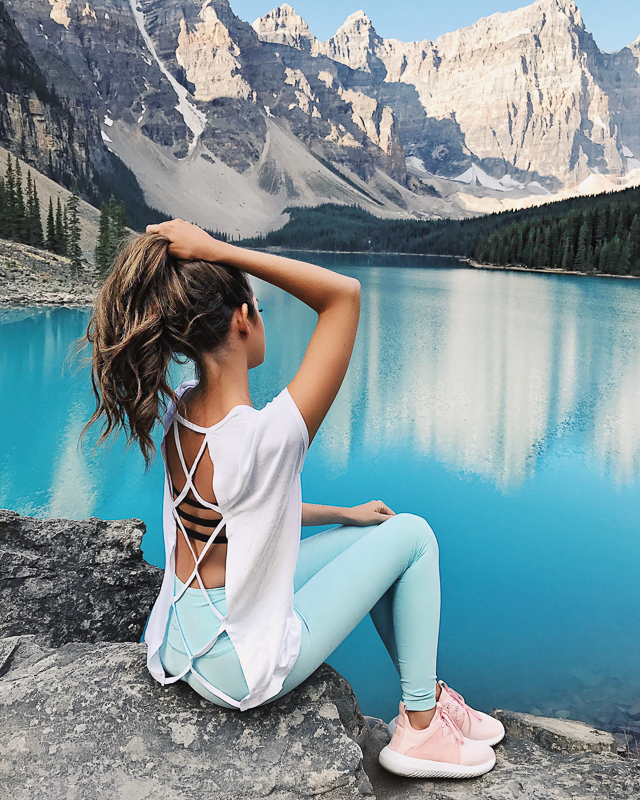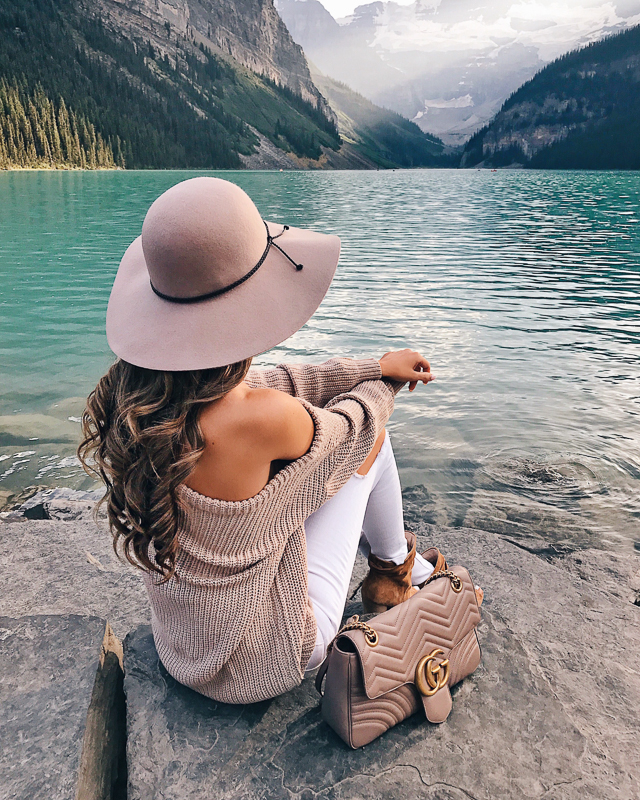 I truly believe everyone should travel to Alberta at least once in your life, to experience how pretty it is yourself. This would make a great trip for girlfriends, a romantic couples trip or even a family trip with your kids (the hotels we stayed at were incredibly kid-friendly!). Anyway, let's get started…
The easiest way to get to Banff and/or Lake Louise is to fly into the Calgary airport (YYC). It's an hour and a half drive from the airport to Banff, so my mom and I chose to rent a car – it's too far to take a taxi.
My mom and I decided to split our trip into two parts: Banff and Lake Louise. They are about an hour away from each other and both completely worth it! If you call to make reservations at either Fairmont hotel, they can book your stay at both (this is also easier because they have full access to both hotels' room availabilities). We stayed at the Fairmont Banff Springs (in downtown Banff) first, which was a good decision because it's closer to the airport! If you're looking for a less expensive alternative, there are a bunch of small hotels and motels located in both Banff and Lake Louise.
We wish we had time to try more restaurants! We received recommendations from lots of people (thank you!) and here were some of the most-recommended restaurants: the Maple Leaf Grill and Lounge on Banff Ave., Bear Street Tavern in Banff for pizza, the Grizzly House in Banff for fondue, Crazy Weeds in Canmore, lunch at Muriettas on Main Street in Canmore, and High Tea at the Fairmont.
So many of you guys said you were headed to Banff in the near future, so if you have any additional questions feel free to leave them in the comment section below! 🙂
Thank you to everyone for following along!
xoxo