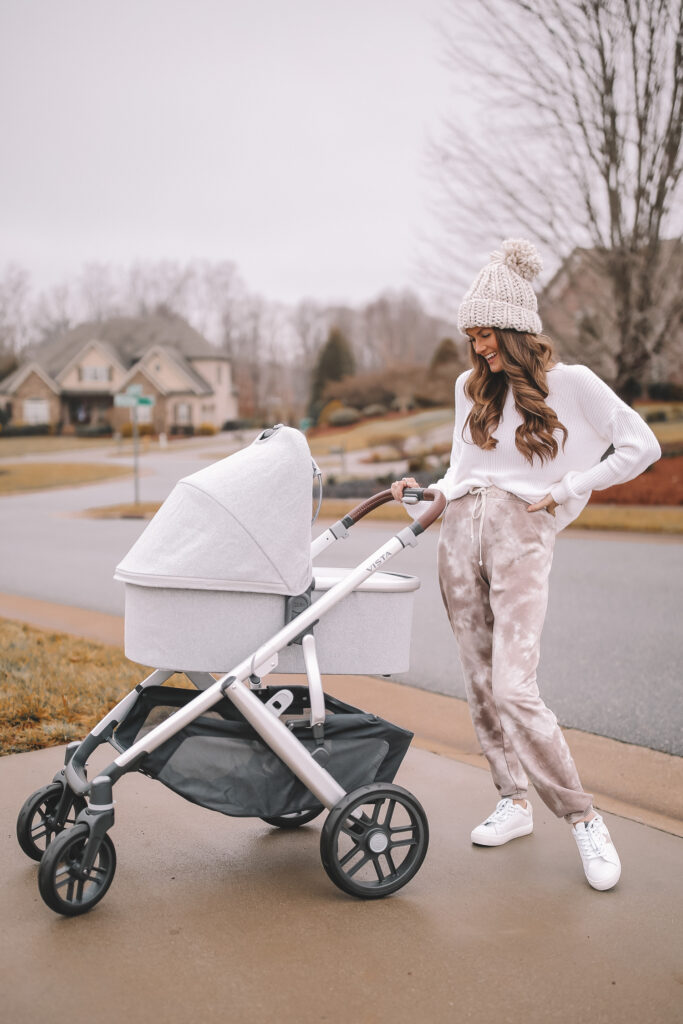 Nordstrom has absolutely everything for women, from beauty products to designer bags to my favorite hair dryer. But what I didn't realize (until about six months ago), is that they have a plethora of baby products, too! We love Nordstrom (and their amazing return policy) and have gotten most of our "big" items from them, like our stroller, car seat and bassinet.
Here are a few of the exact items that we own and that I've been using like crazy over the past week and a half! (Scroll down for a little review of each item.)

This stroller was the #1 recommended stroller from our family and friends. They all told us that it works really well and lasts for YEARS, so multiple children all got to use it. It comes with a bassinet (with a ton of cool features) and a reversible toddler seat that can be positioned upright, reclined or anywhere in between. We try to go on a neighborhood walk at least once a day, and the stroller has been amazing! It's incredibly smooth, even when there are bumps and cracks in the pavement, and Kennedy stays asleep the entire time all cozy in her bassinet, protected from both the wind and the sun.
We went with this car seat because it's the lightest one on the market, and I was seriously worried about being able to lift the car seat in and out of the car by myself! The car seat weighs only 5.3 pounds and also made the list of non-toxic car seats because it has no added flame retardant chemicals or fabric treatments. We bought a really simple adapter that lets us attach the Nuna car seat to the Uppababy stroller base, so no worries that they aren't the same brand.
After some debating, we decided to go with the Halo Bassinest as our bedside bassinet. I honestly didn't want a bassinet with a lot of bells or whistles, and I didn't want one with movement because I wanted Kennedy to learn to put herself to sleep, rather than be rocked by a machine. We specifically went with the Halo because it fits right over our bed, so all I have to do in the middle of the night is sit up and lean over to grab Kennedy for nighttime feedings. I wouldn't say it's the prettiest bassinet I've ever seen haha but it certainly gets the job done and we love it for that reason!
We received two of these for baby shower gifts from our registry, and couldn't be happier with them. Right now we have one in the living room and one in our bedroom cause that's where we're changing her diapers the most. These trash cans are air tight and really contain the smell of the dirty diapers so you can't smell them at all – we also keep the lid locked at all times!
I bought two diaper bags from Nordstrom, a plain black one (it's not available any more) and this leopard one. I love this one! I think it looks more like a chic handbag than a diaper bag. I keep it fully stocked with diapers, wipes, etc. and I've already gotten to use it because I've taken it with us to Kennedy's pediatrician appointments. The exterior is water resistant and it comes with a changing pad and TONS of interior pockets for staying organized!
Someone gave us these muslin swaddles as a gift and we love them! Kennedy loves to be swaddled (it makes her feel like she's still in the womb), so we constantly are swaddling her up in these blankets. They make a ton of different cute designs for both boys and girls!
If you had a specific item that made your life easier with a newborn, I'd love to hear it!
*Thanks to Nordstrom for sponsoring this post