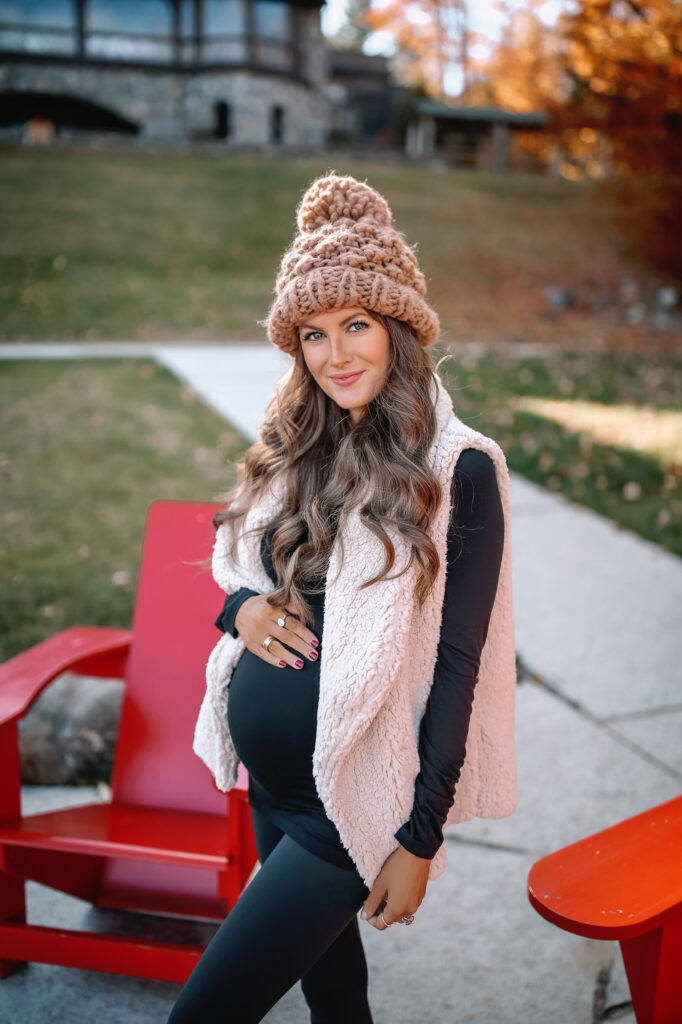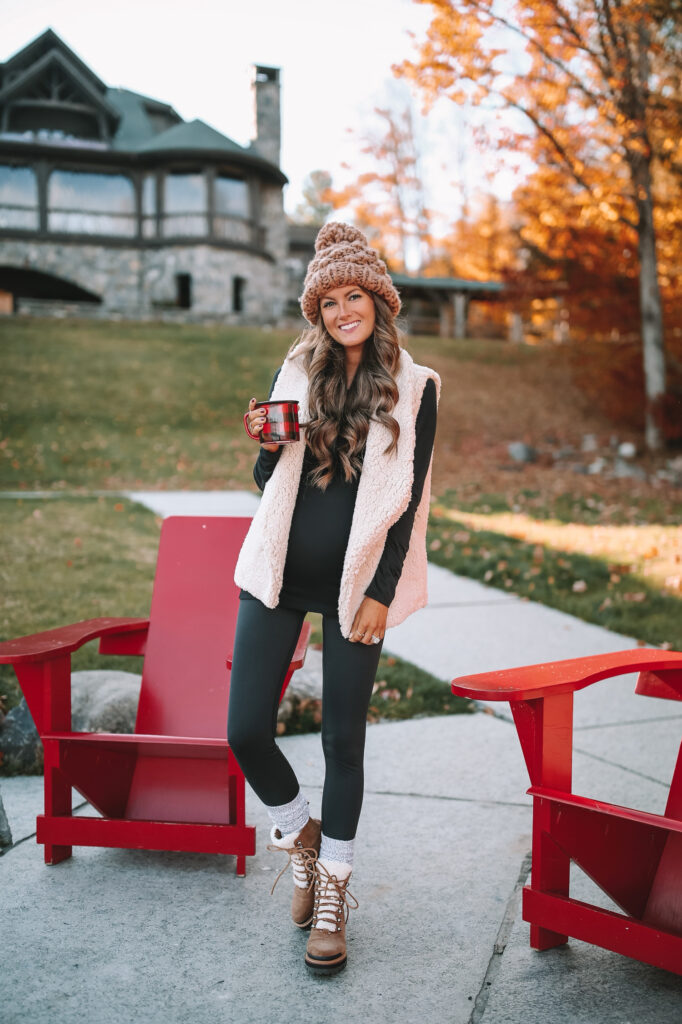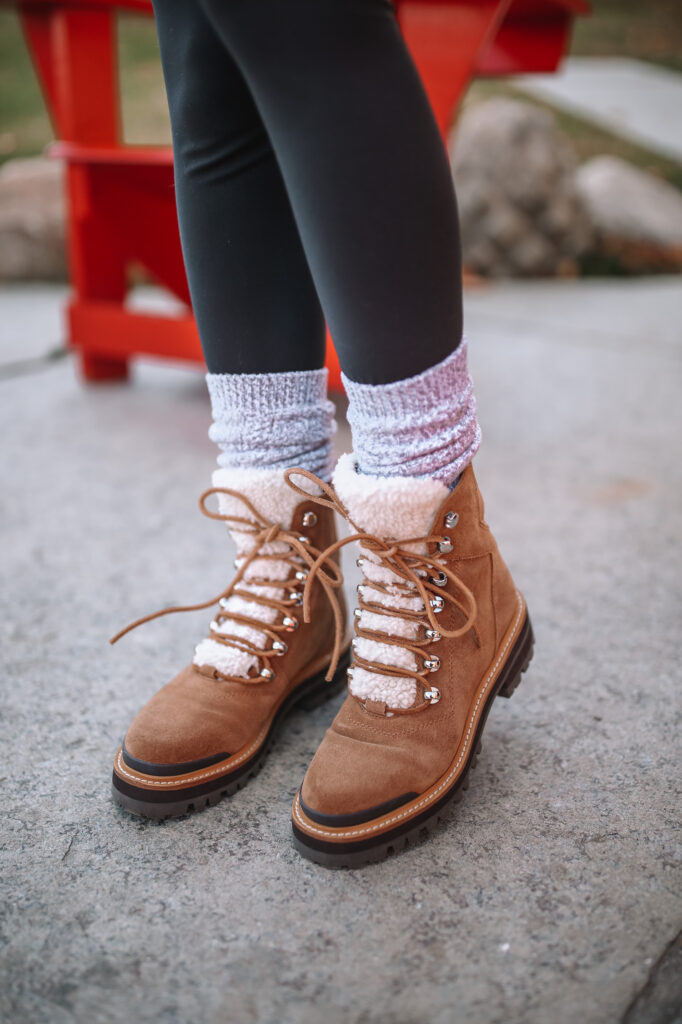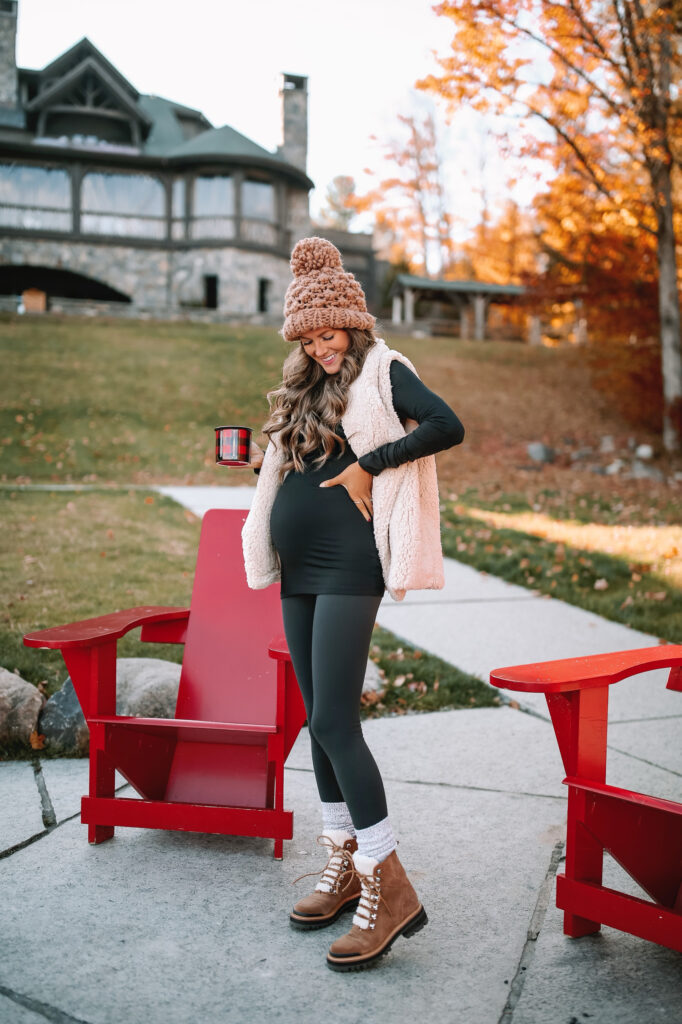 Hi, friends! I wanted to share this outfit from our New York trip, as this fleece vest is one of the coziest items I've worn lately! I think this outfit looks like "mountain chic" if that's a proper term, haha, but to make it more casual you could pair it with some UGG boots 🙂 Speaking of boots, I also found an amazing dupe for my Marc Fisher hiking boots – these look IDENTICAL, do they not?! I can't believe they're less than $60, I want to order them just to test out the quality!
I've been getting a lot of questions about the cabins we stayed in, so I wanted to share the details today – I can do a full review of the Adirondacks if you're interested, however, it wasn't a "normal" trip for us as we were quarantining the entire time. Obviously we ventured out into nature for photos, but we did not eat at restaurants or "experience" the location as we normally would!
The first location we drove to was this private cabin on Tupper Lake. It's actually comprised of two small cabins, because there is a bunk house a few feet away with more beds, another bathroom and fireplace. We really loved waking up every morning and looking out over the lake (especially the mornings that were misty!), and there's a full kitchen with all of the utensils and appliances you could ever need to cook all week long. The heat also works really well! The only downsides is that we experienced a lot of mice while we were there (but apparently the entire area is having a "mice issue" at the moment, haha), and it seemed to be pretty isolated.
Our second destination was one of the private, lakefront cabins at Lake Placid Lodge. We absolutely loved our stay here!! Not only was the cabin really nice (and clean!), but we felt that there was more to do in the area – we drove up to the top of Whiteface Mountain one day, went on small hikes around the resort and went canoeing on Lake Placid. And because the cabin was part of a larger resort, that also meant room service (which is crucial because I am seriously hungry ALL THE TIME due to pregnancy hahah). And the room service was no contact, so they would leave your food right outside of the door and then walk away so you could bring it inside yourself. And, the food was amazing! (Highly recommend the caramelized banana waffles and the pumpkin cheesecake 😉 )
*Just a disclaimer, if you are going to travel anywhere this fall/winter, be sure to check the quarantine rules of the state you will be traveling to! We all took COVID tests before leaving NC (all negative) and had to fill out a bunch of paperwork once arriving into New York. Every state is different and has different rules.