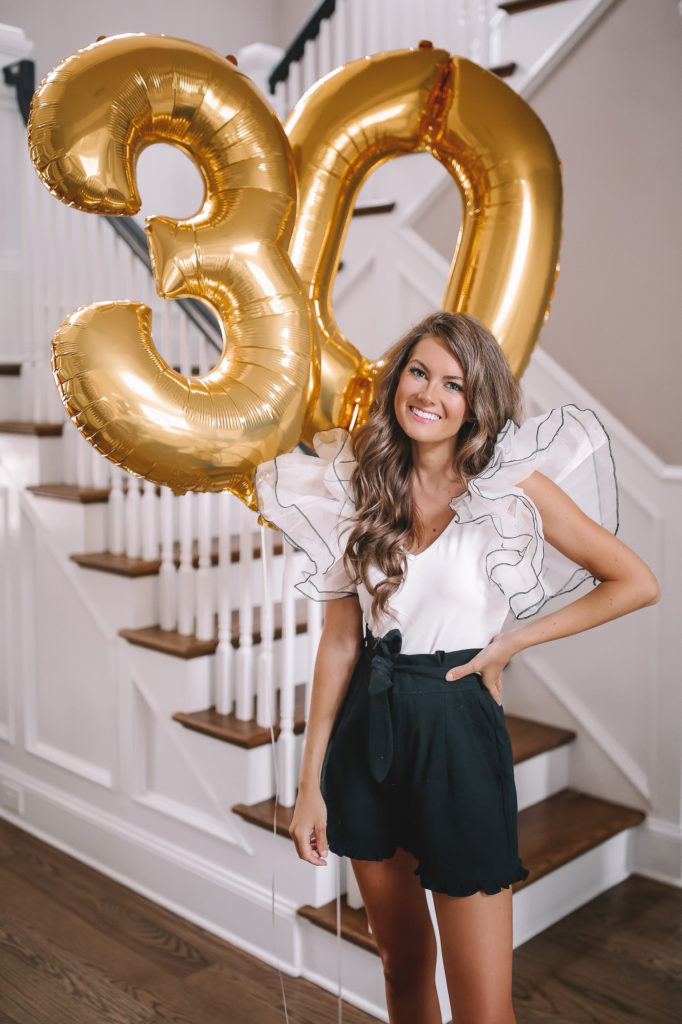 Good morning, guys! It is my THIRTIETH birthday today (wow I feel old just saying that!). I can hardly believe that I was just 20 years old when I started this blog. That's ten years of sharing my life with you guys. In these past ten years, I graduated from college, got my first big girl job, met my husband, moved five different times, started blogging full-time, got married, got a dog, bought a house, and also grew up. I experienced extreme joy (like on my wedding day) and extreme loss and grief (when my husband lost his parents). But one thing has remained constant, and that's the support and love I receive from you guys on a daily basis. I am so thankful for your friendship, advice and kind words throughout the years. Let's be honest, there's no way I would still be blogging today without your support.
Today I wanted to share some things that I've learned in my twenties. Some were hard lessons, and they took me up until year 29 to learn! I am proud of myself for how far I've come – I can still see myself as a naive twenty-year old typing her very first blog post while sitting on her twin bed in her sorority house. Obviously, I still have room to grow, and I never want to stop growing and learning. Hopefully when I turn 40 I'll have a whole new blog post for you. 😉
1. God always has a plan, even when you can't see it.
There have been plenty of times where I questioned God's plan for my life. For instance, when I was rejected from my dream job after college. Or when Chris and I broke up after a year of dating. I had no idea that the hardest times in my life would lead to even better things that God had in store for me. For instance, when I was rejected from my dream job, I ended up taking a job in Greenville, S.C, where I met Chris. When we broke up, I was heartbroken, but put alllll of that energy into my blog, day after day, until I was able to get it off the ground. And the breakup was actually great for mine and Chris's relationship, because we both appreciated each other so much more when we got back together. Both of those things lead to where I am today. Those are small examples; there are plenty more I could give you of how God's plan was bigger than my own.
2. Wash Your Makeup Off at Night
Gosh such a simple one, but I really wish my college self had taken my own advice! And on that note, invest in a good skincare regimen. Your skin will thank you years down the road.
3. Friend breakups are hard, but sometimes necessary
I didn't have a single "friend breakup" until my twenties. In my twenties I encountered some people I thought were true friends, even best friends, but didn't have my best interest at heart. Friend breakups are tough – the grief lasts deeper and longer than grieving over an ex-boyfriend. But you will be happier without someone causing negativity in your life. I can look at where I am now and see how much happier I am without certain people making me feel bad or causing drama.
4. Health is about balance
In my early twenties, I tended to be a little obsessive over my health. I would track every calorie I ate, down to a stick of gum, and obsess over exercising every day. I may have looked healthy, but inside I was the opposite. It wasn't until my mid-twenties that I discovered intuitive eating. When you listen to your hunger cues, your body will TELL YOU when it's hungry and when it's had enough to eat. And something even more amazing happens when you start eating real, whole foods and cut out the processed crap: your body simply knows what to do. I've been able to stay at the exact same weight for the past several years without thinking about it at all. I feel amazing. And I still indulge in treats from time to time (especially on vacation!) without thinking twice about it, or feeling "guilty" afterward.
5. A Dog really can be your best friend
I made the decision to get a dog when I was 26, even though some family members and friends warned that I wasn't ready. They cautioned that I traveled a lot, and I may not be able to handle the responsibility of a dog. Even Chris was against it! But, alas, only you know when you're ready for a dog, and I felt ready. And it was one of the best decisions I ever made. I am honestly scared to have kids cause I don't know how I'll be able to love them more than Winnie! (haha) Seeing that little ball of fluff with her wagging tail puts the biggest smile on my face whenever I walk in the door. In the mornings, I like to watch Good Morning America in bed, and Winnie crawls under the covers in between my legs – I swear I feel happiest right in that moment! She is truly my best friend. I tell her everything, and sometimes I swear she talks back. Since we don't have kids yet, she is our baby. And yes, Chris did come around – the very first day I brought her home, he was as smitten with her as I was. 🙂
6. It feels good to stand up for yourself
I was incredibly shy growing up. I was always the quiet one in the school, and I often let others walk all over me. Not anymore! I started learning that I had a voice in college, and since then it has grown stronger. And let me be honest with you guys – when you do start standing up for yourself, it feels amazing. Especially if someone is trying to take advantage of you. Don't let them! You are WORTH IT.
7. Comparing Yourself to others is the fastest way to feel anxious and unfulfilled
It takes practice and self-love to be able to celebrate others' success, especially when things are not going the way you want in your own life. I've learned to stop comparing myself to others (especially other girls on Instagram). We are all on our own journeys. If you feel down on yourself, wake up in the morning and write three things that you're grateful for.
8. The most important things in life aren't things, they're people
The blogging industry is a little frustrating sometimes, because it is so materialistic. People are judged on their success by how big their houses are and what kind of cars they drive. It did not take me very long to figure out that material things are not the key to true happiness. When you die and go to Heaven, you can't take all your things with you!
9. You Can never please everyone
If there's one thing blogging has taught me, it's this! No matter what I do or say, how I dress, or what I believe in, I can't and will never please everyone. I have learned to stop worrying so much about what others think. I post about what I love and believe, and if someone doesn't like it, then they can unfollow. I've also built up an incredibly thick skin through blogging. When you choose to live your life on social media, you will inevitably receive judgement and criticism from others. I've realized that most of the time, when someone is really cruel, it's because they're unhappy with their own life.
10. Showing emotion (and crying) is okay
I cry probably every other day. I'm a sensitive person… sometimes I cry at commercials, other times I cry just thinking about how much I love my family and dog. I used to be ashamed to cry in front of others, but I've come to realize that it's just who I am! I think it takes a stronger person to show vulnerability than to hold it all in. I would much rather feel emotions, and feel them deeply, than not feel at all.
11. Instagram is a lie
Instagram is truly a highlight reel of everyone's life. It is not real life. A person may choose to share the very best parts of their life (including me), but there is so much going on behind the scenes that you don't know about. I know that I personally only choose to share a fraction of my life with the public. There's so much going on and so much that I'm feeling that I don't share. Remind yourself of that the next time you see someone's "perfect life" on Instagram.
12. You can change your life if you want to
It always bugs me when people tell me that they are unhappy with their lives. They're unhappy with their house, their job, their body, etc. Well, change it then! If you're unhappy with your house, then move. Or fix it up – paint is inexpensive and can transform a room. If you don't like your job, find a new one. Or work hard and start your own business. Unhappy with your body? Start eating healthier and moving more. I am a very strong believer than you (along with God 🙂 ) control your own happiness and your destiny.
13. Wear sunscreen
I REALLY wish I had taken this advice in my early twenties. I never wore sunscreen, especially on my face, thinking that foundation was enough to protect me from the sun. Now I can start to see the effects of that, with wrinkles and sun spots. Now I put on sunscreen every single morning.
14. Drink water and ditch the diet drinks
When I was in my early twenties, I hated the taste of water. Seriously! I preferred Diet Coke, and I NEVER drank water. But this habit led me to be hospitalized for kidney stones. It wasn't until the past couple of years that I realized how amazing water is, and now it's pretty much the only thing I drink. When I do drink more water, I can see a major difference in my skin and even my concentration levels. AND I realized how bad diet soda was for me and ditched it altogether – it is filled with chemicals and aspartame, which has serious health risks.
15. Women can Kick Butt
Anyone who really knows me, knows I am a feminist at heart. I think it is ridiculous that some men are scared of women who make more money than them or are more successful! This is 2020 you guys! If you are a woman, go after your dreams. Ask for that raise. It's not okay for a man in your same position to be making more than you. Women really are amazing – we are emotional, caring, have babies and raise children, and are badass in the workplace, too.
16. It's okay to have anxiety – and go on medication for it
In my twenties, I suffered from some of the worst anxiety I've ever had in my life. Panic attacks, days where I did not want to get out of bed, etc. There are so many of us in the same boat, and it really helps for us all to talk about it. I opened up to Chris and my parents, and they both encouraged me to talk to my doctor. I did, and was prescribed Lexapro for anxiety. It changed my life. You can read more about my mental health journey here.
17. Education Doesn't Always Come from the Classroom
I learned a lot in school, especially in college, but most of my learning has come from the real world. As in, after college. From work experiences, living alone in an apartment and paying bills, relationship experiences, and traveling. And on that note, I think travel is the quickest way to expand your mind. I have regretted many purchases, but I have never regretted a single trip I've taken.
18. Getting pregnant isn't easy.
I always thought that the minute we decided we were ready for a child, BOOM! It would happen right away. Well, my friends, I was mistaken. We have been trying to conceive since early last year. It has been a difficult journey, and one that is very lonely – not many people understand unless they've been through it. If you have a friend struggling to conceive, reach out to them and tell them you're thinking of them!
19. Marriage is beautiful, but it is hard work.
I always thought that once you got married, it was all roses and butterflies from there. Don't get me wrong, I absolutely LOVE being married to Chris. But marriage, like any relationship, requires work and commitment, and compromise. It is truly amazing what happens when you do put in the work, though. You discover a trust and loyalty towards your partner that is deeper than anything you've ever known. And I feel like I really understand the phrase my other half, now. Chris feels like apart of myself.
20. Always be kind
You never know what someone else is going through. Kindness and compassion is always the answer.
As always, thank you, thank you, thank you from the bottom of my heart to everyone who comes back to my blog day after day. I am truly grateful for you all. xoxo