Hey everyone!
I love makeup and beauty products, and a lot of the products I use can only be found in high-end places like Sephora or mall department stores. I don't mind splurging on a great foundation or fun eye shadow that I know will give me the look I want to achieve. However, for a few things, you just can't beat the drugstore. I have found these products to be top-quality and I use them all the time. The best part is they are extremely inexpensive and can be found in any drugstore!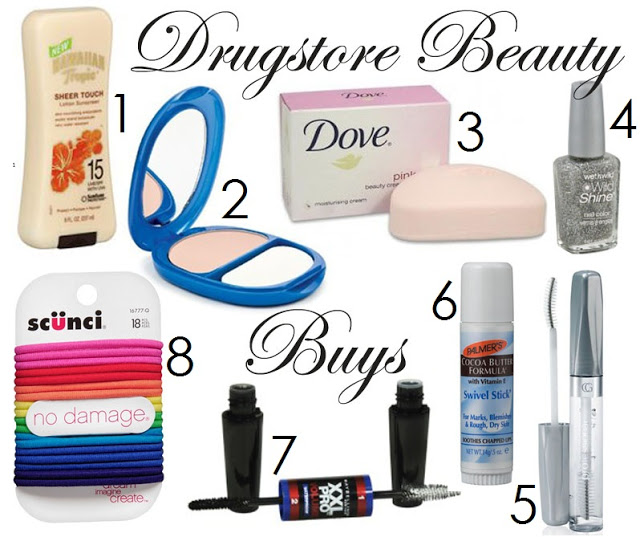 1. Hawaiian Tropic Sheer Touch Suntan Lotion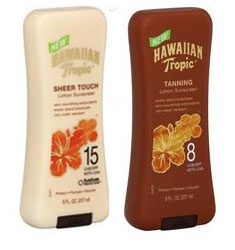 I love this sunscreen ! I don't like the spray sunscreen (because it peels off of you and leaves you greasy – ick) and I fell in love with this lotion because of its tropical smell. While I also hate the process of putting on sunscreen, this stuff feels more like body lotion than oily SPF. During the summer, it's imperative to wear sunscreen when you're going to be outside at all, and this sunscreen provides both UVA and UVB coverage.
Lowest Price: Target, $7.44
2. Covergirl Fresh Complexion Pocket Powder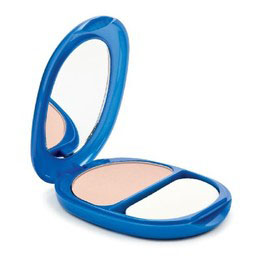 My mom and I have both been using this powder for years. I have a teensy problem that I call "Shiny Nose Syndrome" – in the summer, the oils on my face can make my nose and T-zone look "shiny." It's the most annoying thing in the world! This compact is small and thin, and easily solves my problem. With two pats of the sponge, my face is shine-free and the color is completely even. The compact is made with extra-fine oil-absorbing powders and is also oil free so it won't clog pores!
Lowest Price: CVS, $7.99
3. Dove Beauty Bar in Pink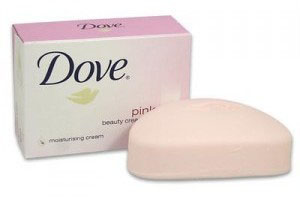 My dermatologist recommended this facial soap to me a couple years ago and I have been using it ever since. I love the pink bar (not only because pink is my favorite color) but because it is made of 1/4 moisturizing lotion and has a delicate scent. I don't even use makeup remover when I use this soap! It does a great job of taking off all my foundation and cleans my skin, leaving it soft and moisturized.
Lowest Price: About the same, but depends on how many you buy (they come in packs of 2, 4, or 8)
Walgreens: $3.79 (pack of 2)
CVS: $8.99 (pack of 6)
Target: $9.99 (pack of 8)
4. Wet'n'Wild Wild Shine in "Kaleidoscope"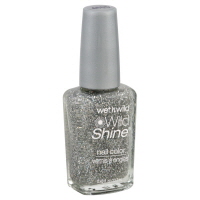 I AM IN LOVE WITH THIS NAIL POLISH.
I bought this bottle yesterday on an impulse because it was only 99 cents and immediately fell in love when I used it over an OPI polish that I already had. I used it on both my fingers and toes, and ever since I have felt like a princess because of the sparkles.
Lowest Price: Walgreens, $0.99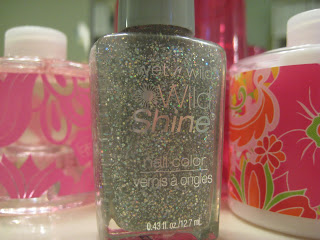 This is what mine looks like
Apologies for the blurriness!
5. Covergirl Professional Mascara in "Clear"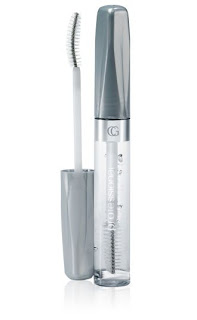 I use this mascara not on my eyelashes, but on my brows. I have really dark eyebrows and you can tell when any hairs are out of place. I love this clear mascara because it keeps my brows looking neat and clean with just one swipe!
Lowest Price: Walgreens, $5.49
6. Palmer's Cocoa Butter Stick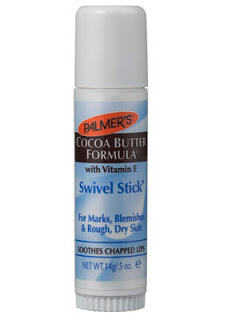 I pretty much consider myself a chapstick connoisseur – you name it, I've probably tried it. I have an old makeup bag full of lip products that I have bought but didn't quite work out. After years and years of trying new chapsticks, only one has withstood the test of time. In high school my friends used to tease me because it looks like a glue stick, but it is by far the best lip product out there. I love the way it feels on my lips and the fact that it keeps them moisturized for hours. It's pretty much my bff because everywhere I go, it tags along too.
Lowest Price: Walgreens, $3.79
7. Maybelline XXL Pro Volume Mascara in "Very Black"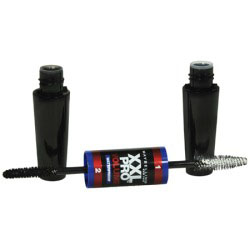 I have been using Estee Lauder mascara my whole life, and could never find any drugstore brands that I liked quite as much. However, I picked up this little gem a couple of weeks ago and I have to say that it comes as close as imaginable. This mascara is two-sided, one side contains a microfiber basecoat that turns your eyelashes white, while the second side contains the mascara topcoat. I have found that this mascara really does give my lashes volume and makes them look extra full and long and never clumpy! Yes, I said never clumpy – something I have never found in a drugstore mascara. It's like a supermodel in a tube.
Lowest Price: Target, $7.24
8. Scunci No Damage Hair Ties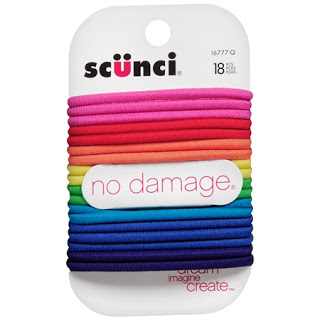 I have super thick hair and these are the only hair ties that will keep my hair in a ponytail without breaking or without my hair falling down. In the summer I always keep one on my wrist, so I love the bright colors in this pack. Of course pink would have to be my favorite. Is that even a question?
Lowest Price: CVS and Walgreens, $2.99
I hope you enjoyed my favorite drugstore products! All of them are tried-and-true.
What are your favorite drugstore buys? Anything I should add to my list?
Love, Caitlin