Now let's get started with my favorite products!
In the summer months I really like using a powder foundation because it helps eliminate shine on my face and "mattefy" my skin. During the day or for running errands I usually wear this powder alone. For blog photos or for going out at night I usually apply it over my liquid foundation for more coverage.
I have used a lot of different foundations in the past couple of years, however my very favorite one is from the drugstore. I love the Covergirl + Olay liquid foundation (as you can see from the photo, I have used up most of it!). I've tried a lot of different brands from Chanel to Bobbi Brown and I honestly think this Covergirl foundation is the best liquid foundation I've ever used. It's really creamy and moisturizing and gives an "airbrushed" effect to your skin that I love. I always wear this for blog photos!
I discovered Sigma brushes a few months ago and really love them – they are super high quality and really make a difference in your makeup application. This brush in particular is perfect for applying foundation (both liquid and powder). It feels like heaven on your skin and completely blends all of your makeup for a flawless complexion.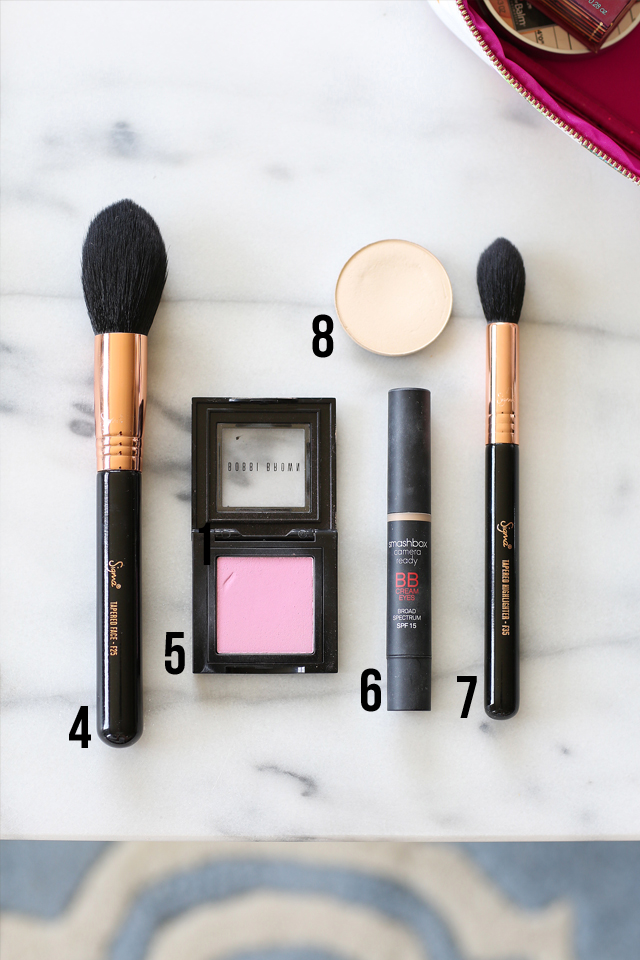 I love love love Bobbi Brown blushes. They have a great consistency, are long-wearing and have the prettiest colors. For summer I really love the color "pastel pink" – it's a really bright pink that is gorgeous with a slight tan.
This BB Cream makes an awesome under-eye highlighter. I apply this in a triangular shape underneath my eyes and along the bridge of my nose to brighten up my face.
After using the BB Cream, I apply this powder onto the highlighted areas to set the highlighter and give your skin a beautiful glow. This is what professional makeup artists use!
I can't say enough good things about this bronzer by Benefit. It's the perfect shade of bronze and the brush that it comes with is literally perfect for contouring – I use it under my cheeks to help define my cheekbones. If I want all-over color, I grab a fluffy brush and lightly put it all over my face. It blends really easily and I love the color!
I learned about this highlighting powder from a few beauty vloggers on YouTube. After listening to them rave about the product, I picked it up almost six months ago and have never looked back – it is THE best highlighter I've ever used. I apply it to the tops of my cheekbones – it's not too shimmery but gives the absolute perfect glow. This product was a game changer in my makeup routine for sure!
This is hands-down my favorite mascara (yes, the name is a little obscene but I promise the mascara is amazing!). The brush is really great for creating volume and thickening your lashes.