*Hey guys!  I've updated this post after having Kennedy and have put all my thoughts on what I would/wouldn't bring in italics at the bottom of each section!*
We are just a few days out from my due date, and our bags are all packed up for the hospital. Like WHAAAT! It's mind-boggling to me that we are actually about to meet our baby. My emotions have been at an all-time high the past week, and I seriously tear up every time I think about holding her in my arms. I have to keep a box of tissues five feet away at all times. But, back to the topic at hand 🙂 I think everyone stresses out about what to pack in your hospital bag, but I've heard from so many people that the hospital provides ALL the necessities you need and all of the things you bring from home are purely for comfort. So don't stress too much about bringing the "perfect" items! Who knows if I will even use half of the items I'm bringing.
I am pretty proud of myself, though: I packed every single item into two bags, a rolling suitcase and this baby backpack (except for my pillow and blanket, since we will grab those on the way out the door). As a chronic over-packer, I think this is quite an achievement, haha. Here are a few photos of what's in my bags, but read on for the specifics!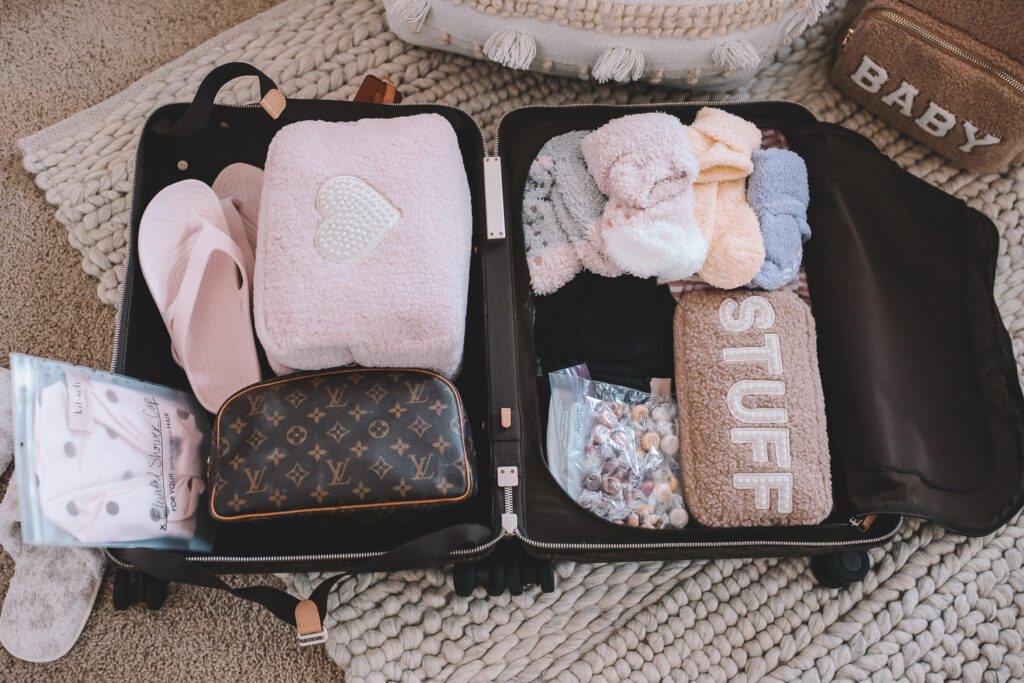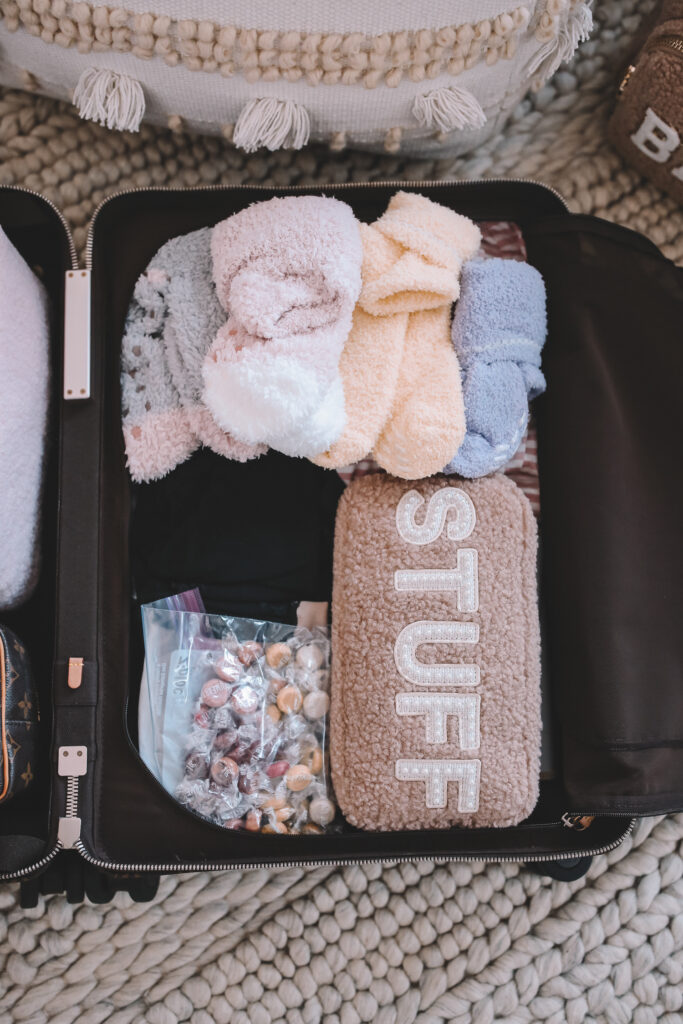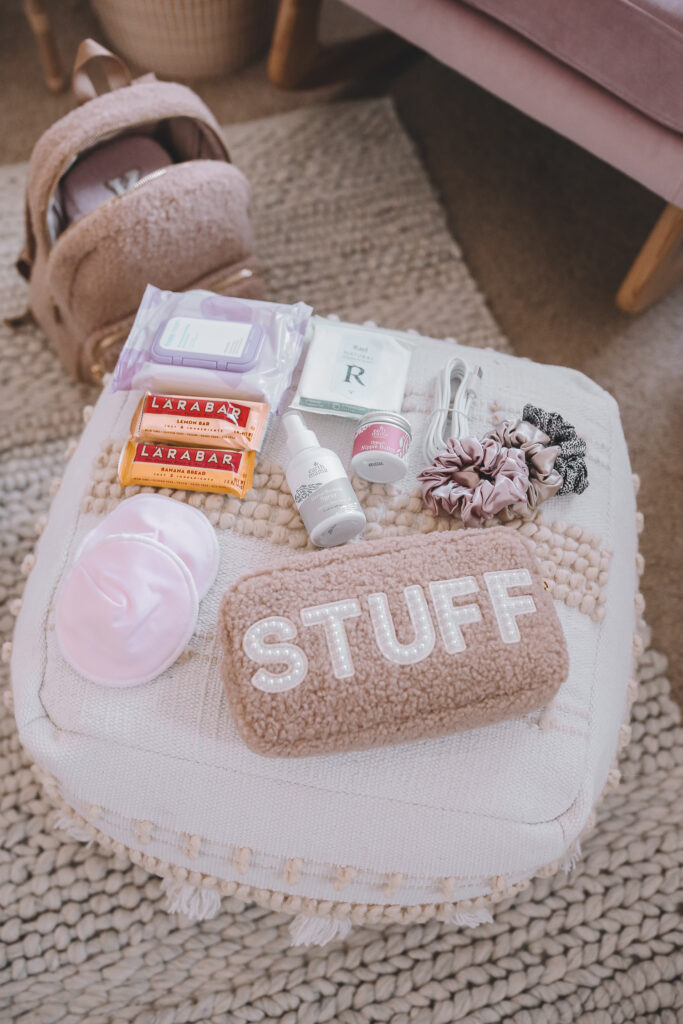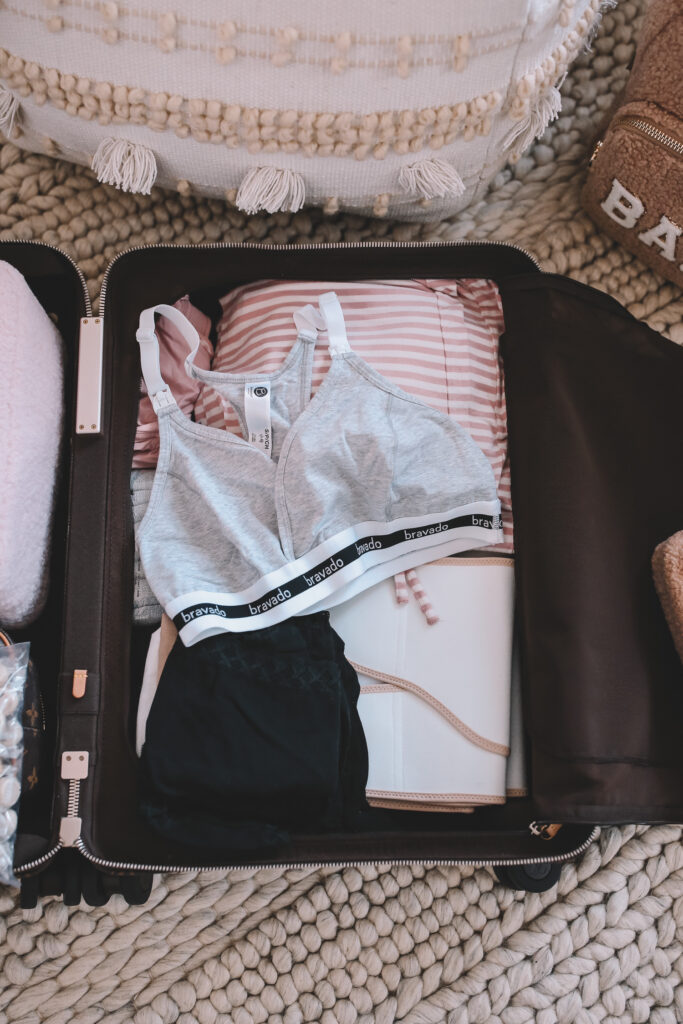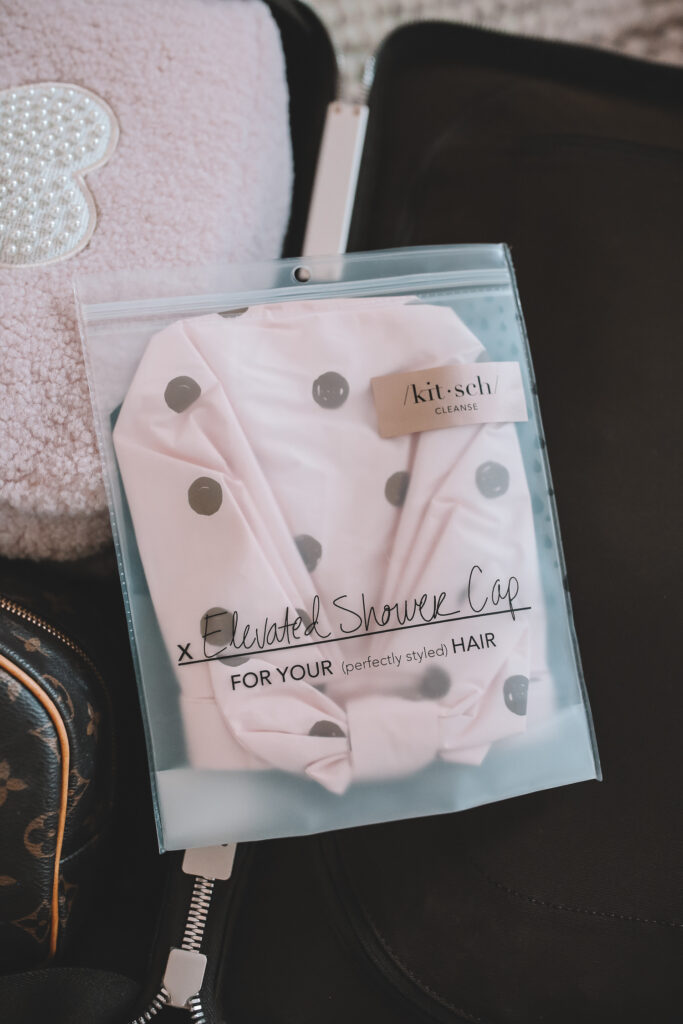 My Bag
Clothes & Shoes
Pajamas (A lot of you guys said to bring dark-colored pajamas. I got this sleepshirt and this pajama set in the black color, and they're SO soft. I'm also bringing a pink and white pajama set that I already owned.) *used
Robe (a short robe that doesn't take up too much space in my bag) *used
Going home outfit (I heard that you don't feel like wearing ANYTHING tight-fitting on your way home from the hospital, so I've packed a loose black dress for the ride home. It is January and freezing outside, so I'll probably wear a big coat on top. I'm not too concerned about looking "cute" for the 15 minute drive home!) *used
Underwear *did not use
UGG slippers *did not bring but wished I had
Shower sandals *used
Four sets of fuzzy socks with grippers (so that you don't slip or fall in the hospital!) *used
I ended up wearing ALL the clothes and pajamas I had packed, but did not wear the underwear. After birth, the hospital gives you disposable underwear and, trust me, you will want to wear those! The fuzzy socks with grippers were a lifesaver because my feet were constantly cold, but I really wished I had brought my slippers with me after all! I felt gross walking around in the fuzzy socks and then getting back into the hospital bed afterwards. Another tip: bring an extra "going home" outfit. I had mine on and was all dressed and ready to leave the hospital, and then PEED MYSELF!!! (You have no bladder control after birth.) I ended up wearing my pajamas home from the hospital since I hadn't packed any other "real" clothes. I know no one else probably cared, but it was embarrassing to walk out like that!
Postpartum Items
Okay, you guys were right, the hospital gives you ALL the postpartum items you need so you really don't need to bring much. I left with an entire bag full of goodies including disposable undies, pads, Tucks pad liners (LOVE these), Dermoplast spray, etc. I would definitely bring nipple butter because your nipples will be really sore at first (mine bled) and I ended up using the nursing breast pads inside of my nursing bras because they felt soft on my sore nipples!
Toiletries
Makeup bag (I think if you want to bring makeup to the hospital, then do it! I'm bringing my makeup bag cause I know I'll want to take pictures with the baby after birth.) *used
Lip balm (Heard this was so important because your lips dry out in the hospital!) *used
Prenatal Vitamins *used
Hair brush *used
Body wash *used
Toothpaste & toothbrush *used
Eyeglasses, contact solution & contact case *used
Mini micellar water *used
Cotton swabs & cotton pads *used
Mini razor *did not use
Shower cap *used
Silk hair ties *used
I used all of the toiletries I brought except for my mini razor (you will not feel like shaving your legs after birth, trust me lol). I did take a shower in the hospital (using my shower cap) and it was sooo nice to feel clean and use my normal toiletries like my own body wash – it really made me feel human again.
Miscellaneous Items
Drivers license and insurance card *used
Extra-long phone cord (This was your #1 recommendation for the hospital! Chris and I found 10-foot iPhone cables at Target, so we have those packed in our bag!) *used
Blanket and Pillow (We are going to grab our own blankets and pillows on the way out the door. Our doula told us that this was a necessity because the hospital's blankets and pillows are tissue thin!) *used
Boppy pillow *used
Larabars *used
Organic hard candy *used
Water bottle *used
Mini bluetooth speaker *did not use
Treats for the nurses *used
The only thing we did not use from this list was the mini bluetooth speaker! Chris had made a "birth playlist" that we planned to play while I was delivering, but things moved so quickly after the epidural that music was THE LAST thing on our minds. As for the other items, we loved having our own blankets and pillows (the hospital pillows really are tissue thin) and it reminded me of home even though we were in a hospital setting. And finally, the extra-long phone charger was absolutely clutch, because I was pretty much confined to my hospital bed and it ended up being pretty far from an outlet!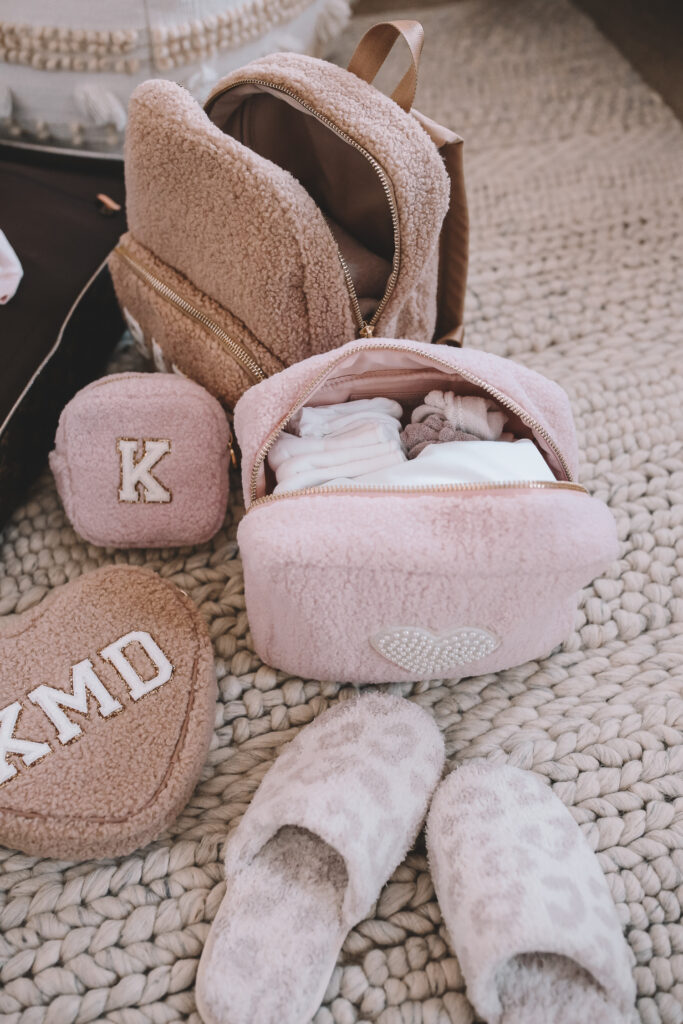 Baby's Bag
Diaper bag *used
Going home outfit (in a few different sizes because we don't know how big or small she'll be!) *used
Two swaddles (an Ollie swaddle and one with her name on it) *did not use
Burp cloths *did not use
Onesies (we're bringing three plain white onesies and one cute one) *did not use
Baby wipes *did not use
Mittens (so she doesn't scratch herself if her nails are long) *used
Socks *used
Headbands/bows *used
To be honest, for the entire hospital visit Kennedy was dressed in a diaper and swaddled in hospital blankets. We were constantly unswaddling her to do skin-to-skin or breastfeed, and then swaddling her back up. She spit up a lot on the hospital blankets and they always had a fresh one ready to go, which was nice. It wasn't until our last day in the hospital that I really needed the outfit/accessories I brought her – we dressed her in a onesie with mittens and socks and then used the Barefoot Dreams blanket to cover her in the car on the way home.
I think that's about it! 😀
I'd love to hear from you mamas what you actually used in your hospital bag, and if there's anything important I'm forgetting!!