Since it's January and we're all really into our fitness goals right now, I thought it would be fun to show you which beauty products I keep with me in my gym bag. I've been going to a ton of workout classes lately – my husband and I have started boxing on the weekends, and I still go to pure barre classes during the week. I always carry some beauty supplies with me because, more often than not, I go straight from working out to running errands, grabbing lunch with a friend, etc. and I need to look (and smell!) presentable! All of these only take a few minutes to apply and 100% of the time I'm applying them in my car before or after a class.
Oh! I forgot the best part. All of these products are free of parabens and pthalates, and they're from Walmart so you know they're affordable 🙂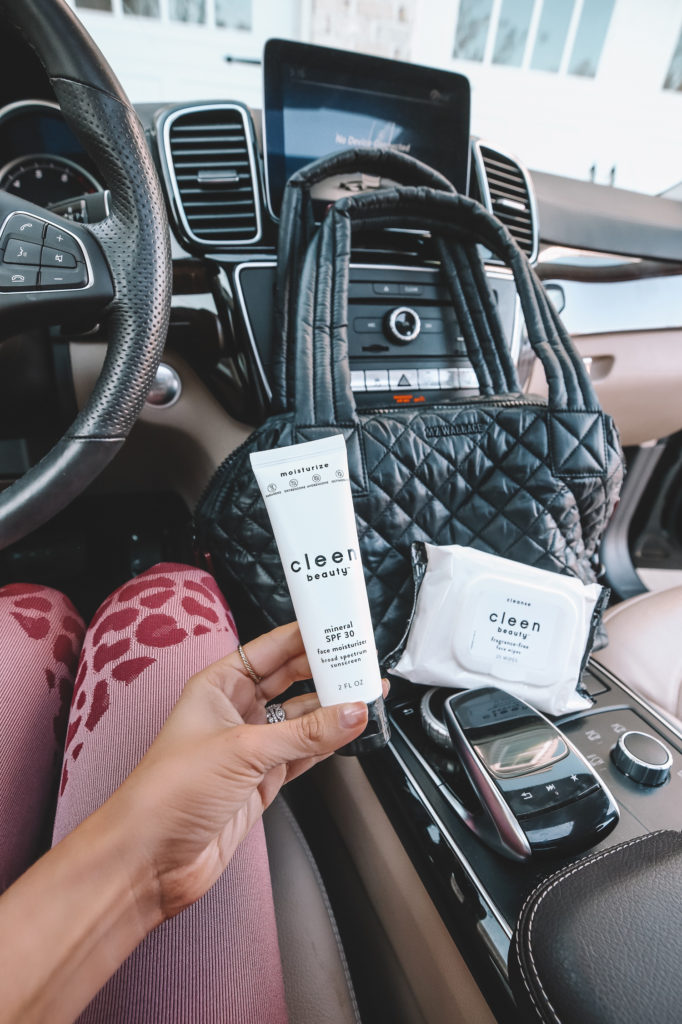 Cleen Beauty Fragrance Free Face Wipes
I've been on the hunt for face wipes that are "clean" and fragrance-free, so I was very happy to find these biodegradable cleen beauty Face Wipes! These wipes don't contain any parabens, phthalates, or dyes – I keep them in my gym bag for both before and after my workout. Before working out, I use them to remove any makeup residue leftover from the night before (I hate working out with makeup on). I also use them after my workout to wipe away sweat! And I don't just use them on my face, if I get super sweaty then I'll also use them under my arms and on my neck and chest to feel clean and refreshed.
Cleen Beauty Mineral SPF 30 Face Moisturizer
After working out and cleaning my face with the wipes, I'll apply this cleen beauty Mineral SPF 30 Face Moisturizer – especially if I have a lot of errands to run. This is a really lightweight mineral sunscreen… it comes out of the bottle as a white color, but don't worry, it goes on clear! I think daily sunscreen is SO important for protecting your skin and preventing wrinkles. (Did you know you can still get sun damage through your car windows?)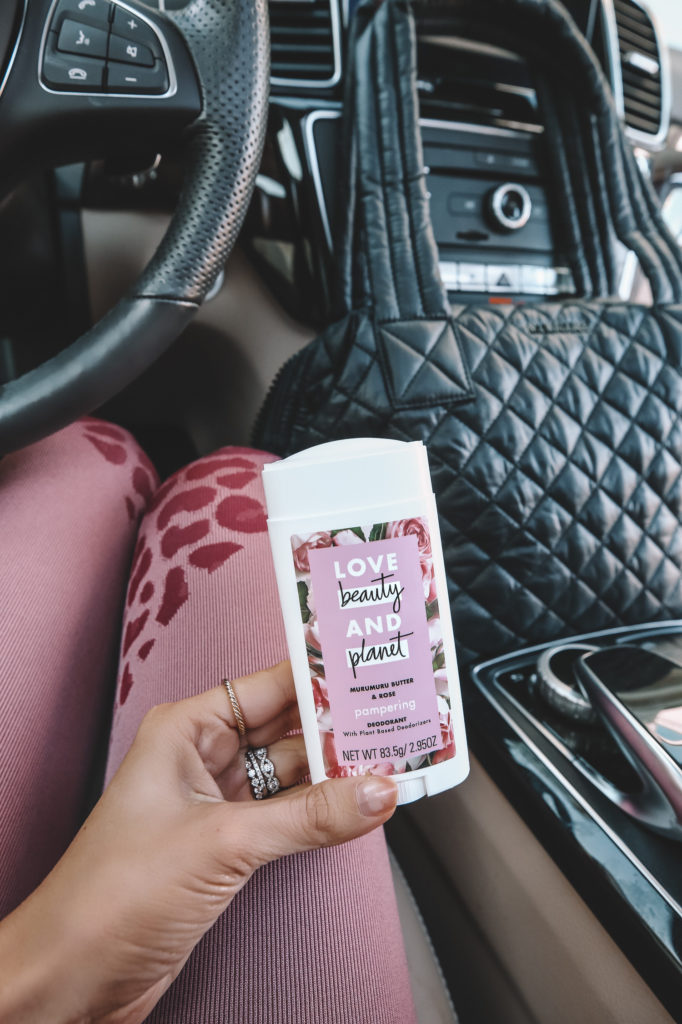 Love Beauty and Planet Deodorant
I always keep an extra deodorant with me – it has come in handy so many times! Right now I'm obsessing over this Love Beauty and Planet Deodorant in the Murumuru Butter and Rose scent. First of all – this deodorant smells sooo good, and secondly, it's vegan, aluminum-free, ethically sourced and made from 43% recycled plastic. Plus, it really works! It lasts all the way through a 45-minute INTENSE boxing class.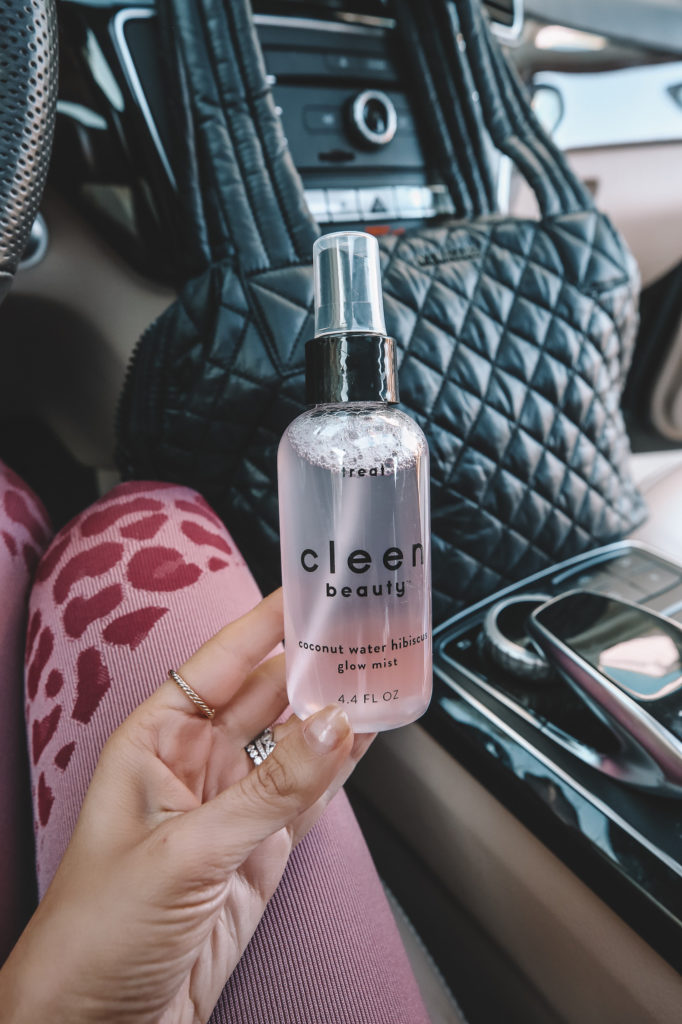 Cleen Beauty Coconut Water Hibiscus Glow Mist
This cleen beauty Coconut Water Hibiscus Glow Mist is a cooling mist that feels soooo good to apply after a workout. It's made of real coconut water and a hint of hibiscus extract (which makes it smell divine). I love keeping this in my bag and applying whenever I need a refresher – it makes my skin feel moisturized and glowy. It also makes a great makeup-setting spray!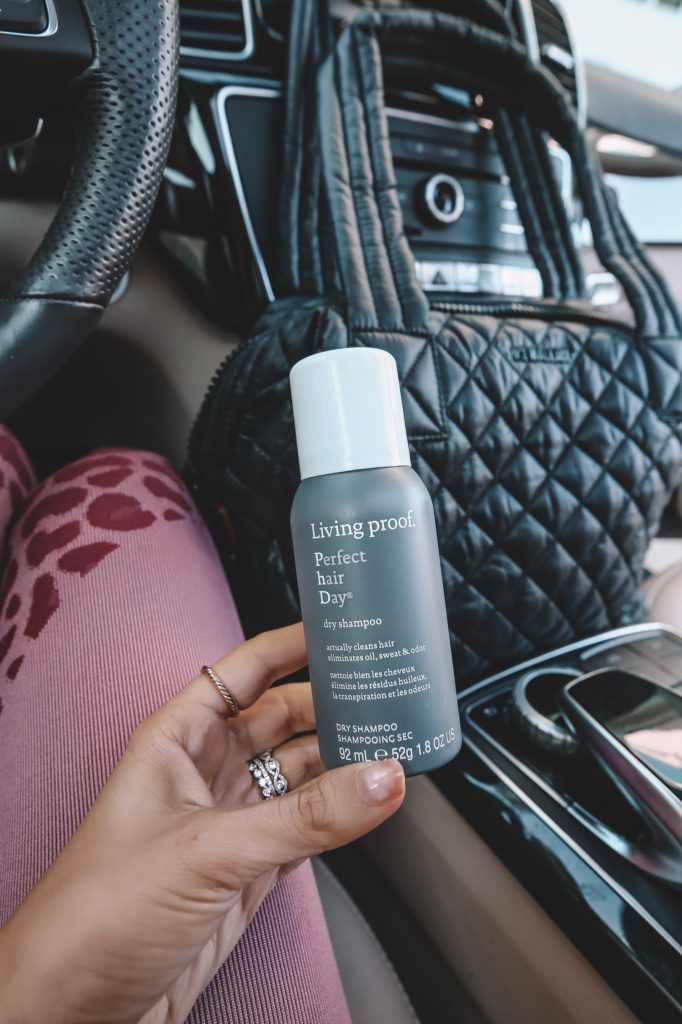 Living Proof Perfect Hair Day Dry Shampoo
This next one is a MUST-HAVE for me: Living Proof Dry Shampoo! My hair doesn't always look the best after a workout, so I'll spray this dry shampoo onto my roots and rub it in a little bit – and voila. It looks like my hair is freshly washed. This dry shampoo can soak up anything – oil or sweat – while adding volume and texture to your roots. It has saved my hair so many times.
Other things that I carry with me in my gym bag include a cute stainless steel water bottle, extra hair ties, an extra pair of barre socks, an energy bar, headphones, my cell phone, keys and a small wallet. I'd love to hear what you keep with you in your gym bag!
P.S. Walmart has a whole "New Year, New You" section on their site dedicated to Gym Bag Beauty – I love scrolling through to discover new products!
*Thanks to Walmart for sponsoring this post