Christmastime is arguably the best time to visit New York… I swear there's a different, almost magical energy in the air! I just got back from New York over the weekend, so I thought it would be fun to create a little guide of what we did while I was there. It was one of the best NYC trips I've ever had!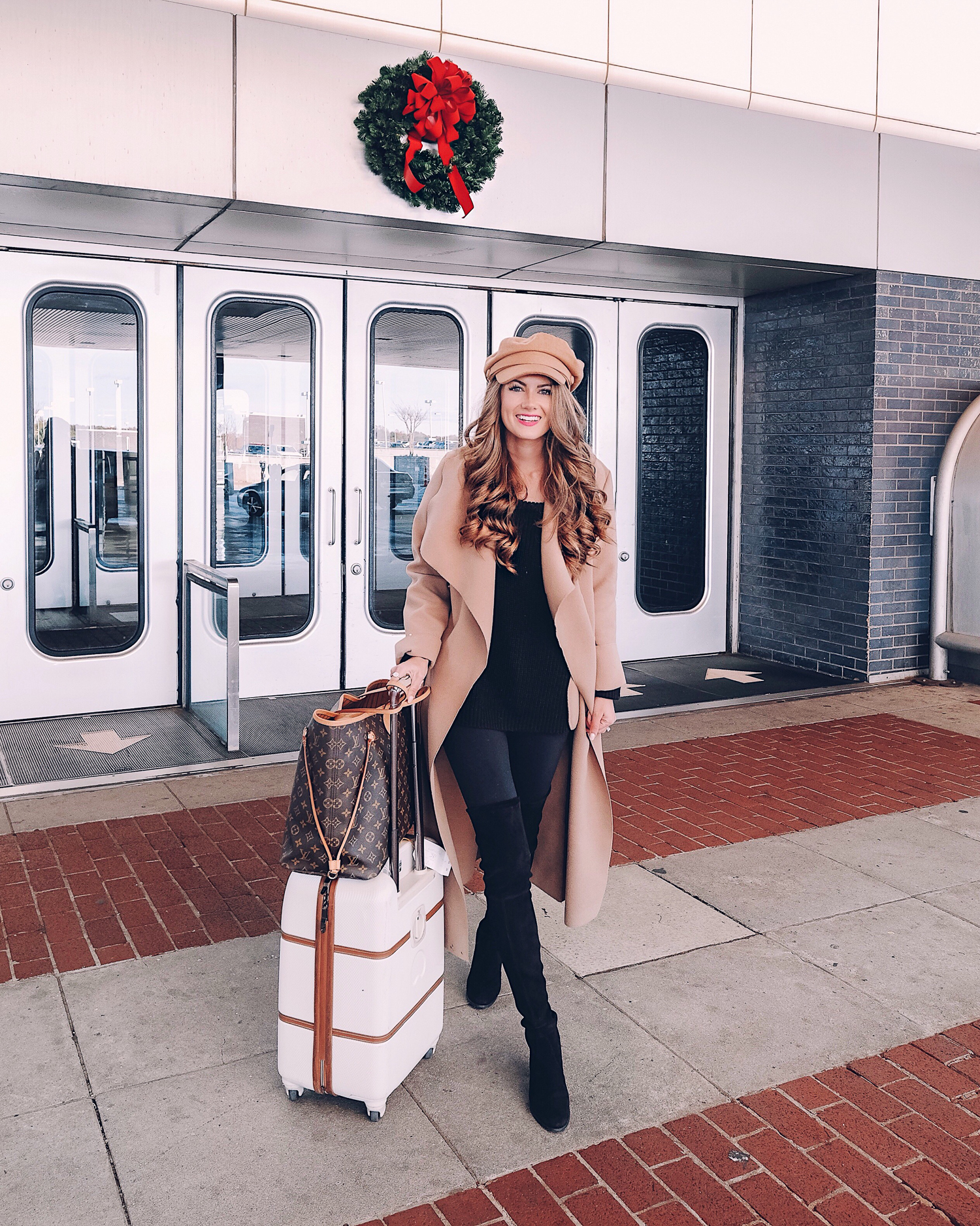 baker boy cap // similar drape front trench // sweater  // black leggings // over-the-knee boots // luggage
WHAT TO PACK
Okay first of all, New York is COLD in November and December! Check the weather before you go, but most of the time it's in the 30s, or if it's not, the wind chill makes it feel like it is. You'll want to pack a heavy coat, gloves, and a few hats to keep warm. It doesn't hurt to pack hand warmers that you can keep in your pockets, since you're bound to do some walking in the City (even if you take cabs everywhere, you'll still end up walking a lot!). On that note, I would pack comfortable shoes. I would also bring a few dressier outfits – you'll need these if you plan on going to nice restaurants, or to the Plaza for tea!
Okay… now on to the activities!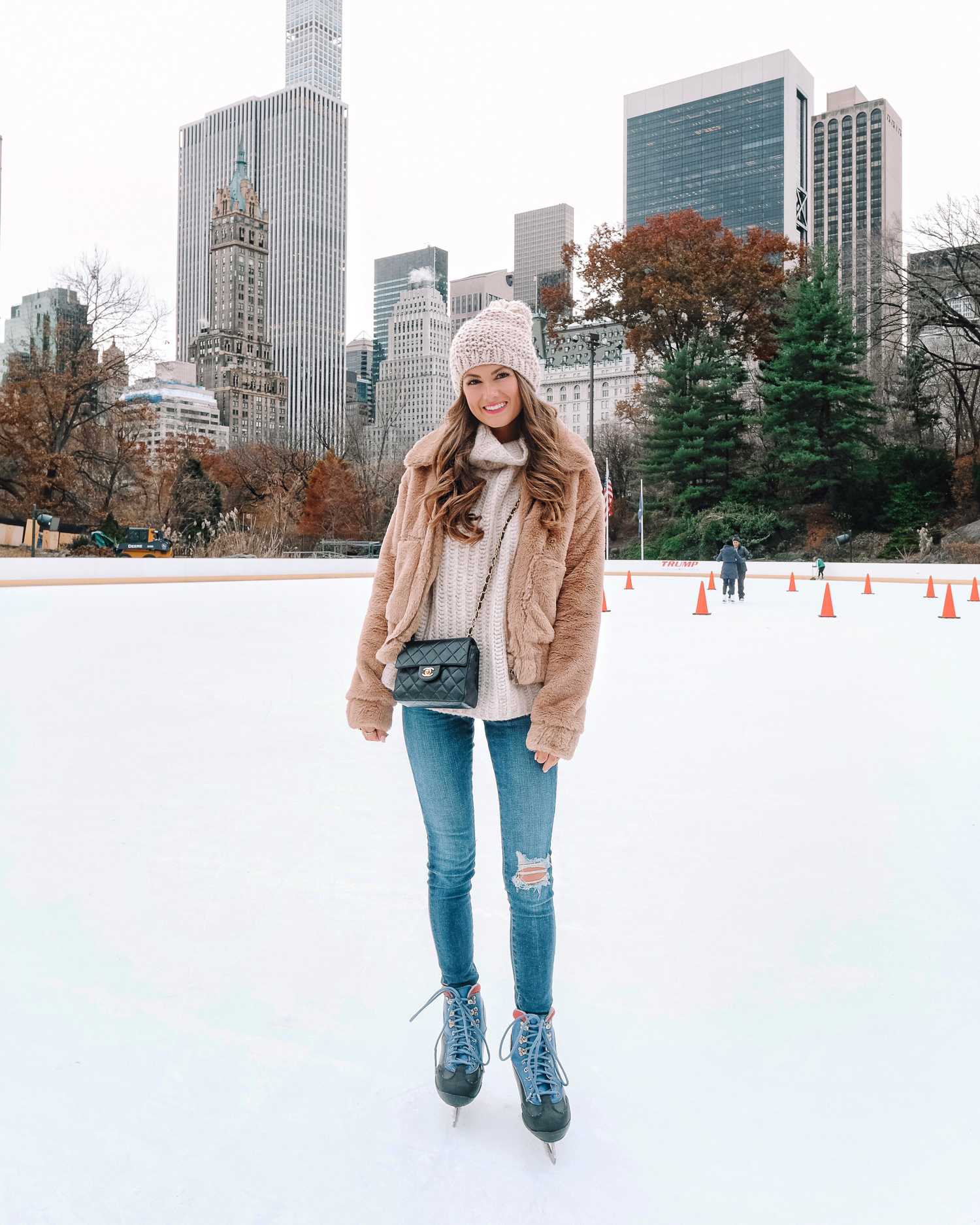 sweater // faux fur jacket // AG jeans // Chanel mini bag, similar HERE
ICE SKATING IN CENTRAL PARK
One thing you DEFINITELY have to do while you're in New York is go ice skating at Wollman Rink! Located right in Central Park, it offers a spectacular view of the skyline. Make sure to bring cash, because the rink doesn't accept credit cards. You'll also need a lot – it's $12 to get in on a weekday, and an extra $10 to rent skates. Even if you aren't skating, there's a $5 spectator fee. On this particular day, we wanted to get a picture without many people in the rink, so we arrived at 9:45 and waited in line until the rink opened at 10 a.m. It was definitely the least crowded at that time, and the ice was pristine!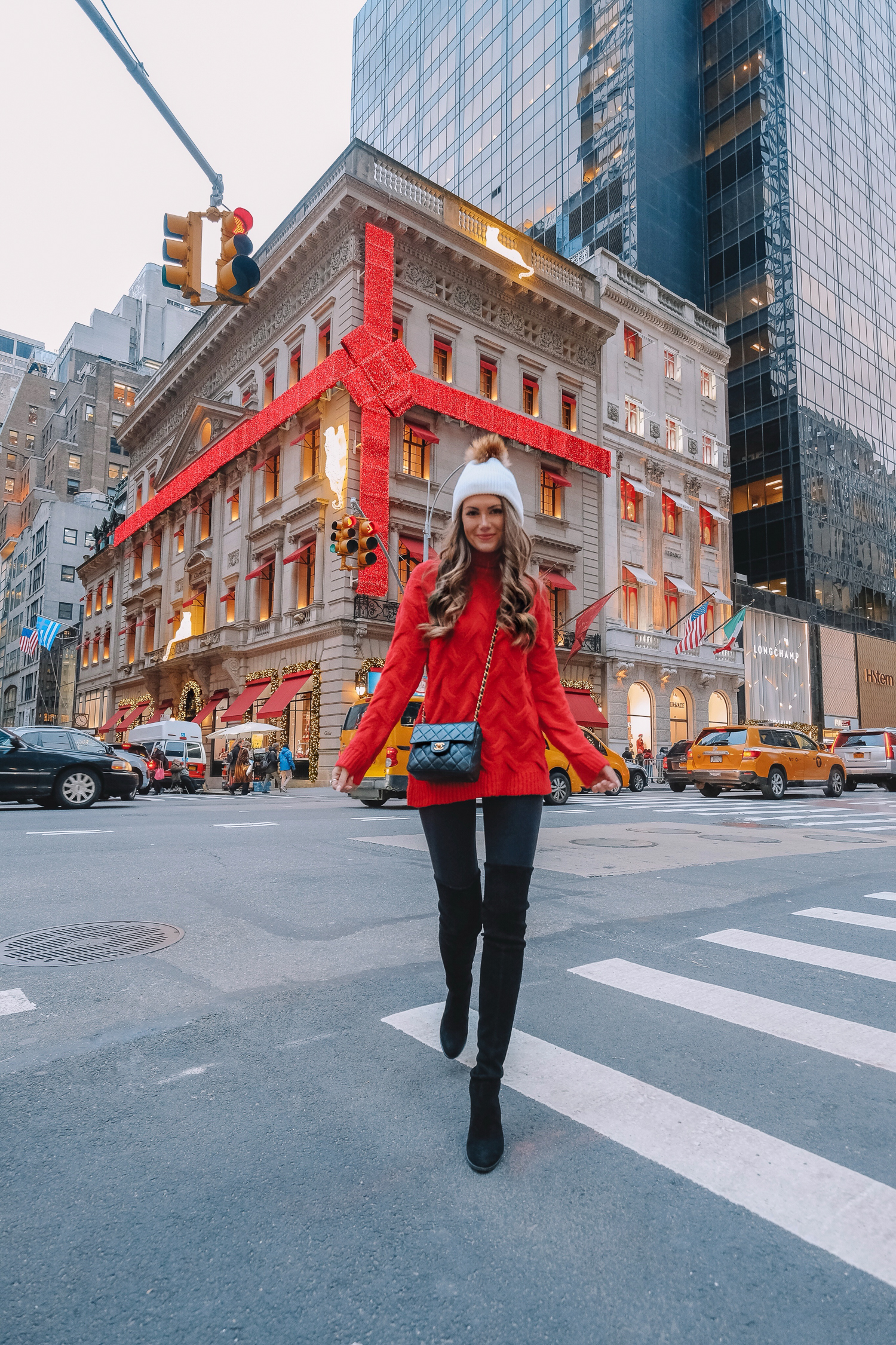 red sweater // beanie // leggings //over-the-knee boots
SHOP ON 5TH AVENUE
Even if you don't intend to buy anything, you should still hit up 5th Avenue to do some window shopping. I would go around 4 p.m. because this is when all the stores light up their displays! In the photo above, I'm standing in front of the Cartier store (10 E 52nd St), which has a huge red bow encompassing the whole building! A couple doors down, Saks has a GORGEOUS lit display. If you intend to make any designer purchases while you're in town, 5th Avenue is the place to do it!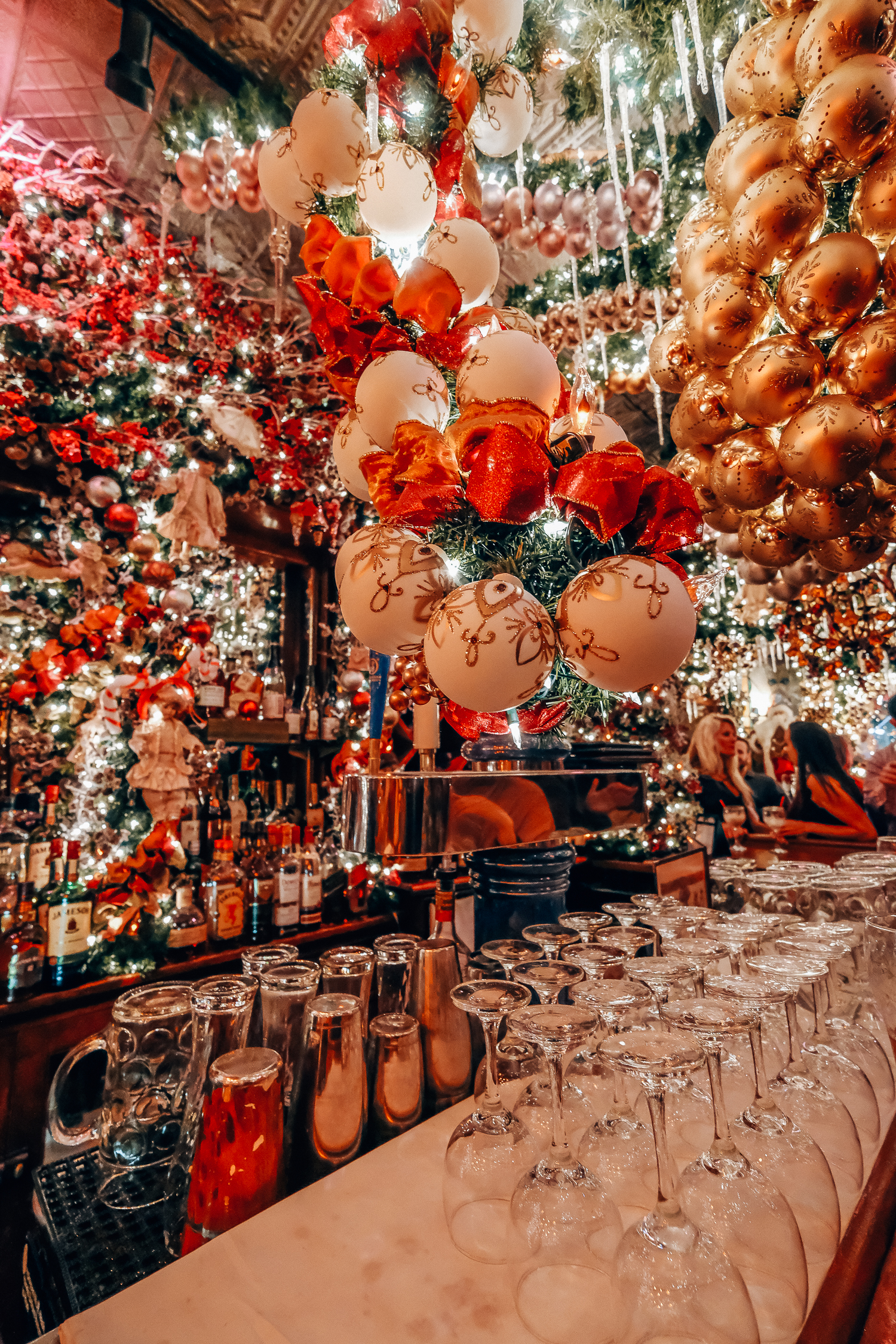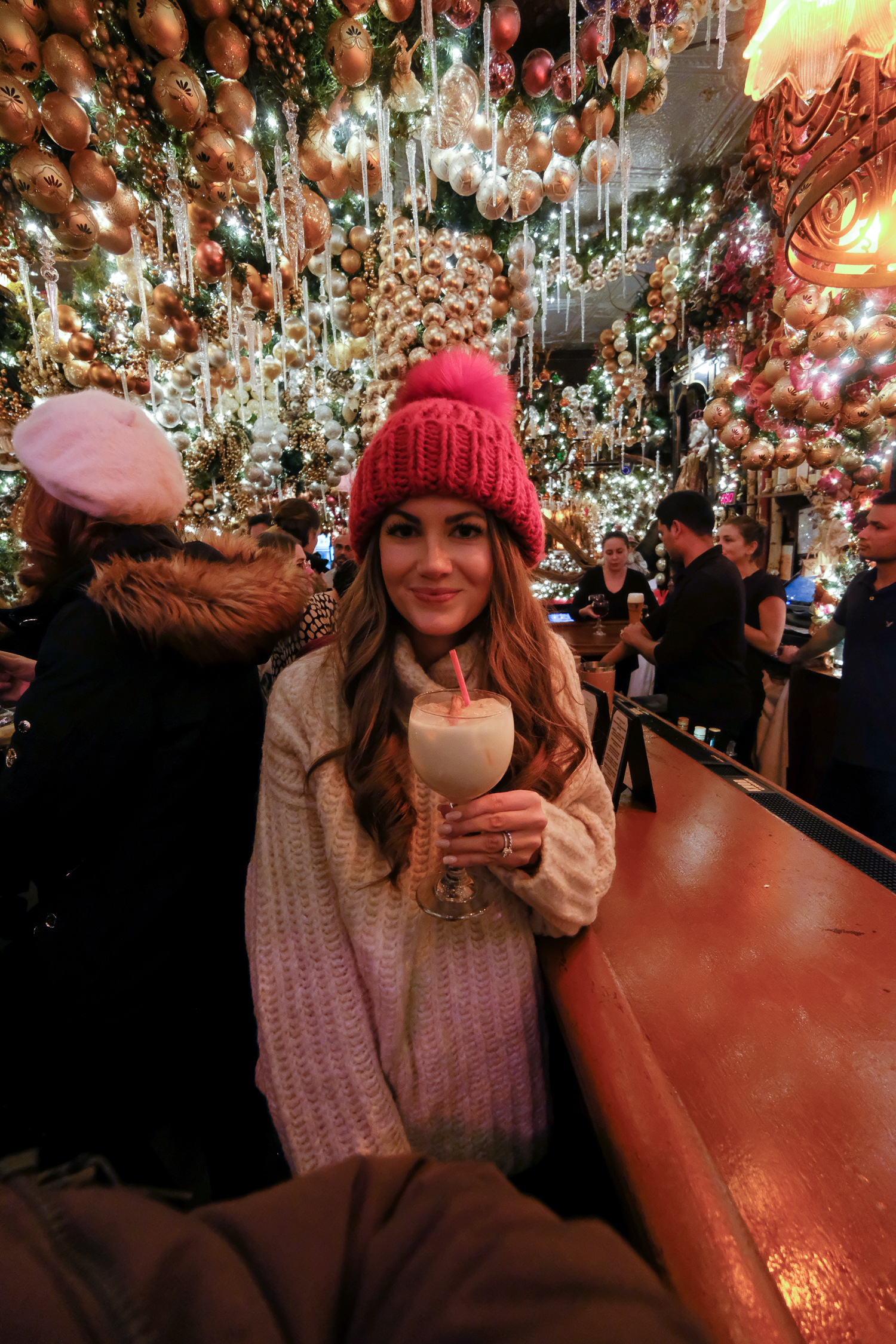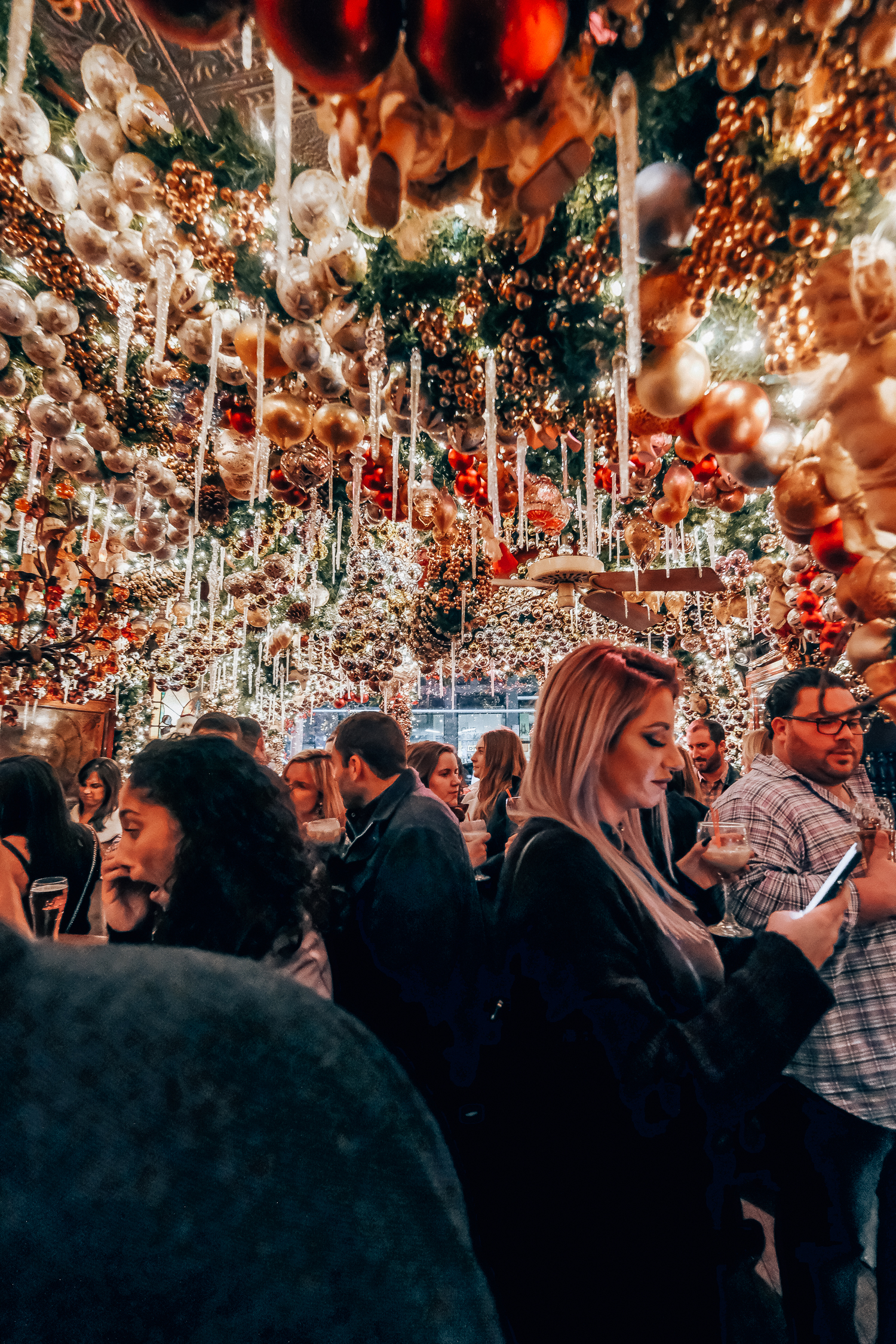 GRAB A DRINK AT ROLF'S
Rolf's is apparently a Christmas legend in the City. It's definitely the most festive restaurant I've EVER been in! There are ornaments, garland and cherubs covering the entire ceiling (as you can see in the above photos). Rolf's does serve food, but apparently it's nothing to write home about. It might be worth it to make a reservation and eat, just so that you don't have to withstand the crowds! When we visited, there was a long line outside of people waiting to get in. The line did move pretty quickly, but the line was just to stand at the bar, not to get a table or eat dinner. Once we made it inside, it was PACKED! We could barely move. However, we sucked it up and ordered drinks from the bar (I got the egg nog). The drink was delicious and in the end, I think the experience was totally worth it. (However, if you're claustrophobic, definitely stay away from this one!).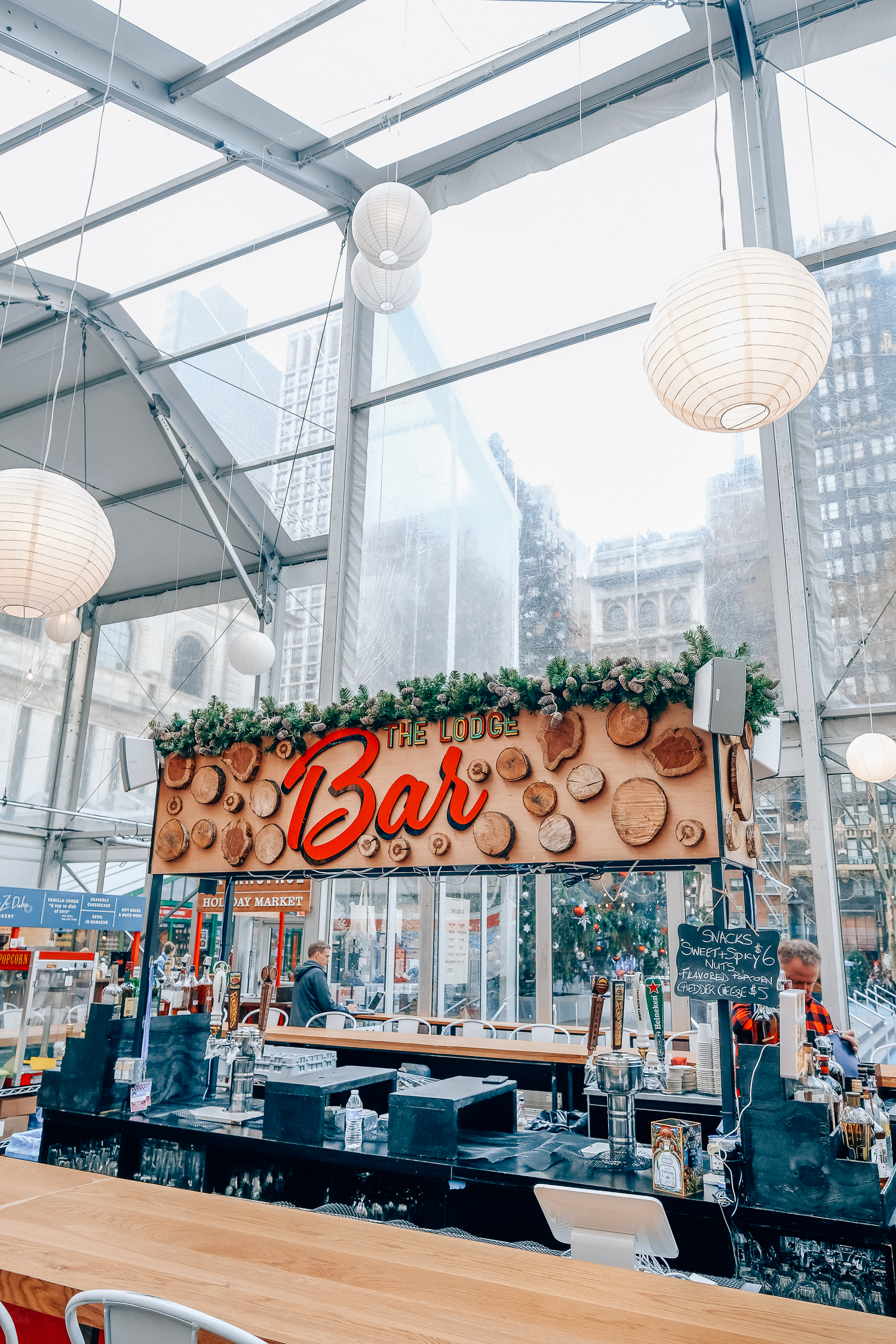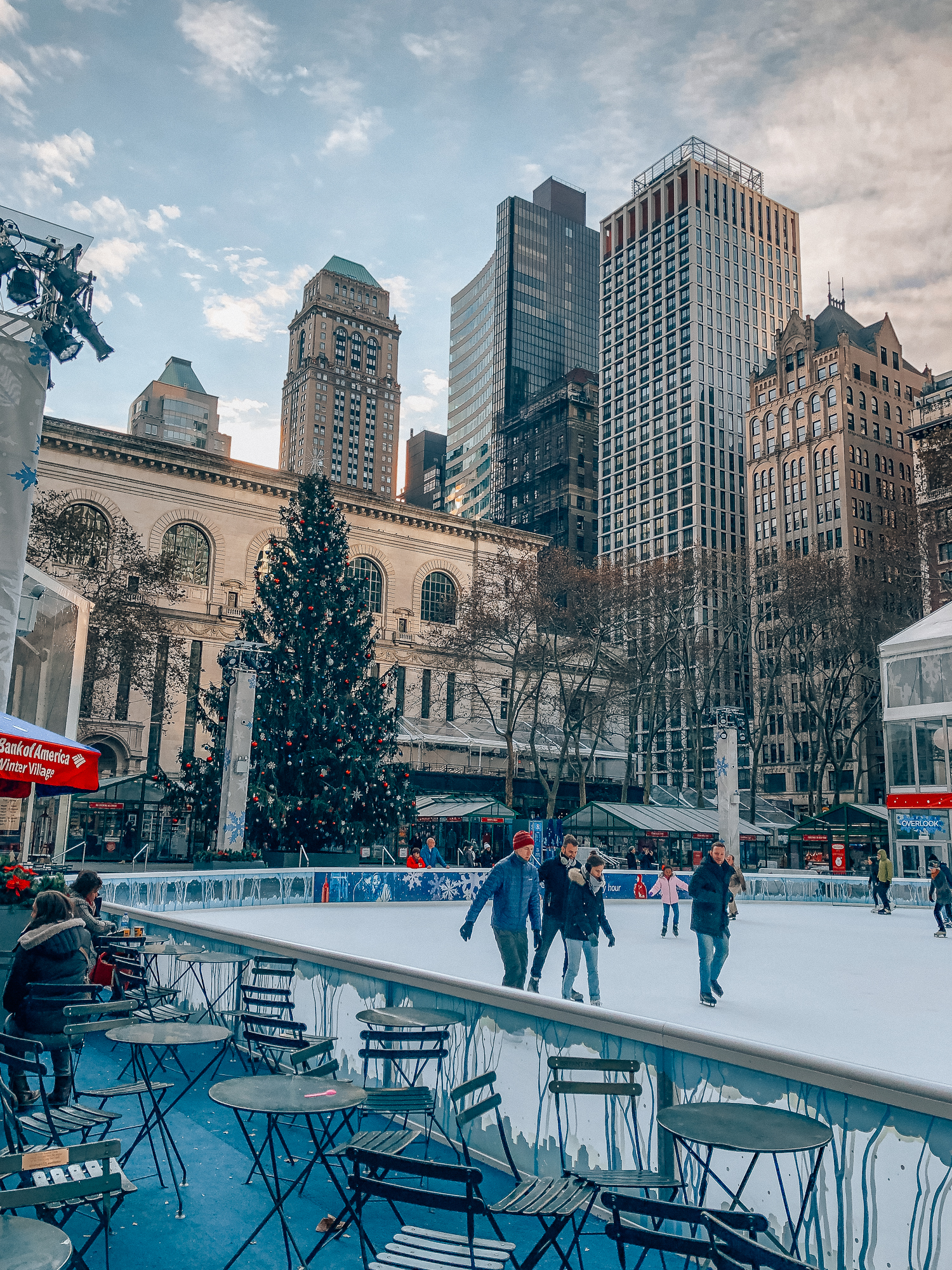 printed Christmas sweater // Paige jeans // over-the-knee boots
VISIT BRYANT PARK
You'll definitely want to visit the Winter Village in Bryant Park while you're in New York! Carve out a few hours of time because there's an ice skating rink and a European inspired open-air market featuring artisans from around the world. You'll find cool ornaments, art, and delicious drinks and food. If you see a little stand with the words "Christmas in New York" on top, make sure to stop and buy their hot chocolate!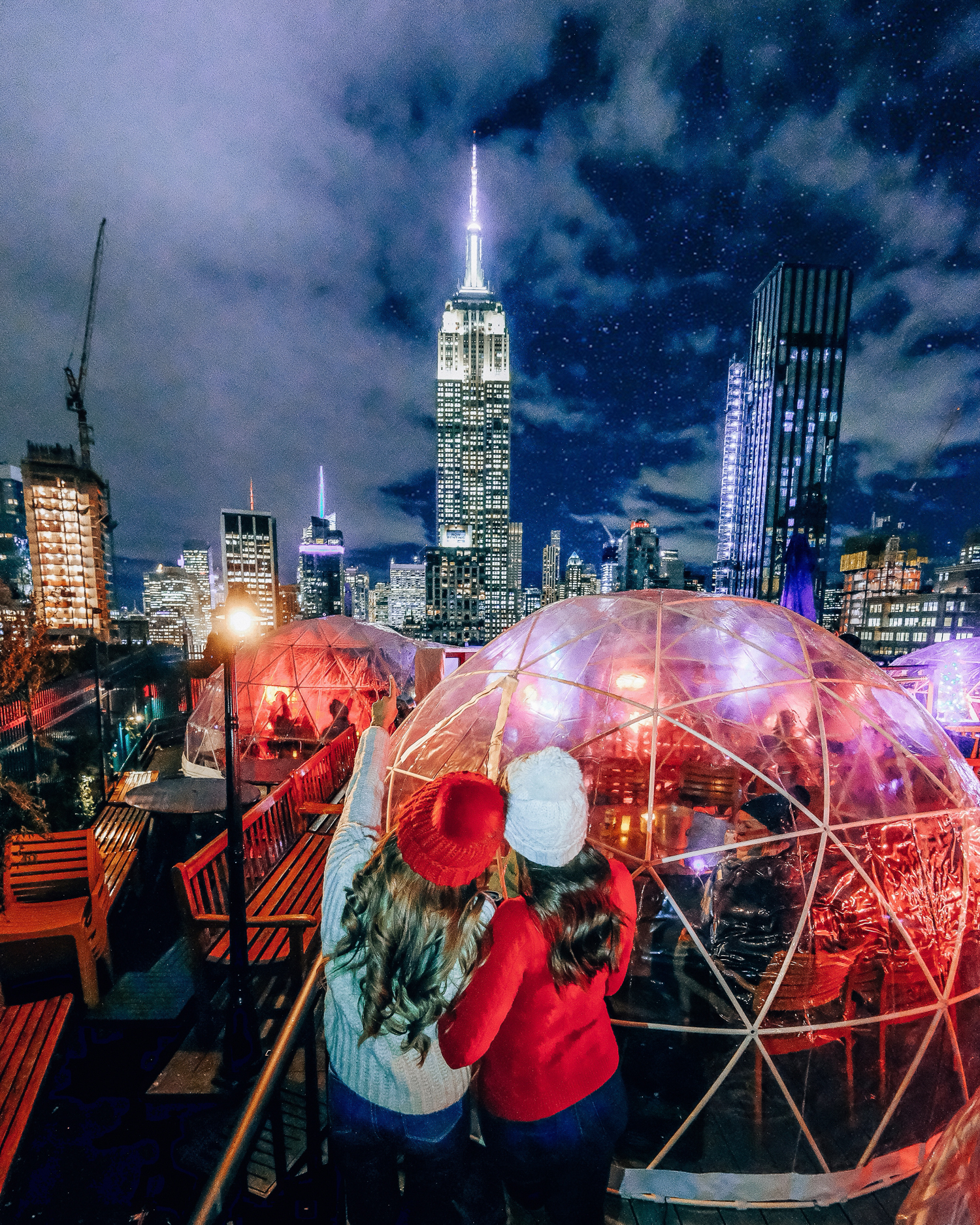 VISIT THE HEATED IGLOOS
This one is a must-do! On the rooftop of 230 Fifth, you'll find Igloo Bar – a whole rooftop filled with heated and transparent igloos and an incredible view of the Empire State Building. There's a small bar where you can order food and drinks (we just got hot chocolate but they served beer as well as boozy hot drinks!). There are no minimums or entry fees, and the igloos are open to everyone. They really encourage you to get to know your neighbors, because most of the time you're sharing an igloo with someone you don't know! It was SUCH a cool experience!
Here are some other recommendations we received, but didn't have time to do:
Visit the Union Square holiday market
Go to the Highline and stop at Chelsea Commons for avocado toast
Order the frozen hot chocolate at Serendipity
Visit the rooftop of Eataly Flatiron – the entire rooftop is transformed into a beautiful winter wonderland
Head to Levain Bakery for the best cookies in the world
Go ice skating at Rockefeller Center next to the famous Rockefeller Christmas Tree
Take a carriage ride in Central Park
See the NYC ballet perform the Nutcracker
Have afternoon tea at the Plaza
Visit FAO Schwarz's new location in the Rock Center
Visit the Lodge at Gallow Green
If you have any other recommendations, let us know in the comments!