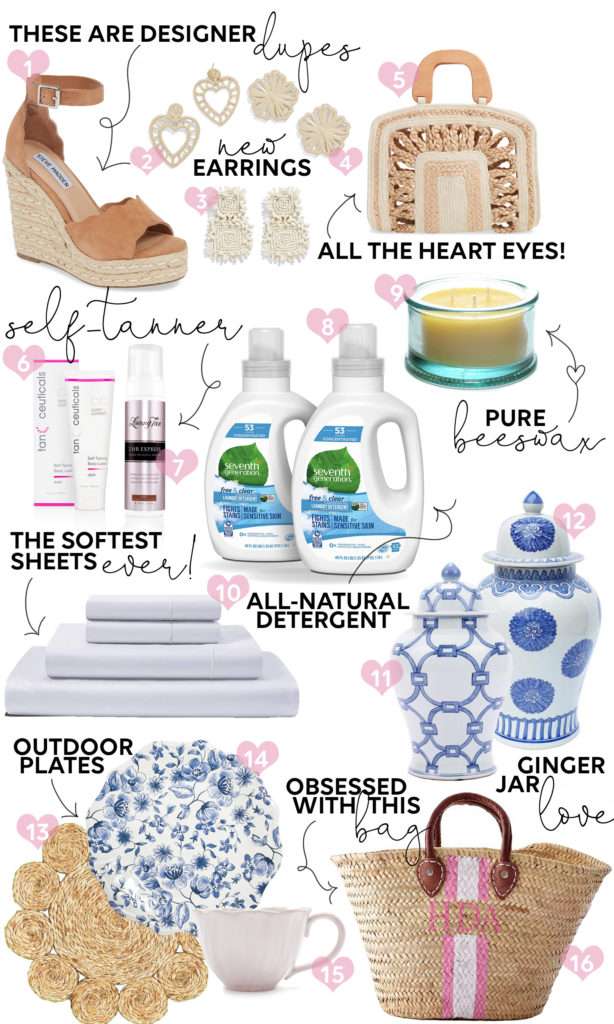 Happy Monday, you guys! I don't have an outfit post planned for today so I thought it would be fun and different to share some items I've been purchasing and loving lately. I feel like I've been traveling so much over the past few months that my content has been more geared toward travel, but there has been a lot going on at my home! I'm currently transitioning into using more natural home products, and you'll see some of that reflected in my purchases 🙂 Anyway, let me know if you have any questions! Let's get started!
one // These wedges are out for delivery to my house right now, haha! I LOOOOVE the scalloped edge and the brown suede – they look very similar to the Chloe wedges but an updated version. I will definitely share with you on Instastories when they arrive!
two, three & four // Baublebar just came out with the cutest collection of rattan and neutral earrings, perfect for the beach or just to wear anytime this summer. I ordered these three! I can't wait to get them in, especially the cute heart earrings.
five // All of the heart eyes for this little handbag. It's also less than $100, but looks designer!
six & seven // I've gotten a lot of questions about my self-tanner lately, so I thought I'd update you on my two favorites. I have been using this one for a few years now and absolutely love it – all of my friends and my mom now use it because I raved about it for so long! It gives you a really natural looking color and doesn't rub off on any clothing or your sheets. It also smells really good, like coconuts (my husband now recognizes the smell haha). I recently discovered this one, though, and I love it just as much!! The thing that sets this one apart is that you apply it and then wash it off a couple of hours later. I usually take a shower in the morning, get out, apply the self-tanner, then go about my usual routine of getting ready, blow-drying my hair and applying my makeup. Then I get in the bath tub and rinse off the tanner, and I'm good to go – the tan looks SO GOOD (more bronze than the other one) and keeps developing gradually over the next eight hours. Plus, you don't have ANY smell at all and can apply your regular lotion after you rinse it off.
eight // I recently listened to a podcast that talked about all of the toxins in our food and our environment, and laundry detergent was a big one. Think about it: all of the chemicals that are in our laundry detergent soak into our clothes and our sheets, which we rub against our skin all day, therefore transferring to our bodies. I ordered this natural laundry detergent and am obsessed with it. It gets all of our laundry clean, and I feel much better about using it. One thing to note: it doesn't "smell" like laundry, which is actually a good thing! Growing up, I always LOVED the smell of fresh laundry. However, if you can smell the laundry detergent from your washing machine, you're actually getting a lung-full of toxic chemicals (when scented laundry detergents and fabric softeners are used, researchers have found that dryer vents emit more than 25 volatile organic compounds per load, many of which are classified as hazardous air pollutants).
nine // Another thing that I've learned about recently is how burning candles can actually pollute your home – for example, paraffin candles (like the ones from Bath & Body Works) emit toxic chemicals like toluene and benzene into the air. This was probably the saddest news ever, considering I LOVE candles and usually always have them burning in our house. I did some research and there are a few "safe" alternatives, such as beeswax candles, soy candles and essential oils. I like all three, but I've fallen in love with these 100% beeswax candles from Amazon. The thing that is CRAZY about beeswax candles is that rather than polluting the air, they actually clean the air. Beeswax candles burn with almost no smoke or scent, and clean the air by producing negative ions, which bind with toxins and help to remove them from the air. I ordered a few of the plain, unscented ones from Amazon, as well as a couple with essential oils added. The "uplifting" one is definitely my favorite – it smells so good and also lasts for much longer than a regular candle!

ten // In addition to switching up some other items in our house, we also switched up our sheets! Chris had been complaining that our previous ones (jersey cotton) were making him really hot and itchy at night. We ordered these bamboo sateen weave sheets for our master bedroom and are OBSESSED. Chris is constantly talking about how soft and cooling they are; I really love them too! These sheets are also more eco-friendly and sustainable, too.
eleven & twelve // I've been crazy for ginger jars lately, and I've been accumulating quite the collection. I've had my eye on these but I've been waiting to pull the trigger in case I find something a little less expensive. If you have any recommendations, let me know!
thirteen // I have been on the hunt for jute placemats like these for a while – and I finally found some on Etsy, here! I contacted the owner and they're being restocked in a few weeks. I just love them for our outdoor patio (since we are in the process of furnishing it!).

fourteen // I ordered four of these melamine plates for our outdoor patio – I think they will look so cute paired with the placemats! I love the classic blue-and-white print, yet they are unbreakable and perfect for eating outdoors (or if you have kids!).
fifteen // This little flower coffee mug is so cute – I ordered two and have been drinking coffee or tea from them every morning! They seriously make me so happy. You can't see the inside of the cup from the picture, but it has a really pretty flower design inside!
sixteen // Ok – THESE BAGS! You might have seen mine on Instastories this weekend. I have this one from Mariella Vilar and absolutely love it. It is large enough to fit all your beach essentials, stands up by itself (no worrying about it tipping over), and has short and long handles which makes it super easy to carry. I definitely recommend supporting Mariella Vilar since they're a small business, however I did find the bags here.
That's it! Let me know what you're loving this week! I'm also sharing some of our favorite plant-based dinners on the blog this week so look out for that too. 🙂