Happy Monday! I hope everyone had a wonderful weekend. Today's post is a little different… I'm finally getting around to this post that has been requested a lot from y'all – what I eat in a day! I will warn you – I'm not a dietician or nutritionist, but I have been interested in healthy eating or "clean" eating for a long time. I feel SO MUCH better when I am eating whole foods and working out regularly than when I eat junk food. I can tell a noticeable difference in my energy levels and mood, and I can even tell a difference in my skin and acne.
This weekend after I went grocery shopping, I took a few pictures of the "essentials" that I pick up week after week. I'm a huge fan of snacking on small meals throughout the day – this keeps your metabolism burning – so you'll notice that I have tons of snacks and smaller meals!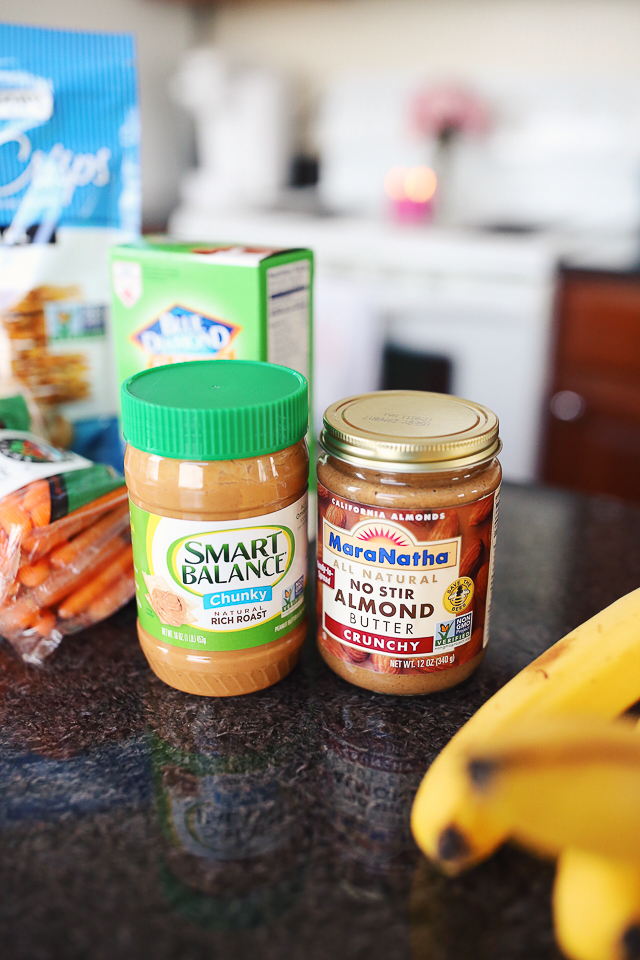 I have to eat breakfast first thing when I wake up in the morning – my brain can't function until I've have food in my stomach. I also HAVE to drink coffee from my Keurig to wake up. I tend to prefer quick, light breakfasts because I'm usually running out the door in the mornings to a pure barre class! Here are some of my favorite breakfast foods:
*A hard boiled egg, fruit and coffee (I buy hard boiled eggs in a package so there is no prep time involved)
*A banana with peanut butter or almond butter
*An egg-white omelet with tomato slices and spinach (I buy the carton of egg whites so I don't waste yolks)
*Three-ingredient pancakes (If I have more time in the morning, I LOVE making these. Blend two eggs, one banana and a scoop of chia seeds together in a blender until well mixed. Cook the pancakes like you would normal pancake batter – in a pan over medium heat. I make a bunch of small pancakes and stack them up, then top with lots of berries and a drizzle of syrup.)
I snack a lot during the day, so my lunches are also pretty light. If you can find these "perfect portions" chicken breasts at your grocery store – get them! (If you are cooking for one, they are so convenient.) Each chicken breast is wrapped individually so you don't have to cook them all at once. These are perfect for lunch! Here are some of my favorite lunches:
*Chicken salad lettuce wraps (I make a huge batch of this and eat it throughout the week. I replace the mayonnaise with plain Greek yogurt which makes it a thousand times healthier! I also love adding halved grapes, diced apple, sliced almonds and dried cranberries for the best flavor. If you want the exact recipe, let me know!)
*Jimmy John's Vegetarian Unwich (I take off the mayonnaise and add turkey. The avocado spread makes it wonderful! I usually have Jimmy John's delivered if I'm having a really busy day and can't get away from my desk to make lunch.)
*Grilled chicken with a side of steamed vegetables and a baked sweet potato
*Make Your Own Pizza (I buy whole wheat pita rounds and Chris and I both make our own pizzas. He likes regular pizza sauce, pepperonis and shredded cheese, whereas I like pesto sauce, fresh mozzarella slices and tomato slices. Once you put all the toppings on your pita, bake in the oven for 8 minutes at 425 degrees.)
*Annie's Organic Frozen Meals (I eat these if I'm eating by myself and don't feel like cooking. I love the entire line of Amy's Organic frozen meals because they don't contain additives, preservatives or GMO's, and contain 0g of trans fat.)
I LOVE snacks and literally snack all day. Here are some of my favorites:
*Fresh juice from the local juicery (I love any juice with beets)
*Bel Gioioso 70 calorie "snacking" mozzarella cheese (each pack of cheese is individually wrapped and perfect for snacking. I get them from the Fresh Market)
*A banana with peanut butter or almond butter
*Any kind of fruit: watermelon, apples, strawberries, blueberries, kiwi
*Baby carrots with hummus (I like the Sabra hummus brand)
*Raw almonds (I buy the "To Go" packs from Blue Diamond)
*Larabars (I mentioned these under "breakfast")
*Skinny Pop popcorn in the flavor "white cheddar"
*Toast with mashed avocado and feta cheese
*Baked sweet potato (the longer you bake it the more it caramelizes!)
Anyone who knows me in person knows that I have a HUGE sweet tooth. I don't let a single day pass where I don't have dessert! My favorite desserts are light but satisfying, and don't leave me going to bed with a full stomach. Best dessert options:
*Yasso frozen greek yogurt bars (my favorite flavors are the chocolate chip cookie dough and the salted caramel. The chocolate chip cookie dough tastes AMAZING and contains 5 grams of protein)
*McDonalds vanilla ice cream cone
*One glass of red wine (I love pinot noir!)
Like I said before, I'm not a nutritionist, but I do know that eating fresh, whole foods and avoiding as much processed foods as you can is so much better for your body. I personally like eating small meals and snacks throughout the day because it keeps me satisfied and prevents my blood sugar from crashing. If I have to be out running errands all day or if I'm traveling, I always have snacks stashed in my purse! I also want to mention that I don't count calories and I also don't own a scale. The best advice I can give is to really listen to your body when it comes to eating – eat when you're hungry and stop when you're full. It is all about portion control when it comes to staying at a healthy weight. And everyone's body is made differently!
Let me know if you have any questions or would like specific recipes!
I would love to know if you have a favorite healthy recipe, because I am always looking for new ones to try! Let me know in the comments! 🙂
xoxo