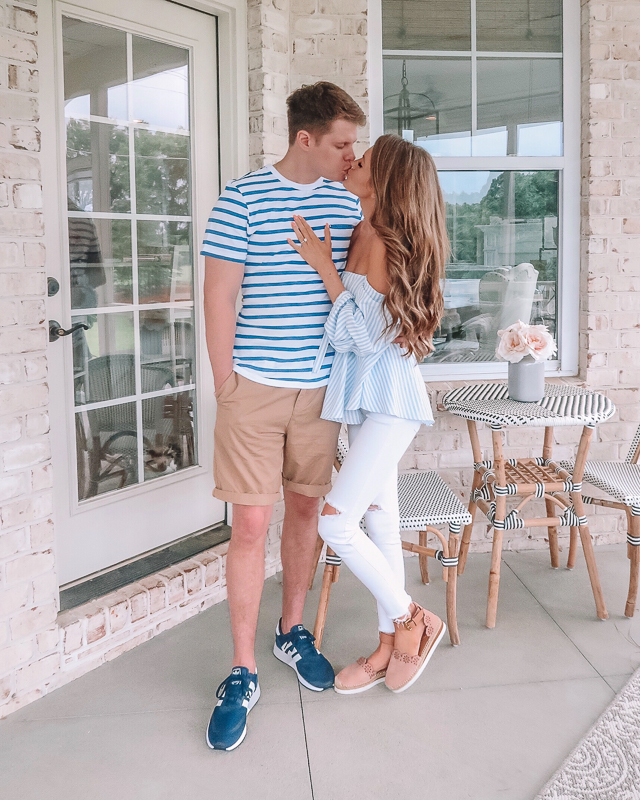 Good morning everyone! The big day is *almost* here – Chris and I are getting married tomorrow!! I have been in Charleston for a few days now with my family, and Chris is driving up tomorrow to stay with his family. Our rehearsal and rehearsal dinner is tomorrow night! I'm so so so so excited (and nervous). One more exciting thing: our wedding is featured on The Knot as one of the Most Influential Weddings of 2018! You can read our story and more about our wedding
here
on their website. In honor of all this, we both thought it would be really fun to answer some Q&A questions before the wedding.
Chris and I didn't look at each other's answers, we both answered on our own, separately. Some of these are pretty hilarious. Some of them are really sweet. I have to sign off before I start crying haha!
Here you go!
Q: How did you first meet?
Chris: Caitlin and I first met in Greenville, SC. I was working as a mortgage banker, and she just graduated from UNC and was working for a PR firm. We actually met through mutual friends. My fraternity brother was dating one of Caitlin's first friends at Clemson, and they introduced us at dinner one night. Love at first sight is cliché, but I was a goner from day one.
Caitlin: Chris and I met in Greenville, SC, when I moved there after college to start my first "big girl" job. I met a girl who went to Clemson University, and she introduced me to Chris just 18 days after I moved there. It wasn't love at first sight though – hahah! – Chris had to convince me to go on a lunch date with him, but after that first date I knew I was in trouble! I was pretty much head over heels for him after that.
Q: When/How did you first fall in love with your fiancé?
Chris: One night Caitlin and I went to dinner with some friends and at this particular restaurant they had live music. The band went to take a break, and almost as soon as they left, Caitlin went up and started playing the drums…later on that night, we went to another place with a DJ. He was offering "spin lessons" for some of the patrons, and Caitlin and I jumped at the chance to learn how to DJ. I fell in love with Caitlin's spontaneity, her self-confidence to do what she wanted and not care what anyone else thought, and her fun-loving nature. Obviously, our love has blossomed more since that moment, but I vividly remember seeing her DJ and do the "Wobble" and thinking in my head that she was the one.
Caitlin: It only took a couple of month for me to fall in love with Chris! It was kind of weird/crazy – he felt like the guy version of me right from the start. We both had the same exact sense of humor, morals, family values and drive… I had never met anyone else that I immediately connected with on such a deep level. It's hard to explain but it just felt "right" – he was exactly who I had been praying for my entire life.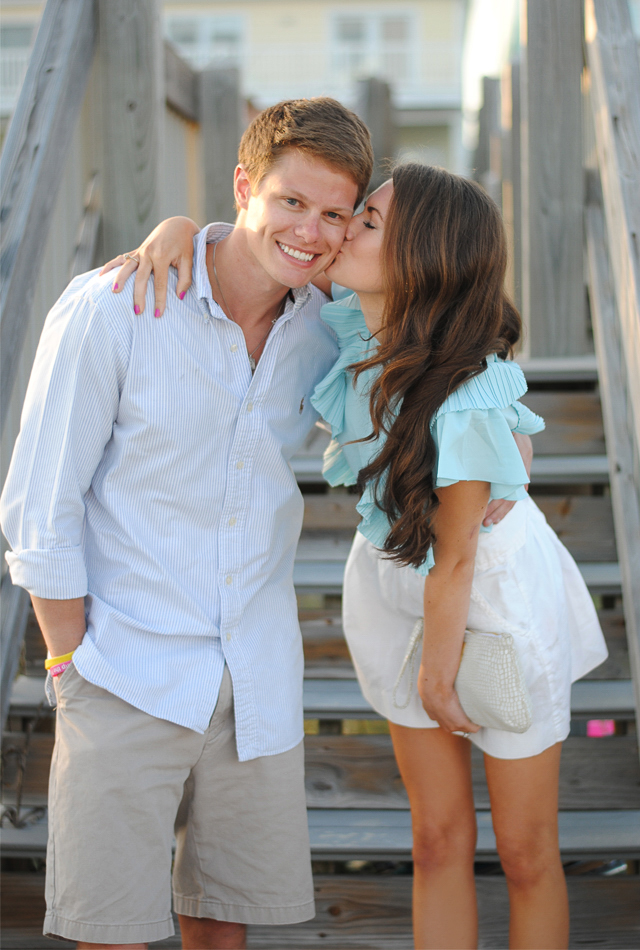 This picture was taken a few months after we first started dating!
Q: What's the most memorable date you've had?
Caitlin: I would say our most memorable date is our first date – the lunch date! I worked in Greenville, SC and there are beautiful waterfalls right downtown. I worked on one side of the bridge, and Chris and I were meeting at a restaurant on the other side of the bridge for lunch. I called my mom when I walked over and I remember telling her how nervous I was! Chris was waiting on the other side of the bridge, with a huge smile on his face.
Chris: We've had a lot of amazing dates through the years. We always do "date night" on Friday, so there are a lot to choose from. The most "memorable" would have to be our first Valentine's Day dinner together. We had been dating for about a month, so this was our first "big date." We were both in our first jobs, so we decided to cook dinner together, my favorite Fettuccini Alfredo. We were so nervous given the fact that it was our first valentine's day, that we "boiled" the noodles in cold water (Caitlin forgot to actually put on the stove). We also decided to make our own cheese sticks with string cheese rolled up in Pillsbury breadsticks (bad idea). The saving grace was that we made our own Alfredo sauce and had the entire romantic mood ambiance with flowers and candles. Needless to say, the dinner left a lot to be desired, but the fact that we failed together and still had an amazing time and a great story to tell makes it one of my favorite dates we have ever had together.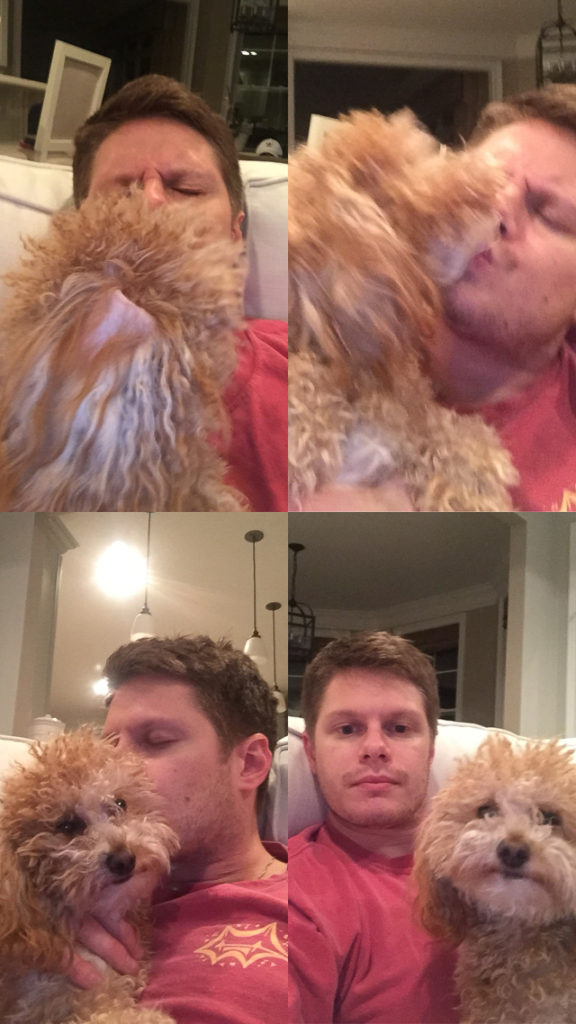 Q: What quality do you most admire about the other?
Chris: Aside from her stubbornness (kidding), I most admire her passion. She gives her all in everything that she does and accepts the best from herself and others. Whether it's her blog/career, her family, our pets, our relationship, or her hobbies, she does it 100%. It's contagious and I love that she challenges me to be a better person in everything that I do. She's inspiring to me.
Caitlin: I would say his loyalty. Chris is fiercely loyal to his family and friends and it's something I recognized right away about him. If you become friends with Chris, you will be friends with him for life – not only that, but he will have your back in any situation. He has taught me how to be a better friend. I also love that underneath his macho/manly exterior, he is a softy at heart (he may kill me for saying that!). Deep down he is a hopeless romantic, but I'm the only one that really knows that side of him!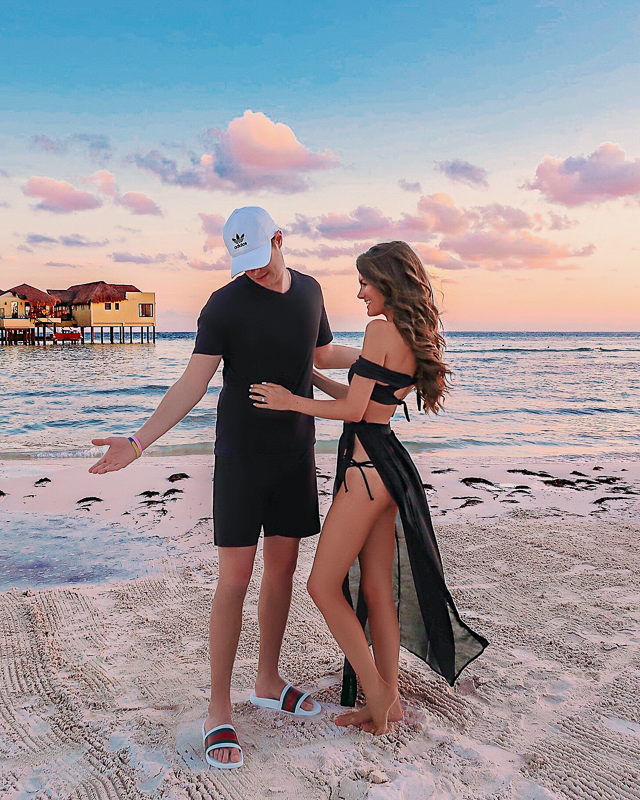 Q: What was the best engagement present you received?
Chris: We are still receiving gifts (thanks to everyone who has sent them, and I promise that we are working on the thank you letters), but I have to say that my personal favorite has to be the world map with push pins that we received. The idea is to put the push pins in every location that Caitlin and I have traveled to together. We love to travel (she obviously gets to do it more often than I do, but still), and I think it's a great way for us to reminisce about each trip and get us to travel even more.
Caitlin: The best engagement present was a Kitchen-Aid mixer from my parents! I have wanted one for so many years and we put one on our registry (even though we didn't think we would receive it). Thank you, mom and dad!!! I can't wait to cook for everyone!!
Q: How did you celebrate your bachelor/bachelorette party?
Caitlin:
For my bachelorette party, we went to Wild Dunes (near Charleston) for the weekend! We had a beach day, played tons of games and went out in downtown Charleston. I blogged about the entire weekend – you can read about it
here
.
Chris: My bachelor party was amazing. My best men, Zack Owen and John Raymond, set up the best and most fun weekend I have ever had (up until the wedding). They reached out to around 20 of my childhood and college friends to come for a beach weekend in Wilmington, NC. Although it rained most of the weekend, we did get some beach time. The highlights were going on a brewery tour, topped off with a military style Laser Tag competition amongst the guys. Very manly, brews, artificial guns, and competition. They had gotten us all NBA AllStar jerseys for East vs. West for the teams, so we certainly looked like the goofiest people in the place. All in all, my most favorite part was reconnecting with all my friends and bringing everybody together for my "last hoorah."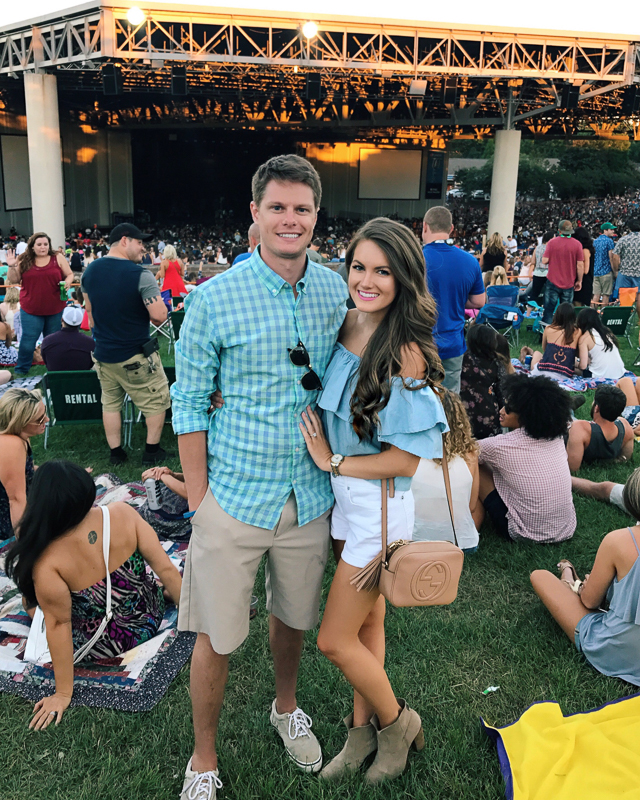 Q: How would you describe the style of your wedding?
Chris: Classic Southern. We are both from the South and so we wanted to have that feel to our wedding. Naturally, Charleston was the perfect location for us. I grew up going to Charleston for beach trips and Caitlin loves going down there. We have all the Southern staples: Chicken and Waffles, Shrimp and Grits. The décor is perfect with a lot of lanterns and lights, it's going to be perfect.
Caitlin: I would say it will look like a southern, romantic garden party… if that makes sense! The color scheme is blush pink, gold and light grey. I wanted the wedding to have an ethereal, fairytale feel to it…. with TONS of flowers hahah!
Q: What has been the most fun detail of your wedding to plan?
Chris: My favorite part has to be picking the wedding registry. It's like playing laser tag with stuff that you want. They give you a scanner and you get to go through the whole store, pick out what you want and shoot (scan) it. I'm no hunter, but that was pretty awesome. Almost like an adult version of the Toys R Us run from Nickelodeon. If only I could do that for my birthday presents…
Caitlin: I think the most fun detail was picking out the rentals (like the tables, chairs and lounge furniture) and the flowers. That's when I could really start to picture it all in my head. Although going to Charleston for the food tasting with Chris was pretty amazing – I am still drooling over the mac'n'cheese we tasted and can't wait to have it again on Saturday!!
Q: What has been the most difficult detail of your wedding to plan?
Chris: The hardest detail is planning with all of the moving pieces. We are trying to get dinner and set tables up with a moving guest list, and inevitably there is something random that comes up that throws a kink in the "original" plan. In the moment, it gets frustrating, but at the end of the day, I know we will look back at the whole experience and laugh at it.
Caitlin: Picking out a hairstyle. Hahahah.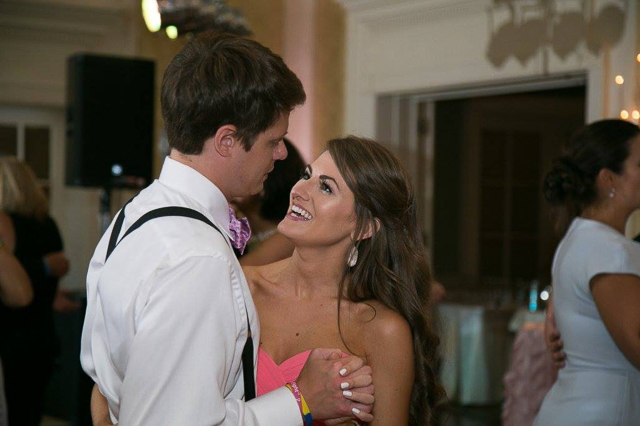 Q: Do you have any unique wedding details?
Caitlin: Yes but you will have to stay tuned to find out!!
Chris: Caitlin will have a completely different answer, but for me, the most unique thing will be my family coming into town. Most of my relatives have never been to the south because they live in Wisconsin. I'm excited and a little terrified for them to come down because they are going from almost as cold as it gets, to muggy Charleston heat. I tried to warn everyone, but I don't know if they know what they're in for. One of the most unique things about our wedding is that it's the first time that Caitlin's brother, also named Chris, will be back in the US in around 3 years. He has been living in Japan since college and is coming to the states for the first time since moving out there. I'm so excited to see him, his family and Caitlin to see him, and for him to be there to support us. It was a little unconventional, but I asked for his blessing to marry Caitlin first thing in the morning US time, because there was a 12 hour time difference.
Q: What moment of your wedding day are you most anticipating?
Caitlin: Seeing Chris's face when I walk down the aisle. And then that moment when I'm finally his wife!!
Chis:
I'm most anticipating the first dance. Partially, because I'm so excited that we did it and we are officially married; partially, because I am nervous about forgetting my steps and I don't want to mess it up.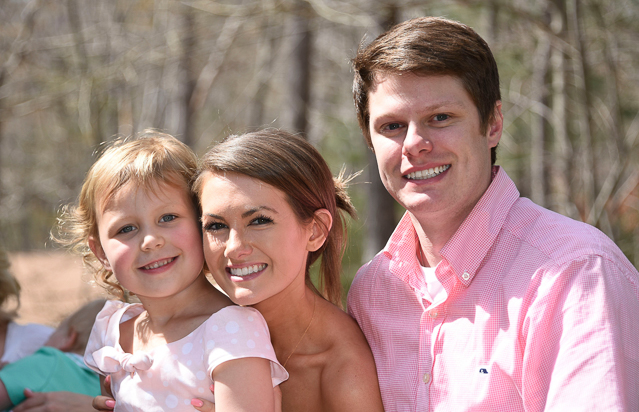 Q: What are you most excited for on your wedding day?
Chris: Most relieving will be when she says "I Do," but I'm most excited about seeing her walk down the aisle. I get flustered thinking about it because I know she is going to be the most beautiful bride and look so amazing. I'm packing some tissues because I know the water works will start as soon as I get to look in her eyes as she walks closer to me.
Caitlin: I'm most excited to be with Chris, and to be surrounded by all of our closest family and friends. There will never be another time in our lives when we're surrounded by EVERYONE we love. I can't wait to dance the night away with all of them!!
Q: What are you most nervous about on your wedding day?
Chris: The weather. I'm praying that it doesn't rain, but the forecast doesn't look in our favor. It's lucky if it rains on your wedding day, right?
Caitlin: To be honest I'm worried about two things: 1. that it's going to rain, and 2. that my hair won't turn out the way I want it to.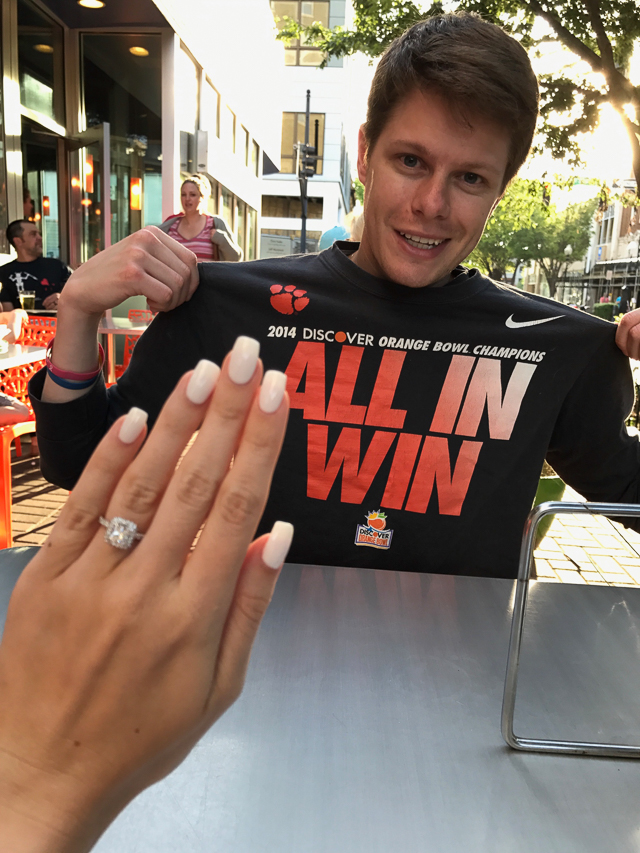 right after we got engaged!
Q: What advice would you give to other engaged couples who are planning a wedding?
Chris: It sounds cliché, but "don't sweat the small stuff." You both make a lot of decisions and each decisions seems to be "life or death," but at the end of the day, you are marrying the love of your life, and everything will go the way God intended.
Caitlin: I would say to slow down and take it all in, and ENJOY the little moments along the way. I feel like I was WAY too stressed out for so much of the planning months and looking back, I wish that I hadn't stressed so much and that I had enjoyed just being engaged! All of the little, seemingly stressful details don't really matter that much in the long run, and you will only be engaged once in your life.
Q: What are you looking forward to as newlyweds?
Chris: I can't wait to be able to call Caitlin my wife. Simple. Sappy, real.
Caitlin: To be Mrs. Dorsch!!! And go on the honeymoon 😀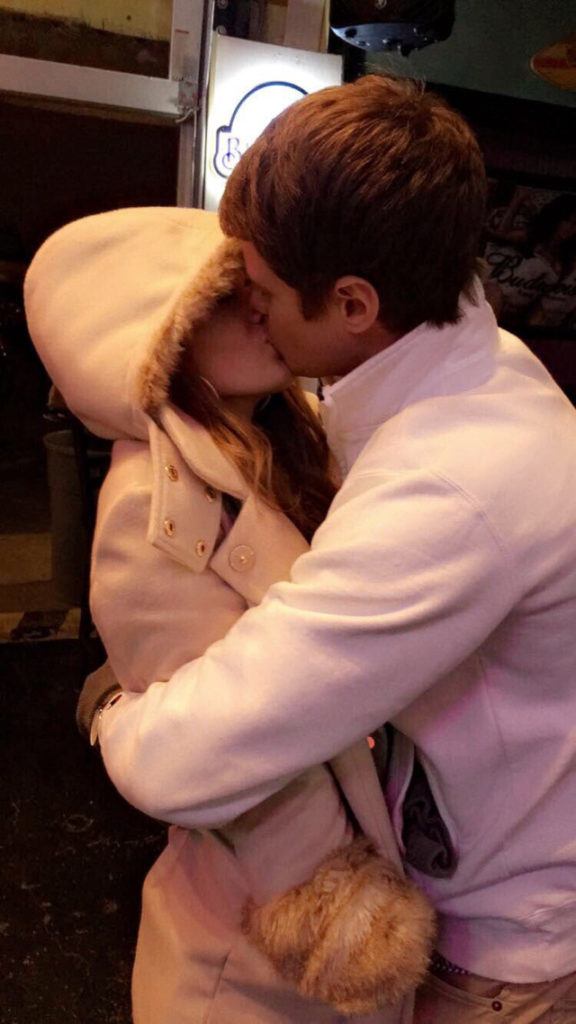 Q: Thoughts on how you will feel when it's over?
Chris: Relieved. I'll be so excited that we are officially married, and relieved that the planning is over. It will be a little depressing because you work so hard for so long on something, and then it's gone in what feels like an instant; however, I see it more as the prologue to our journey together.
Caitlin: In some ways, I think I'll feel a little relieved. To be honest, it has been really stressful planning a wedding, having a full-time job with a busy travel schedule, and trying to care for pets and keep a house clean at the same time. Actually, my house hasn't been clean for like a full year because of it hahah. I am excited for life to go back to normal and for us to be husband and wife… but I do think I'll feel sad because I've gotten to talk to and see my friends and family so much during the planning months!
Q: One thing you're looking forward to in marriage?
Caitlin: I can't wait for our day-to-day life as a married couple… and eventually having a family! I want like ten kids hahah!
Chris: I'm looking forward to writing our own story, together. I'm so excited to see what the future brings us. In the near future, I'm looking forward to being closer than ever together. Going to sleep, and waking up to the woman I love. Long term, I'm looking forward to building a family together. Learning to be parents together, and growing our relationship.
Q: What is one thing you would like your fiancé to know a few days out from being married?
Chris: I want her to know how proud of her that I am. I don't express it as often as I need to, but I remember when we first met and blogging was her "hobby." I have seen, firsthand, how hard she has worked to make it into her career and I am so proud of her for taking a leap of faith into something that she is passionate about, and not stopping until she reaches her goal. I love her with everything I have, and I promise to always strive to be better man. I will never be able to be the man that she deserves, but I will try every day to reach that goal for myself. I love you, Cait.
Caitlin: I want him to know that God TRULY answered my prayers when he brought him into my life. He balances me out in every way, he is strong in all of the ways I am weak, and I can't wait to be 90 years old with him, rocking in our rocking chairs on our front porch. He is everything I've ever wanted in a man, and I couldn't be luckier. I can't wait to be your wife!!!
xoxo, Cait